Adding Value to Your Home
How can I add real estate value to my home? This question is often top of mind for homeowners when it comes time to sell their BC home.
Adding value can be accomplished in several ways to increase your property sale price and bring you top dollar. The trick is how to spend less to get more. If you spend $10,000 to get $10,000, there is no point. Whereas spending $2,000 to get $10,000 is a decent profit.
Some upgrades are worthy of your money and time, while others are not.
Buyer demand drives property value. To gain the highest profit from a temporary investment that can increase real estate value, turn your home into a buyer's dream.
Top 3 Ways to Add Real Estate Value:
Renovate and Improve
All properties are unique and require their own personalized home improvements. Before you list your home, ask a professional real estate agent where you should spend money to make money.
The current BC real estate market, your neighbourhood, property type and buyer trends will determine where money and time should be spent.
Your community may direct a home improvement focus. Every town or city has its unique style and house designs. The age demographic of your area or particular property, such as a condo, townhome or duplex, factors into specific upgrades that will earn a profit.
Your neighbourhood, house layout, and property type will influence a selling price limit.
Strata property values are partly established by the condition of the building envelope or engineering report, existing reserves in the contingency fund, and strata amenities, requirements or restrictions.
With help from a real estate professional, discovering the top-selling price potential for your property type, house design, or neighbourhood can avoid overinvesting on expensive or unnecessary upgrades.
6 Top Renovations and Improvements that Add Value to Your Home
1. Update Kitchen and Bathrooms
The kitchen and bathroom have long been known as the gold renovating standard to add real estate value. If you have the budget to remodel these rooms, it can be worth your while.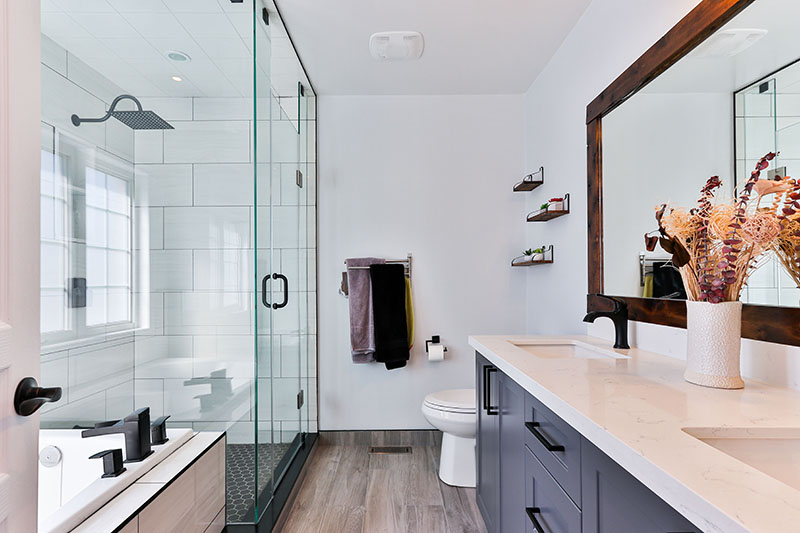 To save on home improvement costs, fresh ceiling and room paint, new backsplash, updated cabinet doors (or paint), modern cabinet and drawer handles, new light fixtures and window coverings will upgrade your kitchen and bathroom nicely.
Modern sinks, faucets, toilets and soaker tubs are bathroom and kitchen upgrades that can be cost-effective. The most expensive kitchen and bathroom renovations are typically new appliances, countertops, cabinets, flooring, and the addition of a kitchen island.
2. Add Secondary Living Space with a Rentable Suite
Turn your home into a quality real estate investment by adding additional accommodation.
By completing an unfinished basement or building a rentable carriage house (if municipal zoning will allow), you increase the value of your home. A higher mortgage is possible for buyers when purchasing a house with an existing suite that provides a monthly rental income.
This substantial home renovation will increase your property value, resulting in a considerable price jump. Ensure this reno is suitable for your house by first speaking with a professional real estate agent.
Your local municipality can provide your property's zoning details and building requirements if you wish to construct an addition or plan a new build such as a carriage house or garden suite.
3. Design a Home Office
A finished home office appeals to buyers who often search for a property that includes one. If your home has an unfinished room or the potential to build an addition, creating an in-home office or den can increase the value of your home.
Many work or operate a business from home. The Government of Canada offers a few tax breaks for individuals who work out of their house, making a designated home office space especially appealing. The Government of Canada has an interesting article outlining how to determine your workspace that may provide home office inspiration.
4. Create Light, Space & an Open Concept
The appearance of additional square footage from an open floor plan is highly desirable and may increase the value of your home. An addition may not be necessary as simply creating a feeling of open space may be all you need.
Add expansion and light by removing a wall or opening one room into another with an interior window. Increase natural light by installing larger windows or French doors that lead to a patio or balcony. Swapping carpet for laminate or wood flooring creates visual extension.
An addition will increase square footage and may add property value; however, city permits are required, and this reno is costly. Check with a real estate expert before taking this home project on. A user-friendly floor plan and layout are important for buyers, and changing your house configuration could help or hinder it.
5. Build Outdoor Living Space
Anticipation of a leisurely and enjoyable lifestyle sells properties. Spark a buyer's imagination by creating an outdoor living space where hours of enjoyment can be had.
The addition of a patio or deck is an automatic upgrade that can add value to any home. To increase it further, constructing a pergola or adding patio privacy walls creates an intimate and appealing outdoor living space.
Stage a finished patio or deck for maximum value. A cozy and inviting atmosphere with outdoor lighting, modern, comfortable patio furniture, area rug, planters, water feature and firepit are winners when a buyer views your home.
British Columbia winters usually require patio furniture and decorations to be tucked away. If you are selling your home during winter, leave a few planters and pieces of covered furniture for buyers to visualize warmer months with plenty of patio and barbeque time to look forward to.
6. Increase Curb Appeal
First impressions matter and your home's outside appearance is the first thing a buyer sees. A little time and money spent on enhancing the exterior of your house is a worthy investment. Exterior upgrades could include new siding, paint, roof, fencing, and deck if your budget allows.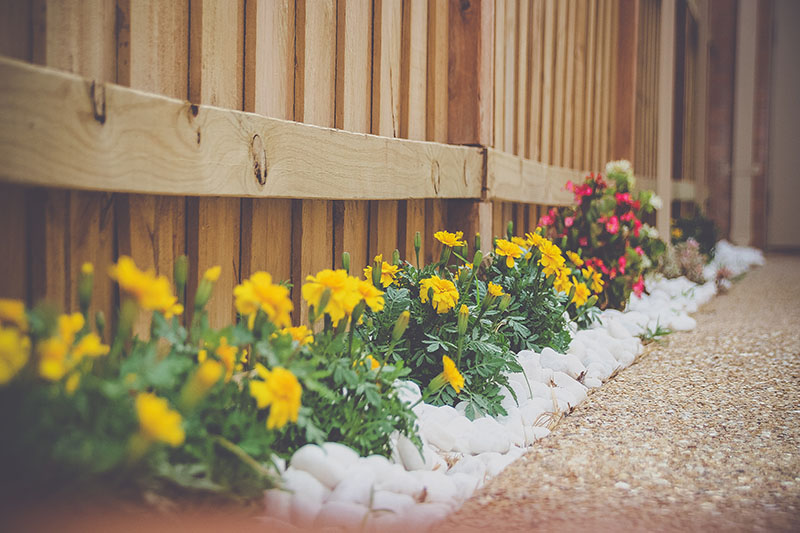 A few modern touches like a contemporary front door, garage door and address numbers can upgrade the look of your house. An attractively landscaped yard instantly improves curb appeal. Add potted flowers or plant beautiful shrubs and trees. Hire a professional landscaper or do what you can with what you have to make your lawn look extraordinary.
Stand back and view your property from a buyer's perspective. Is clutter removal required? Should the garbage cans be hidden? Does the shed need painting or tidying? Can you improve the look of your patio, pathways or yard?
3 Excellent Ways to Increase Showing Appeal
Showing appeal is a cost-effective way to add value. Your chance of receiving multiple offers and securing a solid sale price goes up when your home looks its best.
1. Paint Your Home
Fresh paint makes an impressive change and is one of the most productive ways to update your home. Modern, light neutral colours instantly improve the appearance of any room.
A new coat of ceiling paint brightens and opens every space. Freshly painted doors, trim or cabinets will take a room up a notch.
2. Small Upgrades with Big Impact
A few minor upgrades can make a huge difference in a room's appearance. Window coverings, new light fixtures, closet doorknobs, modern trim or mouldings, and wallpaper removal are a few examples of easy upgrades that improve your home.
Look at your house's rooms from a buyer's perspective and see if any outdated features could benefit from an upgrade.
Perhaps a big new mirror on the bathroom wall or swapping out the vanity cabinet would brighten and modernize your bathroom. An attractive light fixture installed in your walk-in closet could increase this room's appeal.
A laundry room's functionality is essential. Additional shelving or other appealing laundry room upgrades is an excellent and minimal investment of your money and time.
Practical storage space is another crucial area that can benefit from a bit of attention. Families need storage, and adding the illusion of extra space or making it user-friendly can make or break the sale of your home to a family.
Add shelving in the garage, shed or inside closets to create more usable storage space.
3. Staging Your Home
Staging is simply arranging or updating your belongings to enhance the look of your home. There is no added property value other than the potential to attract more buyers and receive competing offers that can drive your accepted offer price up.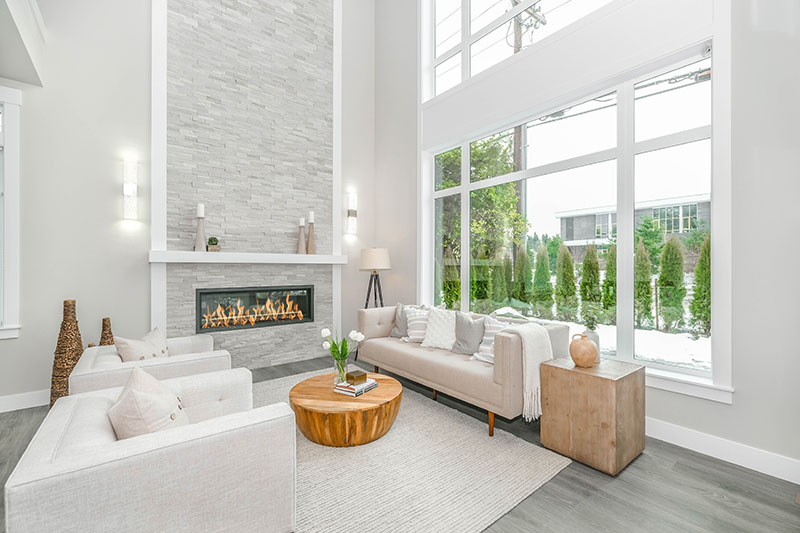 When staging your home to list for sale, consider the lifestyle desires of potential buyers. You will want buyers to see themselves entertaining in the dining room, enjoying coffee or cocktails on the deck, reading in a quiet nook or hosting family movie nights in the living room.
Buyers wish for their new home to be easier and more enjoyable to live in and maintain than their last. The illusion of space, light and simplicity can accomplish this. Your home should feel inviting and effortlessly simple.
Begin staging your home with a welcoming entrance for a positive first impression. Update an outside doormat and remove shoes and clutter from your entryway. Add an attractive feature such as artwork, a planter or a lamp.
Create open space in your home by removing large pieces of furniture, adjusting furniture placement and simplifying. This staging tip visually increases square footage without spending any money.
Modernize living, dining and bedrooms with contemporary furniture and décor. Artwork, plants, area rugs, lamps, side tables, and throw cushions can easily update any room. Fluffy hand towels and area rugs, stylish shower curtains and fancy hand soap add elegance to a bathroom.
Declutter your entire home, including closets and drawers, to add the appearance of living and storage space. Keep belongings elsewhere while your home is listed on the real estate market. Buyers want to see the home's available storage areas. When clear of possessions and organized, buyers will imagine there is more than enough room to tuck away their things.
Stage outdoor living space during BC's warmer months. Make this space as cozy and inviting as possible. Imagine your patio or deck as an extension of your home.
Simple furniture and décor upgrades can immediately increase buyer appeal. Entertaining, a quality lifestyle and family moments can be visualized when your home has been updated and staged to sell.
Utilizing The Multiple Listing Service
The Multiple Listing Service and working with a BC real estate expert will instantly add value to your home.
The MLS real estate system is the most powerful marketing tool available to sell your home. Your property can reach hundreds of potential buyers making this real estate marketing service invaluable.
One good offer is all you need. When your property is listed on BC's MLS service and reaches hundreds of active buyers working with a realtor, your opportunity to receive a quality Contract of Purchase and Sale substantially goes up.
A home becomes less desirable the longer it remains for sale. Buyers question the property's asking price, and a price drop is inevitable. An experienced BC real estate agent can prevent your listing from becoming stagnant and losing value.
Utilizing the Multiple Listing Service and working with a professional real estate agent will give your home an excellent jump on BC's real estate market, providing an opportunity for the highest possible selling price.
Gain the most from listing your property on BC's MLS real estate service by correctly pricing your home and marketing your home to attract the largest amount of buyers.
Adding Value to Your Home
Increase value and buyer demand for your property with strategic home improvements, showing appeal, listing your home on the MLS system, and working with a skilled and knowledgeable real estate agent.
LoyalHomes.ca can match you up with an experienced real estate expert to get you started and provide maximum value for your BC home.