Your Guide to Prince George's Housing Market
Posted by Chris Fenton on Tuesday, September 19, 2023 at 8:26:30 AM
By Chris Fenton / September 19, 2023
Comment
Prince George is one of the province's most underrated real estate investment markets. It has a robust, growing economy, providing ample opportunities for those with growth mindsets looking to get in on the ground floor of a blossoming community.
Prince George is a small city, with a population just north of 70,000 residents, but it's the largest city in the area by a large margin and is often referred to as being British Columbia's northern capital. As a service hub for an area with more than 300,000 people, it is home to key amenities that those who live in smaller cities and towns nearby depend on.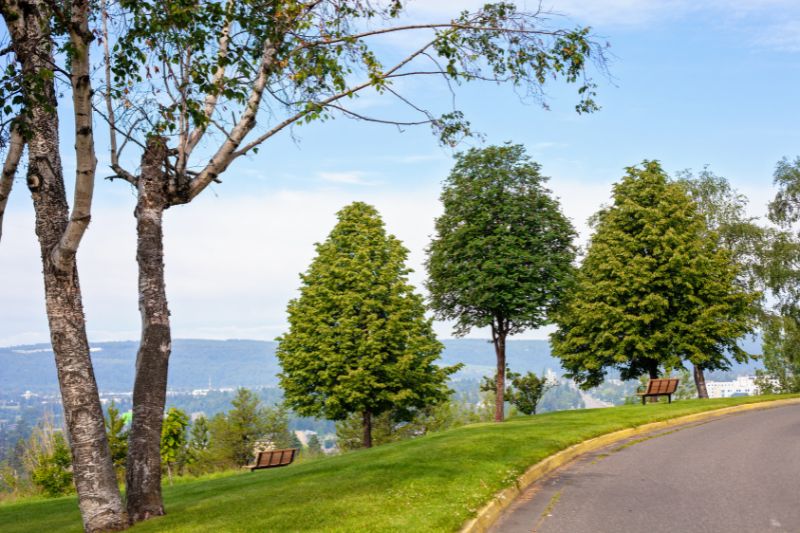 In this guide, you'll find useful, up-to-date information about the real estate market in Prince George. We'll also give a thorough overview of what the city of Prince George is like, including what it's best known for, what attractions it offers, and explanations of popular property styles in the city. So, let's dive into Prince George and its housing market.
Where is Prince George
Prince George is situated where the mighty Fraser River meets the Nechako River. The city has a storied history, dating back to its role as an important fur trading hub in the 19th century. Significant growth in the area was spurred on by Canadian Forces activity starting in the 1950s and by major industrial development beginning in the 1960s.
Prince George is part of the Fraser-Fort George Regional District and is located at a transition point between the northern and southern areas of the Rocky Mountain Trench. Prince George is a transportation hub for northern BC, with Highway 97 and Highway 16 passing through the city area.
The drive from Vancouver to Prince George along Highway 97 takes almost nine hours. However, there are flights connecting Vancouver and Prince George each day, which are affordable and take just over an hour. There are also seasonal flights connecting Prince George to destinations like Tucson and Puerto Vallarta. A daily flight to Victoria connects Prince George to Vancouver Island.
What is Prince George Known For?
Prince George has long been associated with the forest industry, which remains the biggest local employer. In both the north and south areas of the city, there are areas of significant industrial development, including mills, chemical factories, and an oil refinery.
Owing to its status as an important administrative and political hub, Prince George is also known for its large government presence, providing well-compensated jobs with benefits. Prince George is also home to the University of Northern British Columbia—the most northern of the province's five large universities.
UNBC is one of the country's top small universities, and it's a key educational destination for students from the region. UNBC is known for embracing its role as BC's northernmost research university, offering many programs that engage with local ecosystems, economies, and resources.
Prince George is a city with a rich, interesting history. In the 1980s, Prince George rode the wave of a booming lumber industry into becoming the second biggest city in British Columbia, second only to Vancouver. Entrepreneurs flocked to Prince George to capitalize, and it is reported as having the most millionaires in the province that decade.
Is it Expensive to Live in Prince George BC?
Prince George's unique charms, pristine wilderness, and the strong supply of high-paying jobs are key attractions the city boasts. Another one of the most important factors that drives interest in Prince George's real estate market is its affordability. In fact, a marketplace report from last year ranked Prince George as the most affordable city in the province.
The relative affordability of Prince George can be attributed to the fact that while prices are dwarfed by those seen in southern cities like Vancouver and Victoria—and far below those seen in desirable cities in the province's interior like Kelowna and Kamloops, too—wages remain at a comparable level, offering residents far more purchasing power.
In terms of cost of living, Prince George is among the most affordable cities in the province. The living wage required for two working adults to support a family of four in Prince George is around $21, while in cities like Vancouver and Victoria, it's north of $24. With general inflation hitting a forty-year high last year and the cost of food and other necessities rising at staggering rates, real estate investors can still get ahead in Prince George.
What is the Average Price of a House in Prince George?
In August 2023, the median list price for a single-family home in Prince George was $ 499,900. Compared to July, prices were nearly identical, while a sizable increase occurred between June and July.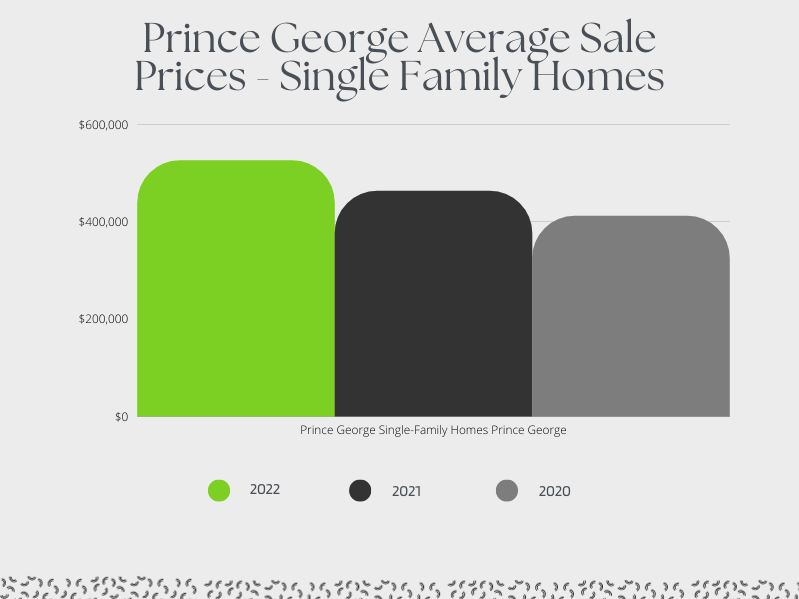 Between 2021 and 2022, average single-family home sale prices leapt by approximately $ 50,000, and the growth was around the same rate between 2020 and 2021. Last year, 862 single-family homes sold in Prince George at an average sale price of $525,600, spending just over a month on the market on average.
Prince George Real Estate
Prince George has a range of opportunities open to real estate investors with varying budgets and goals. There is a solid supply of affordable condos, with prices averaging in the $260,000 range—significantly more affordable than the average value of condos in similarly-sized British Columbian cities like Chilliwack and Kamloops.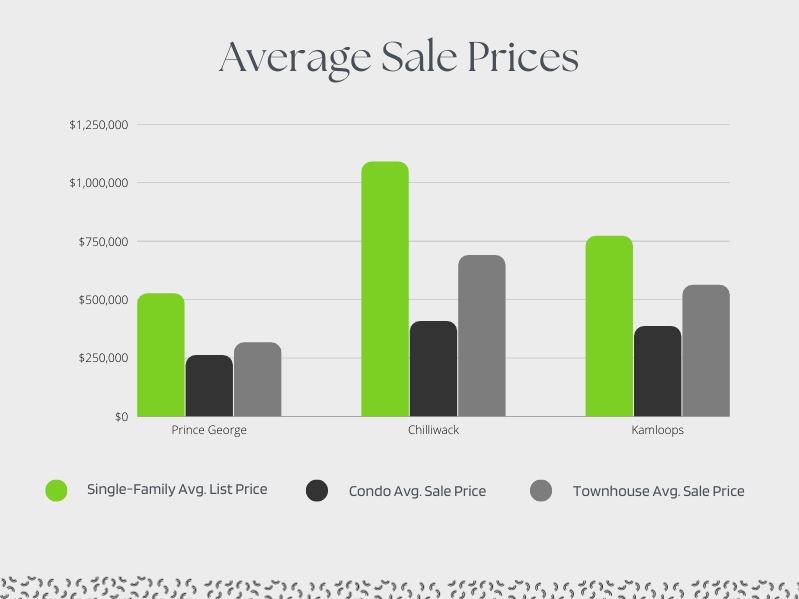 While affordability is a huge pro when it comes to condos in Prince George, scarcity can be a con for buyers. For perspective, 70 condos sold in Prince George last year, compared to 862 single-family homes. Condos also took around twice as long to sell compared to single-family homes, spending over two months on the market on average, offering more of a challenge to sellers.
105 townhomes sold in Prince George last year, at an average of $316,100. Townhomes in Prince George sold at above their listed price on average last year, while detached homes and condos sold for just below asking on average. Townhomes also sold the quickest of any property type in the city, indicating impressive demand for properties in this style.
Prince George acreage of all types sold for an average of $458,200 last year. Outside of the city, you'll find charming rural properties on large plots of land, which will appeal to those looking for a rugged northern lifestyle. Acreage can represent more of a challenge for sellers than more compact property styles located in the core city area, spending longer on the market on average.
Is Prince George a Good Place to Invest?
Last year, the Prince George real estate market faced some challenges, and experts pointed to the Bank of Canada's attempt to slow inflation by jacking up interest rates as a major contributing factor. Prices dropped, transactions fell off, and overall market activity sagged significantly.
However, according to the BC Northern Real Estate Board, the real estate market in the Prince George area is healthy once more, showing signs of steady but sustainable growth. Sales and new listings are rising at around the same rate on a monthly basis, with new supply keeping pace with demand.
Part of what can make Prince George a great place for real estate investors to consider is its position in the sweet spot between the urban and the rural. It has a strong economy with a large, robust manufacturing sector. It's a leader in clean fuels and is the economic hub for more than two-thirds of the province's land mass. For a relatively remote city, Prince George is well-situated amidst a network of road, rail, and air travel options.
In Prince George, there's an unbelievable abundance of access to natural resources and industrial land, in addition to a skilled local workforce. All of this economic opportunity translates to real estate opportunities as well. The presence of the University of Northern British Columbia and the College of New Caledonia contributes to growth in technical, scientific, and professional sectors. For real estate investors looking to create rental properties in Prince George, the city's concentration of students from across the region contributes to a strong rental market, and so does the city's resource jobs, which attract skilled workers from all over.
Is Prince George BC a Good Place to Live?
Prince George is a considerable distance from any true metropolitan area, and those considering a move to Prince George will likely be people seeking adventure and looking to embrace the benefits of living in a tight-knit small city with a strong sense of community. For a relatively remote city, Prince George is home to an impressive array of facilities for business, industrial, transportation, education, cultural, and healthcare opportunities.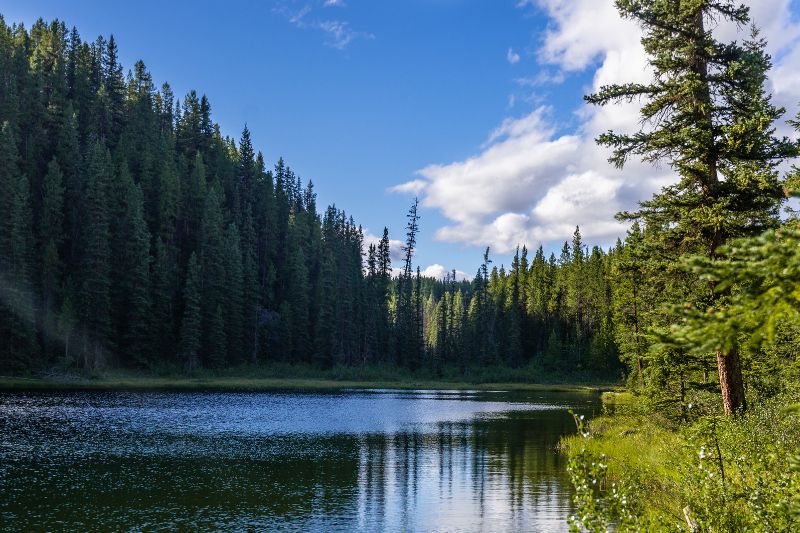 Prince George is home to a wealth of opportunities for those who enjoy getting out in rugged nature. A range of nature parks tend to top lists of the best things to do in Prince George, and aquatic activities abound at destinations like Purden Lake Provincial Park and Cottonwood Island Nature Park. Meanwhile, Prince George also has several interesting historical attractions linked to its rail history, including the Central BC Railway and Forestry Museum. Prince George has burgeoning winery and brewery scenes, as well.
Prince George has strong healthcare services administered by Northern Health and is home to the region's only teaching hospital. School District 57 provides quality education for students from K-12 across its thirty elementary schools and eight secondary schools.
According to StatCan, Prince George faces crime-related issues in its urban areas, with percentages above the provincial average. The city is committed to safety and is aiming to employ additional resources and enforcement to help the city evolve into a safer place to live.
Prince George's affordability means that it can offer real estate investors opportunities they wouldn't be able to find in many other real estate markets in the province. Its strong economy attracts investors looking to get in early on an emerging market, and its natural beauty and opportunities for recreation allow those who live in the area to have a high standard of living. Read more about other compelling northern communities for real estate investment here, or get in touch with us at Loyal Homes if you'd like to learn more about buying or selling a property in Prince George.
---
Credits:
Photo: © cnicbc

via Canva.com
Photo: © undefined undefined via Canva.com