What Are the Best Neighbourhoods in Victoria?
Posted by Chris Fenton on Monday, November 28, 2022 at 10:00 AM
By Chris Fenton / November 28, 2022
Comment
British Columbia is one of the most desirable provinces to live in Canada, and Victoria, BC, is considered by many to be the crème de la crème. Its popularity speaks for itself, with a population of close to 400,000 in the Greater Victoria area.
Located off British Columbia's west coast on the southern tip of Vancouver Island along the Pacific Ocean, Victoria has breathtaking beauty.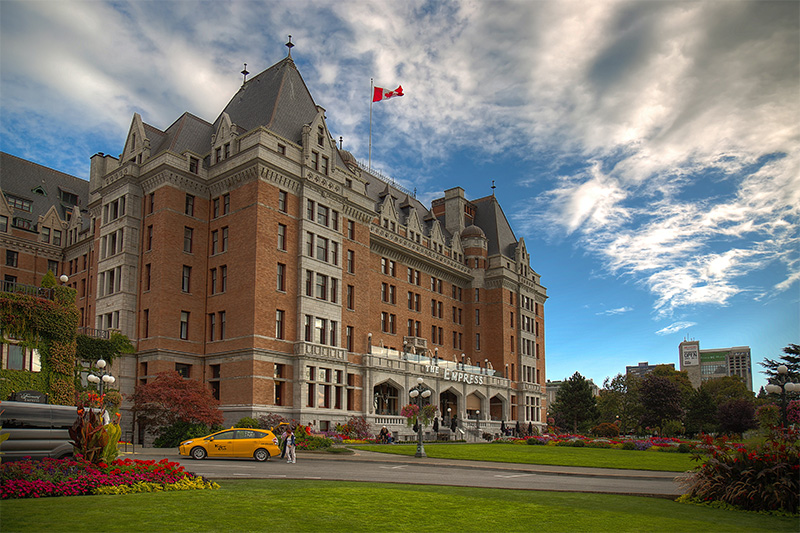 Many reasons contribute to Victoria's high ranking of places to live in Canada, including its beaches, outdoor activities, moderate climate, culture, health care, competitive wages, low pollution, healthy lifestyle and high standard of living.
Victoria's winter climate is the mildest of any city in Canada, contributing to year-round outdoor activities including golf, biking, hiking, kayaking, sailing, beachcombing and more. On the outskirts of town, several mountains, lakes and forested areas provide hiking, biking and walking trails for every fitness level.
Victoria is a creative hub where art, music, theatre and dance are plentiful and enjoyed by both residents and tourists. The City of Victoria promotes locals supporting locals through several different creative outlets. Craft fairs, markets and many artistic venues are popular with the locals.
In the Pacific Northwest, Victoria is the oldest city and is known internationally as the "City of Gardens." This capital city of British Columbia has a long and rich history. Families regularly enjoy visiting educational exhibits at the Royal BC Museum, where the area's history is beautifully detailed.
Refurbished heritage buildings are plentiful in Victoria, including Chinatown, which began in 1858 and is the oldest Chinatown in Canada. Chinatown was designated a National Historic Site of Canada in 1995.
Architecture in Victoria is stunning and ranges from modern contemporary to heritage. Many waterfront homes are luxury custom builds taking full advantage of their stunning ocean views.
Cape cod, west coast, arts and crafts, Tudor, craftsman, contemporary, pre-war, post-war, colonial, Victorian, Georgian, '70s and '80s split level, and many more house designs are found in Victoria. Some areas are predominantly one era, while others offer an eclectic mix.
The Greater Victoria area offers many exciting and beautiful areas to live in, from an active downtown city life to the quiet suburbs.
What Are the Best Areas of Victoria to Live In?
Downtown Victoria
The population of Downtown Victoria is approximately 92,000. This vibrant city is abundant with culture and offers upscale living and a healthy lifestyle. Many residents commute by bicycle as several streets in the city's core have been re-designed with designated bike lanes.
Residents enjoy its art, theatre, museums, libraries, tours, horse carriage rides, boutique shopping, world-renowned dining, cafes, bakeries, micro-breweries, old-style English and Irish pubs, and so much more. Many of these establishments are in stunning heritage buildings such as the Empress Hotel, Bard & Banker, Irish Times, Gatsby Mansion (now Pendray Inn & Tea House) and St. Anne's Academy.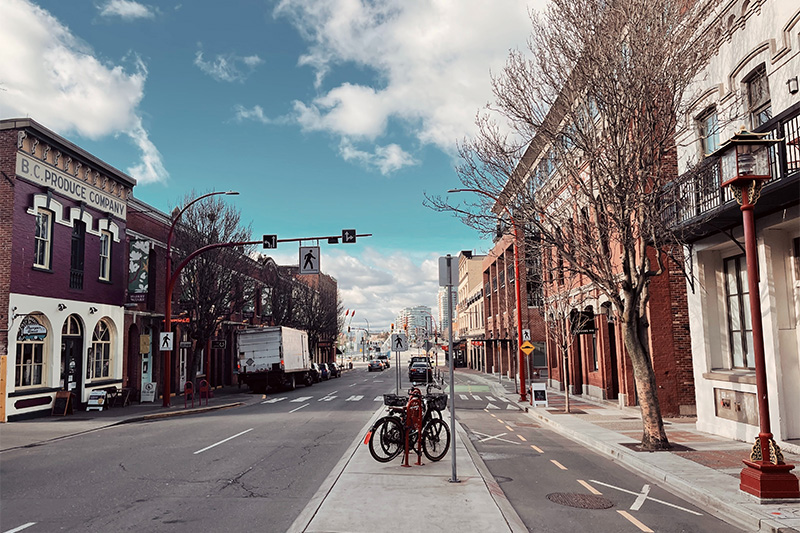 Bastion Square is the original site of Fort Victoria that overlooks the Inner Harbour. Bastion Square provides hours of enjoyment and culture for locals with live music, art, galleries, cafes, heritage pubs, restaurants, shopping, outdoor markets and more. Garrick's Head Pub is a local hotspot and one of the oldest English pubs in Canada that proudly resides in Bastion Square.
Beacon Hill Park and Dallas Road Waterfront Trail are both popular spots to enjoy the natural beauty in Downtown Victoria.
Housing real estate options in Downtown Victoria typically range from condominium buildings (heritage to modern contemporary), 4-plex (and other low-density conversions), heritage homes, arts and crafts, cape cod to luxury custom builds.
Fairfield
Fairfield, often known as Cook Street Village, is a sought-after community due to its quaint European village feel and proximity to Dallas Road Waterfront Trail, Clover Point Park, Beacon Hill Park and Downtown Victoria.
Fairfield has every amenity for the residents of this trendy neighbourhood, including cafes, restaurants, boutique shopping, fresh produce and more.
Sir James Douglas originally owned this large area of land that he named Fairfield Farm. Several heritage homes and buildings in this neighbourhood remain on large sprawling lots, and many streets are beautifully lined with mature trees.
Some of Fairfield's housing options are condominiums, duplexes, townhouses, rowhouses, large character homes, heritage buildings and modern contemporary builds. Like many communities in Victoria, the City of Victoria has housing design guidelines for new builds in Fairfield to retain the character and charm of the community.
James Bay
The community of James Bay is best described as a funky heritage beach village and is the oldest residential area on the west coast of North America.
Located along the beach overlooking Juan De Fuca Straight and adjacent to the City of Victoria, the beautiful neighbourhood of James Bay is a short walk from the downtown core. James Bay is home to the famous Ogden Point Breakwater, music on the Breakwater Barge, Fisherman's Wharf, and Emily Carr House.
Ogden Point harbour brings in cruise ships from around the world that bolsters James Bay and Victoria's economy. This active harbour is home to the Canadian Coast Guard and Helijet, which commutes from Victoria by helicopter for many working professionals to Nanaimo and Vancouver.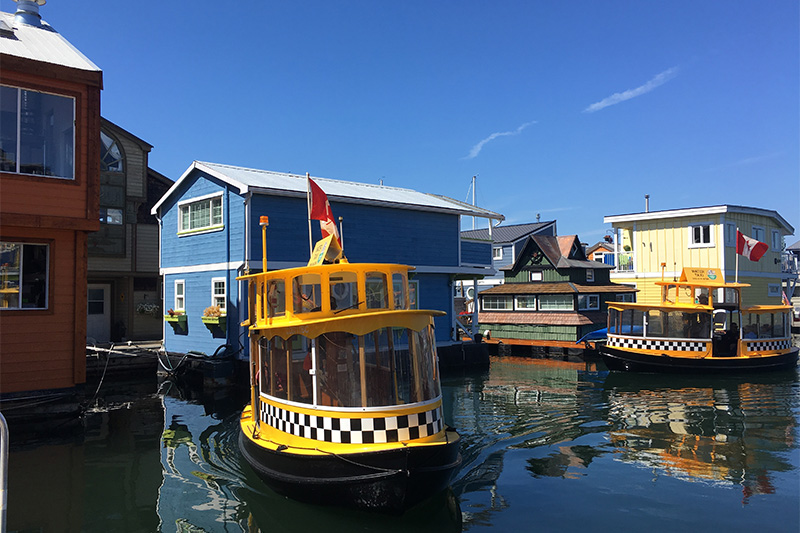 James Bay has its own microclimate, and during early spring, you will see old-growth cherry trees blossom before other neighbourhoods in Victoria. Streets are lined with beautiful mature trees, and several green areas and parks are scattered throughout this heritage community.
Artsy in nature, the locals of James Bay enjoy farmers' markets, art shows and tours, outdoor music venues, horse-drawn carriage rides and a diversity of creative culture.
James Bay Village offers every amenity to its residents, including dining, cafes, shopping, tea houses, pubs and more. You don't have to walk far to the local grocery store or pharmacy to pick up necessities.
Houses come in various unique styles, designs and re-designs, making the area an exciting mix of eclectic architecture. Residents embrace this artsy neighbourhood with an attractive array of different house colours and styles, adding to the character of James Bay.
Rockland
The elegant and luxurious neighbourhood of Rockland boasts beautiful gardens, old-growth trees, historic land sites and an abundance of stunning original heritage buildings. Located adjacent to Fairfield, which was once part of "Fairfield Farm," Rockland's proximity to the City of Victoria offers residents every possible entertainment and convenience.
Beauty is abundant in the prestigious neighbourhood of Rockland. This community has taken great strides to retain its history of wealth and grandeur. Lush gardens, Garry Oaks, stonework and plenty of green space are scattered throughout Rockland.
Home to the Craigdarroch Castle, Fairholme Manor and Government House, Rockland has many awe-inspiring and intricate historic architecture. Several of these grand opulent mansions were built in the late 1800s and early 1900s for wealthy residents who referred to Rockland as Government Hill or Nob Hill. Now famous architects were commissioned to build for Victoria's elite, such as politicians, bankers and entrepreneurs.
The impressive grounds of the Government House are open to the public and free to relax and appreciate. In keeping with Rockland's pride and sense of community, the Friends of the Government House Garden Society volunteer their time to maintain the gardens' beauty for the entire neighbourhood's enjoyment.
The Rockland Neighbourhood Association is another local volunteer group that strives to maintain the beauty and integrity of Rockland.
The Langham Court Theatre and Art Gallery of Greater Victoria offers culture to Rockland's citizens. Shops, salons, restaurants, cafes, grocers and more are nearby for Rockland locals. Gonzales Bay runs between Rockland and South Oak Bay, providing residents with a beautiful sheltered sandy beach.
Many homes sit on large lots with mature trees offering privacy to Rockland homeowners. Rockland consists mainly of single-family dwellings but also contains condos, apartments and townhomes. House styles range from Tudor, character, arts & crafts, custom to stunning modern and heritage mansions.
Oak Bay
The district of Oak Bay has its own municipality incorporated in 1906 that sprawls alongside Vancouver Island's coastline southeast to the City of Victoria. Scenic Beach Drive runs from Downtown Victoria through Oak Bay past Willows Beach and the Uplands into Cadboro Bay, connecting these waterfront communities together.
The prestigious and sought-after community of Oak Bay has been considered the safest place to live on Vancouver Island and the best place to live in British Columbia, which attracts retirees. This suburban neighbourhood has a population of approximately 18,000 and forms part of the Greater Victoria area.
Oak Bay Village has an old-world European charm with every possible convenience, including restaurants, pubs, cafes, groceries, shopping and more. Residents can easily bike or drive to Downtown Victoria, Fairfield, University of Victoria, Camosun College and several other neighbouring communities within minutes.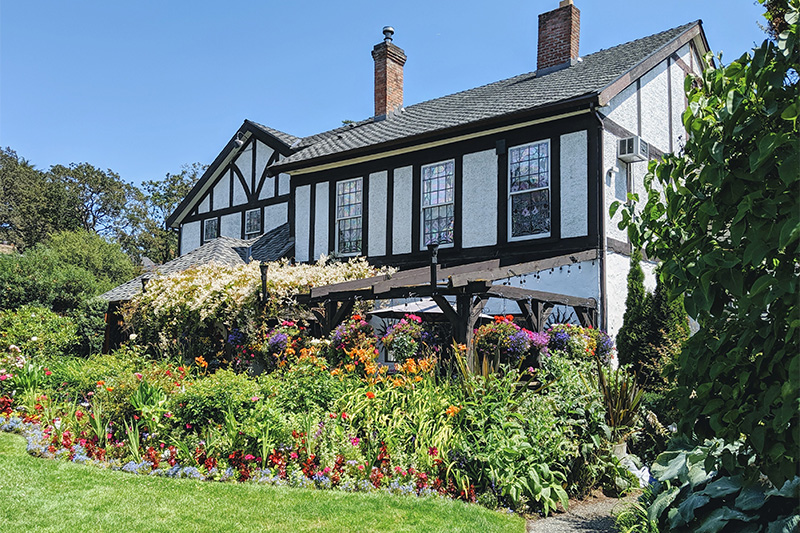 Willows Beach is one of Victoria's most popular beaches due to its extensive sandy shallow shoreline, stunning views, seaside walkway and family park area. Boat enthusiasts enjoy the proximity to Downtown Victoria from the Oak Bay Marina.
Outdoor activities such as golf, kayaking, paddleboarding, sailing, biking, and more are popular for Oak Bay locals. Beaches, marinas, parks, golf courses, trails and walkways promote an active lifestyle in Oak Bay.
Oak Bay golfers enjoy the world-renowned Victoria Golf Club, founded in 1893. This breathtaking golf course on Victoria's shoreline boasts a stunning heritage clubhouse built in 1923. The Uplands Golf Club was established in 1922 and is another popular 18-hole course for residents of Oak Bay.
This heritage community is rich in history and has many beautiful original character buildings and homes. The iconic Oak Bay Beach Hotel, built in 1927, was destroyed by fire and rebuilt in 2012 into a 19th-century Victorian design. Glenlyn Norfolk School was built from 1897 to 1910 and is now a privately run university prep school providing high-quality, prestigious education for young students in Oak Bay.
The Uplands is a luxury waterfront Oak Bay neighbourhood in Greater Victoria along Beach Drive with numerous old manors, beautiful stonework, and several modern luxury mansions. Two large and very old stone pillars mark the entryway to this affluent residential area of Oak Bay. Mature trees and beautiful lamp posts line the Uplands streets. Stunning ocean views and estate-sized lots are prevalent for most of these homes. If Oak Bay sounds appealing to you, check out some Pros & Cons of Living in a City Like Oak Bay.
Many homes in Oak Bay are heritage, with several other eras mixed in. Styles range from old and modern mansions, pre and post-war, character, Georgian, Tudor, colonial, luxury, and custom builds to west coast contemporary. Condos, townhomes, duplexes and single-family homes are available in Oak Bay.
Jubilee
Jubilee is a residential suburban area located alongside Oak Bay and bordering Saanich. Close to the Royal Jubilee Hospital and several medical and cancer clinics, this area is known as the "Hospital District" and is a popular place to live for health care professionals.
The Royal Jubilee Hospital was founded in 1890, where the historic Begbie Hall now exists. Begbie Hall was initially built in 1926 for nursing students attending the Royal Jubilee Hospital School of Nursing and has now become part of the footprint of the Royal Jubilee Hospital.
An eclectic mix of restaurants and pubs, local parks, Spirit Garden, shopping, schools and easy access to transit make this more affordable area of Victoria popular for families and young adults.
Mainly single-family character homes, the area of Jubilee also has condo buildings and other strata options such as duplexes and townhomes.
Harris Green
The up-and-coming neighbourhood of Harris Green offers more affordable suburban living to residents who wish to be close to an active downtown lifestyle. Several new high-density condo developments make this one of the fastest-growing communities in Victoria. Harris Green is ideal for working professionals within walking and biking distance to Downtown Victoria.
Harris Green Village is a mixed-use commercial and residential community offering locals many amenities. Theatres, shopping, dining, coffee shops, grocery stores, markets and more are in, or near, the Harris Green community. Royal Athletic Park is minutes away for sports and recreational enthusiasts.
Metropolitan Methodist Church and Christ Church Cathedral are both stunning historic and artistic architectural works in Harris Green.
Most housing was built between the 1960s to 1980s, with added developments from 1990 to 2000 with several new condo projects popping up. Mostly apartments and condominiums mixed with single-family homes, this area maintains a similar number of homeowners and renters.
Fernwood
The townsite of Fernwood began in 1843, and by 1890 with the introduction of a street car line, many large homes were built to accommodate the growth of middle-class residents.
Today, large beautiful historic buildings still stand in the Fernwood Village, including the Belfrey Theatre (a converted church built in 1892), the Fernwood Inn, the Rennie & Taylor Bakery building, the Parfitt House and many more.
The locals fondly refer to this urban, artsy and vibrant neighbourhood as "Funky Fernwood." Numerous artistic, creative, musical and theatrical events occur in Fernwood Village Square.
Fernwood has a proud neighbourly small village feel. Families, young adults and retirees are drawn to the area for its history, education, culture, events and sense of community. The Fernwood Neighbourhood Resource Group and the Fernwood Community Association are both actively involved in cultural events that enrich the community of Fernwood.
Every amenity and activity is available within walking distance in Fernwood, such as bistros, cafes, pubs, breweries, fine dining, boutique shopping, farmer's markets, schools, parks and more. Fernwood has an excellent livability score and is ranked the fourth best neighbourhood to live in Victoria.
Located east of Victoria, Fernwood is close to downtown Cook Street Village, Royal Jubilee Hospital, Hillside Shopping Centre, Royal Athletic Park, Craigdarroch Castle and more.
Housing options include condominiums, duplexes, 4-plexes, townhouses and single-family homes. Fernwood has a mix of building styles from heritage, character, craftsman, and cape cod to modern contemporary.
Hillside-Quadra
The central area of Hillside-Quadra offers more affordable housing for Victoria residents. This community has several shopping centres to choose from, a short drive or bike downtown and minutes from every convenience.
Quadra Street runs from the beginning of Saanich straight into Downtown Victoria making this a convenient and central location for transit and commuting.
Apartments, condos, single-family homes, strata duplexes and townhouses are available to residents in the Hillside-Quadra area. Many single-family homes have additional accommodation and suites providing mortgage helpers for new homeowners.
This area is desirable for investors wanting a rental property for university and college students as it is a quick bus or bike ride to the University of Victoria and Camosun College.
Oaklands
The central, walkable area of Oaklands is located between Hillside-Quadra, Jubilee and Saanich, making it desirable for families or students who want a suburban lifestyle close to downtown and the university. Many streets are lined with Garry Oaks, mature Chestnut trees and other beautiful foliage.
Home to Hillside Shopping Centre and Haultain Corners, Oaklands has every necessity, including schools, daycares, stores, medical clinics and more. Several local parks, recreation centres and the Oaklands Community Centre draw in young families.
Condominiums, townhouses and single-family dwellings built from the early 1900s to the present are options for Oaklands residents.
Saanich
The municipality of Saanich is a large district in the Greater Victoria area with a population of close to 120,000. This area is broken into East Saanich and West Saanich, containing many popular and well-established suburban residential neighbourhoods.
East Saanich communities include Arbutus, Blenkinsop, Broadmead, Cadboro Bay, Camosun, Cedar Hill, Cordova Bay, Gordon Head, High Quadra, Lake Hill, Lambrick Park, Maplewood, Mt. Doug, Mt. Tolmie, Quadra & Swan Lake, Queenswood, Sunnymead and Ten Mile Point.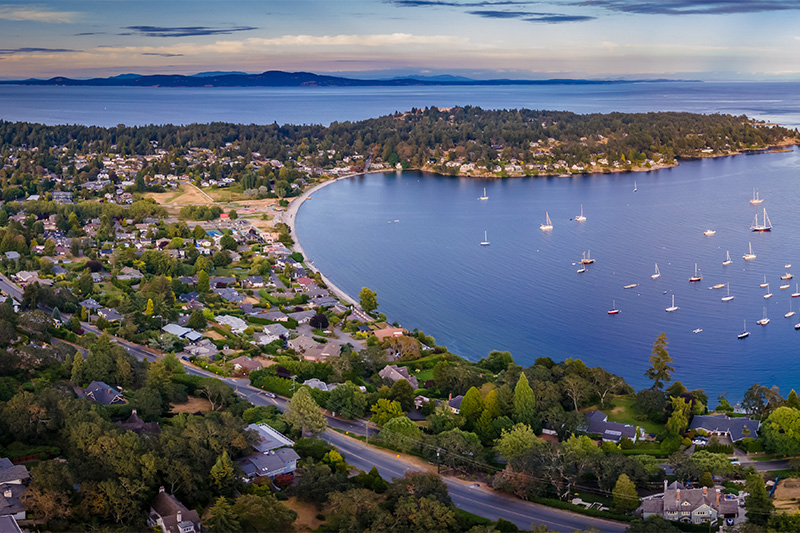 West Saanich neighbourhoods are Beaver Lake, Elk Lake, Gateway, Glanford, Gorge, Granville, Interurban, Layritz, Marigold, Northridge, Portage Inlet, Prospect Lake, Royal Oak, Rudd Park, Strawberry Vale, Tillicum, West Saanich and Willis Point.
Every community is centrally located on the outskirts of the City of Victoria, making it an easy commute downtown. Saanich has beautiful mature trees and landscaping with plenty of green space making Saanich a desirable suburban municipality.
The Saanich Bike Network connects several biking trails together for commuting and recreational cyclists. The Galloping Goose and Lochside Regional Trails have beautifully maintained biking trails and wood trellis bridges for local cyclists.
Outdoor activities are abundant in Saanich due to the numerous lakes, waterways, parks, forests, hills, mountains and beaches. A few Saanich favourites are Gyro Park in Cadboro Bay, Mount Douglas Park with gorgeous ocean views, Cordova Bay Beach, Gorge Waterway and Portage Inlet Park, Elk and Beaver Regional Park and trails, Mount Tolmie, Prospect Lake Park and the beautiful lush campus of the University of Victoria.
Continuing education is within easy access for Saanich students as Camosun College Interurban, Camosun College Lansdowne, and the University of Victoria are all nearby. Families have access to schools and daycares located in all Saanich communities. Every amenity and convenience is available to the residents of Saanich.
Songhees
This beautiful waterfront community is located inside Victoria's Inner Harbour adjacent to Victoria West. Surrounded by water on three sides and upscale condominiums, Songhees has a distinct resort feel.
The Songhees Waterway is a popular boardwalk leading into downtown and Esquimalt. Locals enjoy the Ocean Point Resort, fine dining and a brewery pub situated along this oceanside walkway.
The Victoria Harbour Ferry service is a water taxi service for locals and tourists to access many stops along the waterway, including Fisherman's Wharf, downtown, Songhees Waterway, and other favourites along the Gorge.
The modern and sleek Johnson Street Bridge (Blue Bridge) provides easy access to Downtown Victoria within minutes by foot, bike or car. Neighbouring Vic West and Esquimalt offer every amenity to residents of Songhees.
Mostly condominiums and townhouses, Songhees was developed to take full advantage of its stunning ocean views.
Victoria West
Known fondly as Vic West, this community is a more affordable area of Victoria with many single-family homes. Vic West offers suburban family appeal close to Downtown Victoria, via Bay Street bridge, and along the Gorge Waterway.
Victoria West has parks, walkways, bike paths, the Galloping Goose Trail, community gardens, boutique shops, cafes, restaurants and more. Vic West Community Centre, the surrounding park, and the waterfront walkway are neighbourhood family favourites.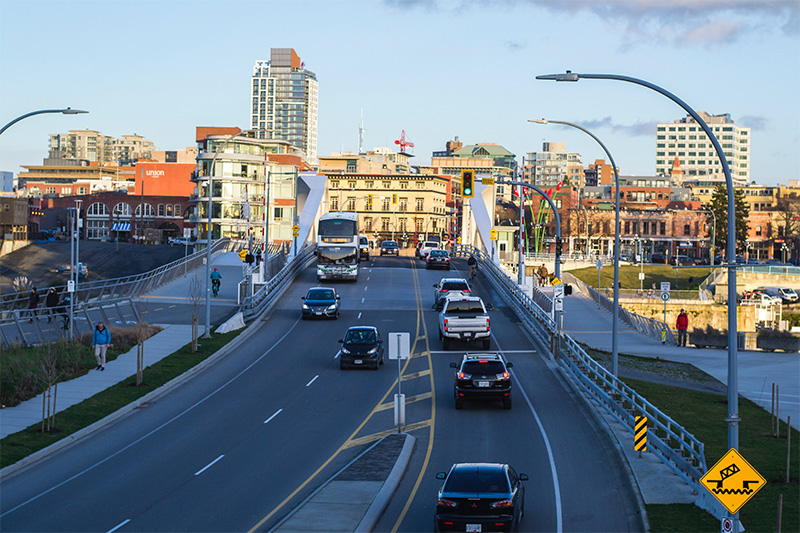 Vic West Shipyard and Point Hope Maritime host several festivities, art events and markets. An ocean backdrop with large commercial, heritage or naval vessels offer a remarkable destination for a neighbourhood event or Sunday afternoon.
Craigflower Village has a funky village vibe with several unique stores, bike shops, cafes, bakeries and more. Esquimalt nearby offers residents of Vic West further amenities, parks, beaches, rec centres and entertainment.
Real estate options in Vic West include waterfront properties, condominiums, row housing, townhomes and single-family homes. Many were built before 1960 and several after the year 2000 in a variety of housing styles.
Burnside Gorge
The suburban community of Burnside Gorge lies alongside the Selkirk waterfront offering stunning water views and oceanfront properties for many condos and homes. Downtown Victoria is within walking distance and easily accessible by water taxi, bike or a few minutes' car drive.
Mayfair Mall, Uptown, Tillicum Mall and Douglas Centre are just a few nearby shopping centres. Rec centres, ice rinks, parks, green space, community garden, the Gorge Waterway and historic sites such as Point Ellis House Museum & Gardens provide family entertainment.
Breweries, pubs, lounge dining, restaurants, cafes, malls, grocery stores, markets and more all add to the convenience and appeal of living in Burnside Gorge.
Esquimalt
The Township of Esquimalt is a waterfront suburban community located within minutes of downtown Victoria and home to the Canadian Forces Base (CFB) Esquimalt Naval Base.
Locals often gather on the beaches of Saxe Point Park to enjoy gorgeous west coast sunsets. The trail system throughout Saxe Point Park that connects with Fleming Beach and Macaulay Point Park are favourites for dog owners, walkers and runners.
Macaulay Point is a historic site in Victoria that was once a military defence fortress called Fort Macaulay. Today, families and children enjoy playing and discovering through the bunkers, lookouts and defensive berms in this 7.6-hectare municipal park.
Esquimalt is an up-and-coming neighbourhood as many young families are drawn to its proximity to downtown, parks, beaches and every convenience. The municipality has approved many improvements for Esquimalt, such as a large family waterpark, beautiful new library, outdoor town square and contemporary mixed-use condo buildings offering funky cafes, art galleries and more. For a more detailed look at Esquimalt as a place to live, here's the Pros & Cons of Moving to a City Like Esquimalt.
Primarily residential, Esquimalt's housing ranges from large luxury waterfront homes, many 1950s and 60s post-war style houses on large lots, duplexes and townhomes to modern condominiums.
View Royal
On the outskirts of Victoria, the Town of View Royal is included in the Greater Victoria area, with approximately 11,000 residents. View Royal offers over 700 hectares of parkland, including many lake and park favourites for residents of Victoria, such as Thetis Lake Regional Park, Mackenzie, Pike and Prior.
Four Mile Brewpub, located in the heart of View Royal, is an old English Tudor Inn built in 1858 with a rich and varied history. Admirals Walk Shopping Centre, Eagle Creek Village, Elements Casino and Victoria General Hospital offer the residents of View Royal everything they need.
The newly designed E&N Rail Trail is a beautiful bike and walking trail that runs along the railway line and is popular for commuting cyclists and families. Families often gather to enjoy the park at Portage Inlet or paddle and swim in the waterway.
A blend of old and new, View Royal has mixed-use condo buildings, townhouses, duplexes and single-family dwellings. Many come on large lots, and a few neighbourhoods in View Royal are amongst beautiful acreage and farmlands. Newer View Royal developments are often high-density residential condos, townhomes and single-family homes.
Where to Live in Victoria, BC
Victoria offers many beautiful areas, and each neighbourhood has its benefits. Suburban, downtown, village, oceanfront, lakefront, farm and acreage are all available in the Greater Victoria area and within easy access to Victoria's downtown core.
Learn more about each Victoria area through LoyalHomes.ca Communities. LoyalHomes.ca is happy to arrange a personalized home search in the neighbourhoods you would love to live.
We hope you've found this information about Victoria neighbourhoods helpful. For your convenience you can easily search all Victoria Houses for Sale here.