What Are the Best Neighbourhoods in Squamish?
Posted by Chris Fenton on Monday, May 1, 2023 at 10:00 AM
By Chris Fenton / May 1, 2023
Comment
Welcome to the Loyal Homes guide to the neighbourhoods of Squamish, a beautiful recreational capital of British Columbia. This article will offer a brief overview of Squamish as a city, including the highlights and attractions available to residents and visitors to Squamish. We will then dive deeper into the various distinct neighbourhoods of this area and conclude with some of our advice on where to live in this thriving region between Vancouver and Whistler.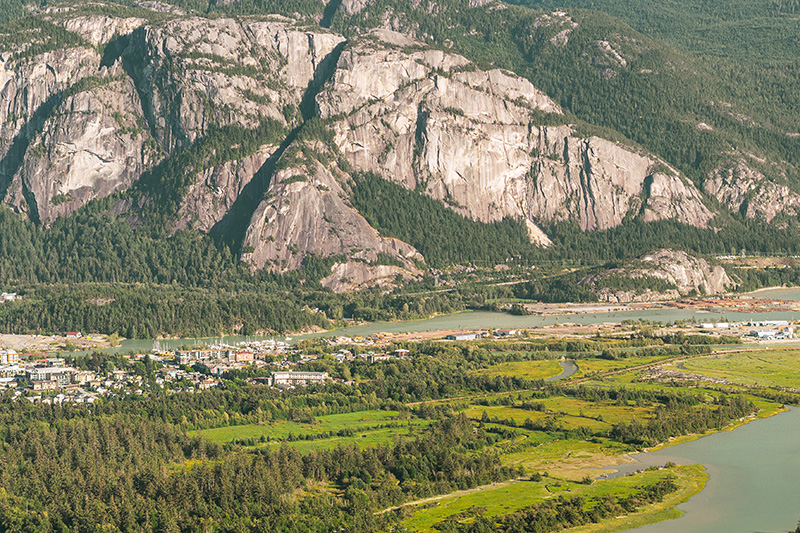 Welcome to Squamish
Squamish is a small city located in British Columbia's Sea to Sky region. Squamish is situated at the northern end of Howe Sound and is 50 km north of Vancouver. Squamish is known for its beautiful natural surroundings, with the ocean, mountains, and forests all within proximity. It is popular for its access to Whistler and Vancouver, as well as the numerous outdoor recreation activities that are possible in the nature surrounding the city.
Squamish has experienced incredible growth in the past decade, transforming from a redneck backwater with high unemployment rates to a vibrant town popular among young families, innovative businesses, and real estate developments.
What Are the Best Areas of Squamish to Live In?
Downtown Squamish
Let's start with the densest part of Squamish, located in the central commercial area. Downtown Squamish is the city's central business district, with various shops, cafes, restaurants, and services. It is located near the mouth of the Squamish River and is a hub for tourism and commerce. It is also a growing area of industrial capacity with businesses that employ many of the residents.
Downtown Squamish is also home to the arts and culture of the area, serving as a host for community events and festivals such as the Squamish Days Loggers Sports Festival and the Squamish Wind Festival. Several specialty businesses and stores are located in two sizable shopping centres to suit residents' daily needs. Three public schools serve the downtown neighbourhood: Squamish Elementary, L'Ecole Les Aiglons, and Howe Sound Secondary School, with plenty of additional daycare centres nearby.
For those who read our Pros and Cons article on Squamish, you will understand that the youthful population of Squamish demands many schools and childcare facilities. Residential, commercial, and industrial development are all planned for the downtown Oceanfront area. The waterfront path network provides excellent hiking opportunities and access to several watersports, including kitesurfing, windsurfing, paddleboarding, sailing, and boating. This area offers denser residential housing types, including small apartment buildings and townhouses. For those looking for larger homes, consider some of the other areas we will cover below.
Valleycliffe & Hospital Hill
Across from the inlet that separates Downtown lies the Stawamus Indian Reserve 24 and the Valleycliffe and Hospital Hill area. This is the most southern part of Squamish and lies closest to Vancouver. Hospital Hill sits above Highway 99, offering views of the Squamish River and the mountains.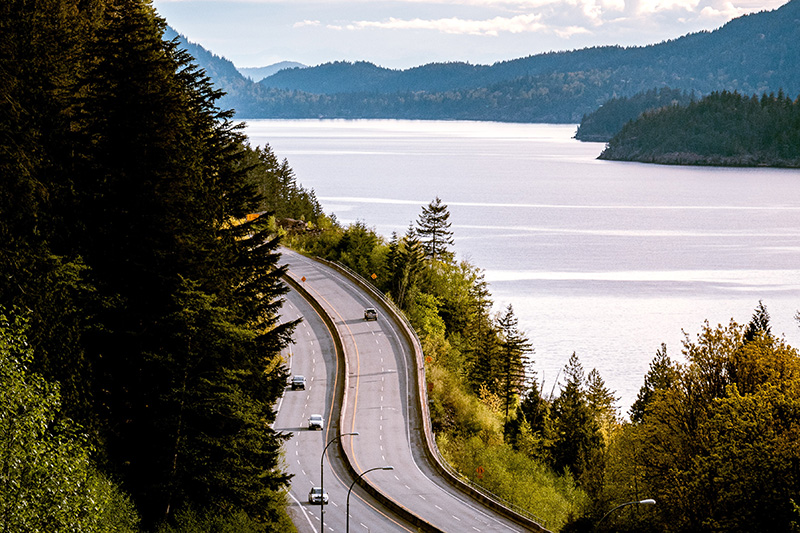 This area is also home to some of the most prominent new development townhomes, viewable by anyone passing through the city on their way to Whistler. These neighbourhoods offer excellent access to hiking and climbing for their residents.
Dentville
Central Squamish is home to several different neighbourhoods. Dentville is one of the area's original neighbourhoods, developed during the logging boom, and is located along the Squamish River. Once a hub of industrial activity, today, it is a quiet residential area for those who want to be near the water.
Dentville is popular among artists and craftspeople, offering eclectic studios and many galleries dotted throughout the neighbourhood. Today Dentville is not particularly dense and consists primarily of single-family homes on large lots, with the occasional laneway house in the backyard. There are the beginnings of more density as the city starts to approve more townhouse-style developments in Dentville and the adjacent Northyards.
Brennan Centre
To the east of Dentville, further inland, lies the Brennan Centre neighbourhood. Situated in the southeast corner of Squamish, this area has several recreational facilities, such as a sports field and a community centre.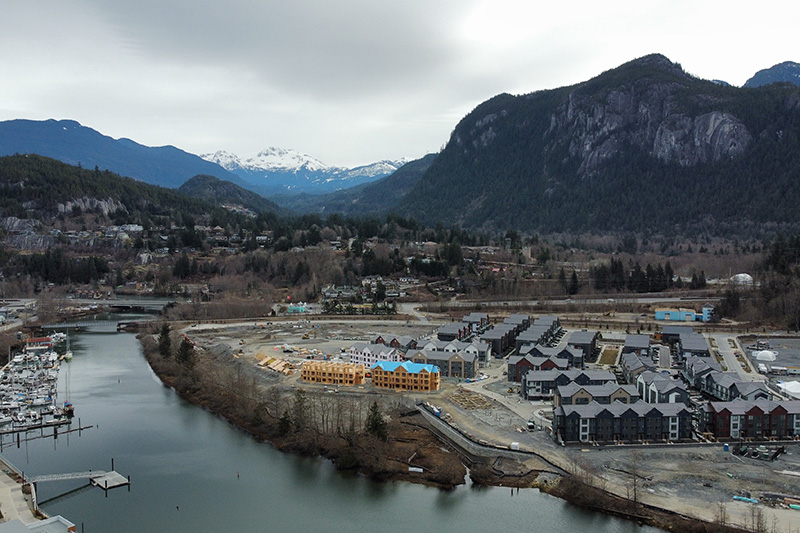 Because of the proximity to nature, this place has a rural feel, with relatively gentle density comprising primarily single-family homes and townhouses. Downtown is an easy walk or cycle away along the paved Corridor Trail. It's a popular location for active families who want to be close to the outdoor recreation that Squamish is famous for.
Garibaldi Estates & University Highlands
North of Brennan Centre is Garibaldi Estates and University Highlands. The Estates is a residential neighbourhood at the base of the Stawamus Chief and is known for its beautiful views of the Chief massif and the surrounding peaks. Most homes here are updated and modern, as it is a newer neighbourhood. The adjoining University Heights gets its name due to the proximity to Quest University, a private, not-for-profit post-secondary institution offering an unconventional curriculum to liberal arts and sciences students. This area is one of the more luxurious areas of modern Squamish.
Brackendale
Moving further north, we find Brackendale, most famous for its incredible annual eagle count. The popular "Eagle Run" eagle viewing location, two commercial centres, and a well-balanced mixture of new and old buildings, detached single-family houses, duplexes, and townhouse complexes can all be found in Brackendale.
Tantalus
Young families and professionals enjoy living in Tantalus, which is located immediately north of Garibaldi Estates and includes mid- and low-rise condominiums, townhomes, and some single-family homes. It is ideally situated close to the Garibaldi Village Center and provides easy access to the motorway and a huge network of bicycling and hiking trails. Close to Tantalus is Paradise Valley, offering similar benefits and real estate options.
Loyal Homes Top Picks
So, where would we pick if we were to choose where to live in Squamish? For those seeking density and walkability, the Downtown area is unbeatable. It offers the highest number of apartments and townhomes and gives residents easy access to coffee shops, commercial hubs, and places to work. Second would be Brackendale, for the unique opportunity to live among the incredible eagles. There is nothing better than seeing a soaring bird of prey to open the heart and the imagination and encourage you to explore the peaks, valleys, and rivers surrounding Squamish. Our final pick is Garibaldi Estates due to the luxury homes that offer views of the mountains and river that you will never get tired of.
Where to Live in Squamish?
So, what do we know about Squamish? An active area that offers a lot of exciting opportunities for young families, there are a variety of neighbourhoods and housing types to choose from. Squamish provides unique recreational access and proximity to Vancouver. Where you choose to live in Squamish might depend on what you like to do, as you can choose to live by the river or the mountains!
Expect property values to increase further from the Central area, as these neighbourhoods offer large lots and more single-family homes. There are so many Factors to Consider when Moving to a New City, to help you choose the right neighbourhood in Squamish, consider some of the following tips:
What is your lifestyle - do you want to be closer to outdoor amenities or closer to the denser areas with more shops?
Are you commuting regularly to Vancouver? If so, you may want to choose a neighbourhood in the southern part of the city, which is closer to Vancouver.
Squamish is still primarily single-family but is beginning to offer more dense options. Consider your budget and housing preferences when looking for what you need… and if you want high luxury, you can find incredible houses with unbeatable views!
Check out the schools and parks of the area. Most Squamish neighbourhoods are family-friendly, but it's still worth checking out where the schools are - especially if you want your children to be able to walk or cycle back and forth.
For those who might be considering moving to Squamish, or those who already own a home in one of these neighbourhoods, we are here to help. Connect with our team of experts that we call our "Client Care Coordinators." They are available to answer questions about the market and help you out whether you are buying or selling in Squamish. Our team is integrated with experts across the province who can offer you an even deeper level of detail about specific neighbourhoods or homes.
If you have any questions, please let us know. We are always keen to share our knowledge and prove our commitment to a high level of integrity and customer service to our readers.
We hope you've found this information about Squamish neighbourhoods helpful. For your convenience you can easily search all Squamish Houses for Sale here.