What Are the Best Neighbourhoods in Qualicum Beach?
Posted by Chris Fenton on Monday, June 5, 2023 at 10:00 AM
By Chris Fenton / June 5, 2023
Comment
The eastern side of Vancouver Island is home to the Oceanside region. Of these, Qualicum is one of the most well-known towns for relaxed, comfortable living. It has a population of around 10 000 residents, many of which enjoy golfing, swimming at the beach, hiking, canoeing, and bicycle riding. This oceanside community contains a temperate, comfortable climate year-round, adding too many outdoor activities' enjoyment. For example, the climate provides Qualicum with the driest golf courses on Vancouver Island.
Why Move to Qualicum Beach?
Qualicum is ideal for a variety of lifestyles and housing needs. You will find such a variety as executive-style homes right on the beach, affordable duplexes and single-family homes, mobile homes tucked away in the forest with ocean views, condos above boutiques and restaurants, acreage, and much more. The common element for all housing types is the proximity to the beach or a beautiful west-coast forest.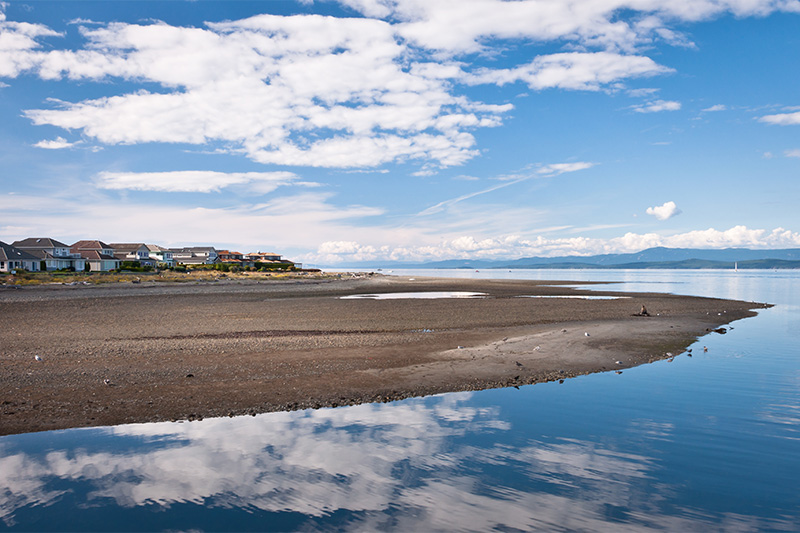 Hobby farmers and those seeking the best bang for their buck in purchasing acreage are likely to have the best luck in Coombs, Hilliers, and Errington. Dashwood and Qualicum Beach are great options for those that want a short commute to work and the downtown shopping district. Or, you can have both worlds with a short drive from regions like Little Qualicum River and Qualicum North. These areas outside the downtown core have a mix of natural beauty and several essential amenities nearby.
Most activities within Qualicum are suited for outdoor enthusiasts. The top choices are hiking, biking, kayaking, canoeing, boating, swimming, and golfing. Qualicum Beach Memorial Golf Course is one of the best places to golf, with Eaglecrest, Arrowsmith Golf, and Pheasant Glen as other great options. The downtown core offers several unique retail stores, locally owned restaurants, and shopping boutiques, so there is a good balance between city life and outdoor recreation.
Qualicum's central location is advantageous when it comes to having choices of things to do and places to go. Nearby towns and cities to Qualicum include a forty-minute drive or so to Nanaimo, Port Alberni, or Courteney, depending on which direction you go. These cities are larger than Qualicum and offer additional shopping and recreational options. The airports and ferry services in the Comox Valley and Nanaimo also provide additional travel options, allowing residents more options for places to visit.
What Are the Best Areas of Qualicum to Live In?
Dashwood
The neighbourhood of Dashwood is located along the Old Island Highway on the northern end of Qualicum Beach. It is about a ten-minute drive to downtown Qualicum Beach, where many shops, restaurants, and boutiques can be found.
The best part about Dashwood is its oceanfront location and quaint feel. There are mainly residential properties here, making it perfect for vacation rentals, income-generating properties, or a quiet place to call home.
Even though the highway runs through Dashwood, you wouldn't know it because homes are immersed in nature. If not near the beach, forested areas surround each home either as a backdrop in the backyard or as part of the property. This acts as a sound buffer to any traffic the highway produces. The number of trees also provides shade, habitats for small animals, and fresh air. Dashwood extends away from the beach, so a large portion is within quiet, wooded areas.
Older, mid-century-style homes and ranchers are popular in Dashwood. These houses can be on the smaller side, but the land plots are more than substantial. Roads are rural, often lacking sidewalks but still contain paved roads. Traffic is almost non-existent, so hobbies like horseback riding are seamless between the roads and trails.
Dashwood is a great option to consider if you are looking for a quiet, country life near the beach. Aside from a fire hall and a few stores here and there, Dashwood mainly contains residential homes. The smaller homes require less maintenance, the abundance of nature is relaxing, and a trip downtown is only ten minutes away. Seniors and retirees also appreciate the slower pace of life while still being relatively near essential amenities.
Qualicum North
North of Dashwood is the neighbourhood of Qualicum North. Residential real estate options within Qualicum North have a wide range, offering more selection for several budgets.
At Qualicum Landing, luxurious vacation homes are available for rental. This is an example of a newer subdivision with ocean views, craftsman-style homes, and perfectly manicured landscaping.
Qualicum's most affluent multi-million dollar homes are usually found in Qualicum North. These executive-style and custom-built homes are usually near the oceanfront, but there are properties on large acreages that are just as beautiful. Some of these larger acreages also contain land suitable for farming or livestock, if desired.
Just down the road from Qualicum Landing, you will find other types of homes, such as ranchers, mobile homes, and detached single-family homes. Many of these have scenic views of the Strait of Georgia and surrounding islands. Qualicum North is one of those rare neighbourhoods where you don't need to spend millions on a luxury home to have an ocean view. Something as manageable as a one-bedroom mobile home can still have peaks of the ocean from your kitchen window. Other areas offer a mix of affordable and lavish homes.
Arrowsmith Golf & Country Club and Spider Lake Provincial Park are attractions within or near Qualicum North that residents enjoy. Don't let the name fool you; Spider Lake is a noteworthy fishing location and is beautiful. The way the lake branches, it looks like a spider when viewed from above. Locals use Spider Lake for kayaking, boating, swimming, canoeing, and scuba diving. The nearby Horne Lake offers much of the same, with the addition of caving as another activity. This means both freshwater and saltwater activities are within arm's reach, allowing for more freedom of choice for things to do.
Errington/Coombs/Hilliers
If you enjoy living out in the country, then a home in Errington, Coombs, or Hilliers will be where you want to look! Although a drive to the beach is about fifteen minutes away, this region is primarily rural with farmland, large acreages, and minimal amenities. If you want to have the most amount of privacy and live in peace, then this is a great option for that. Yet, if you still want a community feel with shopkeepers that know your name and residents who wave and say "hello" as you go for your morning walk, then you will find that here, too. This is a small-town vibe out in the countryside.
One of the main highlights of the region is the Goats on the Roof in Coombs. The Coombs Market has been a tourist attraction for many years but also serves as a hub for the residents to grab groceries like freshly baked goods, quality cheeses, and imported delicacies from Europe. A restaurant and gift shop round out the main building, but there are several boutiques and shops to choose from. Coombs Market feels like a small shopping village, with the added feature of live goats snacking on grass growing on the market's roof! Traffic can get congested in this one section of the highway during the peak of tourist season (summertime), but it is still manageable. Other parts of Errington, Coombs, and Hilliers are much quieter, even the parts along the highway.
Aside from the market in Coombs, small local businesses are dispersed throughout the region. Eccentric, unique shops are found just as often as signs pointing to where to get fresh farm produce like corn on the cob, eggs, or blueberries. It is a quieter neighbourhood out in the countryside with its own local charm. Horseback riding and afternoon strolls complement this area well.
Residential real estate options within Coombs, Errington, and Hilliers lean towards more affordable options. Smaller single-family homes, mobile homes, and the occasional rancher are the most common listings. The land is relatively affordable, so if you are looking for acreage, then this would be an excellent neighbourhood to consider.
Little Qualicum River
West of Whiskey Creek and Coombs is Little Qualicum River (LQR). This neighbourhood gets its name from its proximity to Little Qualicum Falls Provincial Park, found to the east. This park contains a campground with the Little Qualicum River flowing through it. As the main highlight of the area, residents and tourists enjoy casually walking the trails and experiencing the waterfalls in person.
Cameron Lake and MacMillan Provincial Park are similar nature hotspots for watersports and walking trails through the woods. Swimming, suntanning, and water sports are enjoyed at Cameron Lake during the summer months. Cathedral Grove, an older name for MacMillan Provincial Park, is one of North America's last remaining old-growth forests. Giant Douglas Firs line walking paths through this protected area, making it a top-rated destination for tourists and locals. There are also several campgrounds within Little Qualicum River to enjoy.
LQR is known for being peaceful, surrounded by nature, and slightly off the beaten path. Outsiders generally visit the waterfalls, which means an average residential street is only used by local traffic. Aside from a few tourist hot spots, traffic is low, and roads are safe to walk on or play road hockey.
The largest subdivision is Little Qualicum River Village, which falls under a strata system. This tight-knit community is gated and contains a community park, storage units, community garbage bins, and a few more amenities to make daily life run smoother.
Outside the village, residential real estate options include large acreages, craftsman and mid-century single-family homes, mobile homes, and the occasional duplex. There are sometimes very expensive homes and ranches for sale, but these are far less common than the other listings.
Commercial real estate options are rare, if available at all. Little Qualicum River is primarily a residential neighbourhood, and residents must travel to nearby areas like Dashwood or downtown Qualicum Beach to access most amenities. Within LQR, you will find the occasional home-based or small business. Still, you will need to travel for shopping options, groceries, restaurants, and medical offices.
Qualicum Beach
The most popular neighbourhood in Qualicum is the downtown core of Qualicum Beach. This neighbourhood has it all - shopping, golf, oceanfront homes, sandy beaches, and plenty of amenities for recreation and employment. Relax, work, and play all in one place!
Commercial real estate listings are the highest in Qualicum Beach. Everything from restaurants to medical offices can be found here. Most listings are related to small retail locations and restaurants. Still, you can find undeveloped land, heritage buildings, grocery buildings, and other mixed-use commercial listings.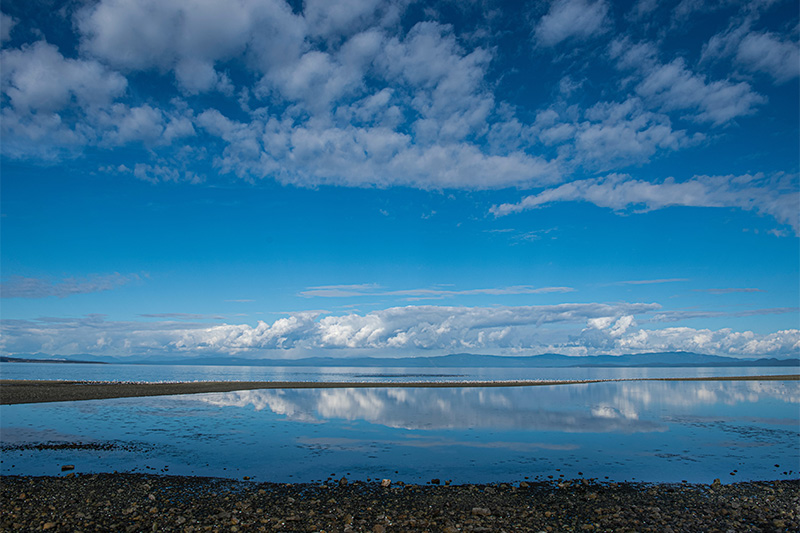 Oceanfront and ocean-view homes are also found within the Qualicum Beach neighbourhood . Several houses are located along the beach, but most are a five-minute or so walk away. These homes are mid to large-sized single-family homes in a variety of styles. Craftsmen, mid-century, heritage, and ranchers are common options. Several condominium buildings contain scenic views of the Strait of Georgia and the downtown shopping district. The farther you are from the water, the more residential options open up. These include single-family homes and multi-family units like duplexes and townhouses.
Aside from shopping and dining out, residents enjoy hanging out at the beach, golfing, curling, BMX riding, skateboard riding, ice skating, and playing at the playground. Qualicum Beach is a family-friendly community that's great for small children to retirees.
Is Qualicum a Good Place to Live?
With so many options within quaint Qualicum Beach, the best place to live depends on your preferred lifestyle. Quiet country living is best found in Coombs, Hilliers, Errington, or Dashwood. Those seeking a bit of the hustle and bustle will appreciate the options within Qualicum Beach's downtown, while places like Little Qualicum River and Qualicum North offer something in-between. Several locations provide the rare opportunity to have ocean views with more affordable housing types like smaller homes and manufactured homes. From luxurious oceanfront homes to humble hobby farms, the Qualicum region has many options. Picturesque beaches and abundant natural forests are only a stone's throw away, no matter which area you choose!