Vancouver Island's Most Affordable City
Posted by Chris Fenton on Monday, August 14, 2023 at 10:00 AM
By Chris Fenton / August 14, 2023
Comment
Word is spreading about how desirable Vancouver Island is as a place to live, but can you afford to live there? As interest grows in an accelerating real estate market, some may wonder if any affordable properties are left to buy.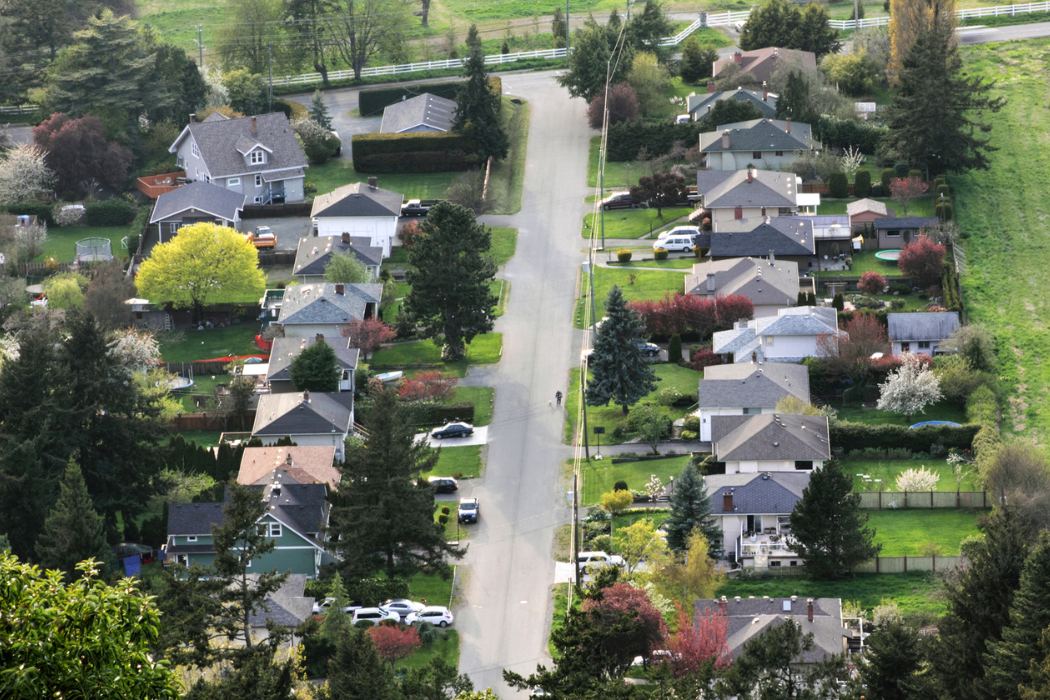 More and more people are relocating to Vancouver Island for its laid-back lifestyle, abundant nature, outdoor recreation options, and small-town charm. While still being relatively close to the Mainland, Vancouver Island offers many similar benefits to Vancouver but at a lower cost of living. Yet, some towns are just as expensive as those found in Vancouver or Burnaby.
So, where should the average person look for affordable housing? Let's dive into some concrete facts to help you out.
What's the Average House Price on Vancouver Island?
House prices on Vancouver Island vary by region and property type. Looking at the 2022 statistics provided by the Vancouver Island Real Estate Board can give a general idea of what to expect when buying a house, townhouse, or condo on the island.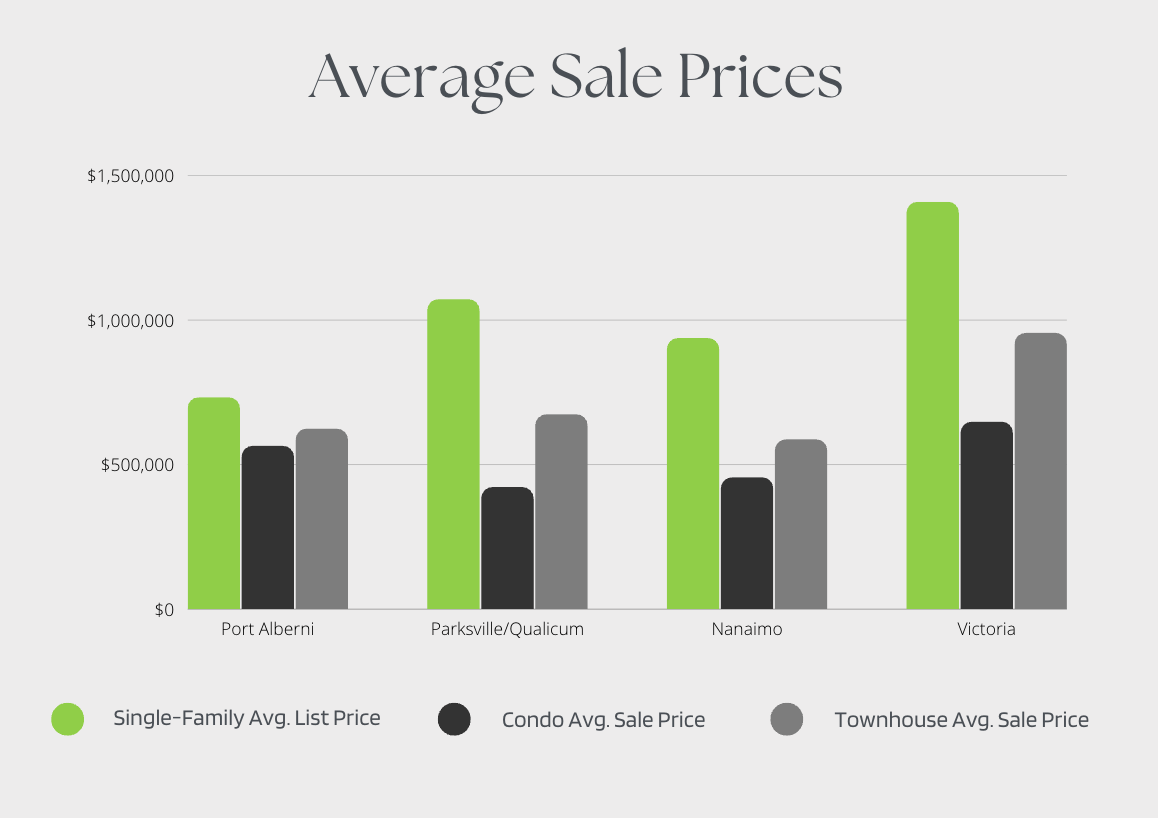 Victoria tops the charts in terms of being the most expensive city on Vancouver Island. The average price for a single-family home in 2022 was $1,408,100, with townhouses not too far behind at $954,900. Condos were the most affordable option at $648,000 on average. This makes sense, as it is the province's capital city and has many employment opportunities, desirable neighbourhoods, and amenities.
Moving north to Nanaimo, we see slightly lower average prices. Like Victoria, Nanaimo has access to the mainland via ferry service and the local airport. The average single-family home in Nanaimo costs about $936,600, much less than Victoria's but still questionable in affordability for the average person. Townhouses sold for around $587,000, and condos averaged $455,800. Nanaimo's range of real estate prices tends to have a broader reach of budgets.
It may feel like the more north you go, the cheaper the real estate prices are. However, that isn't the case. In the Oceanside region (Parksville and Qualicum Beach), the average single-family home hit similar numbers to Victoria at $1,071,050. But don't worry, we researched for you and found the most affordable city on Vancouver Island.
Where is the Most Affordable Housing on Vancouver Island?
Based on statistics provided by the Vancouver Island Real Estate Board, the most affordable single-family housing on Vancouver Island from 2022 is in Port Alberni. On average, a single-family home sold for $731,800, with condos and townhouses at $564,200 and $623,600, respectively.
Port Alberni is a centrally located town with access points to Tofino, Ucluelet, Bamfield, and Nanaimo. While it is located in the centre of the island, the long Alberni Inlet reaches into the town, providing an environment that contains mountains, forests, and the ocean. Highway 4 extends through the town towards Tofino and Ucluelet on the western edge and places like Parksville and Nanaimo to the east.
What makes Port Alberni so interesting is its combination of a beautiful natural environment and a community with a heart. People are drawn to this community for the affordable real estate, opportunities to be tuned-into nature and outdoor recreation options like fishing and hiking. They stay because it feels like home. Most people in Port Alberni treat each other with respect and collectively come to aid when a resident needs help due to unforeseen circumstances, such as losing a home in a fire. Attend any Bulldogs hockey game, and you'll see just how much local pride Port Alberni residents genuinely have for their town.
Who are these people? Port Alberni's demographics lean towards those that are married, near age 50, and have a median annual income of around $50,000. There is a significant First Nations population and a considerable amount of individuals with South Asian heritage. The town's population is approximately 18,000, though this statistic usually doesn't include the surrounding communities of Cherry Creek, Beaver Creek, and Sproat Lake. This town is popular with young families, emerging professionals, and retirees.
Property Types Offered in Port Alberni
Port Alberni real estate has plenty to offer. Most real estate listings are single-family homes, but you won't have trouble looking for a townhouse or condominium. Those seeking more acreage and privacy tend to focus their house hunting in nearby Beaver Creek - a rural neighbourhood directly connected to Port Alberni. If a waterfront property is your goal, then there are several homes along the Somass River and in Sproat Lake to choose from.
Many of the homes in Port Alberni have been built over the last fifty or so years. A substantial number of older homes are in a mid-century modern style, often renovated several times through the decades. Homes built in the last decade are prominently in a craftsman style, with a few newer subdivisions created in places like Upper Burde and Upper Argyle. In South Alberni, many homes have beautiful views of the Alberni Inlet, while homes on the northern end of town have the majestic Beaufort Range as their backdrop.
Several commercial properties are available in designated shopping zones, such as Uptown on Third Avenue, the lower Johnston area, and the Pacific Rim Shopping Centre.
What is Port Alberni Known For?
Where does Port Alberni shine? Port Alberni is known for its fantastic fishing, pristine lakes, and community with a heart.
Salmon Capital of the World
If you enjoy fishing or fish as part of a healthy lifestyle, you're in luck. Port Alberni is known as the Salmon Capital of the World due to its impressive supply of Sockeye, Coho, and Spring Salmon. Each year, salmon return to the Alberni Inlet to spawn up the Stamp River.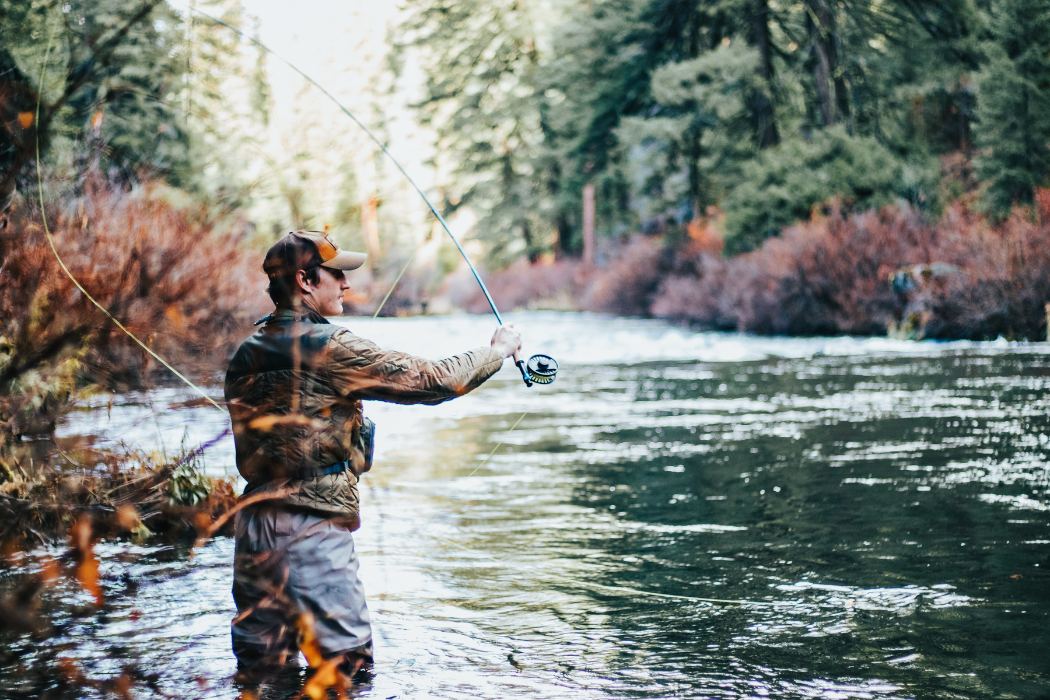 An annual fishing derby brings hundreds of fishing enthusiasts to compete for the top prize. The Alberni Inlet can be seen lined with boats as far as the eye can see, with an excitable buzz emanating from the waters.
B.C.'s Best Lake - Sproat Lake
Recently, a province-wide competition searching for the best lake resulted in a humble Port Alberni Lake as the winner. In The Search For B.C.'s Best Lake, Sproat Lake was chosen as the top pick after 140,000 votes were cast over two weeks. We aren't surprised.
Sproat Lake is known for its pristine waters, comfortably warm temperature, and inviting atmosphere. The lake has several arms, which provide privacy for homeowners and a designated public place at the Sproat Lake Provincial Campground. For many years, the lake was the home of the Mars Water Bombers. These iconic tanker planes helped protect residents from nearby forest fires for many years.
Why live in Port Alberni?
Aside from affordable real estate, there are many other reasons to live in Port Alberni.
Port Alberni is a town surrounded by beautiful nature and contains one of the friendliest communities on the island. Where else can you have your choice of mountains, ocean, and forest right at your doorstep? You can also support local businesses, attend yearly events, and get to know your neighbour like the good old days. For a list of monthly Things to Do in the Alberni Valley, visit here!
Unlike larger cities, residents in Port Alberni like to connect. On any given day, riding the city bus across town will have you witness just this. Strangers chat about the weather, local events, and compliment each other on what they are wearing. Once the conversation gets to the point of exchanging names, often, one person will know a family member related to the stranger they just met. This creates a sense of kinship you don't find in larger cities.
If you love to be stuck in traffic and rely on audiobooks to get you through your daily commute, then Port Alberni perhaps isn't the place for you. You can drive anywhere in less than 10 minutes, making your commute to work and errands very efficient. The only sense of a traffic jam occurs right when the last bell of the day rings to let children out of school, and even that only lasts about fifteen minutes at most. If you miss getting stuck in traffic, there is a small window of opportunity for you to experience it again. But, if you want to regain hours of your life back from being stuck in traffic, then Port Alberni is an exceptional place to live.
People choose to live in Port Alberni for the friendly community, beautiful surroundings, and freedom to regain control of their time. If this sounds good to you, then what are you waiting for? Port Alberni's real estate market is gaining traction - make sure you don't miss out.