This Tool Will Change Your Real Estate Business
Posted by Chris Fenton on Wednesday, December 27, 2017 at 5:50 PM
By Chris Fenton / December 27, 2017
Comment
In my experience great salespeople are not always great business people. This is one of the main reasons why I'm such a big fan of real estate teams. Within a team, a group of people can be assembled with complementary skill sets and personalities.
I've noticed that real estate businesses often evolve from beginnings as a solo operation. For this reason, I wanted to give great sales people a very simple, but extremely powerful, tool for turning their career into an actual business. If you do nothing else from a strategy perspective each year, do this!
The idea is simple, find out where your business came from in the previous year, decide in which areas you want it to grow, then create an annual budget to achieve those goals. Don't let the word budget scare you, I promise this is simple and I'll walk you through it.
Step 1 - Determine Where Your Business Comes From
Begin by printing out every sale (both listing & buying) that you, or your team, where responsible for in the most recent year. Create a spread sheet (or download ours) in which you create categories for every business source (where the business came from). Go through your actual sales and add the totals to the spread sheet in a column labelled "2017 Actual".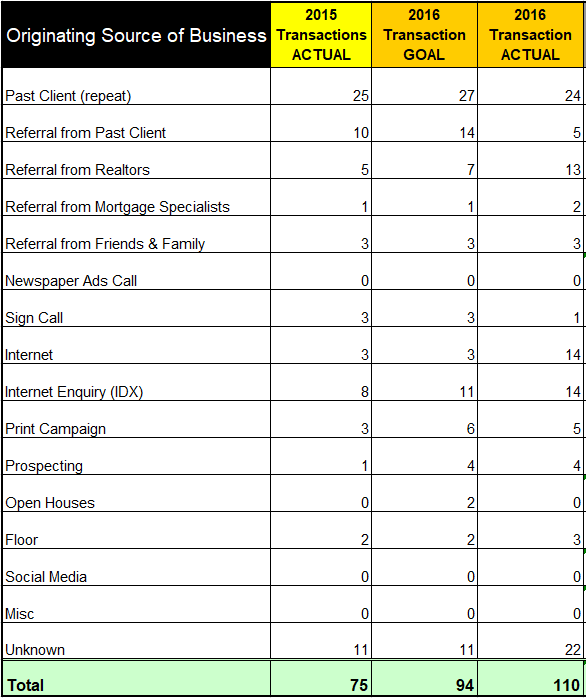 Step 2 - Decide Where You Want to Improve
Next, decide in which areas you think you could most easily, and most cost effectively improve. In your spread sheet create another column named "2018 Goal". Fill out how much business you want to achieve from each business source in the coming year.
Step 3 - Create a Budget to Achieve the Goals
This is the most important part. Create a Budget for 2018. This can be a simple Marketing Budget, in which you decide how much to spend in 2018, and in which areas to spend it. The key is not to fall in the same trap that most real estate agents fall into – do not base it on what you've always done. Base it on what you want to do!
In Step 2 you already decided how much of your business you want to gain from each category. Your budget should match those categories closely.
Step 4 - Stick to it!
This is the hard part for many real estate agents. You have to stay the course. Don't let fear, or overwhelm, get the better of you. Trust your planning and stick to it for 12 months. You'll be amazed how well it works, and how much it frees you from having to make spending decision throughout the year.
How Well Does it Work in Real Life?
Above you can see a real life example from our business. In 2015 we sold 75 units of real estate. As you can see, in 2017 we wanted to increase our business by 25% (20-25% is considered a reasonable growth rate in the real estate industry).
We set a goal of 94 units sold, and for the first time implemented this simple planning tool. As you can see, we blew away our goal! The most interesting part is how closing the real life results met with the planned goal for each category. The only place we continued to falter was in referrals from past clients. That was not a problem with the planning tool, but rather a misunderstanding about how you achieve referrals from past clients.
At the beginning of 2017, we went through the process again. As you can see from the table below, we improved in nearly every area that we set out to improve in. Again we didn't meet our goals for Past Client Referrals (but I promise we will in 2018, having learned so much from the process). We also didn't meet our goals in the Print Campaign (farming) section, but that likely has more to do with unrealistic expectations for a first year of the campaign.

Why Does this Work So Well?
This simple planning tool takes me about 2 hours of work each year and yet it is responsible for a 75%+ increase in revenue over a two year span. So, why does it work so well? The answer is simple; it gets you thinking about your business and the money you spend in a new way.
A good example from our business was newspaper advertising. Before we began this planning process, newspaper advertising was our single largest expense item. Every year, we did more of what we did the year before. We spent on newspapers advertising without thinking. When we began using this tool, we started to ask ourselves "Why are we spending so much on newspaper advertising? Which business source area is it responsible for?" The answer was simple – newspaper advertising was simply not the most cost effective way to attract business.
Once we had that figured out, the question became "What is the most cost effective way to attract business?" The answer for us was through search engines, through social media, and by focusing on our past clients. We shifted resources from newspaper to these areas, and the results speak for themselves.
It's my sincere hope that this article will start you thinking about your business. By no means do we have all the answers, but we're always searching for them, and I hope you do the same. For your convenience, I've included a template of our planning document for your use. Best of luck in 2018!