The Top 5 Golf Courses on Mid Vancouver Island, BC: A Golfer's Paradise
Posted by Chris Fenton on Wednesday, September 13, 2023 at 8:00 AM
By Chris Fenton / September 13, 2023
Comment
With the Vancouver Island Ranges mountains and the inland waters of the Pacific Ocean as a backdrop, mid-Vancouver Island offers an unparalleled setting for golf enthusiasts. Whether you're a scratch golfer or new to the sport, Vancouver Island provides a mix of challenging courses, luxury amenities, and jaw-dropping scenery that promise an unforgettable experience. In this blog post, we will dive deep into the top golf courses on mid Vancouver Island, offering insights into what makes each one unique and why you should add them to your golfing bucket list.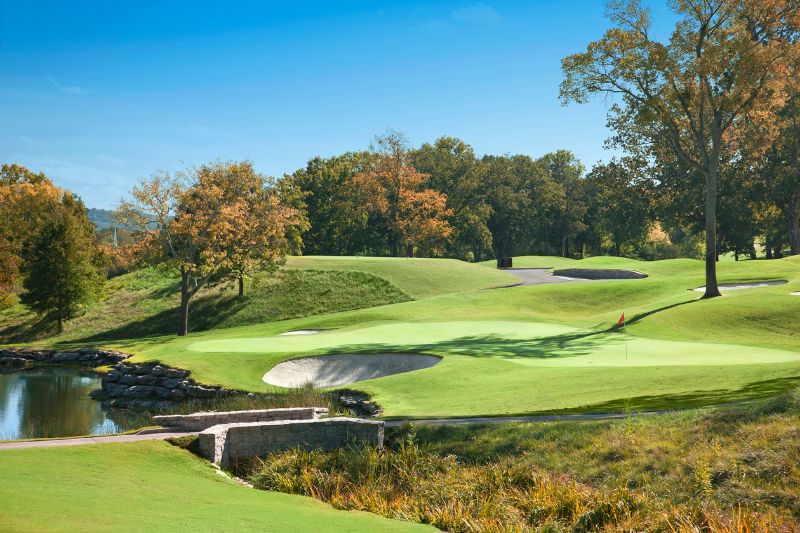 1. Crown Isle Resort & Golf Community - Courtenay, BC
Overview
An opulent blend of luxury and sport, Crown Isle is a championship 18-hole course that offers something for everyone. Designed by Graham Cooke & Associates, the course sprawls over 7,025 yards, surrounded by the natural beauty of the Comox Valley.
What Sets it Apart
Scenic Views:

Panoramic vistas of the Beaufort Mountains and Comox Glacier.

Diverse Course:

A variety of bunkers, water hazards, and strategic fairways challenge golfers of all skill levels.

Amenities:

Aside from golf, Crown Isle offers a world-class clubhouse, fitness center, and fine dining options.
Tip
Aim to play a round during late spring or early summer when the gardens around the course are in full bloom, adding an extra layer of beauty to your golfing experience.
2. Fairwinds Golf Club - Nanoose Bay, BC
Overview
Fairwinds Golf Club, located in the Fairwinds waterfront community, provides a serene environment to enjoy the sport, situated amidst mature forests and featuring ocean views. The course was designed by Les Furber and has been regarded as one of the finest on Vancouver Island for over 20 years.
What Sets it Apart
Unique Holes:

The course is known for its distinctive doglegs and challenging Par 5s.

Natural Setting:

Expect to share the course with local wildlife like deer and bald eagles.

Golf Academy:

Fairwinds offers a comprehensive golf academy that caters to players of all levels.
Tip
The 12th hole offers a spectacular view of the Georgia Strait—perfect for a photo op!
3. Storey Creek Golf Club - Campbell River, BC
Overview
Designed by Les Furber, Storey Creek Golf Club is often described as a 'course in nature.' It's a true woodland course, where each hole is set in a forest clearing surrounded by tall trees, streams, and ponds.
What Sets it Apart
Seclusion:

Each hole offers a feeling of isolation, allowing golfers to focus on their game.

Playability:

The course offers multiple tee-box options to accommodate both pros and beginners.

Wildlife:

Be prepared to see a host of animals, including deer, the occasional black bear, and various bird species.
Tip
Given its location in the wilderness, including old-growth rain forest, it's not a bad idea to sneak a pair of binoculars into your golf bag.
4. Morningstar Golf Club - Parksville, BC
Overview
Morningstar is another masterpiece by Les Furber, offering a blend of traditional design and modern features. With its manicured greens and strategically placed hazards, the course offers a rewarding experience for those who can master its intricacies.
What Sets it Apart
Versatility:

The course appeals to both high and low handicap players due to its intricate design.

Clubhouse:

Offers panoramic views of Mount Arrowsmith and a fully stocked pro shop.

Accessibility:

Conveniently located just off Highway 19, making it easily accessible for visitors.
Tip
The course is especially beautiful during autumn when the fall foliage provides a colourful backdrop to your game.
5. Alberni Golf Club - Port Alberni, BC
Overview
Tucked away in the Alberni Valley, the Alberni Golf Club is a hidden gem that delivers an authentic Vancouver Island golfing experience. Originally established in the 1920s, the club has evolved over time but remains a stalwart of local sporting culture. It offers a par-70, 18-hole course that stretches over 6,200 yards, and though it may not be as lavish as some of the other entries on this list, it makes up for it with its unique blend of history, community spirit and challenging fairways.
What Sets it Apart
Historic Charm:

One of the oldest courses in the region, Alberni Golf Club has a rich history that adds an extra layer of allure to your game.

Community-Centric:

It has a friendly, welcoming atmosphere, often hosting local tournaments, and provides an excellent platform for socializing and networking.

Challenging Layout:

The course layout includes an array of elevations, tight fairways, and smaller greens that require a good level of skill and strategy.
Tip
The 7th hole, known for its stunning views, is a highlight here. The downhill par-3 offers a panoramic overlook of the entire valley, making it one of the most picturesque and challenging holes on the course.
Conclusion
From the extravagant luxury of Crown Isle Resort & Golf Community to the historical charm of Alberni Golf Club, mid Vancouver Island showcases the diversity and beauty of the sport. These golf courses not only offer various challenges and amenities but also allow you to experience the breathtaking natural landscapes of this stunning region. So whether you're a seasoned golfer looking for your next challenge or a newcomer to the sport, there's a course here that fits your needs and exceeds your expectations.
Pack your golf bags, polish your clubs, and set your GPS for the heart of Vancouver Island—you're in for some of the most memorable rounds of golf in your life. For more on Vancovuer Island Golf Courses, check out '9 Golf Courses on Vancouver Island'
Happy golfing!
---
Credits:
Photo: © Stratol via Canva.com

Photo: © BGStock72 via Canva.com