The Pros & Cons of Moving to Prince George
Posted by Chris Fenton on Monday, December 19, 2022 at 10:00 AM
By Chris Fenton / December 19, 2022
Comment
Prince George is the largest city in BC's northern region and acts as an important service hub for northern communities. It is located on the Fraser and Nechako rivers, with a population of around 80,000 people. What is it like to live in Prince George? Is it a good investment option or a place to retire? This article will provide insight into those topics, plus some you probably still need to think about. We hope this helps you decide if moving to Prince George is a good, solid decision for you and your lifestyle.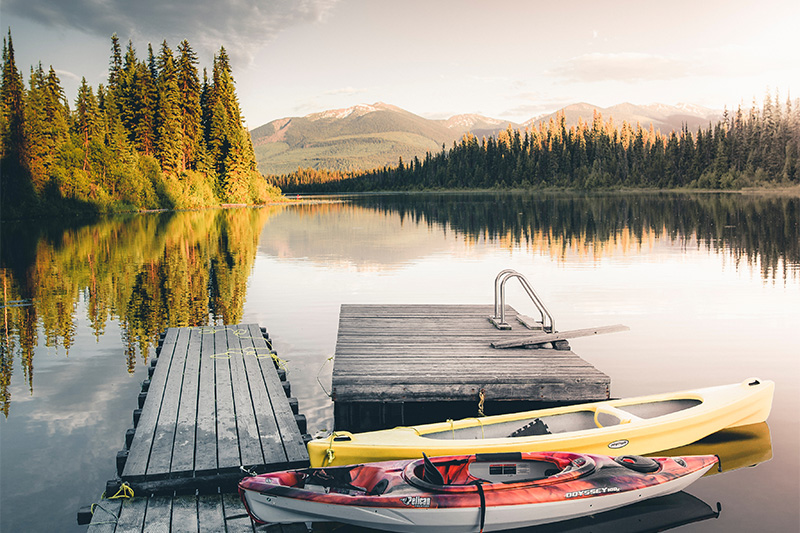 What are the Advantages of Moving to Prince George?
Nature at your Doorstep
Love looking at treetops from your living room window? Prince George has roomy houses surrounded by forests, lakes, and rivers. Many homes have views of greenery, and it is common to see wildlife like deer, squirrels, eagles, and the occasional moose! There are multiple walking and hiking trails, and often walking down a residential street almost feels like you are out in the country. Nature's impact creates a sense of peacefulness almost everywhere in Prince George.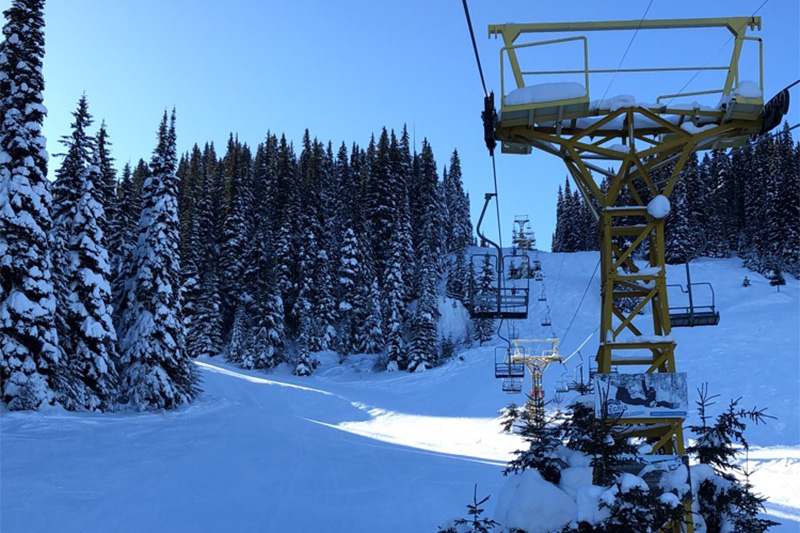 Camping and fishing are very popular activities during the summer months. Campgrounds are mainly based in the forest and near rivers and lakes, allowing fishing opportunities. The long winters are great for snow sports like skiing and snowboarding. You won't be bored in this city if you love the great outdoors. Fishing is hugely popular because there are so many different rivers and creeks to fish. See for yourself in this interactive fishing map just how many fishing holes surround the city.
Is It Expensive to Live in Prince George?
Do you want a house with a big yard for your dogs and all your kids? Can you imagine owning a home and still being able to afford basic luxuries? You can have it all, plus afford to travel and enjoy other hobbies in Prince George.
Home prices are still relatively affordable. You can have a large house with a yard for well under half of what it costs in other BC cities. This makes buying a home much more attainable for first-time buyers and younger people. Even if you are digging the solo life, smaller homes are even more affordable than larger ones. Seniors love this option, as it can help them keep that sense of independence when they live in their own homes. Purchase a home and still be able to afford to live in it for the rest of your days. That sounds pretty nice, doesn't it?
Many places have such high real estate prices that buying a home can often leave a person house-poor. Out of desperation, they buy a home they cannot afford and make sacrifices in other areas of their life, such as eating lower quality foods, forgoing basics like proper clothing, or delaying a little longer on things like car repairs or touch-ups around the house. This isn't a problem in Prince George. Residents can comfortably afford to buy a home and still live a normal life due to the low cost of living. Home prices are still affordable, which leaves more money in your bank account to spend on whatever luxuries or hobbies you enjoy.
Good Schools, Including a University
Prince George is part of School District #57, which has over thirty elementary and six secondary schools. It doesn't stop there, either. The University of Northern British Columbia (UNBC) is a top university in British Columbia. UNBC strongly focuses on research, the environment, and northern BC endeavours. This means that children can attend all stages of their schooling, from preschool to Ph.D. level, without ever having to leave their hometown. The skills and knowledge they've acquired can be used where they have already built up years of memories and relationships, enriching the area for everyone. This sense of local pride of ownership is strong in Prince George.
Along with UNBC and the public school system, Prince George has a few private schools and the College of New Caledonia, which offers several certificates and diploma programs.
New Businesses Have Opportunities in Prince George
Interested in starting up your own business? Prince George might be an ideal place to set down your roots. The city of Prince George encourages entrepreneurs by providing resources for training, networking, loans, funding, webinars, and more. The cost of leasing a commercial space is relatively more affordable than in other cities like Vancouver or Victoria, plus the overall cost of living is lower, too.
The community of Prince George is a tight-knit group that effortlessly supports one another. Just like how UNBC is dedicated to improving life in the north, non-students also carry this mindset. This is a city where people talk to each other on the bus, you have dinner at your neighbour's house, and everyone is generally friendly. New businesses are welcomed warmly and supported. As long as you have a good product and are kind and respectful, your chances of success will be increased dramatically!
So, give Prince George a look to see if it is a good investment for your business and future endeavours.
Stuck in Traffic? Not in Prince George!
Although Prince George is a reasonably large city, traffic congestion is not a concern. The amount of vehicle traffic for the current infrastructure works out well. This is partly because you can get almost anywhere in PG in under 20 minutes, even though it is spread out. The number of roads and their connection seems to work well. There is a transit system, but most people choose to drive their vehicle, and that isn't a problem at all. On the worst days, a ten-minute trip might take you an extra five minutes, but that's a far cry from the waits you will find in Victoria or Vancouver. Of course, expect the highways to be busy, but for all the other streets, it's no big deal.
Convenient, Cheap Flights from Prince George
The airport in Prince George has flights to places all over Canada, including the Lower Mainland. Getting to the airport is a short drive from Downtown (about 15 minutes), so you don't need to worry about commuting an hour to get there, plus trying to figure out what to do with your car while you're away.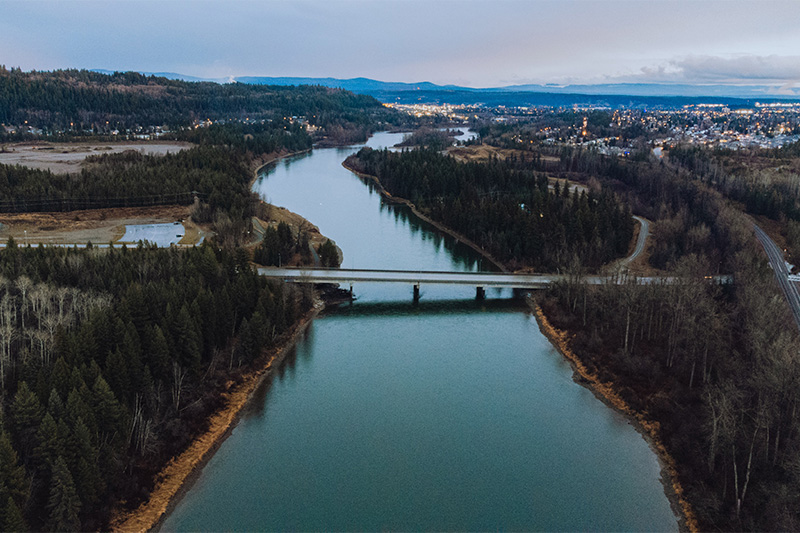 A flight to Vancouver only takes about an hour and a half, meaning day trips or weekend getaways to Vancouver are possible. To put that into perspective, a ferry from Vancouver Island to Vancouver takes about the same amount of time or more, depending on how quickly they fill up. Vancouver Island is much closer to Vancouver than Prince George, yet it takes less effort to get to Vancouver from Prince George when going with the most popular transportation options. You won't need to worry about sailing waits or missing your flight (or boat) due to congested traffic. It's about as easy as it gets for travelling.
Vancouver is the most populated city in British Columbia. Metro Vancouver has several fantastic seafood and Asian restaurants, enormous shopping centres, a reliable transit system, and plenty of things to do. For a change of scenery, hopping on a quick flight down south is convenient and affordable. If you want to go beyond Vancouver to places like Mexico, the Vancouver International Airport has you covered.
What are the Disadvantages of Moving to Prince George?
Winters in Prince George are Beyond Freezing
The farther north you go, the cooler it gets. In Prince George, temperatures dip around minus 11 degrees Celsius on average. Now and then, the city experiences extreme temperatures, with the record being a frigid minus 50 degrees Celsius. Investing in proper winter gear is important if you want to stay comfortable in Prince George. Be prepared to stay warm, and don't forget about the wind chill factor. Even a slight breeze in the winter can make the cold feel more chilling than expected.
November through February usually sees between 150mm to 300mm of snowfall each month, which can stick around and accumulate even more. It isn't uncommon to see snow as early as October, either. Snowy, cold weather can make it more challenging to get around. Make sure your car has the special snowflake tires so you can cruise around to find the best sledding hill!
But if you're not the type that gets a thrill out of sliding down a hill, then the snowy winters may make you turn in the other direction. Those with joint problems like arthritis may find their symptoms worse with the more extreme temperatures. Also, it will likely cost more to keep your home warm, depending on what temperature you like. Although the cost of living is generally affordable, things like your heating bill may cost a bit more than what you are used to paying.
Less of an Entertainment Scene
Ok, so what if you're not interested in sledding down a hill, fishing, or camping? What else is there to do?
Prince George has several year-round activities, but the biggest and most exciting things aren't likely to come by. NHL hockey games and concerts for well-known celebrities are more likely to visit somewhere else. Vancouver takes the top spot for this area but remember, it is only an hour and a half flight away, so how bad is that?
It isn't all doom and gloom - Prince George has the CN Centre, which does host WHL hockey games, some concerts, trade shows, and other live shows. You never know who will drop in next, so check out their event calendar and see if it matches the type of entertainment you prefer.
What's That Smell?
Your kids may find it hilarious to ask if you "cut the cheese" while driving through some parts of Prince George, but that sulphur smell is coming from the pulp mills. As part of their production process, an unpleasant odour can linger in some places from time to time. Locals refer to it as the "smell of money" due to the economic impact the mills have in the area. Downtown is nicknamed "the bowl," and sometimes the smell can be more concentrated there. It isn't consistent, but it does happen and can throw some people off guard when not expecting it.
Other Considerations Associated with Moving to Prince George
Summer Smokey Skies
Summertime's hot, dry weather is an annual invite for provincial wildfires. The smoke from nearby wildfires travels a long distance and reaches the city. Prince George is almost smack-dab in the middle of the province. It usually isn't in the heart of the action, but the effects of nearby wildfires reach the city and make a significant impact.
This is worth considering if you or another family member has respiratory concerns. COPD, asthma, and shortness of breath are a few ailments that can be emphasized by poor air quality. Prince George's location means that in any direction, there could be a forest fire, especially to the south in the Okanagan. In addition, Prince George's elevation is around 575m. This isn't a large amount, but if you are coming from sea level, the elevation paired with smokey skies might be somewhat uncomfortable.
Prince George has a Winery!
You heard right; there is a local winery even as far north as Prince George. Northern Lights Estate Winery has put a spin on the classic wines and offers a beautiful selection of carbon-neutral, vegan fruit wines! Their wines are locally made from top-quality fruits in BC. Believe it or not, Northern Lights is the largest fruit winery in all of Canada. Now that sounds like a great reason to move to Prince George.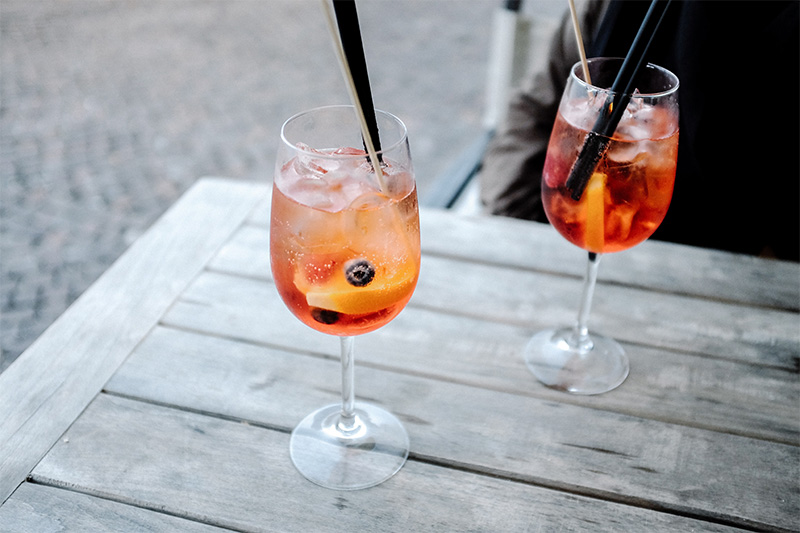 Situated on the bank of the Nechako River, Northern Lights Estate Winery is also a beautiful location for weddings and events. Or grab a friend and enjoy lunch or dinner at their Bistro.
Day Length Varies More Than You'd Expect
Prince George is part of northern British Columbia, so you will find differences in day lengths throughout the year. This can affect overall mood and quality of sleep depending on the person.
In Prince George, the sun can rise as late as about 8:00 am and set as early as 3:30 pm-4:00 pm. This means residents have a daylight window of around 7-8 hours in the winter. Although the sun often shines in winter, those overcast days can feel dreary to some people. Seasonal Affective Disorder (SAD) is a type of seasonal depression that can be brought about by shorter, darker days in Fall and Winter. This can be a problem for those that suffer from this every year.
The opposite is true in the summer. Sunrise can be as early as around 4:45 am, with a sunset just before 10:00 pm. Now that's a lot of sunshine in the day! If you have trouble sleeping due to daylight, investing in some black-out curtains or similar might be worth considering for the summer months.
The bottom line is that day length in Prince George varies throughout the seasons, which both carry their pros and cons. While one person may sleep great during winter, the summer light might be problematic. Similarly, those with seasonal mood disorders may flourish in the summer months due to the amount of daylight, while others are tossing and turning because there's too much light to fall asleep.
Having a Car is Almost Necessary
We've already touched base on this one, but it is much easier to get around Prince George if you own a vehicle. The city is spread out, and the bus system isn't super frequent. It can be challenging to walk around in the winter due to the snow and ice, not to mention it takes much longer to walk than to drive. Sure, you can get by without a vehicle, but it will likely be a bit of a pain. If you can, bring a car or truck with you to PG.