The Pros & Cons of Moving to a City Like Surrey
Posted by Chris Fenton on Thursday, September 1, 2022 at 10:00 AM
By Chris Fenton / September 1, 2022
Comment
Due to the high prices and limited selection within Vancouver, many people look outside the city for other good places to live. Surrey is one of several options within the Lower Mainland to call home. The pros and cons of moving to Surrey are outlined below, along with some considerations to help you make the best choice for you and your family.
Upsides of Moving to a City like Surrey
One of the Greenest Places in the Lower Mainland
Nicknamed "the city of parks" for a reason, Surrey contains over 800 parks and 650km of trails for residents and visitors to enjoy. Usually, cities have a bad reputation for being too "grey" from all the concrete and infrastructure. In cities where every square inch matters, you often don't find too many green spaces. Surrey is an exception to this trend. Clean, green, and beautiful park spaces are a priority for the city that everyone gets to enjoy. Although other areas within the Lower Mainland have parks and green space (Burnaby Mountain, anyone?), Surrey stands proud with its abundance of beautiful parks around almost every corner.
More green space doesn't just mean something nice to look at. Plants and trees contrast with carbon emissions, helping to create cleaner air for highly densely populated areas. These parks are great for kids to make new friends and run around to burn off their energy. A quiet walk through a nature trail helps calm the mind, and many trails are accessible for pet owners, too. Living in the city doesn't have to mean giving up the benefits of the countryside, like access to nature and fresh air. For this reason, Surrey has an advantage with its balance between city infrastructure and natural beauty that makes it perfect for families and as a place to retire.
Surrey's Diversity is Welcoming For Immigrants
Out of all the places in the Lower Mainland, Surrey is one of the top places for immigrants to set down roots. Surrey is known for its diverse demographic of ethnicities, religions, and backgrounds, making it welcoming for people from all walks of life. About half the residents speak English as their primary language, and the other half is a mix of Punjabi, Mandarin, Korean, Cantonese, Spanish, Hindi, and Tagalog, to name a few. Out of the visible minorities, the most prominent groups are South Asian and Chinese.
This ethnic diversity makes Surrey more desirable for immigrants because there is less of a risk of culture shock. Almost half of the population is immigrants, making it easier to transition to Canadian culture. An immigrant is more likely to feel at home sooner because there are already established community centres, places of worship, and community events that relate to all sorts of traditions and customs. This set-up makes the area feel more welcoming and friendly for newcomers.
And what if you aren't an immigrant? Surrey is great for families as the diversity of cultures is a great experience for growing children. Children can make friends from a young age with different customs and traditions. This helps them gain new perspectives and promotes good values like friendship, respect, and open-mindedness.
Surrey is Still More Affordable Than Vancouver (But Not Cheap)
Surrey real estate trends have been showing prices that are significantly lower than in Vancouver. In addition, finding a detached single-family home is more accessible in Surrey than in Vancouver because there is more space to build houses. Most residential real estate listings in Vancouver are for condominiums, which is fine if that is what you are looking for. But if you want to purchase a house for your growing family, then Surrey is still the better choice. Buying a home in Surrey can be a smart real estate investment because as places like Vancouver become more populated and congested, neighbouring cities like Surrey will continue to look more favourable to buyers.
The cost of living for Surrey is generally lower than in Vancouver in various categories, such as rent, groceries, restaurants, and gasoline, to name a few. As these cities are very close, most utilities and day-to-day costs are similar. As you get farther from Vancouver's city centre, things like rent prices and grocery costs tend to decrease.
However, Surrey isn't necessarily a cheap place to live. There are many small towns and cities within British Columbia that do have a lower cost of living. Surrey's advantage over these other places is its proximity to major amenities found in Vancouver, Richmond, Burnaby, and surrounding areas. It is right in the middle between Vancouver and Richmond to the west, Burnaby and the Tri-Cities to the north, Maple Ridge and Langley to the east, and White Rock to the south. Surrey's central location makes it a great place to live regardless of where you work. This convenient location does come at a bit of a cost, which is relatively lower than Vancouver but not necessarily inexpensive. The salary you need to live in Surrey should average around $55,000, which is around $27-$28 per hour. The median household income for current residents is about $77,000/year.
Downsides of Moving to a City like Surrey
Traffic Congestion is a Real Problem
One of the great things about the Lower Mainland is the transit system. An interconnected network of city buses, sea buses, and SkyTrain stations makes it easy to get virtually anywhere. Surrey is connected to this network, but just barely. The Expo Line (SkyTrain) has a terminus stop at King George, at the northwest end of Surrey. The rest of the city is accessible by city buses and vehicles.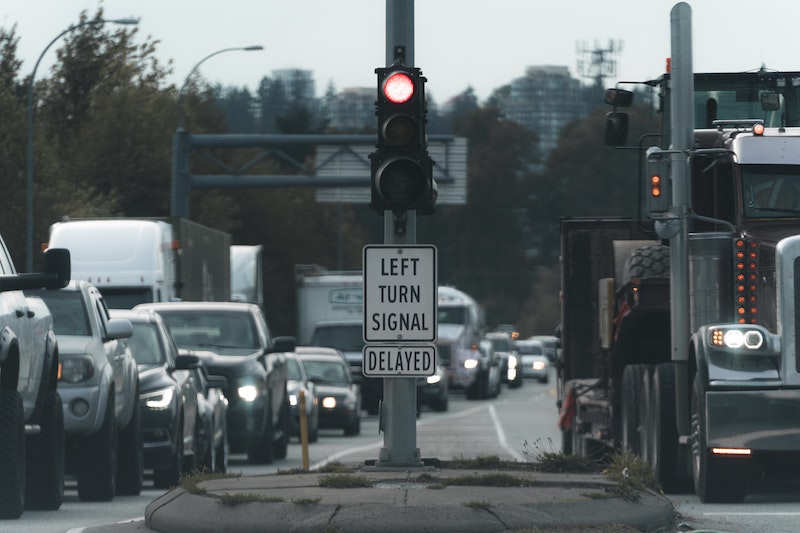 Yet, Surrey is growing in both population and transit options. A planned extension of the SkyTrain to Langley is in the works. But will it be enough? The proposed route runs right through Surrey from the northwest to the southeast, leaving gaps in neighbourhoods like Newton and Guildford. The new route is an improvement for rapid transit, but it may not be as convenient for all Surrey communities. Depending on where you decide to live, walking or taking a bus to your nearest SkyTrain station could take a substantial amount of time.
The alternative to using your vehicle to get around does work, but Surrey does get affected by "rush hour" traffic trends. Despite having Highway 1 run through Surrey, it isn't enough. Smaller roads with stop signs around almost every corner become congested quickly, slowing traffic down to a crawl. Travelling by car in Surrey can be a good solution to get around, but be mindful of the time of day you are travelling so you can avoid heavily congested streets.
Homelessness and Problematic Areas Do Exist
Some neighbourhoods in Surrey are safer than others. When looking at violent crime rates, Newton and Guildford Town Centre are arguably the most dangerous neighbourhoods in Surrey. In general, the southern parts of Surrey are safer than those closer to Vancouver in the north regarding crime statistics. A "bad" neighbourhood in Surrey has a considerable amount of reported crimes, drug use, and homelessness.
The homelessness situation in Surrey is a topic that the city has been working on to improve. Despite having a master plan in place, the occasional "tent city" has popped up from time to time in areas like Whalley and Metro Centre. Homelessness is still an active concern in Surrey, with elevated counts similar to neighbouring communities like Metro Vancouver and Langley. Areas with unsheltered individuals are generally found in clusters, so there are a few areas you'd expect to see a homeless person, whereas in other areas, it would be a surprising site. Still, through the efforts of the city and several organizations, homelessness is not being ignored, but it is still apparent in some regions of the city.
Surrey's Night-Life Lacks Excitement
There are plenty of things to do in Surrey during the day but it does lack a bit during the evenings. Nightlife options like lounges and bars exist in Surrey, but if you feel like catching a concert or watching a sports game, you are better off travelling to Vancouver. Options within Surrey are generally concentrated in the northern end of the city, so if you live in the southwest area, for example, you will likely have to travel pretty far just to hit up a bar or lounge.
The flow of residents to Vancouver's BC Place for Canucks games has not gone unnoticed. Surrey's mayor has proposed building a new stadium, which could potentially host concerts and sports games once it is built. Until then, residents will have to hop on the SkyTrain to Vancouver to get their fill of nightlife entertainment.
Other Considerations Associated with Moving to Surrey
A Diversity of Cultures, Not Just For Immigrants
We have spoken about how the ethnic diversity of Surrey is welcoming for newcomers, especially immigrants, because of the acceptance of so many different backgrounds and cultures. The benefits for immigrants are obvious, but what about those born in Surrey?
The diversity of cultures is excellent for the community as a whole. The variety of ethnic and religious backgrounds means differences between individuals are less emphasized, so there is more of a harmonious balance between people. Children grow up being aware and respectful of different cultures, allowing them to grow mentally and occasionally participate in new customs. Various special events can be found all year long, with their associated traditions and cuisine.
The identity of Surrey isn't concrete through a single culture, religion, or ethnic group. For this reason, it can feel unfamiliar for those used to a specific traditional way of life because there will be more things to experience that won't be understood immediately. This can be a very positive thing to explore ways of life different from your own, but it can also add to the confusion when adjusting to a new culture or city. If you have trouble with change, then the influx of cultural practices in Surrey might sometimes feel a bit overwhelming. Understanding that Canadian culture contains several cultures from around the world will help when adapting to life in Surrey.
Construction and Development Boom
Surrey is a desirable place to live for many people. To meet this growing demand, the city has been expanding. While this is great because it demonstrates a strong economy and the fact that people want to live there, it also can come with some downsides. Ongoing construction and development do mean there are occasional traffic delays and sound pollution from construction sites. Sites that are empty today might hold a tall condominium in the next 5 or 10 years. The landscape is changing, more people are moving in, and the overall feel of the city might become more hectic in time. If you are the type of person that is easily adaptable and embraces change, then this might be a perfect thing for you. However, if you like your environment to stay stable and unchanging, then some parts of Surrey might not be a good fit for you.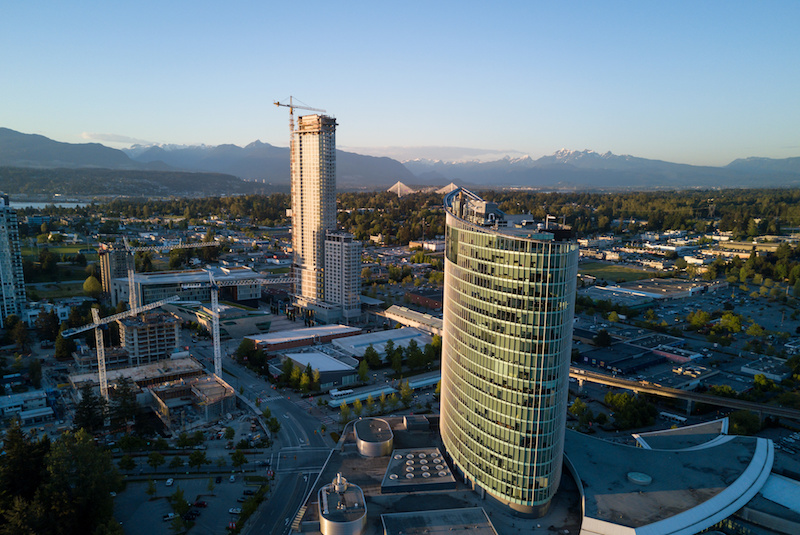 To see what projects are being built in Surrey, UrbanSurrey has a list of developments that are under construction, approved for construction, and under review. This can help visitors understand what types of construction and developments are being prioritized in Surrey.
Is Surrey a Safe Place to Live?
In the past, Surrey has had a bad reputation for elevated crime rates and this impression is still associated with parts of the city today. Surrey is on the higher end of the Crime Index than other large cities worldwide. This measurement considers all types of crime, not just extreme cases, so all cases presented to the police are included in the crime index. In larger cities, there are more people, so more incidents are reported. If the police get called because someone stole a chocolate bar from a store, that gets added to the crime index just the same as if someone stole a car.
Now and then, you have neighbourhoods where residents are good about reporting everything, whereas sometimes people keep to themselves and prefer not to get the police involved. Due to these factors, the Crime Severity Index (CSI) can loosely describe overall crime and safety, but it doesn't provide all the nuances or things that vary from community to community. There is some bias to the numbers from these variables, so attempting to gain a broader picture of the community in question is important to consider.
So, what kind of crimes are most prevalent in Surrey? Despite the high number, the CSI has been decreasing over the years. A 10-year review of crimes in Surrey from the Surrey Police shows more insight into this statistic. Crimes such as people breaking into vehicles, violent crime, and traffic collisions are all decreasing, while property crime and break-and-enter reports have stayed relatively stable. At the time of writing, Surrey's CSI sits at 64.58, while the national average is higher at 73.68. This means that despite having a seemingly high CSI, it is lower than the national average and on a declining trend. Still, just like any other city with a large population, keeping yourself and your belongings safe is important. Surrey's criminal past may not necessarily be the same for the present or the future, but keeping yourself aware and careful is an important skill regardless of what city you call home. There are several additional Factors to Consider When Moving to a New City including things that may not initially come to mind. Check out our blog so you can be ready to move to Surrey, BC!
We hope you've found this information about moving to Surrey BC helpful. For your convenience you can easily search all Surrey Houses for Sale here.