The Pros & Cons of Moving to a City Like Squamish
Posted by Chris Fenton on Monday, May 22, 2023 at 10:00 AM
By Chris Fenton / May 22, 2023
Comment
Squamish is a city located in the province of British Columbia, Canada. Nestled between the Coast Mountains and the Pacific Ocean, Squamish is a global destination known for its natural beauty and outdoor recreation opportunities. The city is also uniquely located, sitting at almost the middle point between the big city of Vancouver and recreation destinations like Whistler and Pemberton.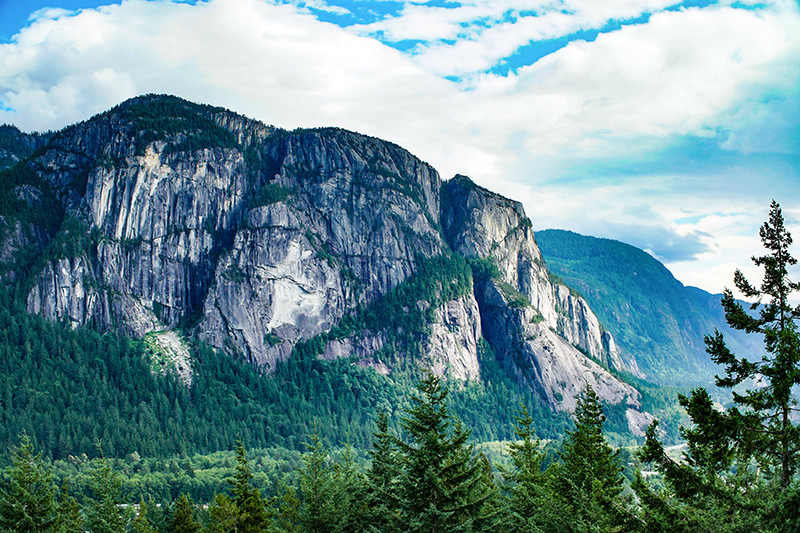 As Squamish is only a short 45-minute drive north of Vancouver, it's a popular destination for those looking to escape the hustle of city life without sacrificing access to urban amenities. With a growing population and a thriving economy, Squamish has a lot to offer residents and visitors. This blog will dive into the pros and cons of moving to Squamish. Before reading further, consider our Factors to Consider When Moving to a New City article to receive more general advice on a potential move.
Squamish today is not the same city as it was a decade ago. In fact, people from out of town (read, Vancouverites) used to call this town "Squamptom" (a combination of Squamish and Compton) in reference to the crystal meth addiction crisis, theft, and general poverty that was rampant in this area in the early 2000s. Squamish today is a different place, with thriving urban development and a unique mix of residents contributing to a recreation-focused community atmosphere. An interesting deep dive into the history of the name and the controversy around it today can be read here. With such a history, is Squamish a good place to live today? We think it might be worth considering, and below we will explore the pros and cons of living in Squamish.
What are the Advantages of Moving to Squamish?
Advantage 1: Access to Outdoor Amenities
Squamish may be the town in BC with the easiest access to outdoor recreational activities, as it lies in direct proximity to both mountains and the ocean! In the summer, mountain biking, hiking, climbing, kitesurfing, and other activities are all popular in Squamish. In the winter, Squamish offers access to cross-country and backcountry skiing and ice climbing. The proximity to Whistler and the "local mountains" of Vancouver (Cypress, Seymour, and Grouse) means that residents can enjoy easy access to in-bounds skiing.
One of the most popular Squamish attractions is the Stawamus Chief, a sizable granite massif with cliff faces that are popular with rock climbers and hikers. There are hiking trails around the rear of the Chief that lead to the three peaks that make up the massif, all of which provide views of Howe Sound and the nearby Coast Mountains. In addition, one also has access to over 300 climbing routes on the Chief proper, the majority of which require traditional climbing protection.
Climbing isn't just limited to the Chief. There are more than 1500 rock climbing routes in the Squamish region, including Shannon Falls, Murrin Park, The Malamute, and the Smoke Bluffs (and more than 300 climbs north of Squamish on the way to Whistler). Squamish has also grown in popularity as a bouldering location, a style of climbing that favours more technical routes that stay closer to the ground, challenging climbers' technique rather than their endurance.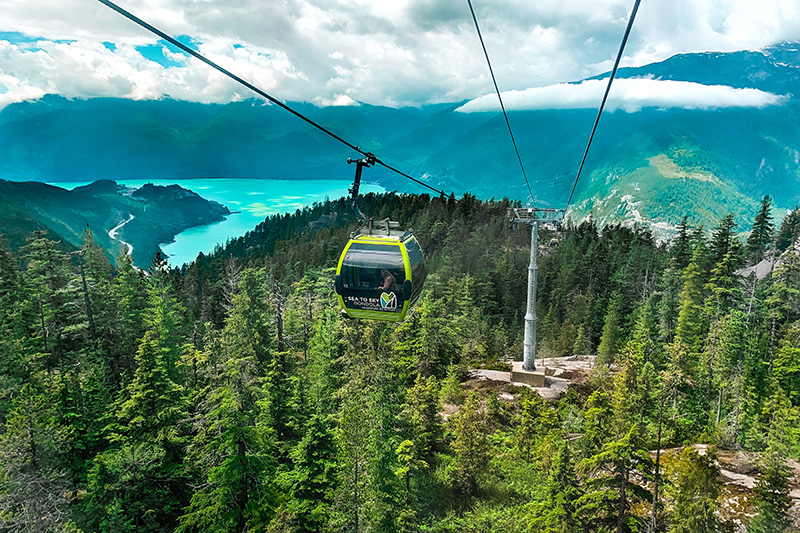 Squamish also lies close to the Sea to Sky Gondola, which provides access to hikes, viewing platforms, and dining facilities for those who want to enjoy a beer or a meal on a mountain without having to hike all the way up!
Advantage 2: Proximity to Vancouver
As a town of less than 20,000 permanent residents, readers may wonder: Is Squamish a good place to live? Does it offer good career opportunities? What sort of salary do I need to live here? Although Squamish itself has a growing economy with more opportunities in town (explored in more detail below), it also offers unique proximity to British Columbia's biggest city - Vancouver. One of the major advantages of living in Squamish is its proximity to Vancouver.
Squamish is located a short drive north of Vancouver, making it an attractive option for those who want to live in a more laid-back, natural setting while still having easy access to the amenities and opportunities of a major city. This proximity to Vancouver means that residents of Squamish can easily commute to work or school in the city, attend events and cultural attractions, and take advantage of the many other opportunities that Vancouver offers. Many residents of Squamish send their children to schools in West and North Vancouver (particularly if they want to access some of the well-regarded private schools in these areas). In fact, the Government of Canada estimated that 35% of residents commute to Vancouver each week. At the same time, for those who are enamoured by the first advantage discussed above, Squamish offers a more relaxed, outdoor-oriented lifestyle that many people find appealing.
Advantage 3: A Growing Economy
Perhaps you're considering moving to Squamish to avoid the big city, and you also want to minimize your commute. In that sense, it's worth asking - what salary do you need to live in Squamish? Can you afford to live and work in this community? We think the answer to that, especially in the last five years, is a resounding "yes!"
Squamish has a thriving economy that is growing and evolving. The city is home to various businesses and industries, including tourism, construction, manufacturing, and service industries. This diversity provides employment opportunities for residents and supports the local economy. If this was 15 years ago, it was a different story. At that point, Squamish's primary industry was wood and lumber, and two key plants closed simultaneously.
Today, Squamish is home to several major companies investing in the area. For example, LNG Canada is building a liquified natural gas export facility in Squamish, which is anticipated to bring considerable economic benefits to the region. Other companies are also investing in the city, contributing to its growing economy. Squamish is home to innovative organizations like Carbon Engineering, a company building carbon capture facilities that have been covered by The Economist, National Geographic, and the New York Times.
Overall, Squamish's growing economy provides opportunities for residents to find employment and supports the city's continued growth and development. Anecdotally, a drive through the city will show you many new real estate developments under construction, from townhomes on the outer parts to apartment buildings in the denser, central commercial area.
What are the Disadvantages of moving to Squamish
Like any city in any part of the world, there are pros and cons of living in Squamish. We will also cover a few disadvantages that you should consider before making a big move.
Disadvantage 1: Limited access to public transport
Squamish has limited access to a public transit system, so residents mostly rely on private vehicles. For those who are used to living in a more dense city, this may seem inconvenient if you don't have access to a car or who prefer to use public transportation. If you don't have a car, running errands, getting to work, or attending social events without relying on friends, family, or taxis can be challenging. This lack of public transportation may also make it difficult for visitors to explore the city without a car. If you want to get to Vancouver or Whistler, the easiest way is via private vehicle. There are several active social media groups where people organize carpools and a couple of private coach routes that stop in Squamish as they drive back and forth between the cities.
If you live downtown and do not plan to travel much outside of the city, you can get away without a car. Most residents will find that too difficult, particularly if they regularly commute to Vancouver.
Disadvantage 2: Chilly and damp winters
For those who have lived in Vancouver, Squamish weather is quite familiar. Anecdotally, most residents report that Squamish weather compared to Vancouver is simply "a little bit more." Although it is at sea level like Vancouver, temperatures vary more wildly - the summers are hotter, and the winters are colder and wetter. For those coming from outside of BC, particularly in regions with drier or warmer winters, it should be noted that Squamish can be quite cold and wet during the winter months, with temperatures often dropping below freezing.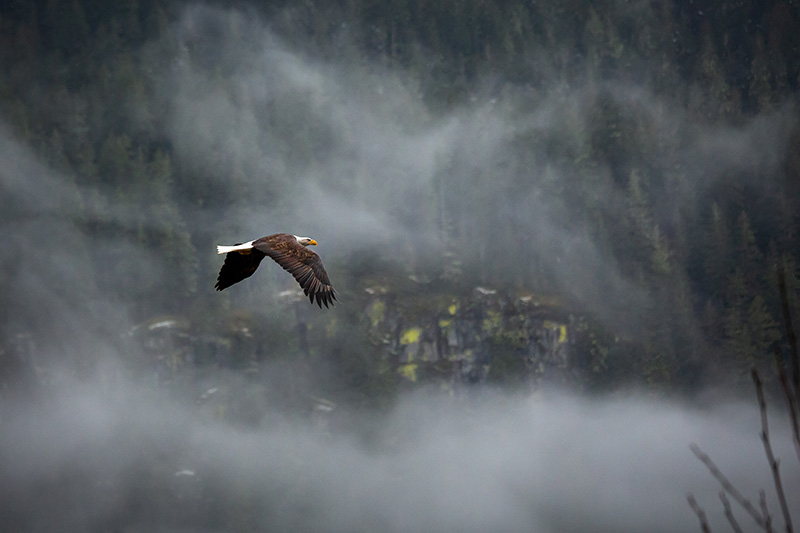 This may be challenging for those not accustomed to cold weather and may require residents to invest in warm clothing and other winter gear. For example, if you're not used to cold weather, you may need to buy a heavy coat, gloves, hat, and other warm clothing to stay comfortable during the winter. You will also need to invest in snow tires for your car and ensure you own snow-clearing tools for your driveway and sidewalks.
In rare instances, Highway 99, providing the only access in and out of Squamish, may be closed for some periods due to accidents. This is almost always due to crashes caused by winter conditions but occasionally occurs in the summer - like when this vehicle fire closed the highway for hours.
Disadvantage 3: Limited cultural diversity
Squamish is not as culturally diverse as other British Columbia communities, so residents may find the cultural scene somewhat limited. This may be a disadvantage for those who are used to a more vibrant and varied cultural environment. If you're used to living in a city with a vibrant arts scene, you may find that Squamish has fewer galleries, concerts, or other cultural events to enjoy. The lack of infrastructure for these sorts of events is mostly as the focus has been primarily on developing outdoor access.
If you're used to living in a diverse community, you may find that Squamish is less diverse and that you have fewer opportunities to interact with those from different cultural backgrounds.
Squamish does have a strong First Nations presence with the thriving nation of the Sḵwx̱wúʔmesh peoples. There is a reserve territory of over 6,000km in the area, and many local landmarks are named using Squamish terminology.
Other Considerations of Moving to Squamish
With the pros and cons covered, let's consider other more general considerations that may or may not be pros or cons.
Consideration 1: A youthful population
If you're wondering if Squamish is a good place to retire, you should know that this is a young city! The average age in Squamish is 37.9 years old, which is younger than the provincial average of 43.1 and the national average of 41.9. The town's youthful age deviates from national trends, which, according to Statistics Canada's assessment of its findings, generally leads to an aging population. According to Publications Canada, Squamish also has one of the top "natural" (versus immigrant) growth rates and is among the highest in British Columbia. Natural growth rates essentially refer to birth rates… which means lots of people have children!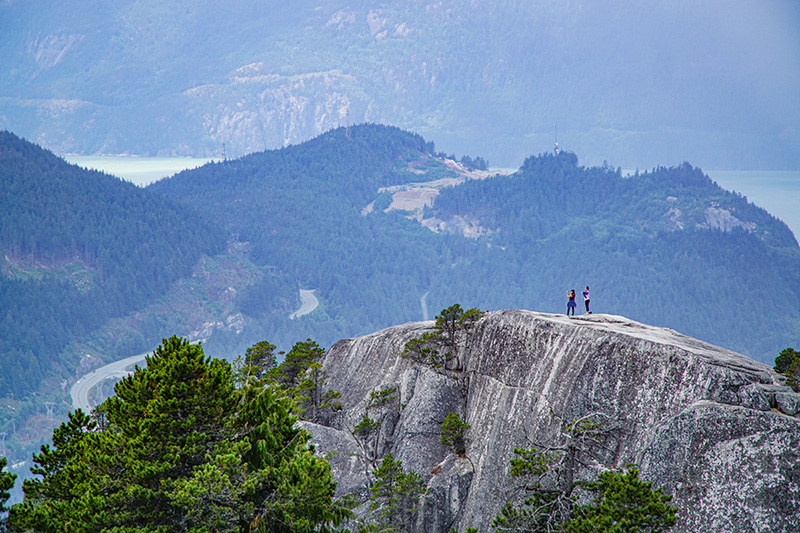 Children are a common sight in Squamish. The city could be an excellent place to retire if you like being surrounded by youthful energy. For those who seek to enjoy a more quiet community away from many children, you should look elsewhere. For those wondering if Squamish is a good place to raise kids, Squamish's bias towards outdoor recreation means that there are many active families, and children are welcome in all of the different outdoor environments.
Consideration 2: Fastest growing town in the province
According to the local newspaper, the Squamish Chief, Squamish is one of the fastest growing towns in the province. Squamish's population jumped by more than 22% to 23,819 last year, up from 19,497 during 2016, which was the previous year the census was held. This is higher than the provincial average of 7.6% and the national average of 5.2%. The census thus named Squamish the fourth fastest growing area in BC with a population of >5,000. A lot of this has been driven by the advantages discussed above.
Consideration 3: Is it a safe place to live?
Safety is a top priority for those considering a move to any city. So, is Squamish a safe place to live? According to AreaVibes, Squamish is generally aligned with the rest of Canada and BC. One thing to consider - because Squamish is known as a recreation destination, criminals know garages and cars are a potential source of expensive equipment like skis, bikes, and other gear. As such, property crime is a potential hazard - one should never leave skis in the car overnight and ensure that all garage doors are closed and locked.
Conclusion
Squamish offers an exciting option for those considering a move. It provides incredible recreation access and is in unique proximity to a major city. There are various home types, from apartments to single-family homes. The city is undergoing a boom in real estate development to accommodate the demand to move here. Squamish is family-friendly and relatively safe. Squamish's focus on recreation means that the cultural options might be lacking in comparison to a big city. Still, if you are dying to see a concert, Vancouver is only a 45-minute drive away. It is an exciting city that has transcended its previous stereotypes and should be a strong consideration for those seeking a unique blend of outdoor and city access.
If you're considering a move to Squamish and want to know what a real estate purchase would look like, a great place to start is connecting with the Loyal Homes' team of Client Care Coordinators. The Coordinators are always available to answer questions about Squamish, whether you are buying or renting. If you want to be supported in a purchase or sale, we are integrated with a team of experts that extends throughout Squamish and includes realtors, lawyers, and any other professional service you might need in an acquisition or disposition.
Please let us know if you have any questions or comments about this Pros and Cons article. We are always keen to share our knowledge and prove our commitment to a high level of integrity and customer service to our readers.
We hope you've found this information about moving to Squamish BC helpful. For your convenience you can easily search all Squamish Houses for Sale here.