The Pros & Cons of Moving to a City Like Salmon Arm
Posted by Chris Fenton on Monday, July 24, 2023 at 10:00 AM
By Chris Fenton / July 24, 2023
Comment
Salmon Arm is a small city in the southeast of British Columbia, located on the shores of Shuswap Lake. It is an approximately 5.5 - 6 hour drive from Vancouver, and the closest "big city" is Kelowna in the Okanagan Valley. Salmon Arm has about 19,000 people and is known for its natural beauty, outdoor activities, and friendly community. Salmon Arm's population fluctuates throughout the year, serving as a tourist town in the summer due to its many beaches. It is also the home of the largest freshwater wooden construction wharf in North America! Salmon Arm's residents are mostly employed in the tourism or forestry industry.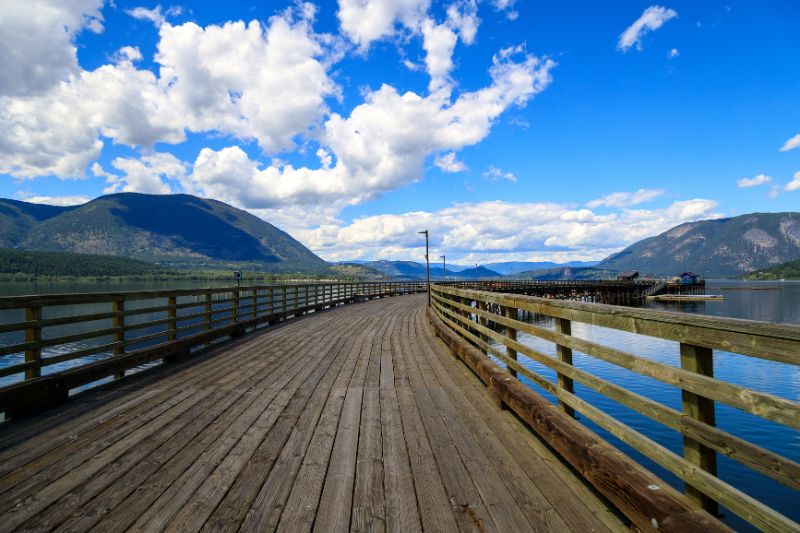 Interestingly, Salmon Arm has a unique relationship with Japan. It hosts many tourists visiting from Asia, and in fact, is the sister city to Inashiki, a small city located in the Ibaraki Prefecture in Japan. Additionally, in the famous 90's video game, "Punch-Out!!" players must fight "Bear Hugger," a Canadian boxer who is from Salmon Arm.
If you're considering moving to Salmon Arm, it's important to consider both the advantages and disadvantages of living there. In this article, we will cover some of the pros, cons and other considerations before moving to Salmon Arm. Before reading further, we suggest taking a gander at our previous work, Factors to Consider When Moving to a New City, which provides more general advice on a potential move. For those wondering if Salmon Arm is a good place to live, let's first look at three advantages of choosing this city as your next home.
What are the Advantages of Moving to Salmon Arm?
Immerse Yourself in Fantastic Summers
Salmon Arm has a stunning natural setting. The city is surrounded by forests, mountains, and lakes, offering plenty of opportunities for outdoor activities such as hiking, biking, boating, and fishing. The climate is also mild, with warm summers and relatively mild winters. The appreciation of the environment is most notable during the warmer months when Salmon Arm receives its yearly influx of summer residents and tourists. During the summer months, this city is also home to several festivals, including the Salmon Arm Roots and Blues Festival and the Word on the Lake Writers' Festival. These offer enjoyable community-building experiences and bring in plenty of tourists from across the Lower Mainland and worldwide.
It should also be noted that the winters, though quieter, offer their own benefits. Cross-country skiers will enjoy joining the Larch Hills Nordic Society and exploring the many trails that lie in proximity to Salmon Arm. Particularly when compared to the rest of the province, Salmon Arm winters are relatively mild, meaning that residents can enjoy winter activities in the local mountains without dealing with constant intense cold.
It's Affordable to Stay and Live in Salmon Arm
The cost of living in Salmon Arm is relatively low compared to other parts of British Columbia. This is partly due to its location, as it is not particularly close to any major city. As such, housing prices are affordable, and there are plenty of amenities and services available in the city. This makes Salmon Arm a good option for people looking for a more affordable place to live.
The cost of living is relatively low, which is additionally affected by a lack of luxury amenities or high price hotels, restaurants or other recreational activities that you might find in a larger city. If you're wondering what sort of salary you need to stay in Salmon Arm, you should know that it is much lower than in larger cities in BC. According to Point2Homes, Salmon Arm has a relatively stable real estate market, with affordable housing prices and steady population growth. This could make it a good investment for people looking to buy property in the city.
A Friendly and Welcoming Community
The community in Salmon Arm is known for its friendliness. The residents are used to tourists due to the busy season in the summer, and as such welcome visitors and newcomers with open arms. The small town atmosphere means that there are plenty of opportunities to meet the neighbours.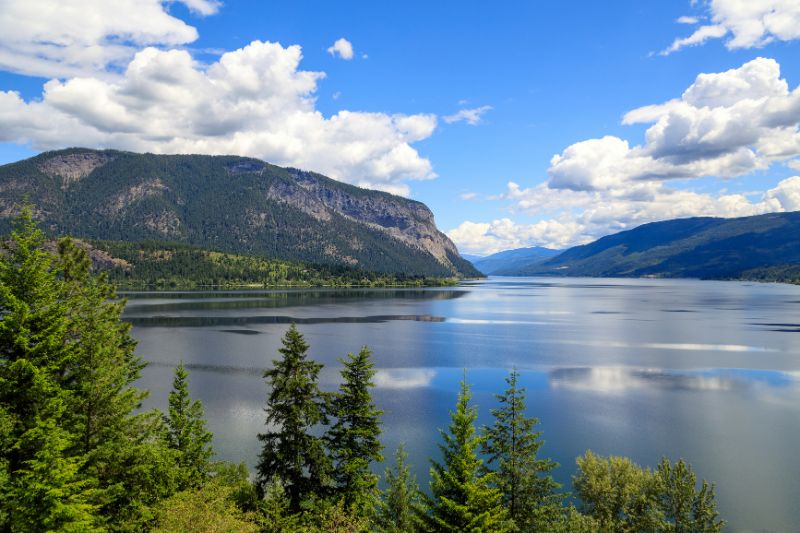 In addition, an emphasis on local events and activities means that the city has many opportunities for community building. This makes Salmon Arm a great place to live for people who want to be part of a tight-knit community, particularly young families or retirees who want to be connected with their city.
What Are the Disadvantages of Moving to Salmon Arm?
Fewer Amenities and Cultural Activities
Salmon Arm is a small city, so it may not offer the same range of amenities and services as larger cities. For example, there may be limited options for shopping, dining, and entertainment. This could be a disadvantage for people who are used to living in a larger city. Salmon Arm has one main multi-plex theatre, one public library, and one art gallery.
This might come as quite a shock to a newcomer who is looking for the cultural services of a large city like Vancouver, which features a library in almost every neighbourhood! Although there are cultural events mentioned above, they are limited in that they only operate at certain times of the year. Particularly in the winter months, there is not nearly as much to do.
Salmon Arm Is a Car-Reliant City
The location of Salmon Arm can make it difficult to access other parts of British Columbia. The city is relatively isolated, and there are limited transportation options. It is a nearly 2-hour drive to Kelowna and a 6-hour drive to Vancouver. This could be a problem for people who need to travel frequently for work or other reasons, as there is no international airport in Salmon Arm.
In addition, public transport is limited, and homes are spread out, often on single-family lots. As such, you really do need a personal vehicle in order to comfortably get around the city, even if you are only making a short grocery trip for milk and eggs. Those seeking a walkable urban environment and who do not like relying heavily on a car will not enjoy living and working in Salmon Arm.
Lacking a Robust Economy
The economy in Salmon Arm is not as strong as in other parts of British Columbia. The first significant sector is tourism, which naturally fluctuates throughout the year, with the ebb and flow of visitors peaking in the summer. A more steady employment can be found in the industrial sector, with many residents working for forestry companies in Salmon Arm and the surrounding area. Often this work requires on-site living for weeks at a time, which can be disruptive for a young family or for a person who prefers to remain in one area for their employment.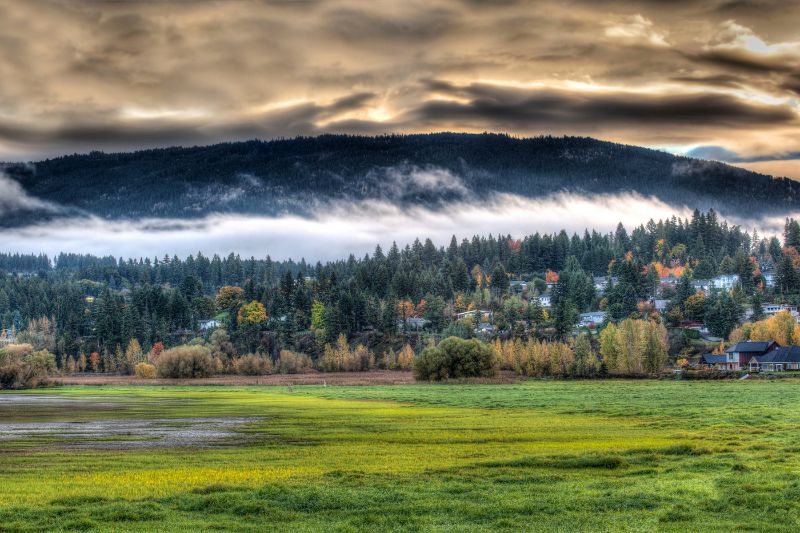 The service sector is also an area of employment but offers relatively limited career growth. You will not find jobs here that are typical in a big city - professional services (like law and consulting) as well as tech companies are both lacking in Salmon Arm. This could make it difficult for some people to find employment in the city. While job opportunities are available, the job market may be more limited than in larger cities.
Even so, with the changes to the white-collar working world, there may be good opportunities for those who hold remote positions. Imagine being able to take advantage of a high salary and job security while enjoying the tranquillity and low cost of living of Salmon Arm. This makes living in these sorts of smaller towns much more viable for someone still pursuing a career that would typically tie them to a big city.
Other Considerations of Moving to Salmon Arm
What Sort of Home Do You Want?
If you're moving to Salmon Arm, it's important to consider the available housing type. The city has a mix of single-family homes, townhouses, and apartments, so there are options to suit different budgets and lifestyles. It is primarily a single-family home market, which is worth considering for potential residents who prefer higher density. It's also worth considering the housing quality and rentals' availability. Most of the homes here are older, built in the 70s, 80s, and 90s. There has not been much recent construction, and those seeking to live in a modern home will likely have to buy an empty lot or tear down an old home to build the residence of their dreams.
Salmon Arm Education and Childcare
When considering schools and childcare in Salmon Arm, it's important to research available options. The city has several public schools, including elementary, middle, and high schools and a private Christian school. Salmon Arm is a relatively young city and thus offers a few options for children's education. Most residents who wish to pursue post-secondary education will need to travel beyond Salmon Arm, although it's worth noting that Okanagan College offers a Salmon Arm campus which provides education through both academics and vocational programs.
For younger families, there are also several childcare options, including daycares, preschools, and before- and after-school programs. It's worth visiting the schools and childcare facilities in person to make sure they meet your needs and preferences. Although it's purely anecdotal, it's more likely that based on the first advantage above that you will more easily find casual child care from your neighbours.
Access to High-Quality Healthcare
When it comes to healthcare, Salmon Arm has the Shuswap Lake General Hospital and several clinics that offer a range of medical services. However, some specialized services may not be available in the city, so it's important to research the options and plan ahead. If you have specific healthcare needs that require regular specialized treatment, it's a good idea to talk to your doctor and find out what services are available in Salmon Arm. You may need to travel to other cities for specific treatments or procedures. It's also worth considering the availability of home care and other support services for seniors and people with disabilities.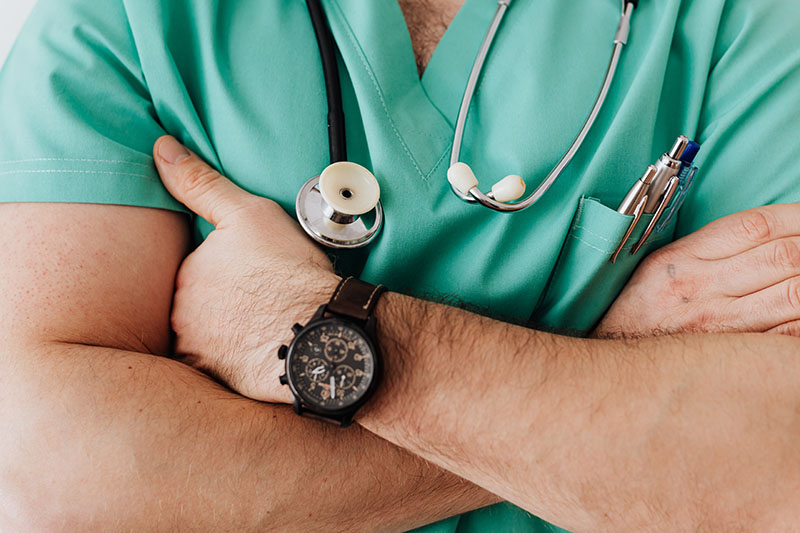 Potential residents who are worried about healthcare should consider the growing trend toward telemedicine or remote healthcare services. Using video calls and mobile apps, residents of Salmon Arm may be able to access medical consultations and treatment from their own homes. This is particularly convenient option for those with mobility or transportation issues or for those who prefer the convenience of virtual healthcare.
Is Salmon Arm the Place For You?
Salmon Arm offers an interesting opportunity for people considering a new home. It offers incredible access to recreation and is relatively affordable compared to other parts of British Columbia. There are many single-family homes perfect for retirees or young families, and Salmon Arm is family-friendly and relatively safe. Salmon Arm's focus on summer tourism means that this city is quiet for most of the year. Still, there are some unique festivals and cultural activities that can be enjoyed. It is a quiet and relaxing city that should be considered for its proximity to plenty of natural beauty and outdoor recreation.
If you're considering a move to Salmon Arm and want to know what a real estate purchase would look like, a great place to start is connecting with the Loyal Homes' team of Client Care Coordinators. Our Coordinators are available to guide your decision-making and answer questions about Salmon Arm, whether you are buying or currently own in the city. If you want to be supported in a purchase or sale, we are integrated with a team of experts that extends throughout British Columbia, including local realtors, lawyers, and any other professional service you might need for an acquisition or disposition.
Please let us know if you have any questions or comments about this Pros and Cons article. We are always keen to share our knowledge and prove to our readers our commitment to a high level of integrity and customer service.
We hope you've found this information about moving to Salmon Arm BC helpful. For your convenience you can easily search all Salmon Arm Houses for Sale here.