The Pros & Cons of Moving to a City Like Port Moody
Posted by Chris Fenton on Monday, March 13, 2023 at 10:00 AM
By Chris Fenton / March 13, 2023
Comment
The city of Port Moody is one of several municipalities with Metro Vancouver. It is located at the end of the Burrard Inlet, between Burnaby and Coquitlam. As one of the "Tri-Cities," Port Moody has gathered some attention as a potential place to live In the Lower Mainland. "PoMo" as some locals call it, is a place mixed between city life and the great outdoors. The idea of living in a city with lots of greenery and a high level of urbanization could be great or annoying, depending on the individual.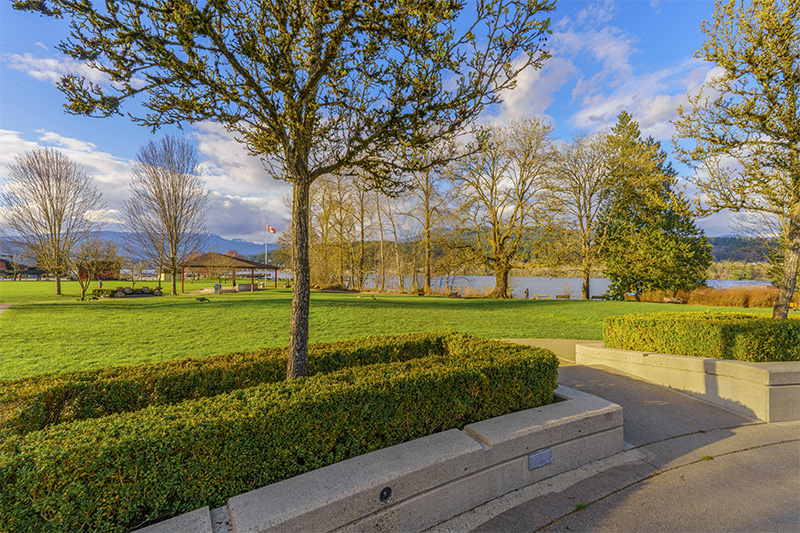 Is this city suitable for you? We've outlined several benefits and disadvantages of living in Port Moody for you to browse. We hope this helps you make a better-informed decision about relocating yourself and your family to this city.
What are the Advantages of Moving to Port Moody?
A Less Expensive Vancouver Vibe
Let's be honest, many people would prefer to live in Vancouver, but it is very expensive. So, what are the alternatives? Port Moody is near Vancouver, less expensive, and feels similar to Vancouver. Think about some perks of Vancouver - great food options, the Seawall, and excellent transit are a few that come to mind. As it turns out, Port Moody also has excellent food options and breweries, a less crowded waterfront trail, and the same transit system as Vancouver. And since it isn't labelled as "Vancouver," you can also expect more goods to be less expensive. The whole Lower Mainland can be hard on the wallet, so having cities like Port Moody that are just a little kinder on your finances can make a big difference for some people.
Port Moody has a SkyTrain
One of Vancouver's big perks is the transit system, notably the SkyTrain. The convenience and frequency of these trains just can't be beaten. The SkyTrain network has expanded into several Lower Mainland municipalities, including Port Moody. This has created a sense of community among municipalities. It is no problem if you live in Port Moody and must commute or visit someone in Vancouver or Burnaby. Instead of being considered a faraway land, the SkyTrain makes it feel like just another extension of Vancouver. In particular, the Millenium Line travels from Vancouver to Coquitlam, which passes through Port Moody. The Expo Line runs parallel to some parts of the Millenium Line, allowing easy access to parts of Burnaby and Surrey.
But how long does it take? Getting to Downtown Vancouver from Port Moody takes about 45 minutes on the SkyTrain. A day of shopping at Metropolis in Metrotown (Burnaby) is a little over half an hour. In less than an hour, you can access the best the Lower Mainland has to offer. This makes it a huge plus to be connected to the SkyTrain system!
Nature Extends into Port Moody
Port Moody is on the eastern end of the Burrard Inlet, so water sports activities like kayaking and boating are very popular. In fact, over 35% of Port Moody's land is dedicated to green space for residents and tourists to enjoy. This provides well over 50 km of hiking and walking trails, among several parks to enjoy. While you may think of Burnaby Mountain as a hub for greenery, Port Moody is an alternative contender with fewer people.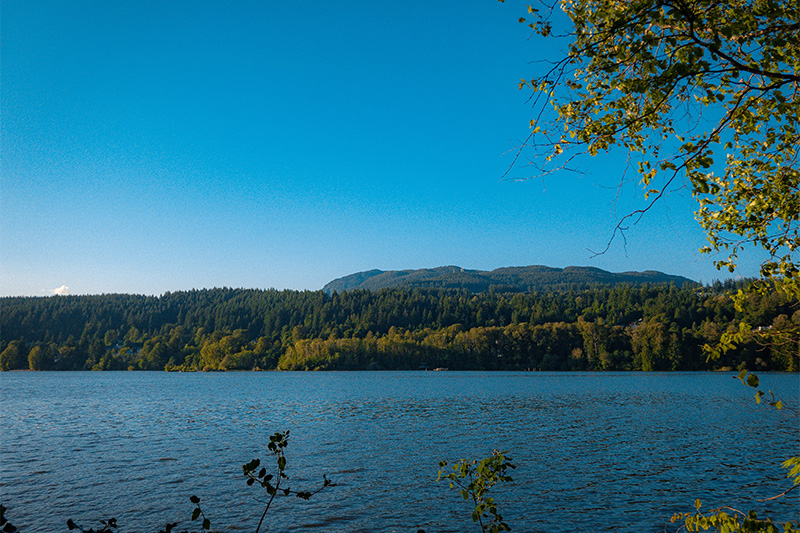 Rocky Point Park contains a shoreline trail, spray park, outdoor pool, boat launch, hiking and walking trails, and a skateboard park. This seaside park also has the option to rent kayaks. If you prefer to stay on land, several park benches and picnic areas provide a view of the Burrard Inlet. Enjoying nature is an easy part of life in Port Moody, as it is all over the city!
A Friendly and Welcoming Community
Do you enjoy when people reply to you when you talk to them? It may seem like an odd question, but often in cities, there is a level of anonymity that cuts the small talk. So often, people are focused on what they are doing and where they are going and don't have time for the small things like saying hello to strangers. High levels of solicitation or begging in some city streets have also led to some people ignoring all forms of communication - good or bad. In some cases, it can be safer not to engage with the public, especially if drug use is prevalent within the area.
Rest assured, the people of Port Moody are friendly. If you walk up to a bus stop and someone is there, they might greet you before you have a chance to say the first hello. Passing by a dog walker on the sidewalk and saying "good morning" will almost guarantee a reply back to you. The sense of community still exists in Port Moody, so it is still a friendly and welcoming city to live in.
Is Port Moody a Safe Place to Live?
As it turns out, Port Moody is a fairly safe place to live and explore. The Crime Severity Index (CSI) rating is much lower than other Metro Vancouver municipalities. For violent crime, property crime, and overall crime, Port Moody is much lower than the provincial average. This is excellent news for anyone considering moving to Port Moody. Feeling safe comes out near the top with all the other advantages we have listed. Of course, crime does happen in the city, so if you are curious to see what is currently making the news, then check out the news releases set out by the police. As compared to other similar municipalities in Metro Vancouver, Port Moody ranks among the best for its low crime rate.
What are the Disadvantages of Moving to Port Moody?
Traffic Congestion and Parking
All that green space has a downside: less room for vehicle traffic and parking. Traffic congestion is a problem in the Lower Mainland, including Port Moody, along with the treasure hunt for a parking space. Once you find a parking spot, make sure you have enough change to pay for a timed duration. Pay-for-parking is a common feature in cities, and Port Moody has a mixture of free and paid parking sites.
The city is well aware of traffic congestion and has worked to implement a traffic calming initiative to ease this issue. The goal is to alleviate traffic congestion and make the roads safer for all users. Thankfully, several great transit options do lighten the load. However, if you are glued to your vehicle, travelling and parking may be frustrating.
Train Noise
A railway passes through Port Moody, and with the trains comes the noise. This problem is most apparent in the Klahanie and Suter Brook neighbourhoods. While some residents have gotten used to the noise, it can be bothersome for others. Along with the SkyTrain and the West Coast Express are various trains going to and from Pacific Coast Terminals. Some trains travel throughout the night, which also amplifies the noise. This can be bothersome for light sleepers and families with small children.
Not all of these trains carry passengers. Many contain valuable goods being transported to and from oceanside ports. For this reason, there isn't always a set schedule for when these trains are running. If you'd rather not hear a "choo choo," then it may be worthwhile to look into neighbourhoods farthest away from the train tracks.
No Indoor Swimming Pools
Do you enjoy swimming laps in a heated pool throughout the winter months? You may have to tack on some travel time to reach the nearest pool because Port Moody does not have indoor swimming pools. For some, this may seem odd as many small towns have a swimming pool as part of their recreation centre. It is easy to assume that larger cities have the same or better facilities than small towns, which isn't always the case. While Port Moody does have two outdoor swimming pools, they are only available seasonally.
Swimming is a low-impact sport preferred by those suffering from joint pain. It is popular among seniors as an opportunity for light exercise and socializing. Unfortunately, Port Moody does not have an indoor pool, so other forms of exercise and socialization must be sought during the cooler months.
Those willing to travel to the nearest pool will likely have the best luck in Coquitlam. It isn't too far away - about a 20-minute drive depending on traffic conditions - but it can still feel like a bit of a drag to have to go to another city just to swim some laps.
Other Considerations Associated with Moving to Port Moody
Mudflats - West Coast Quicksand
Did you think quicksand was something only found in cartoons? Well, Port Moody has mudflats which are pretty similar to quicksand. The sand along the Burrard Inlet becomes a mudflat when the tide pulls back out. This means that if someone tries to walk along the shore, the sand beneath them can suddenly "give out," and they can become stuck. The fire department is specially trained to extract people out of this situation, which hints at how big of a problem it has been in the past. Getting stuck in a mudflat can be quite alarming, especially when the tide is due to come back in again.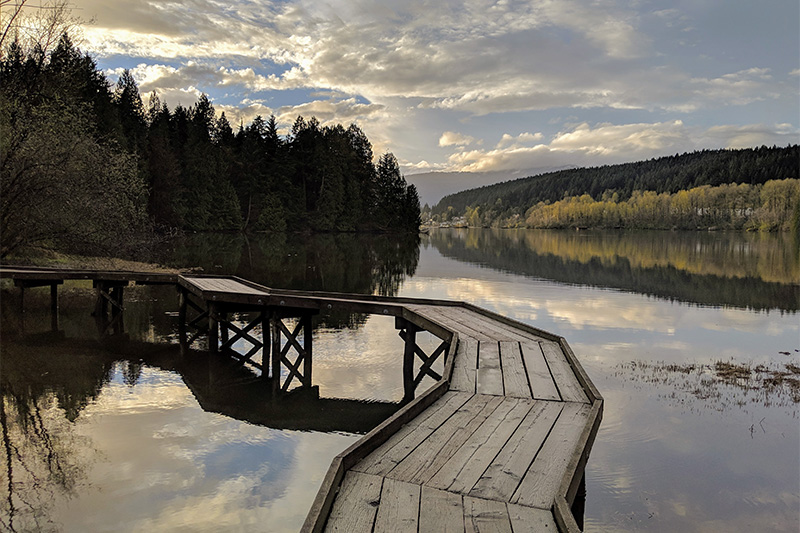 Walking along the beach is a pleasant pastime that can still be done, but do mind the signs, so you know when it is safe to go on the sand. When in doubt, consider using one of the established shoreline trails instead.
Black Bears, Coyotes, and Cougars Also Llive in PoMo
Port Moody contains a good amount of green space for hiking and exploring. However, this raises the likelihood of animals also enjoying the same areas. Some active wildlife in and near the city includes black bears, coyotes, and the occasional cougar.
For this reason, residents tend to keep their pets indoors at night, just in case. That means if Rover is used to sleeping outside in his doghouse, he should be promoted to the residential suite for his own safety. Some pet owners prefer to have animals outside, unleashed and free to roam. While this may work out in the countryside, it isn't a part of life for those in Port Moody. Pet food and water bowls are also encouraged to stay inside not to attract unwanted visitors. The likelihood of an animal like a cougar harming or killing your pet is high enough to take proper precautions.
It is also essential to be aware of bears, your garbage, and your compost pile. Leaving out your garbage bin for too long or too soon before collection day can result in a hefty fine. The reason? Hungry bears roam the streets at night and pick through the garbage, looking for a meal. It creates a huge mess, harms the bear's natural diet, and encourages them to routinely check these areas for another opportunity.
West Side Lacks a Grocery Store Selection
The west side of Port Moody has yet to have a designated grocery store. With options such as meal kits that can get delivered right to your door and some grocery stores offering delivery, the location of a grocery store might not seem like a big deal to most people. However, those with mobility issues or those that like the idea of having a grocery store nearby may find this worth considering.
Many of the grocery options are located on the city's eastern side, so there is definitely a noticeable difference in options from east to west. You will find the occasional convenience store here and there for some items, but a full shop might be farther than you initially expected. So, if you like to shop with a minimal commute, then the west side of Port Moody might not be the best choice for you to live in.
There are so many other Factors to Consider When Moving to a New City, hopefully this gave you a little more insight into Port Moody. If you have any questions or comments, we love to hear from our readers, don't hesitate to reach out.
We hope you've found this information about moving to Port Moody BC helpful. For your convenience you can easily search all Port Moody Houses for Sale here.