The Pros & Cons of Moving to a City Like Port Alberni
Posted by Chris Fenton on Monday, May 8, 2023 at 10:00 AM
By Chris Fenton / May 8, 2023
Comment
Port Alberni can feel like a bit of a hole in the wall location if you haven't heard of it before. Often, these small towns are overlooked as tourists travel through them to other destinations like surfing in Tofino or whale watching in Ucluelet. But is that drive-through town a good place to live? We have explored some pros and cons of living in the Vancouver Island city of Port Alberni, so you can decide for yourself if this community is the perfect fit or not. We've also thrown in a few thoughts to consider, which can be seen as either advantages or disadvantages depending on your lifestyle.
What are the Advantages of Moving to Port Alberni?
A Small Town With a Big Heart
The population of Port Alberni is around 20,000, give or take. This figure takes into account neighbouring regions like Beaver Creek and Sproat Lake that aren't directly part of the city itself. As for size, it is on the smaller end but still large enough to have basic amenities and things to do.
In Port Alberni, residents are warm and welcoming to each other. If disaster strikes through a house fire or other unfortunate circumstance, the community comes together to help. Port Alberni is known as the community with a heart, and it shows through the many food drives, fundraisers, and day-to-day interactions. Don't be surprised if someone you've never met before sparks up a conversation as you wait for a bus or cab. This is a friendly community. Politeness and consideration go a long way.
If a sense of community is important to you, then Port Alberni is a top choice. This is a town where everybody knows everybody. The question, "are you related to so-and-so with the same last name?" comes up often and in a good way. If you are new to town, locals are more than happy to give you the details about the best places to grab a burger, hang out, or shop for the best deals. In fact, if you are new to town, your coworkers might already be planning a dinner at a great restaurant to welcome you to the team. Residents are friendly, welcoming, and accepting of newcomers.
A Valley Surrounded By Nature
Mountains, rivers, lakes, and the Alberni Inlet work together to offer a paradise for any outdoor enthusiast. Even if you prefer to stay indoors, the views are outstanding! Not only is the town surrounded by beauty, but there are also several parks and forested areas within city limits. Waterfront areas like Victoria Quay, Harbour Quay, and Waterfront Park line the shores of the Alberni Inlet and are popular lunch and hangout spots. Sometimes special events are held at these sites, too.
Camping, fishing, hiking, boating, swimming, and tubing down the river are all common activities for Port Alberni residents. A drive to the lake takes about fifteen minutes from town and is a popular summer activity. Sproat Lake and the Somass River are prime spots for water sports like swimming, tubing, canoeing, kayaking, and kiteboarding. In the town itself, there are many hiking trails and walking paths, including the popular Kitsuksis Dyke Trail and many others.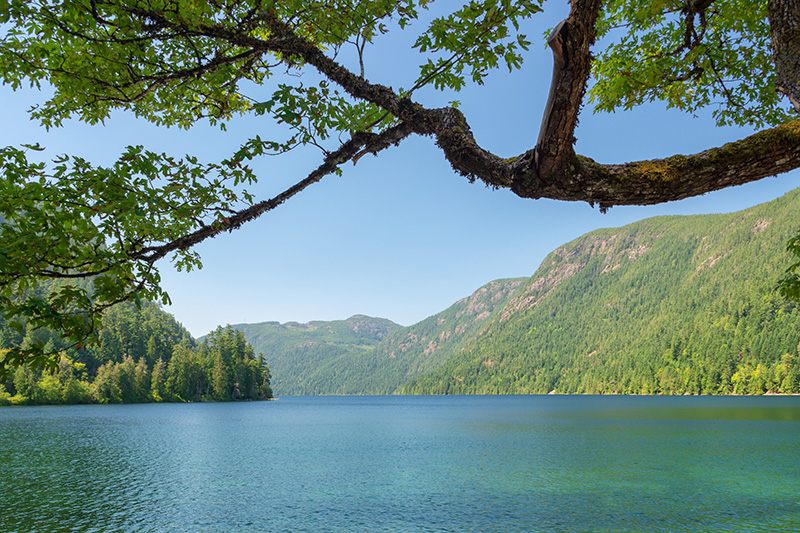 Residents can take advantage of the natural beauty at any time or attend special events. An annual salmon festival and derby takes place within the inlet, drawing in fishermen from all over the island. Dragon boating is another popular sport with an annual tournament.
Virtually No Traffic or Commuting Times
It doesn't matter where you live in town, the drive will take 10 minutes or less to get anywhere. Gone are the days of driving for half an hour or more to get to work. A smaller commute means you will have more time to do what you want instead of being stuck in traffic.
Traffic is minimal, even on busier intersections and near schools. Heavy traffic in Port Alberni means you may add an extra minute or two to your drive, and that's it. Most of the time, it is a breeze to drive in town. Congested traffic is so rare that when it happens, locals assume there must be an accident up ahead or some other event that's out of the norm.
There's another unique feature about Port Alberni that helps make driving more enjoyable. Several roads were built extra wide, giving plenty of room between vehicles. While this may have been constructed to accommodate the large logging trucks that still travel the streets from time to time, it has the benefit of giving drivers more breathing room on the road today. Some roads are four lanes wide with angled parking spots. Each lane is wider than you'd see in larger cities. There's so much room, sections of the road are frequently blocked off to hold special events like markets and festivals! As you can see, the combination of short commutes, low traffic, and plenty of road space are all advantages for drivers in Port Alberni.
Central Location and a Low Cost of Living
Port Alberni is nicknamed the "Heart of Vancouver Island" partly because of the welcoming community but also because of its location. The central location makes it a convenient community to live, especially for those that love to travel. Travel down the Alberni Inlet towards Bamfield for a fishing trip, drive westward for surfing in Tofino, or head east for exceptional shopping in Nanaimo before heading south to the capital city of Victoria. A trip to the mainland is possible by catching a ferry in Nanaimo or by taking a seasonal seaplane from Port Alberni.
This pairs well with another great feature - a low cost of living. Port Alberni's central location and low cost of living mean life is just a bit more affordable and interesting. Travellers love using Port Alberni as their home base while they spend their excess money on trips and vacations. A low cost of living means more money can stay in your pocket and savings account, allowing you to do the things you want to do. In the valley, you can work and play without guilt!
Port Alberni is a Great Place to Retire
Small towns are usually ideal places to retire, and Port Alberni is no exception. Most of the city is reasonably walkable, with numerous doctor offices and pharmacies spread evenly throughout. Port Alberni has some of the most affordable real estate on Vancouver Island compared to other similar-sized cities. This is important for those on fixed incomes, like seniors or those looking to invest in a real estate market. The low commute and traffic we mentioned earlier play a role here, too. Caregivers and family can be called upon and arrive quickly in times of an emergency or a casual visit.
Specifically, the Echo neighbourhood is a popular spot for retirees because it is centrally located, has assisted-living and independent-living facilities, is near the hospital, and has several medical buildings and pharmacies. The area also contains several recreational amenities, such as a swimming pool, fitness gym, walking track, and the headquarters for the Echo Sunshine Club. Grocery stores, restaurants, and other shops are also located within and near this neighbourhood. Access to good amenities and health care with a lower overall cost of living contributes to Port Alberni being a great place to retire.
What are the Disadvantages of Moving to Port Alberni?
Lack of Nightlife Options
Port Alberni's population is nothing compared to big cities, and the nightlife scene proves it. There are still things to do in the evenings, but the options are limited. Dinners, movies, local hockey games, pubs, breweries, and the occasional live play are the main available options. A handful of bars makes pub crawling a possibility. Still, they are so spaced out that it is more worthwhile to choose one and make an evening of it there, then head to someone's place for an after-party. Although there are things to do, it doesn't live up to the expectations you'd have for much larger cities because the variety and schedule of events aren't as consistent.
Instead of Rapid Transit, Try a Leisurely Bus Ride
Are you used to waiting a maximum of ten minutes until the next bus or train? Plan in advance in Port Alberni, as the next bus is about 40 minutes away or more. Three main bus routes transverse the city throughout the day, then it reduces to just one for the evenings and Sundays. Hey, we mentioned it's a small town, remember? The bus routes are functional but are not designed for those in a constant rush.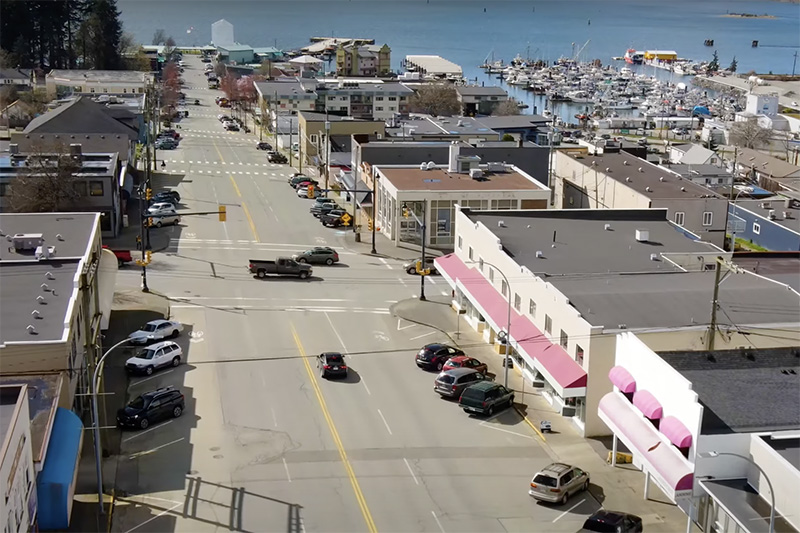 The plus side is that a day pass is much more affordable than in other cities. So, although it can take longer to get around, it isn't costing you an arm and a leg to get there! The bus drivers are very good at keeping on schedule and are always there to smile and greet you as you hop on the bus. The service isn't as frequent as in larger cities, but the customer service more than makes up for it.
Crime, Homelessness, and Drug Use
The overall crime rate in Port Alberni is relatively high for its size. High amounts of property crime and drug use have become a problem throughout all regions. There are several speculations as to why this is such a problem in Port Alberni, but no concrete answer has been able to fix the issue entirely.
Homelessness, crime, and drug use are often seen together, so the city has made efforts to help the homeless population secure proper housing. This has been an ongoing joint effort with shelter and mental health services for the region. Sobering centers, emergency housing, and a safe injection site were built to reduce crime in town. However, crime rates are still elevated above the national average.
It is difficult to pinpoint precisely why the crime rates are so high, but the city and other local services have collectively worked together to find a better solution.
Other Considerations Associated with Moving to Port Alberni
Being Bear Smart is a Requirement, Not a Choice
Port Alberni is surrounded by nature on every side and is the site for annual salmon spawnings. Each year, salmon swim up the Alberni Inlet to meet up with the Somass and Stamp Rivers, where they spawn. While this is wonderful for fishermen, it is also great for the bears.
However, the bears don't show up once a year and then vanish for the rest. They are around year-round and can be quite a nuisance. Bins for garbage and composting contain clips to secure them shut from bears and other wildlife. They have been known to break fence panels to access fallen fruit or unsecured garbage bags. The bears are hungry and are used to scavenging for food, wherever that might be.
Most of the time, these bears tend to themselves, but knowing how to protect yourself and what to do if you encounter a bear is an important consideration. Keeping your property and garbage "bear safe" needs to be a routine practice. Otherwise, you will have quite a mess to clean up the next morning!
Limited Post-Secondary Options
For most post-secondary educational options, leaving town is an eventual necessity. Some programs can be attended in town with certificates or diplomas. Still, those seeking a bachelor, master, or Ph.D. degree will likely need to leave town to finish it.
North Island College offers several diploma programs and the first year of studies for a bachelor's degree. This means students can finish the first year of their four-year bachelor's degree program at NIC, then transfer to places like the University of Victoria or the University of British Columbia to complete the rest.
Another option within the valley is Pacific Coast University. This specialized institution offers bachelor's degrees in workplace safety, health, and disability management.
Some universities offer online programs where you can complete a degree through online distance learning. In this case, it doesn't matter where you live, but if you are the type of person that prefers to sit in a physical classroom instead of a virtual meeting, then the options are a bit limited in Port Alberni.
Low Chain Store Selection
As a small town, Port Alberni does have some big box chain stores like Walmart and Save On Foods, but the selection is relatively low.
It isn't uncommon for residents to take day trips to Nanaimo, which is about an hour's drive away. Nanaimo will be where you want to go for stores like Costco, Michael's, Chapters Indigo, Cabelas, and more.
This isn't to say there is no shopping in Port Alberni. In fact, it is quite the opposite! Uptown and Lower Johnston regions contain many locally-owned small businesses and boutique shops. Pacific Rim Centre is another location with more well-known stores and restaurants like Walmart, Staples, and A&W. Although you may not find as many branded stores as you'd expect, plenty of locally-owned shops and restaurants offer high-quality products and exceptional customer service.