The Pros & Cons of Moving to a City Like Esquimalt
Posted by Chris Fenton on Monday, November 7, 2022 at 10:00 AM
By Chris Fenton / November 7, 2022
Comment
If you are considering a move to Esquimalt, British Columbia, you may wonder, "Is Esquimalt a good place to live and is Esquimalt a good real estate investment?"
These questions, including several others, are important considerations when moving to any new neighbourhood or city. You want your real estate investment to be solid and choosing the best community to buy a home, settle in and become a local requires some forethought and insight.
Establishing where to live can be challenging, and a little research on areas of interest can help your decision become much easier. Learning more about a community often raises other areas of concern, such as, "What is Esquimalt BC known for? Is Esquimalt a safe place to live? What reputation does Esquimalt have?"
Esquimalt is known as a mariner's town and is home to Victoria's Royal Canadian Navy, originally established as Her Majesty's Canadian Dockyard in 1855. The Canadian Forces Base (CFB) Esquimalt, Pacific Fleet, is considered the third largest naval base in Canada as it employs over 6,500 military and civilians. Almost every year, the Naval Fleet School Pacific brings in an additional 2,800 military trainees. The CFB Esquimalt Dockyard supports and benefits Esquimalt's local economy in many ways.
With a population of approximately 17,500, the Township of Esquimalt consists of young families, working professionals and retirees.
Many consider Esquimalt a good place to live, raise a family or retire due to its suburban community, waterfront location and proximity to downtown Victoria. Esquimalt has many redeeming qualities, but just as every city does, Esquimalt has its upsides and downsides.
What are the Advantages of Moving to a City like Esquimalt?
Esquimalt offers a surprising number of hidden gems and quaint small-town characteristics along with its natural beauty.
Esquimalt is an Oceanfront Community
Located on the southern tip of Vancouver Island along its coastline and surrounded by water on three sides, Esquimalt has some of the most stunning beaches, parks and walkways Victoria offers. The most famous is Saxe Point Park, where locals often gather to enjoy breathtaking west coast sunsets, manicured gardens and beautiful oceanfront trails.
Esquimalt's Westbay Marine Village connects to Victoria's Inner Harbour via the Esquimalt Boardwalk and Songhees Walkway. Many Esquimalt residents use this gorgeous oceanfront walkway to access Downtown Victoria.
Outside of its local residents, Esquimalt attracts neighbouring community families and outdoor enthusiasts for its abundance of beautiful parks, waterways, trails and green spaces such as MacCaulay Point, Fleming Beach, Memorial Park, Esquimalt Gorge Park and High Rock Cairn Park, to name just a few.
The Gorge Waterway flows into Esquimalt, where many residents love to paddle, swim or stroll along the waterfront. Local boaters enjoy the ease of launching at Fleming Beach for a day of fishing or time spent on the water. Westbay Marina docks and houses boats of all varieties, including Victoria's popular funky artistic houseboats.
Esquimalt is Close to Victoria
Esquimalt is known as the 14th municipality of Greater Victoria and is situated minutes away from downtown Victoria. Close to Victoria yet far enough away for peace and quiet, this suburban community appeals to an extensive range of ages and demographics.
The location of Esquimalt is highly desirable for working professionals, families wanting a quieter suburban atmosphere and retirees who wish to live in a small community near the ocean or have always dreamed of owning waterfront property.
Esquimalt is separated from Victoria by the water, and a quick drive across the Johnson Street (Blue) Bridge takes you into Victoria's vibrant downtown core. View Royal, Colwood, Langford and Metchosin are located west of Esquimalt, within an easy car or bike ride away.
Cyclists enjoy the E&N (Esquimalt & Nanaimo) Rail Trail and the Galloping Goose & Lochside Regional Trail, providing convenient access to Downtown Victoria and Western Communities. Many residents commute by bike, and the ease of riding into downtown makes the Esquimalt bike paths a preferred option.
Esquimalt has a Strong Sense of Community
The small municipality of Esquimalt, BC, takes great pride in their township, where locals work together to encourage friendly, social and safe neighbourhoods. This up-and-coming community has recently seen several modern contemporary, and family-friendly developments that further enhance the enjoyment and livability of Esquimalt.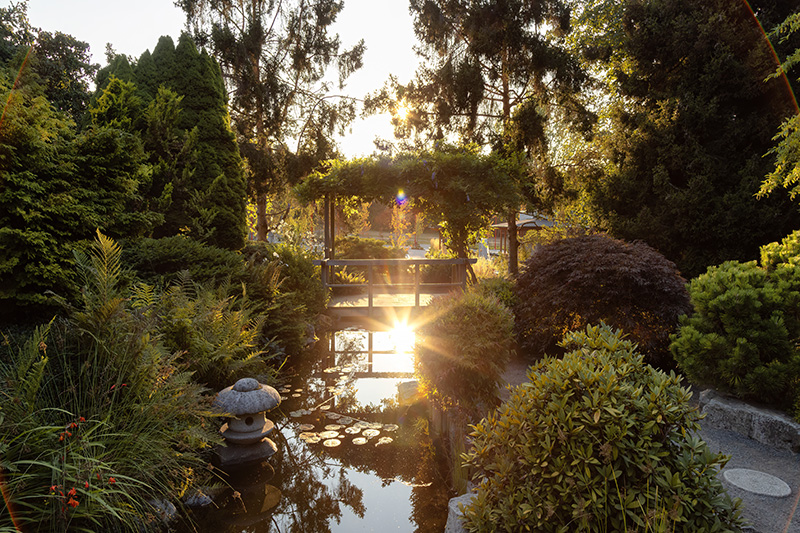 As part of the Esquimalt Village Project, the newly designed Esquimalt Town Square has introduced a contemporary mixed-use condominium complex that includes a stunning new Greater Victoria Public Library, art gallery, café and more. This outdoor community square is surrounded by mature trees and seating where families gather to enjoy its peaceful setting, comradery, coffee, outdoor music, events and more.
Next to Esquimalt's Town Square sits the Esquimalt Recreation Centre, where you will find one of the best outdoor waterparks in BC. Young families enjoy this beautiful park year-round.
Esquimalt is famous for its Buccaneer Days, fondly named in 1966. Originally called Esquimalt Days, this occasion began by celebrating the crowning of The Queen. This lively event has been taking place for over 60 years and brings approximately 20 communities together. Every year in May, the neighbourhood comes together in celebration. Locals deck themselves in pirate and maritime costumes, and the main street shuts down to proudly host the Buccaneer Parade and parks are filled with fun family festivities.
When you spend time in Esquimalt, a wonderful sense of community and belonging is felt that draws many families, retirees and others to the area.
Esquimalt is a Good Place to Retire
If you are considering retirement, you may question, "Is Esquimalt a good place to retire?"
Many retirees live in Esquimalt for its beautiful scenery, stunning waterfront views, convenient location, and small-town feel. This quiet neighbourhood is removed from the bustle of city life and offers an idyllic peaceful setting that encourages many forms of birds and wildlife.
Retirees enjoy Esquimalt's flat downtown surface and every amenity within easy walking distance. Very few hills or steep driveways in Esquimalt make it convenient to get around and properties easier to maintain. The ease of public transit to and from Esquimalt appeals to those who opt not to drive.
The majority of retirees purchase property in Saxe Point, Gorge Vale or Kinsmen Park, where oceanfront property or a seaside lifestyle can be found. Newly developed condominium buildings are another draw for retirees who wish to downsize and live in a quiet community.
According to Stats Canada, the median age in Esquimalt is 43 and a quarter of its population is over the age of 65, leading us to believe that Esquimalt is in fact, a good place to retire.
Esquimalt Offers Affordable Real Estate
Is Esquimalt a good investment? Many think so. Several new improvements and developments have increased the area's desirability and real estate values in Esquimalt. Being home to the Canadian Forces Naval Base brings in many families looking for temporary housing. Buying an income-producing rental property in Esquimalt can be a lucrative real estate investment.
Real estate prices in Esquimalt are lower than in the neighbouring area of Songhees and Downtown Victoria, making it an appealing investment for those wishing for a waterfront community close to downtown.
Many lots in Esquimalt are large duplex-zoned parcels where buyers can develop older homes into new or remodelled duplex buildings. Houses in Esquimalt are often approved for a garden suite, carriage house or other additional accommodation turning a single-family dwelling into an income-producing property.
First-time homeowners can often get into the real estate market by purchasing a mortgage helper home, and Esquimalt could be the perfect municipality to accomplish this.
Housing in Esquimalt ranges from pre-war, post-war, military housing, beautiful old character houses, and split-levels to a few modern contemporary designs. Several of Esquimalt's prestigious condominium developments, including Westbay Quay, Swallows Landing and many others, enjoy gorgeous panoramic ocean views.
Esquimalt is a Safe Place to Live
Esquimalt's reputation for safety has grown substantially in the past several years, along with its recent improvements and popularity. The Township of Esquimalt takes great pride in its public safety and is under the jurisdiction and care of the City of Victoria's Police Department.
While in Esquimalt, you encounter children playing freely on the streets, mothers walking their strollers, teens on skateboards or bikes, runners jogging through quiet trails and families from young to old enjoying the Town Square or sunsets at Saxe.
What was once thought to be an undesirable area of Victoria, Esquimalt is now far from it. This stereotype still lingers for some, but Esquimalt residents feel otherwise. If you were to ask, "Is Esquimalt BC a safe place to live?" you may encounter varying opinions, but the answer you will wholeheartedly hear from the locals will be, "Yes!"
What are the Disadvantages of Moving to a City like Esquimalt?
As you can see, moving to Esquimalt has many advantages; however, as with every community or neighbourhood, there are drawbacks.
Lack of Amenities
Although Esquimalt is close to every amenity possible, the township itself offers very few retail and dining options. Grocery stores and shopping are limited in Esquimalt. Many residents head into downtown Victoria or the Western Communities to find a better selection of stores and restaurants.
Every basic amenity is within walking distance in Esquimalt, but the variety and options are sparse. For those looking for more than just the necessities or prefer multiple choices, a trip to the surrounding areas is likely in order.
Medical care can be hard to find in many communities since the COVID-19 pandemic and Esquimalt is one of them. Securing a family doctor in the Township of Esquimalt is a challenge for residents as there are very few options. The Esquimalt Medical Clinic is available for walk-ins and has a small family practice. For those in need of urgent care, Island Health provides Esquimalt Urgent & Primary Care.
Increase in Taxes
Like most municipalities in Greater Victoria, land property taxes jumped. Esquimalt's property taxes recently increased for homeowners by nearly 5% to assist the Township of Esquimalt with several ongoing improvements.
To keep up with the township's new infrastructures and plans, homeowners in Esquimalt were required to pitch in. According to Esquimalt's mayor, Barbara Desjardin, "This budget is about moving forward on some significant projects that will benefit our community, like the new public safety building and Active Transportation Network Plan."
As the municipality continues its improvements, homeowners in Esquimalt can reasonably expect their land property tax to increase more than other Victoria areas every year.
Rundown Buildings
Despite the township's efforts, Esquimalt has yet to catch up esthetically with its surrounding areas. Many old, outdated, and even dilapidated buildings still exist in Esquimalt, making the initial appearance of its downtown strip less appealing.
If Esquimalt continues on its current upgrade trend, the majority of existing rundown buildings will be a thing of the past. For a home buyer contemplating a move or making a real estate investment in the area, there is no way to know how long it will take for Esquimalt to fully improve or if it ever will completely.
Esquimalt's reputation has improved dramatically. However, until the main core sees a substantial upgrade, this little town will most likely continue to receive a less-than-desirable first impression from outsiders.
In the meantime, residents of Esquimalt can expect to endure a few growing pains, such as construction noise and road closures in the neighbourhoods undertaking development and improvement.
Decrease in Growth
According to Statistics Canada, Esquimalt has seen very little growth in its population for many years. In fact, since 2016, Esquimalt's population has gone down. If this is the case, are people moving to Esquimalt?
A large number of Esquimalt residents are military employees of CFB Esquimalt that are stationed temporarily. With this in mind, many naval families and single occupants come and go. As a quarter of the population of Esquimalt is over the age of 65, many residents may downsize into other areas, which creates some movement but not necessarily growth.
Many may consider a decrease in population beneficial to retain that small-town feel; however, this can potentially impact Esquimalt homeowners with higher taxes and less opportunity for municipal improvements that can possibly affect future land values.
Other Considerations Associated with Moving to Esquimalt
Outside of the upsides and downsides, there are other important considerations when moving to a new city or community like Esquimalt, BC.
What is the Weather like in Esquimalt?
As Esquimalt is surrounded by water on three sides, it is important to consider its weather. Esquimalt is situated along the Juan de Fuca Straight leading out to the Pacific Ocean, making the temperatures cooler and sometimes foggier or windier than the municipality of Saanich and other surrounding inland areas.
According to World Weather Online, Esquimalt's daytime temperature runs from an average low of 6 degrees during the winter months to an average high of 21 degrees during summer. Like all of Victoria, Esquimalt's climate is moderate, with an average of 8 to 10 rainy days during its winter months.
What Salary Do You Need to Live in Esquimalt?
The average household income levels are somewhat lower in Esquimalt compared to other Victoria areas, making this community possibly more affordable for first-time buyers. According to townfolio demographics, sourced from Statistics Canada, Esquimalt has a median yearly salary of approximately $60,000.
Two-thirds of Esquimalt residents earn over $60,000, while the other third brings in a yearly income under $60,000.
What Kind of People Live in Esquimalt?
Will you fit in with the community, and does Esquimalt suit you? When moving to a new area, it is always good to know in advance if you will enjoy being part of the neighbourhood.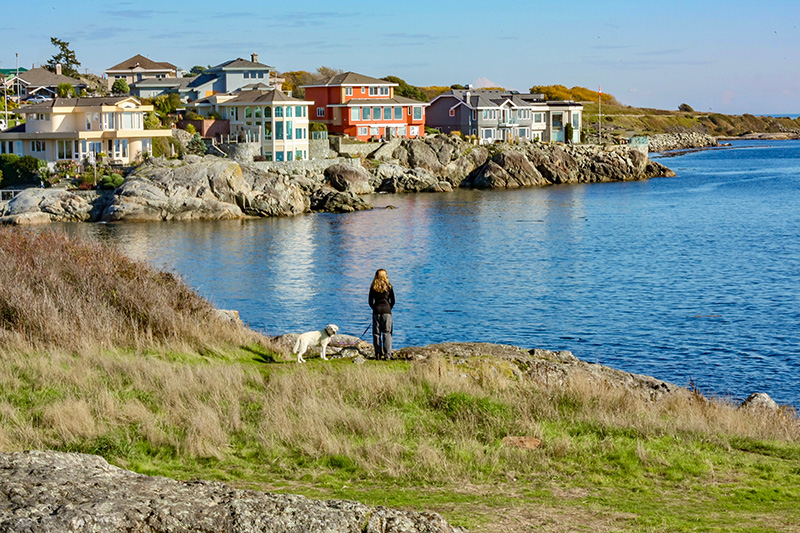 Esquimalt is made up of almost equal parts, male and female. Nearly half the residents are married, while the other half are single. Approximately 50% of the population is over the age of 45, with the remaining 50% under the age of 45. Two-thirds of households contain one or two people, with the remaining third housing families of three or more.
Esquimalt's top labour force occupations are sales and service, law and government, business and finance, trades and transport and management. Sciences, health, art and sports, natural resources and manufacturing are some other occupations held by residents in Esquimalt. The majority of residents are employees, with approximately 10% being self-employed.
What Should I Do Before I Move to a New City?
Esquimalt might be the perfect fit for you and your family; now what?
Moving to any new city, such as Esquimalt, requires several important considerations. LoyalHomes.ca outlines some beneficial information in this article, Factors to Consider When Moving to a New City.
Professional and experienced real estate advice is an excellent step to initiate any move. Research the neighbourhoods you like best in Esquimalt and have your realtor set up an MLS (Multiple Listing Service) real estate search for homes listed for sale in these areas.
Establish what you want from your new Esquimalt home, such as waterfront, ocean views, condo, duplex, single-family house, the possibility for additional accommodation, zoning for potential development, number of bedrooms and bathrooms or any other property criteria you may be looking for.
Experienced real estate help is crucial for any successful move, and the team at LoyalHomes.ca takes excellent care and pride in providing our clients with expert advice. Should you have any questions on buying, selling, moving or other real estate enquiries, the knowledgeable team at LoyalHomes.ca is always available to answer them.
We hope you've found this information about moving to Esquimalt BC helpful. For your convenience you can easily search all Esquimalt Houses for Sale here.