The Best Places to Camp in Port Alberni
Posted by Chris Fenton on Friday, July 2, 2021 at 10:00 AM
By Chris Fenton / July 2, 2021
Comment
Summer is officially here, and the weather in Port Alberni is quickly reaching sizzling temperatures. As an avid community of outdoors enthusiasts, summer really kicks off the camping season in our beautiful Alberni Valley. It's no secret Port Alberni is home to some of the most pristine forests, lakes, and rivers on all of Vancouver Island.
Nothing beats camping on an island, and we have the ultimate list of top campgrounds in central Vancouver Island for you to choose from. Whether you love to travel logging roads to rough it with a tent or pull up to a full-service campsite in your luxury RV, we have a list that will please even the pickiest campers! So, pack those s'mores, reserve your dream campsite, and unwind in the most peaceful place on earth!
The Best Places to Camp In and Near Port Alberni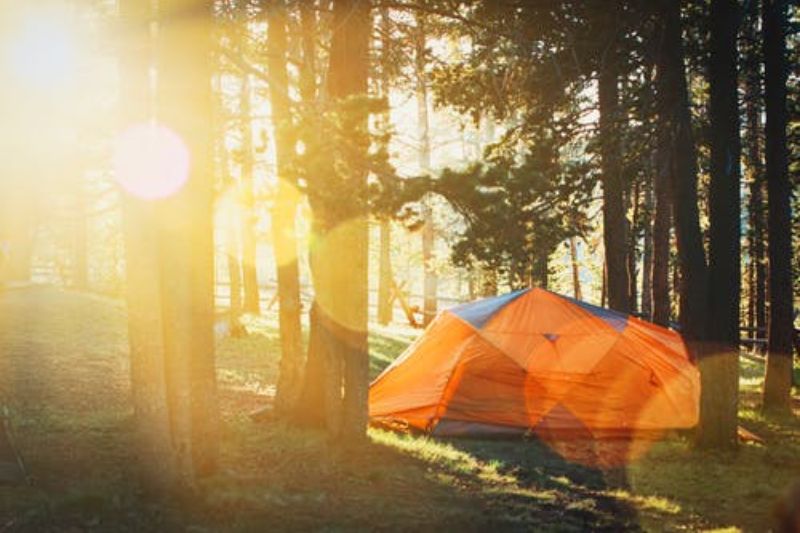 Sproat Lake Provincial Park
Address: 13km northwest of Port Alberni on Highway 4.
Luxury Level: High
Of course, Sproat Lake needs little to no introduction. Sproat Lake has become one of the most well-loved lakes in British Columbia, and it is easy to find, as it is right on Highway 4 towards Tofino and Ucluelet. Located on the north shore of this massive lake, the provincial park is home to two separate campgrounds and a large day-use area. There are 59 vehicle-accessible campsites and five walk-in sites.
A boat launch makes it even easier to enjoy your favourite water sports like water skiing, tubing, and fishing. This campground is well equipped, with access to fresh water, flush toilets, showers, a boat launch, firepits, and picnic areas. This is one of the best places to be on a hot summer day due to the pristine and refreshing lake. Even when it gets a tad busy, there are still private pockets of beach just waiting for you to lay out your towel, set up your cooler and umbrella, and take in the sunshine! If you have a sudden craving for ice cream or forgot something, the Tseshaht Market is only a 10-minute drive away and has scooped ice cream, fresh fruit and produce, gasoline, snacks, and more!
Main camping season dates are between May 1st to October 15th, and reservable dates for Sproat Lake camping are May 12th -September 3rd. For those that don't mind rain or cooler weather, off-season camping is available in the lower campsite and operating times can be found here. Sproat Lake Provincial campsite enjoys endless outdoor fun and is definitely one to check out.
Reservations: Book Online
Taylor Arm Provincial Park
Address: Pacific Rim Hwy, Port Alberni, BC V0R 1W0
Luxury Level: Medium
Approximately 10 kilometres past the Sproat Lake Provincial Park, you will find the crystal-clear waters at Taylor Arm. Taylor Arm Provincial Park is located on Sproat Lake and offers 3 group camping sites. Group camping offers a unique experience as each site accommodates 8-15 units. The camping site provides basic amenities like outhouses and a freshwater pump.
Reservable dates for Taylor Arm camping are April 14th – October 14th. Follow the trail from the campsite through a highway underpass and quickly arrive at the lakefront. Taylor Arm tends to see less boat traffic, making it a magical swimming and kayaking paradise. If you have a hard time coordinating large groups for camping, this campsite is a great option to check out.
Reservations: Book Online
Snow Creek Campsite
Address: Alberni-Clayoquot D, BC V0R 2B0
Luxury Level: Low
Snow Creek campsite is located on the southeast shore of Sproat Lake. Snow Creek campsite is slightly more remote than the provincial park camping on Sproat Lake as it is accessed by gravel Nahmint/South Taylor Arm Forest Service Road.
There are 27 campsites, and nearly a dozen are first come, first serve only. The minimal amenities at this site provide only outhouses. Reservable dates are generally April - October. If you're in need of a true getaway, unplug from the rest of the world and enjoy the serenity at Snow Creek.
Reservations: Book Online
Arrowvale Campground
Address: 5955 Hector Rd, Port Alberni, BC V9Y 9E8
Luxury Level: High
Are you in Port Alberni but don't want to go too far away from civilization? Arrowvale Campground is the perfect solution - a peaceful riverside campground just on the outskirts of town. This campground sits next to the Somass River and Collins Farm, with over 40 campsites and two cottages. If roughing it isn't for you, they have a couple of luxury cedar cabins to choose from. Each comfortable cottage has a see-through gas fireplace and free wifi! Visit the farm to pick some fresh produce, purchase grass-fed beef for dinner, or admire their impressive Canadian horses. The Arrowvale Campground goes above and beyond to provide outstanding experiences for its guests.
Some campsites are available with power and water hookups. Other amenities at Arrowvale Campground include free showers, flush toilets, a playground and wifi. Families will love exploring the grounds, which include trails, a small petting farm, and a café. The Somass River also offers great fishing and swimming to be enjoyed.
Reservations: Book Online
Stamp River Provincial Park
Address: 14km north of Port Alberni on Beaver Creek Road.
Luxury Level: Medium
What does an invigorating river, majestic waterfalls, and an ancient forest have in common? These are some of the features of Stamp River Provincial Park campground. Stamp River is known for its lively river, which hosts salmon spawning each year. Sockeye, coho, and chinook salmon each take their turn ascending the river in a fight for life. The river is full of life and strong rapids. Picnic tables next to the river offer a place to sit and listen to the crashing water and the strength of nature.
The campground has 23 campsites available, some of which are located directly overlooking the cascading waters. Amenities include outhouses and water.
Reservable dates for Stamp River camping are between May 12th – September 3rd. Year-round camping is also available with limited services. The lush forest and the sounds of the river flowing make the Stamp campground feel relaxing and refreshing. Enjoy hiking the various trails and watching the salmon climbing the falls and fish ladders on their way to spawning beds.
Reservations: Book Online
China Creek Campground
Address: 2011 Franklin River Rd, Port Alberni, BC
Luxury Level: Very High
One of Port Alberni's largest campgrounds is China Creek Campground, which offers the choice between 250 RV or tent campsites, either full-serviced or unserviced. This campground is located about a 20-minute drive from Port Alberni, southbound along the Alberni Inlet. Enjoy an oceanfront or forested view away from the fuss of everyday life. China Creek Campground amenities include full hookup sites (water, hydro, sewer), heated washrooms and showers, laundry, garbage, and recycling.
Want to plan ahead? No problem, there is a Camping Meat Package available from Double R Meats to fill your cooler, or you can rent camping gear like a six-person tent and a queen air mattress. Just call ahead and see what options are available to make your trip less work and more play! The luxury level of this campground is very high because it is so convenient for RVs, has full hookup sites, plus the unique feature of reserving a meat pack for your vacation. It's no wonder it is so popular to camp here!
Reservable dates for China Creek camping are between April 1st – September 30th. The Alberni Inlet offers endless adventures for you and your group, such as hiking, fishing, kiteboarding, and kayaking.
Reservations: Inquire Online or by Phone 250-723-9812
Macktush Campsite
Address: 12951 Canal Main, Alberni-Clayoquot A, BC
Luxury Level: Low
This campground is definitely out of the way and has a long drive to get there, including an unpaved logging road. But it is so worth it! Macktush Campsite is pure nature camping at its finest. Feel the salty ocean breeze from your waterfront campsite in the trees. Enjoy fishing, kayaking, boating, trail walking, and swimming just steps from your tent!
You will really feel like you are in the middle of nowhere, which will allow you the best conditions to relax and become one with nature. This campground does have some essentials, such as a camp host/supervisor, outhouses, firepits, boat launches, and a sani dump. If you are looking for isolation, a true Canadian wilderness camping experience, and complete peace and quiet, then Macktush Campsite needs to be marked on your map!
Little Qualicum Falls Provincial Park
Address: 4001 Alberni Hwy, Qualicum Beach, BC B9K 1X7
Luxury Level: Medium
Camping by a waterfall and a river are what you will get at Little Qualicum Falls Provincial Park. Fish and swim on your vacation as usual, then try something new. The nearby Cameron Lake offers additional recreational activities for watersports and swimming. The unique architecture of the mountains creates perfect conditions for sailboarding and windsurfing. Enjoy campfires, drinking water, toilet facilities, and quaint picnic areas to spend quality time with your loved ones. The park is located near Cathedral Grove, a stunning old-growth forest complete with walking trails. Take advantage of your vacation and explore this majestic forest, just a short drive away from your campsite.
Rathtrevor Beach Provincial Park
Address: 1240 Rath Rd, Parksville, BC V9P 2E2
Luxury Level: Very High
Rathtrevor Beach Provincial Park is a very established campground near Parksville. The campground offers 2km of sandy beaches along the Pacific Ocean. During low tide, the beach gets even larger by revealing almost a full kilometre of sand. Many families enjoy bringing their children here to build sandcastles, go for a swim, or use the walking trails. Bird watchers have an edge in the spring for seabird and Brant geese sightings. This campground has it all for amenities: campfires, drinking water, group campsites, toilet facilities, showers, sani-station, and more!
Pachena Bay Campground
Address: 90 Anacla Rd, Bamfield, British Columbia V0R 1B0
Luxury Level: Medium
Located right next door to the village of Bamfield, Pachena Bay Campground is a quiet, out-of-the-way campground that's right on the beach. Your campsite either faces a sandy beach and the Pacific Ocean or is right next to the Pachena River. Oceanview and riverside sites are protected by an old-growth forest. The road to Bamfield is an unpaved, active logging road, or there is a foot passenger ferry that runs once a day for you to get there.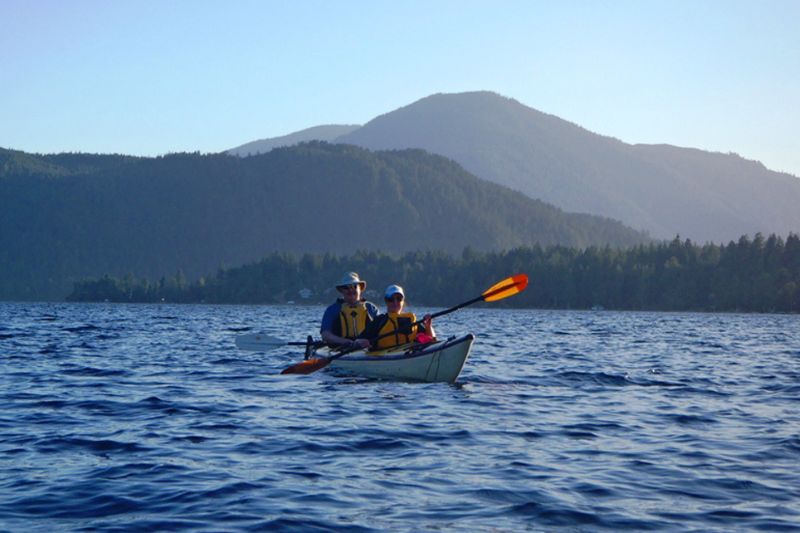 The popular West Coast Trail is nearby, along with amenities like public washrooms, coin-operated showers, potable water, firewood, and even ice. If you're lucky, you might see a whale swim into the bay! Whales pass by this vicinity on their migration route, making the option to go whale watching a unique feature of this area.
Green Point Campground (Long Beach)
Address: 12km north of the Ucluelet-Tofino junction on Highway 4
Luxury Level: Medium
A couple hours' drive west from Port Alberni will land you around Tofino and Ucluelet, where you can find Green Point Campground. This campground has necessities like flush toilets, showers, electricity, sani-dump, picnic tables, fire pits and water. Located in the Pacific Rim National Park means that you can't escape nature even if you wanted to.
You will be surrounded by the coastal temperate rainforest and the shoreline of the Pacific Ocean. Long Beach is known as a popular tourist destination for surfers. There are companies that teach day classes on how to surf, which is a perfect activity to try while on a camping trip!
Camping Choices
As you can see, Port Alberni and the surrounding areas are ideal places to pitch a tent or park your RV for a summer vacation to remember. With a selection of our top picks for best campgrounds, it just got easier to find a campground that will please the whole family. From full access sites and minimal amenities to becoming one with nature, plus unique features like meat packs and Canadian horses, you will be sure to make some happy memories with your friends and family this summer. Discover camping and have some fun!