The 10 Best Wineries in Kelowna: A Wine Lover's Delightful Expedition
Posted by Chris Fenton on Wednesday, November 15, 2023 at 10:00 AM
By Chris Fenton / November 15, 2023
Comment
Ah, Kelowna – British Columbia's scenic sanctuary of viticulture, offering some of the best wineries globally, renowned for their extraordinary wine tastings and breathtaking vistas.
From the shores of Okanagan Lake to the rolling hillsides, Kelowna wineries present an unrivalled wine-tasting experience, thanks to the region's unique terroir, passionate winemakers, and the vibrant community that supports them.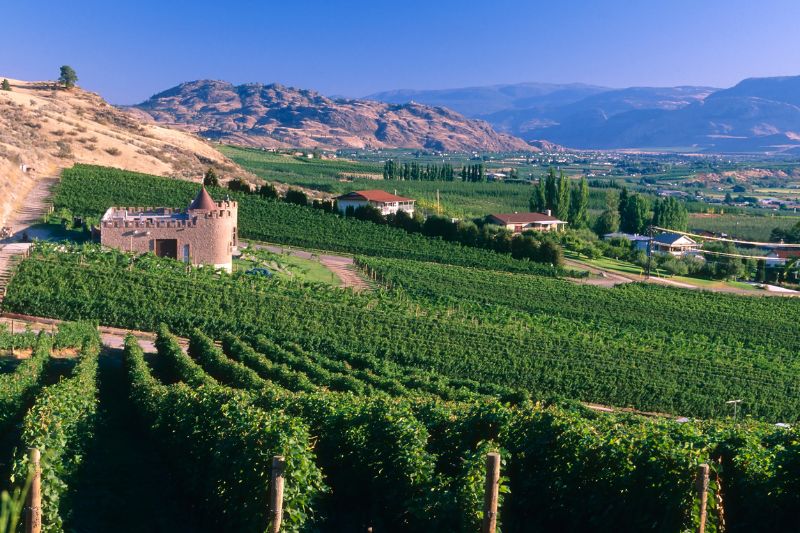 Whether you're a wine connoisseur with a penchant for award-winning wines or a casual enthusiast on the hunt for a relaxing sip against a picturesque backdrop, Kelowna's wineries won't just meet your expectations; they'll exceed them with their exquisite wines.
Delving into Kelowna's Premium Wine Sanctuaries
Each winery in Kelowna has its own story, from its vine-laden grounds to the golden-hued liquids that grace the glass. Let's uncork the essence of what makes each of these vineyards in Kelowna a must-visit destination.
Quails' Gate Winery: Excellence Rooted in the Vineyard
Located in West Kelowna's Lakeview Heights, embracing the philosophy that extraordinary wine is born in the vineyard, Quails' Gate Estate Winery has, since 1989, harmonized meticulous grape growing with an unwavering standard of excellence, all in the pursuit of crafting world-class wines.
Visitors to this esteemed locale can immerse themselves in the diverse tapestry of the Okanagan terroir, each element contributing to the luxurious experiences and stunning vistas on offer. Unique to Quails' Gate is the Distinction Collection, a celebration of uniqueness and innovation. This exclusive assortment features handcrafted, experimental batches, mirroring the distinctiveness of a quail's egg, with no two wines alike. These limited releases are a culmination of adventurous blending of a precise selection of varieties, clones, and rootstocks, highlighting the winery's dedication to producing singular, memorable wines.
Don't miss dining at the Old Vines Restaurant, where the marriage of gourmet cuisine and local wines defines culinary bliss. Experience the allure of Quails' Gate.
Mission Hill Winery: Unearthing the Gems of the Okanagan
For over forty years, Mission Hill Winery has embarked on a journey of geographical discovery, identifying unique micro-locations spanning from Lake Country to Osoyoos in the South Okanagan, each offering distinctive characteristics perfect for viticulture.
Visitors are welcomed into the heart of their stunning estate, an oasis where award-winning wines and tranquillity converge, ensuring a safe, serene tasting experience. The history of the Okanagan is profound, marked by ancient glaciers shaping volcanic rock landscapes, forging majestic mountainsides, and creating nutrient-rich soils.
Mission Hill Family Estate, pioneers in recognizing the valley's lush potential, devoutly adopts organic growing practices, ensuring each bottle encapsulates depth and authenticity, true expressions of the Okanagan's legacy.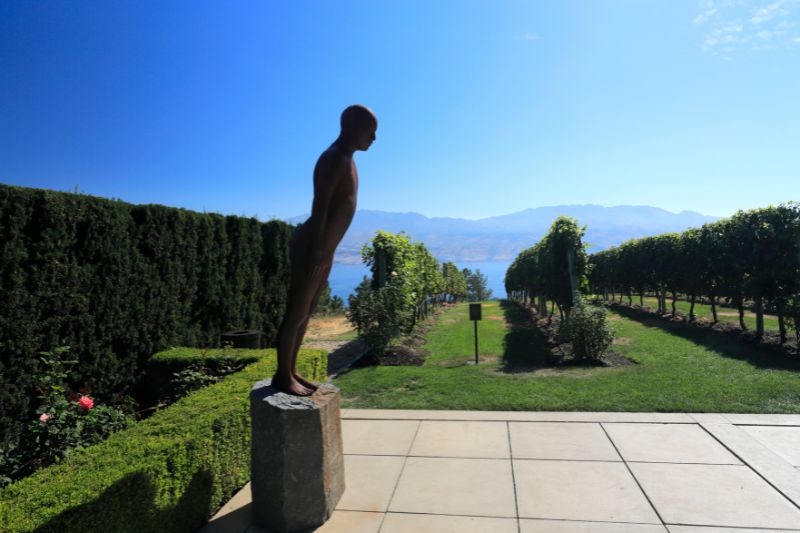 The winery is a fascinating blend of tradition and innovation, where old-world wine-making methods meet contemporary technology. Guests can delve into the intricacies of these processes, engage with the seasoned experts nurturing the vineyards, and explore the distinguished wine collections that have emerged from this harmonious synergy. Embark on a journey with Mission Hill Winery.
Summerhill Pyramid Winery: Harmonizing Nature and Award-Winning Elegance
Summerhill Pyramid Winery emerges as a serene oasis in the Okanagan. They're dedicated to fostering peace, unity with nature, and unparalleled hospitality, all underscored by its exceptional array of food and divine wines.
This reverence is evident in their wine-making process: each bottle originates from organically and biodynamically cultivated grapes, treasuring natural fermentation to preserve rich antioxidants and reaching fruition in the winery's Pyramid Cellar, an architectural wonder designed with Sacred Geometry for celestial alignment.
This unique method is more than a process; it's a journey that has ushered its diverse portfolio to international acclaim. Summerhill's offerings, particularly the Cipes sparkling wine series and their exquisite red, white, and ice wines, have not only earned prestigious awards, including top honours from France and England. This recognition is a tribute to their philosophy: a profound respect for nature's wisdom, echoed in the divine purpose believed to resonate in every drop, solidifying Summerhill's status as a true ambassador of Canadian pride. Discover the eloquence of nature with Summerhill Pyramid Winery.
CedarCreek Estate Winery: A Homage to Innovation and Quality
CedarCreek Estate Winery is renowned for its dedication to producing distinctive cool-climate wines. This commitment is deeply rooted in its organic vineyard farming practices in the heart of North Okanagan. This approach allows for the creation of vibrant and expressive wines, reflecting the purity and unique terroir of the region. As part of its environmental stewardship, the winery spearheads the "Pink is the new Green" movement, drawing wine aficionados towards their exceptional Rosé wines, each bottle contributing to a sustainable future.
The winery's holistic approach is further embodied by integrating natural processes and biodiversity in its vineyard management. Scottish Highland Cows are vital in maintaining the landscape, falcons provide natural security measures, and bees enhance the vineyards' health and productivity. The grounds are a testament to harmony with nature, flourishing with nutrient-rich cover crops such as alfalfa, crimson clover, mustard, and wildflowers. Nestled amidst this natural vibrancy is the Home Block Restaurant, offering guests an immersive gastronomic experience with a five-course menu, each dish echoing the region's essence through expert pairings by Chef Neil Taylor and Winemaker Taylor Whelan.
St Hubertus & Oak Bay Vineyards: Sustaining a Rich Heritage
St Hubertus & Oak Bay Vineyards, located in Upper Mission, was established in 1928 and celebrates a rich history steeped in dedication to organic, sustainable practices embraced by the Gebert Families since 1984. Their 80-acre estate, a testament to premium Canadian Pinot Noir, flourishes on the South Kelowna Slopes in the northern Okanagan Valley, producing wines embodying Old World complexity and New World freshness.
Their minimal intervention philosophy—evident in techniques like free-run juice and whole berry fermentation—highlights the vineyard's natural vibrancy, offering a pure, unmasked experience. The Geberts' commitment ensures each St Hubertus & Oak Bay bottle is a genuine homage to the land and wine region's distinct terroir. Explore the legacy of St Hubertus & Oak Bay Vineyards.
Tantalus Vineyards: A Tradition of Authenticity
Tantalus Vineyards, perched on the eastern slopes of the Okanagan Valley, has roots tracing back to 1927, making it one of British Columbia's oldest continuous vineyard sites. This historic ground gained new life in 2004 under the stewardship of Eric Savics, who recognized the locale's unique potential for producing terroir-driven wines.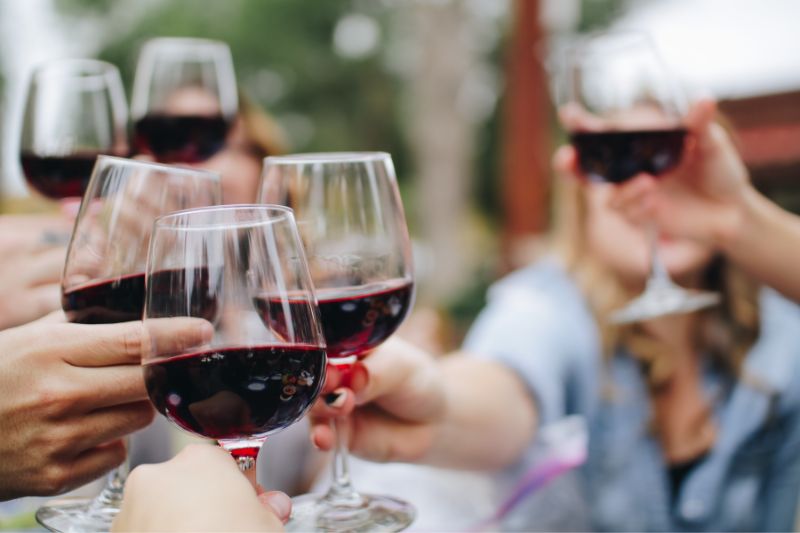 The focus shifted to cultivating Riesling, Pinot Noir, and Chardonnay, utilizing old vine plantings from 1978 and 1985 as the vineyard's cornerstone. Tantalus's commitment to these varietals, accompanied by innovative viticultural practices, has garnered critical acclaim, particularly for their Riesling. The vineyard's evolution continued by introducing a state-of-the-art, LEED-certified winery in 2010, blending environmental responsibility with its renowned single-vineyard wines.
Visitors to Tantalus can savour these celebrated wines amidst an array of esteemed Canadian art in their gallery-style tasting room, all while overlooking the scenic expanse of Lake Okanagan. Experience the authenticity of Tantalus Vineyards.
Frind Estate Winery: Blending Technology with Tradition
Nestled on West Kelowna's historic Bennett Property, Frind Estate Winery holds the distinction of being North America's first beachfront vineyard. This unique venture began in 2017 when Markus Frind, after selling his enterprise, Plenty of Fish, sought a more tactile passion project that resonated with his familial history of over five centuries of farming.
Determined to intertwine his love for technology and agriculture, Frind transformed the estate into one of the globe's most technologically advanced wineries. This innovative approach is evident in their distinctive, smooth, and fruit-forward wines, reflecting a commitment to viticultural excellence and a visionary way of wine-making.
Visitors to Frind Estate can anticipate a world-class experience where exceptional wines and familial hospitality meet against the serene backdrop of lakefront vistas. Explore the unique flavours of Frind Estate Winery.
Rollingdale Winery: Organic Wines, Rustic Charm
Embraced by the scenic expanse of West Kelowna, Rollingdale Winery is a testament to organic viticulture, offering a genuine farm-gate winery experience. Since its establishment in 2004 and gaining organic certification in 2007, Rollingdale has steadfastly committed itself to environmental stewardship, prioritizing organic farming to uphold superior standards within its lands and the broader wine community.
Visitors are welcomed into a humble tasting room within the vineyard's authentic wine cellar, where they can discover the rich, palatable differences inherent in organic wines. The winery's easy-to-drink offerings, renowned for their full-bodied flavour, can be enjoyed in the rustic shop amidst congenial company.
Guests are also encouraged to indulge in a picturesque hillside picnic, with a bottle from the shop, overlooking the lush vineyards and the tranquil Okanagan Lake, making for a memorable, serene experience. Discover the organic allure of Rollingdale Winery.
Sandhill Estate Vineyard: Mastery and Terroir
Nestled in the South Okanagan, close to Oliver, BC, Sandhill Estate Vineyard emerges as a prime location renowned for cultivating singular, single-vineyard wines. The vineyard thrives under the expert guidance of the master winemaker Howard Soon and experienced vineyard managers Robert Goltz and Richard Cleave, crafting award-winning wines year after year.
Their meticulous approach involves the intentional reduction of individual plant yields, ensuring smaller but fully ripe grapes, leading to intensified flavours and distinctive character in each bottle. The vineyard's unique microclimate is noteworthy, with temperatures soaring near 40ºC, surpassing even the sun-soaked Napa Valley.
Positioned adjacent to a mountain, the terrain benefits from the rocky cliffs' reflective heat, further nurturing the vines. Experience the distinguished taste of Sandhill Estate Vineyard's wines.
Little Straw Vineyards: A Legacy of Family and Innovation
Little Straw Vineyards epitomizes a deep-rooted family legacy intertwined with innovative viticulture. Initiated by the Slamka family in 1969 and transitioning into a distinct winery by 1996, the vineyard has thrived on experimentation, notably achieving success with Sauvignon Blancs and diversifying into sparkling wines.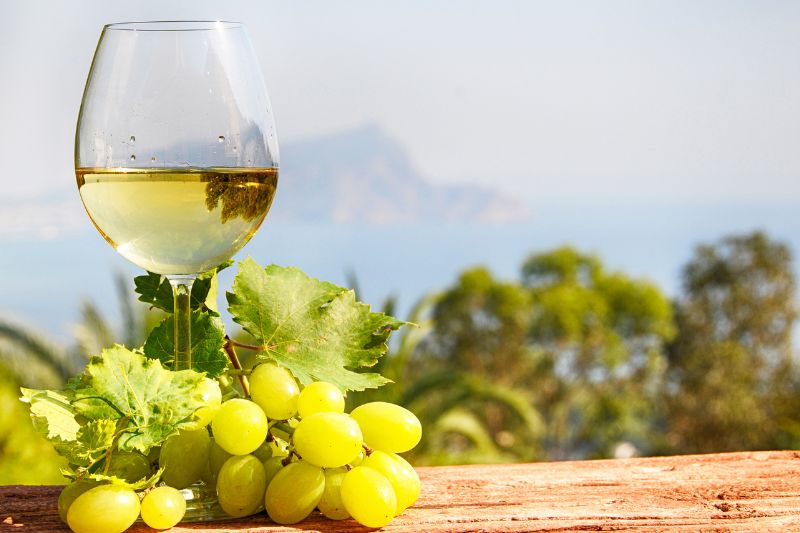 The evolution didn't stop with the grapes; the introduction of the Barrel Top Grill in 2008 marked a commitment to holistic sensory experiences, pairing exquisite tapas with panoramic vistas of Lake Okanagan. While 2018 saw a generational handover of wine-making duties to Barb Hall, the end of 2021 ushered in a significant shift as the Slamkas entrusted their cherished vineyard to Kalala Organic Estate Winery, promising continued growth and devotion to the craft. Discover more about Little Straw's vibrant history and offerings.
Plan Your Visit: Tips and Tricks for an Unforgettable Wine Tour
Embarking on a wine tour in Kelowna requires some planning to make the most of your journey. Here's a handy guide to ensure your experience of wine tours is as delightful as the wines awaiting you.
Choosing the Perfect Time for Your Wine Adventure
While Kelowna wineries welcome visitors year-round, the best day to go is often a weekday, when the estates are less crowded, and the staff can provide a more personal, intimate experience. However, for those who enjoy the buzz of activity, weekends are vibrant with events and larger tours.
Reservations: Your Key to an Exclusive Experience
While most Kelowna wineries welcome walk-ins, reservations are recommended, especially during peak season. Booking ahead guarantees a spot in the tasting rooms, often with the added perk of a guided tour through the vineyards or cellars.
Costs and Considerations: Investing in an Experience
Wine tasting fees in Kelowna vary, with many wineries offering different tasting packages. Standard tastings range from $5 to $20 per person, often redeemable against wine purchases. For an immersive experience, consider investing in a tasting fee, a guided tour or a curated wine and food pairing session.
Wrapping Up with a Toast to Kelowna's Wineries
As your journey through the vibrant vine-clad landscapes of Kelowna comes to a close, and your palate relishes the lingering notes of premium wines, it's clear that this region is more than a wine destination; it's a sensory experience that echoes in every bottle, every view, and every interaction.
For those who've found their hearts captured by Kelowna's charm and are considering a more permanent stay in this vibrant community, LoyalHomes.ca is here to assist. Our dedicated team of real estate agents understands that a home is more than a place; it's a feeling.
Whether you're contemplating the serene lakeside or the bustling downtown as your backdrop, we're here to make your transition seamless.
Ready to Make Kelowna Your Home?
Kelowna's allure doesn't just end with its vineyards. If the community's vibrant lifestyle resonates with you, exploring real estate options with a trusted partner like LoyalHomes.ca could be your next step.
Discover properties that redefine comfort and luxury, and let's help you find a place where every day feels like a wine tour. Contact us to embark on your personalized home search journey.
---
Credits:
Photo: @ laughingmang via Canva.com
Photo: @ Dave Porter via Canva.com
Photo: @ hthanhvu13 via Canva.com
Photo: @ morganvaleks via Canva.com