Take A Look At One Of West Vancouver's Most Beautiful Houses
Posted by Chris Fenton on Monday, January 24, 2022 at 10:00 AM
By Chris Fenton / January 24, 2022
Comment
"British Properties" is one of the most exclusive and prestigious neighbourhoods in the already prestigious community of West Vancouver. This sprawling mansion located at 925 Fairmile Road stands out because of its classical elegance and massive size.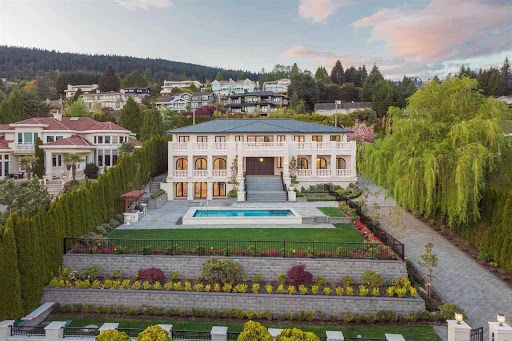 This massive home represents the pinnacle of luxury, offering nearly fourteen thousand square feet of living space. Most real estate experts consider any property over eight thousand square feet to be a mansion, and, incredibly, this property is nearly double that threshold.
In addition to its astonishing amount of living space, the house is situated on more than half an acre of immaculately landscaped land in one of West Vancouver's most desirable neighbourhoods. For any high net worth investor who decides to purchase this property, there will be ample opportunities for truly impressive outdoor hosting, whether on the spacious balcony or near the luxurious pool.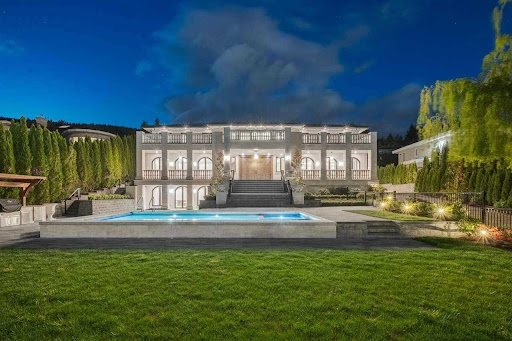 Interested in learning more about the highly prestigious neighbourhood this home is situated in? British Properties used to be known as Capilano Estates. This neighbourhood has established a reputation for being home to some of the Lower Mainland's biggest names and highest earners.
A view out over the Lions Gate Bridge is another one of the appealing features of this mansion. Back in the 1930s, West Vancouver was a little resort-style community that could only be accessed by a ferry. When the Lions Gate Bridge was built in the late '30s to connect the North Shore to Vancouver, there was a boom of development in the area, led by the British Pacific Properties Corporation.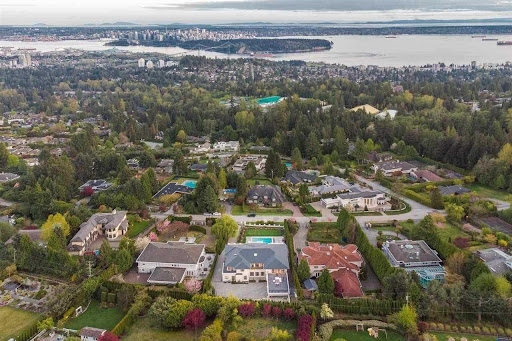 These days, West Vancouver is the wealthiest area in the country. The average net worth of West Vancouver residents is over four million dollars, and it's common to see homes sell in this municipality for around thirty million dollars! The average income in West Vancouver is more than double the average across British Columbia, contributing to its status as a home for the truly elite.
Another appealing aspect of living in West Vancouver's British Properties neighbourhood is the landscaping and beautiful mature trees that line the streets. The landscaping in West Vancouver was initially designed by Fredrick Law Olmstead, who also designed Central Park in New York City, Montreal's Mount Royal, and is a legend of North American landscape architecture. Beyond the beautiful views this property offers of the Lions Gate Bridge and Downtown Vancouver, the views of North Shore's Mountains and the Burrard Inlet are also superb.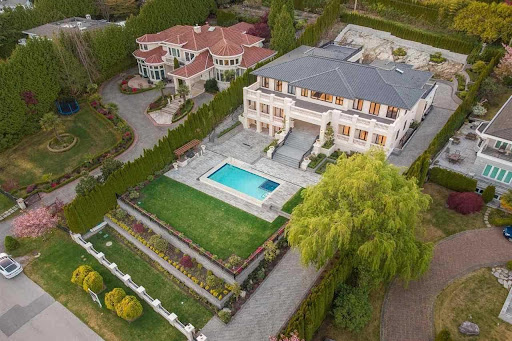 Moving inside this spectacular home, you'll find design features that indicate quality workmanship and next-level attention to detail everywhere you turn. There are luxuriously high ceilings in the main entranceway, a beautiful chandelier, and a spiral staircase that leads to the home's next level. The flooring in this area is made of immaculate imported white marble.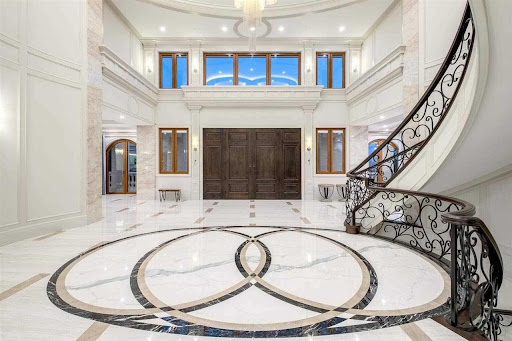 Moving to the home's second floor, the living room—also beautifully tiled—offers impressive views out over the Burrard Inlet. You'll notice the remarkable detail in the design of this home, with intricate ceiling moulding design and sophisticated wall sconces.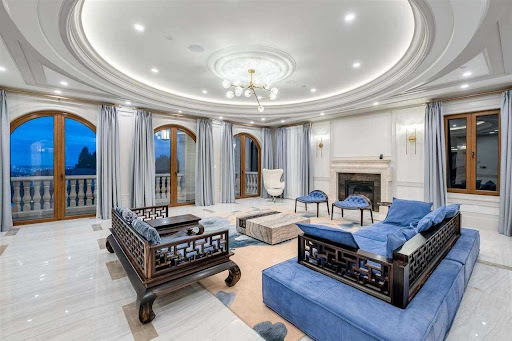 The open concept design of the kitchen offers sightlines out over the Burrard Inlet and the lights of Downtown Vancouver. The main kitchen features a unique, stylish design with two huge rectangular islands and marble countertops. Given the ample space and the proximity to the dining area, endless hosting opportunities are available to those who enjoy cooking.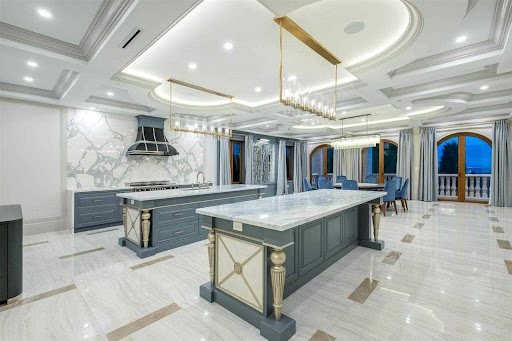 The kitchen is equipped with high-end appliances seamlessly integrated into the cupboard areas, providing a sleek look geared around minimizing any clutter. The brushed steel smart appliances combine a chic, tidy aesthetic with a sense of elegance and grandeur. Given the high-end gas range and range hood, even professional chefs are likely to feel impressed by this house's main kitchen.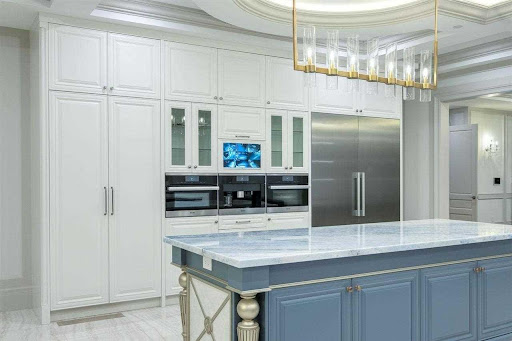 An impressive aspect of this home is how it still manages to impress from room to room, given its massive size. Those who conduct business from home will appreciate the size and the serene layout of the home's main office area, which features impressive walnut cabinets and moulding.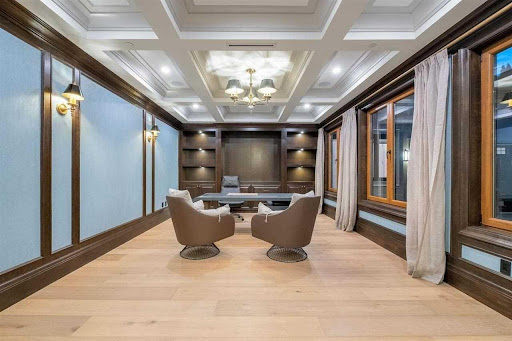 This mansion's master bedroom is as luxurious as you could expect, featuring sky-high ceilings and a large amount of space for relaxation. The master bedroom is lined by beautiful custom curtains and walks out onto a large private patio area.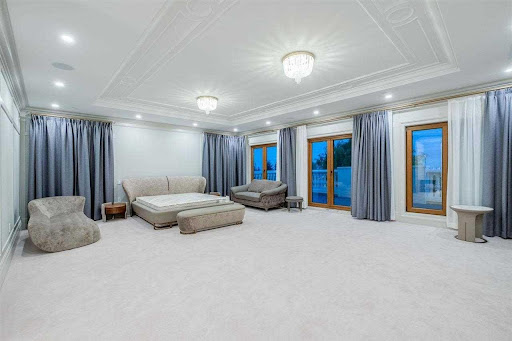 Each of this property's five bedrooms comes equipped with a spa-inspired ensuite bathroom, decked out with complete marble flooring and countertops. Large soaker tubs and luxurious walk-in showers are just some of the details that make each of these ensuite bathrooms impressive.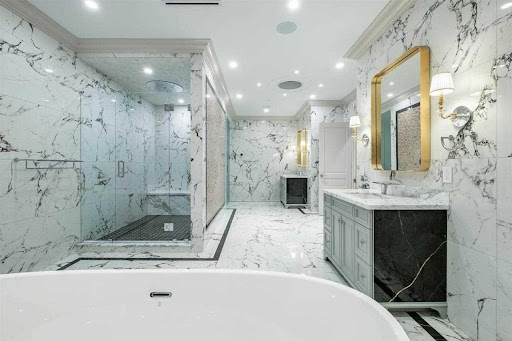 Many of the house's design features are aligned with what's known as the Northwest Contemporary style. Homes designed in this style are generally influenced by the landscapes of Vancouver and its surrounding areas. That's why you'll find an impressive number of design aspects that involve wood, including a tree stump table that's a highlight of one of the home's numerous dining or meeting areas.
For socialites and those who enjoy hosting on a large scale, this home comes decked out with a large entertainment room, which could be used as an event hosting space or converted into an in-home cinema or other entertainment space.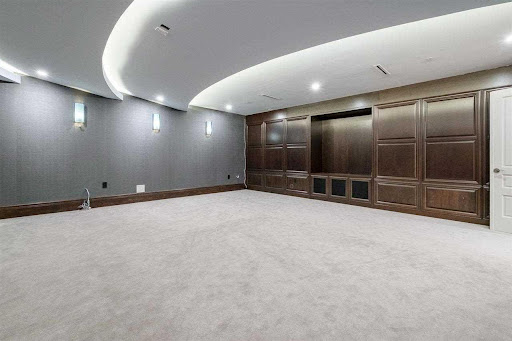 The home's outdoor recreation area—which also features an outdoor gourmet kitchen—may be the property's most impressive feature. The ability to swim and lounge poolside while taking in views of the city of Vancouver, surrounding ocean and mountains represents the pinnacle of luxurious west coast living.
In addition to the elegant outdoor swimming pool, this home also features a sauna, further contributing to the almost endless number of ways to relax and unwind in this stunning West Vancouver mansion.
For even more details and photos about this world-class mansion, check out the complete listing at 925 Fairmile Road.
This listing at 925 Fairmile Road was provided courtesy of Sutton Group-West Coast Realty.
This REALTOR.ca listing content is owned and licensed by REALTOR® members of The Canadian Real Estate Association.