Real Estate Paperwork Explained: For British Columbia Sellers | Loyal Homes
Posted by Chris Fenton on Monday, November 21, 2022 at 10:00 AM
By Chris Fenton / November 21, 2022
Comment
After buying a home, many homeowners may think the hardest part of their real estate journey is behind them. But what happens when you've decided you're ready to move? Whether looking for a bigger space, downsizing or moving to a new neighbourhood, for most, you'll first need to sell your current home before finding your next home. Don't start packing up boxes yet though. If you're looking to sell your home, either privately or through working with a licensed Realtor, this article will explain what real estate paperwork is required for sellers in British Columbia.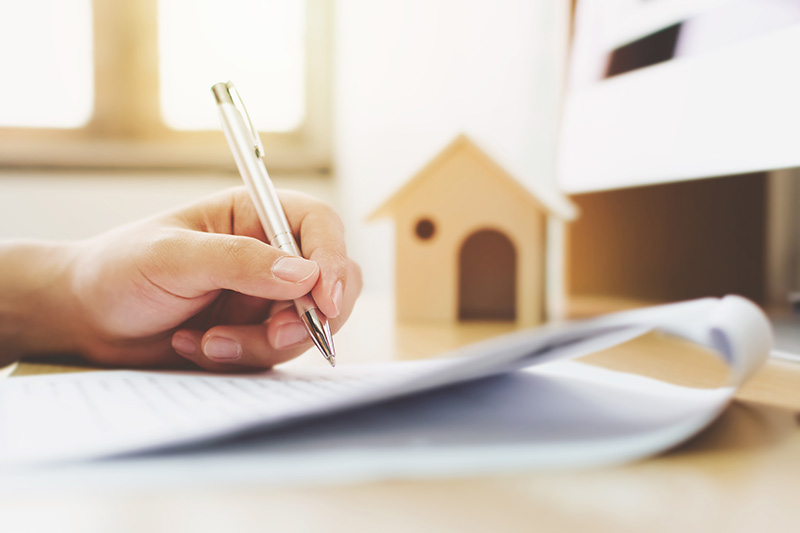 It should be noted that each province and territory in Canada has different legislation regarding the paperwork required for real estate transactions. In British Columbia, the British Columbia Financial Services Authority (BCFSA) is the governing body in place. While selling your home can be a complex process, once you understand the paperwork, you'll be packing those boxes in no time.
Real Estate Listing Paperwork
Listing a real estate property for sale isn't as simple as posting an ad on Craigslist for a used car. Deciding to list your home is a big decision with many factors to consider. Key documents that would come up during the listing process include:
Privacy Notice and Consent
The Privacy Notice and Consent Form is required if you are going to sell your real estate property through a Realtor or real estate board. As a seller, you would be providing consent for them to collect, use and disclose some of your personal information.
The information is collected directly from the seller via other paperwork required for the real estate listing, such as the Multiple Listing Contract or Contract of Purchase to Sale, both to be discussed later in the article. Other information sources include government bodies such as Land Title Office and financial or lending institutions.
Don't worry about all your information suddenly being made publicly available though. The information provided is only collected, used and disclosed in direct relation to the listing in order to list or market your property, allow members of the real estate board to value your property, market your property through media, to facilitate the purchase and sale, to enable the boards to compile statistics, to enforce professional codes of conduct and to comply with provincial legal requirements.
Sellers can opt-out of secondary uses of their information on the form. These secondary uses include consent for the Realtor to communicate with you in the future, consent for the Realtor to communicate with you regarding other products and services and consent for the Realtor to communicate with you regarding participation in surveys.
FINTRAC
The Financial Transactions and Reports Analysis Centre of Canada, or FINTRAC for short, is the national financial intelligence unit. Real estate brokerages have a fiduciary duty to comply with FINTRAC reporting requirements and to report any potentially suspicious real estate transactions. Sellers must complete an Individual Identification Information Record per requirements from the Proceeds of Crime (Money Laundering) and Anti-Terrorist Financing Act. While the form indicates that it is recommended to be completed upon a seller accepting the offer, it would be ideal to complete it earlier during the initial listing process.
Although it sounds like a daunting process, Sellers will need to provide some basic information, including full legal name, birth date, address, occupation, or nature of principal business. You may choose to ascertain your identity by either the credit file method (data is compared to a Canadian credit file) or the dual ID process method (the seller provides two forms of identification from an independent, reputable and reliable source, such as a government body or financial entity).
If you are a Politically Exposed Person (PEP), or a Head of an International Organization (HIO), there will be a separate checklist form that will also need to be filled out.
Disclosure of Representation in Trading Services
If a seller is working with a Realtor, they will present a Disclosure of Representation in Trading Services form as part of the listing process. The form highlights one of two relationships a seller can have with a Realtor: client or non-client.
Client: The real estate professional will work on the seller's behalf and owes you duties, including loyalty, full disclosure, avoiding conflicts of interest and confidentiality.
Non-Client: The real estate professional does not represent you and does not owe you any duties as they may only provide limited services.
The form is required as it provides clarity on the nature of the Seller's relationship with the real estate professional. It does not constitute a contract as the seller signs an acknowledgement of receipt at the end of the form.
Multiple Listing Contract
Once a seller decides they're finally ready to sell their property, it's time to prepare the Multiple Listing Contract. The Multiple Listing Contract is a form that confirms the following details:
Listing Authority
Term Length
Property Address
List Price
Listing Brokerage Remuneration
Designated Agency
Agreements
Conflicts of Interest
Collection, Use and Disclosure of Information
Termination
Schedule "A" (if needed)
Amendment to Multiple Listing Contract
If the seller needs to make any amendments to the Multiple Listing Contract, rather than we-write the paperwork, they may use the Amendment to Multiple Listing Contract form to complete the necessary changes. All the original Multiple Listing Contract terms would remain in full force and effect as long as both parties sign the amendment.
Property Disclosure Statement
From a seller's perspective, the Property Disclosure Statement is a form that benefits them, as it provides all relevant information regarding the listed property to the potential buyer. However, sellers should be aware that they are legally responsible for ensuring that the information provided is both accurate and complete.
Buyers must still complete their own due diligence and make their own inquiries upon review of this document. Items of interest on the Property Disclosure Statement include:
Land (such as encroachments, unregistered easements or unregistered rights-of-way)
Services (such as water and sanitary sewer systems)
Building (such as exterior walls, asbestos, plumbing, roof )
General (such as prior cannabis growth or heritage site status)
Sellers should be aware of the difference between a patent defect and a latent defect:
Patent defect: is a defect that is easily visible through a property inspection. Examples would include broken windows or drywall cracks on the interior walls.
Latent defect: is a defect that is not easily visible through a property inspection. Examples would include structural damage, building envelope leakage issues or an underground storage tank on the property.
The Offer Paperwork
While it may be both exciting and tempting to immediately accept an offer for your property (especially if it's above asking!), as a Seller, you would have the responsibility to review all the offer paperwork in full before making any decision.
Contract of Purchase and Sale
As a seller, the initial Contract of Purchase and Sale would be written and prepared from the Buyer's end. The Seller should consider in-depth key clauses: purchase price, deposit, completion, possession, terms and conditions and offer acceptance period. The offer acceptance period is of high importance as that provides the exact time frame in which the Seller has to act on the offer!
Sellers should take particular note of the "Excluded Items" section if there are any specific items they wish to take upon sale of the property. (such as a custom-built chandelier) to avoid any misunderstanding on what is considered a fixture (an item or improvement that is affixed or fastened in some way and may be considered a permanent part of the property) or a chattel (an item or improvement that is not permanently affixed or fastened and would not be considered a permeant part of the property). Buyers and sellers should be explicit in both the "Included Items" and "Excluded Items" sections to minimize misunderstandings.
Contract of Purchase and Sale Addendum
Similar to the Multiple Listing Contract Addendum, if the Seller wishes to make an amendment to the Contract of Purchase and Sale after both parties have agreed on it, they may use the Contract of Purchase and Sale Addendum to complete any necessary changes. Both the buyers and sellers would need to sign the addendum for the changes to be enforceable.
Disclosure to Sellers of Expected Remuneration
If the Seller used the services of a real estate professional to sell their property successfully, then it would be only fair to pay them at the end of the transaction! The Disclosure of Remuneration provides clarity and transparency to the seller regarding the exact remuneration the real estate professional anticipates receiving. They are required to advise the sellers of this in writing and would also include any referral fees or other remuneration that may not have been previously disclosed.