Real Estate Paperwork Explained: For British Columbia Buyers | Loyal Homes
Posted by Chris Fenton on Monday, March 6, 2023 at 10:00 AM
By Chris Fenton / March 6, 2023
Comment
Before investing in your dream home, it is beneficial for you, the buyer, to understand all the paperwork and legal documents that are required when purchasing real estate. Some are mandatory legal contracts, and others are standard real estate forms. Knowing what to expect and what you are agreeing to can potentially save you stress, money and time before you sign.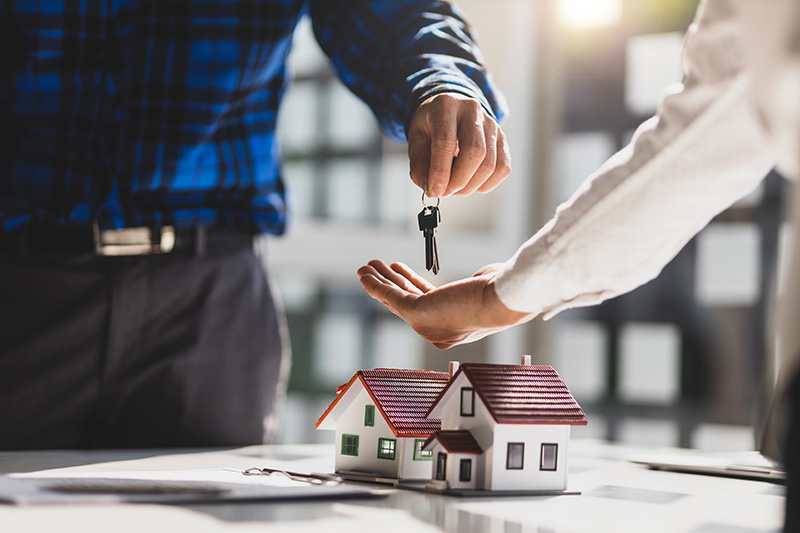 Real estate documents are regularly reviewed and improved to protect all parties involved, including the buyer, seller, real estate agents, and brokerages. Most of the documents used to buy and sell real estate are created and revised by the British Columbia Real Estate Association (BCREA), Canadian Real Estate Association (CREA), BC Financial Services Authority (BCFSA), the Government of Canada, your local Real Estate Board (such as VIREB) or your realtor's brokerage firm.
We will cover all the paperwork involved in purchasing a property in British Columbia from start to finish. If you have any questions while reading, the experienced team at LoyalHomes.ca is always available to help.
Buyer Agency Documents
Many professional real estate agents will have you sign buyer documents at the beginning of your working relationship to retain their services. These documents show a commitment for both parties to work together throughout the duration of their agreed terms.
A buyer typically pays no commission to their realtor; however, a buyer's real estate agent is legally bound to work on their behalf with the buyer's best interests in mind, and therefore having a signed contract in place can protect both the buyer and their professional realtor.
Before you write an offer or begin your property search, you may be asked to fill out and sign the following documents.
1. Buyer's Agency Exclusive Contract
This blog's purpose is to provide a mutual agreement between your real estate agent, your realtor's agency, and yourself that confirms all parties agree to work together for the time specified in the contract. As part of this agreement, the buyer is under no obligation to purchase a property if they don't find a suitable home.
This contract outlines the services your real estate agent, and their brokerage will provide to the buyer. Terms include a start date, finish date, demographic area for services, how your realtor will be paid, the buyer's privacy of information, how your realtor will handle a possible conflict of interest and the exclusive relationship between yourself and your realtor.
BCREA explains the Buyer's Agency Exclusive Contract in this helpful YouTube video:

The Buyer's Agency Exclusive Contract is a legally binding contract that should be reviewed before signing.
2. Your Relationship with a Real Estate Professional & Disclosure of Representation in Trading Services
Your realtor is legally obliged to have your back, provide you with professional real estate services and always keep your best interests in mind. This 2-page document explains how the relationship works between yourself and your professional real estate agent.
Your realtor will sign this form stating they are, or are not, representing you as their client. You provide initials to show you understand the obligations of your professional real estate agent and have received copies of this document. This is not a legally binding contract and is used for information purposes to help protect you, the client.
3. FINTRAC - Individual Identification Information Record
This document is used to verify a client's identity and is enforced through the Government of Canada. This federal requirement is used to prevent money laundering and fraud.
Every property transaction must be accompanied by this personal identification form that outlines a buyer's legal name, date of birth, citizenship, residency, occupation and banking information. You will be requested to supply a government-issued photo identification along with other personal information required by your real estate agent, who is legally obligated to fill out this form.
4. Politically Exposed Person (PEP) FINTRAC Form
This document determines a buyer's exposure to, or involvement in, government or political organizations. According to BCREA, "A PEP is an individual who holds a senior position in a government, military, judiciary or international organization." There are four main categories to determine one's exposure, including domestic, foreign, heads of international organizations, or relatives or close exposure to someone who fits these categories.
This document is filled out by your professional real estate agent and submitted to the appropriate real estate board alongside all other purchasing documents.
5. Buyer Criteria & Other Paperwork
Your MLS real estate search criteria will be personalized for you, and your real estate expert will go over your options. Housing choices include your price range, favourite neighbourhoods, type of home, number of bedrooms and bathrooms, square footage, and strata allowances such as parking, in-suite laundry, pets and more.
Every brokerage may have its own paperwork or forms that provide buyers with real estate buying information or documents for new buyers to fill out to assist everyone involved.
Mortgage & Financing Paperwork
Before you find your new home, you may wish to prepare yourself in advance by arranging for mortgage pre-approval. There are many benefits to securing a mortgage and having it available when the time comes for you to make an offer on a property. Your lender will provide you with a list of paperwork they need, and each financial institution will have its own set of requirements and documents to prepare.
If you are a first-time home buyer, you may be eligible for BC Provincial and Canadian grants and allowances that require additional paperwork and documents to be submitted either before you purchase or after you take home ownership.
Real Estate Contracts to Purchase in British Columbia
You found a home you love and are excited to write an offer. Several legal real estate purchasing contracts and property documents are necessary for your review, acknowledgement and signature. It is important to discuss all contracts with your real estate expert and your lawyer to answer any questions you may have.
1. Contract of Purchase and Sale
The contract used will be specific to the type of property you are buying, and you may wish to familiarize yourself with the appropriate Contract of Purchase and Sale before making an offer on your new home. Ask your real estate expert for a copy in advance to better understand it.
Terms and conditions of each contract are customized for the property you are buying, such as a strata, single-family detached residential, mobile home or bare land. Ensure you receive a copy of the Contract of Purchase and Sale that you will use for the specific type of property you wish to buy.
The Contract of Purchase and Sale will be adjusted to include all buyer's terms and conditions that your professional realtor will prepare on your behalf. It is important for you, the buyer, to understand the Contract of Purchase and Sale.
Adjustable contract terms include:
all persons who will be on the future property title (the Buyers)
all persons currently on property title (the Sellers)
address and legal description of the property you are buying
date of contract
date property was viewed
offer price
deposit amount and date it will be payable
completion, adjustment and possession dates
how long the offer is open for
buyer's conditions
seller's conditions
realtor and brokerage representation for both buyer and seller
other personalized terms
contract inclusions
You can include buyer's conditions such as obtaining financing, receiving a property inspection and/or appraisal, reviewing strata or other property documents, researching municipal records, and receiving legal advice.
You may wish to address concerns in your contract, such as completing safety repairs like removing asbestos or an existing underground oil tank. If you would like to visit the property before you take ownership, it is important to have this stipulation written into your contract.
Many factors should be considered when making an educated and solid offer. Ensure your needs and interests are protected by speaking with your professional real estate expert and lawyer. Ask about anything you are unclear of to help you feel comfortable before your Contract of Purchase and Sale becomes unconditional.
2. Property Disclosure Statement
When a property is listed on BC's Multiple Listing Service, a Property Disclosure Statement is required to be filled out by the current homeowner to the best of their knowledge. Any property concerns or important information that is known is required to be disclosed by the seller in this document.
Typically, the buyer will review this document when preparing the Contract of Purchase and Sale, initial each page and include it as part of the Contract. Your realtor will review this document with you to look for any known issues such as previous water damage, an underground oil tank, lack of permits for work done or pest problems. This document must disclose any contract with a third party attached to the property that the new homeowner may be liable for, such as a rented oil tank, alarm system or other.
3. Property Land Title
The buyer and their real estate agent should always review this document. The Property Land Title will disclose any liens held against the property, property zoning, property easements for others to legally access the land, undersurface rights, the current legal owners, if the property is part of a strata or protected by the ALR, and other property land and status information.
Your real estate agent may have you initial each page of the Property Land Title and include this as part of the Contract of Purchase and Sale. Your lawyer will also review this document and should address any concerns you may have.
4. Disclosure of Remuneration
As part of the full disclosure process, by providing as much information as possible to every buyer, your real estate agent will have you review and initial a document called "Disclosure of Remuneration Trading Services."
Typically, the seller pays their brokerage full commission upon the sale of their property, which gets split between the selling real estate agent and the buyer's agent. The Disclosure of Remuneration explains how your real estate agent will be paid for the services they have provided you.
5. FINTRAC – Receipt of Funds Record
Your real estate agent is required to fill out a Receipt of Funds upon payment of your deposit that gets submitted through their brokerage. This document contains the address of the transaction property, your real estate agent's information, the amount of deposit received, the date money is received, the type of currency for deposit, banking information, how the money will be deposited or received and who will be holding these funds.
You will be asked to supply your real estate agent with banking information to complete this mandatory federal document. Your personal identification FINTRAC and PEP FINTRAC will accompany the Receipt of Funds and provide the Government of Canada with all the personal and financial information required to purchase property in British Columbia and Canada.
6. Land Survey Certificate
Your lender may require this property document and if the sellers currently have a copy of the Land Survey Certificate, you will want to receive it. The Land Survey Certificate shows the exact placement of each dwelling on its assigned property land and provides property line information. If additions, or any new structures, have been made to the home you are buying, you may wish to have a new land survey prepared to show the dwelling's current position on the land.
Other Property Documents & Paperwork
You may choose, or be required, to secure a property appraisal report for your new home or have a property inspection report prepared. Your lender may have their own list of certified property appraisal companies they accept and may even take care of this step for you; however, it is often the responsibility of the buyer to hire an appraiser and property inspector to have these additional home-buying documents prepared.
It is often advisable to have a property inspection performed on the property you are buying to gain knowledge of any potential problems a home may have. Along with the benefits of a property inspection, an up-to-date appraisal report will highlight the current value of the home you are buying to ensure you are not overpaying for your real estate investment.
Closing Documents
Once you have an accepted Contract of Purchase and Sale, you will submit all purchasing documents to your lawyer. Your real estate lawyer will require paperwork from your lender's financial institution to complete the transfer of funds to the seller upon property completion.
Prior to your property transferring ownership, you will be required to meet with your lawyer to go over and sign the necessary paperwork. Closing costs involve several steps to purchase a property in British Columbia that is handled through your real estate lawyer, and you may wish to familiarize yourself with this final stage.
Buying Property in British Columbia
The legal process of purchasing land in British Columbia involves many layers, each having its own set of documents, contracts and paperwork. Buying real estate involves many professionals, and it is important to have your team ready and available to assist you.
LoyalHomes.ca's team of professional real estate experts are available to answer any questions and can help you find your BC dream home with a Personalized Home Search set-up just for you.