Real Estate Activity Continues to Heat Up in Squamish
Posted by Chris Fenton on Tuesday, March 8, 2022 at 1:15 PM
By Chris Fenton / March 8, 2022
Comment
Where is Squamish?
On the southwest coast of British Columbia, between Vancouver and Whistler, is the growing city of Squamish. Located at the tip of Howe Sound along the Sea-to-Sky Highway, this town is full of vitality and natural beauty. Surrounded by mountains, prospective buyers have taken notice of this city's unique location and desirable features.
Why Buy a Home in Squamish?
Small Town Charm, Big City Features
Imagine the reasons why places like Vancouver and Richmond have grown so much. They are both located next to the sea, are only a short drive away from beautiful mountains, and offer plenty of recreational activities for residents and tourists. Now replace the heavy traffic and crowded buses for leisurely drives, the community feel of a small town, and enough room to breathe in the fresh coastal air. Now you can probably start to understand why people are racing to live in Squamish. Squamish offers all the benefits of living in a big city, with that small-town charm and nature on your doorstep. There are endless possibilities of things to do in Squamish, perfect for city folk, nature lovers, and everyone in between! And, if you do miss standing on a bus because all the seats are full, then places like Vancouver are only about an hour's drive away.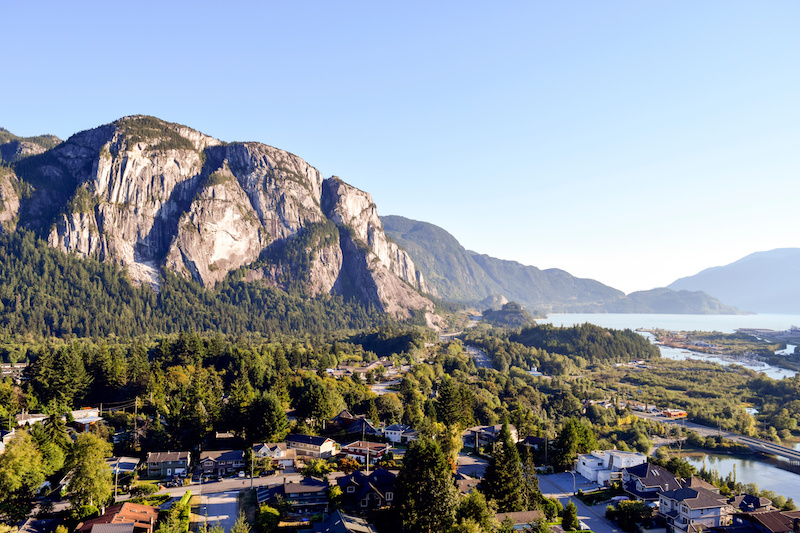 Squamish is Perfect For Families
A good place to raise a family needs to have certain features to please everyone. There needs to be reliable, long-term employment options for the parents, good schools for the kids, enough infrastructure for conveniences like grocery shopping and baking, and plenty of fun things to do. Most of Squamish's population is under 40, making it ideal for new and established families.
Squamish offers several high-quality schools and even has Quest University, a private post-secondary institution. Parents can benefit from many employment options arising from Squamish's prime location. Earlier days saw an emphasis on logging, milling, and pulp production for main industries. The city has grown to embrace many other sectors such as tourism, clean energy, manufacturing, and recreation technology, to name a few. With a deep seaport and the Sea-to-Sky Highway, Squamish offers a variety of employment opportunities for many different families. Families choose to live in Squamish for these reasons and much more.
Growing Population, Growing Demand
Recent years have seen an increase in Squamish's population, which has also affected the housing market. In 2021, the average price of a home increased by 20% - partly due to the high demand from this population increase. Why are people relocating to Squamish? It might have to do with it being one of the fastest-growing cities in Canada, with a higher-than-average median income and affordable commercial leasing rates compared to other cities like Vancouver. Or it could be that people are getting tired of living in cities and want to work and live in a place that offers a high quality of life in a scenic location, where the mountains meet the sea. The housing market has not caught up yet with the demand, which has given rise to smart investment opportunities.
Squamish is the Top City in Canada
A recent StatsCan report has revealed that more and more people are moving to smaller communities instead of big cities. The report has noticed a trend where communities located near bodies of water or outdoor sports facilities close to nature and are a short drive away from a big city are growing in population very quickly.
Census metropolitan centres (CMAs) are cities with a population of at least 50,000 people living downtown but 100,000 overall for the municipality. This report looked at the fastest-growing CMAs in Canada.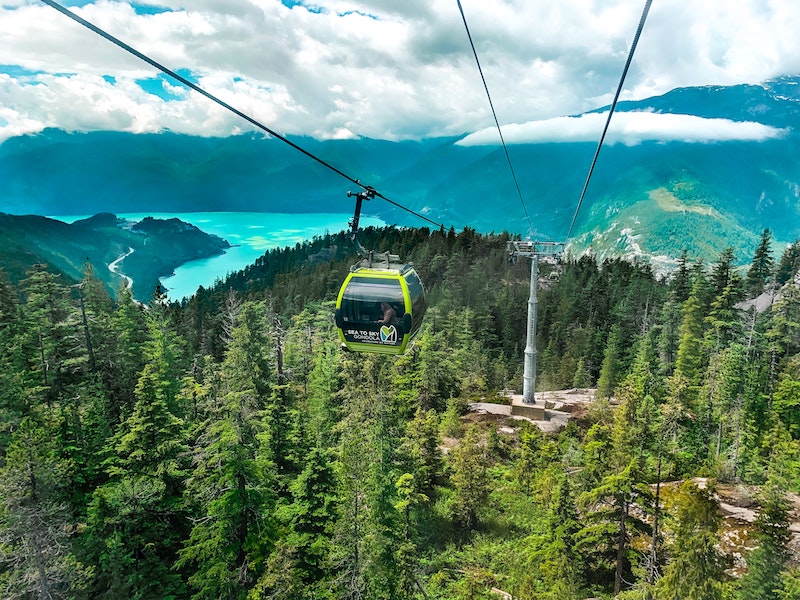 The number one city across Canada with the greatest population change since 2016 is Squamish. Its population increased by 21.8%, an outstanding number reflective of the hot demand for real estate. Word has gotten out - Squamish is an ideal place to live, work, and play.
Eco-Friendly, Long Term Investments
People are flocking to Squamish, but that's not all. The commercial sector is seeing a real estate boom as well. Giants like Manulife have already invested in multi-use commercial properties like Garibaldi Village, a shopping centre. Companies like Manulife know: a growing population means more customers and more profit. It isn't a matter of "when" or "if" Squamish will grow and become a vibrant community - it already is, and it's getting even better.
Squamish city council are involved in discussing rezoning applications to allow for more residential buildings to be built. To consider the influx of people moving to Squamish, talks are underway for a net-zero mixed-use residential building. Not only is the town considering how to house new residents, but they are also exploring how to do it in an environmentally friendly manner. This demonstrates Squamish residents' importance in keeping their pristine, oceanfront town beautiful.
Another developer is cooperating with the city council on developing a 216 unit residential building right across the street from Squamish Station Shopping Centre. One of the requirements from the city council is to include commercial spaces with green renewable energy, yet again showing the importance of the town's environment. These new condominiums and office spaces in the downtown core of Squamish are essential to compete with the increasing population. This is one example where developers work with the city to provide housing and job opportunities for residents.
Cooling-Off Period News
A cooling-off period (or rescission period) is when a buyer has to back out of a deal after their offer has been accepted. In other words, if you put your property for sale, get a great offer and accept it, it isn't actually a done deal. The person who said they would buy your house can just change their mind, and the whole deal is off. This can only be done during the cooling-off period. The BC Government intends to put this legislation in motion during Spring 2022.
How Does Cooling-Off Affect Squamish's Hot Market?
It may seem at first glance that the proposed cooling-off period doesn't matter for a place like Squamish. So many people want to move there, and there currently isn't enough housing to go around. Any property that comes on the market is snatched up quickly, so the likelihood that someone will back out of a deal seems unrealistic. When there isn't much to go around, and you get your piece of the pie, you're likely to keep it, especially when the demand is high.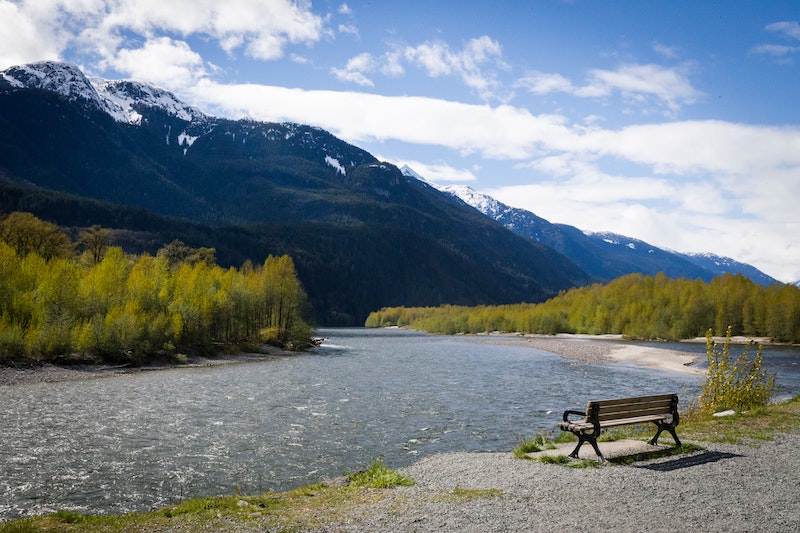 But there are some downsides. The British Columbia Real Estate Association's chief executive, Darlene Hyde, has remarked that this type of legislation may increase less serious offers, uncertainty for sellers, and several other factors. The proposed legislation introduces a grey area for buyers and sellers instead of the traditional cut-and-dry buying and selling approach. The idea behind the proposed legislation is that it gives buyers enough time to conduct additional research to have confidence in their purchase. Whether to get more familiar with the neighbourhood or research potential problems with the home itself, the cooling-off period is intended to tie up loose ends. This also means they can jump from offer to offer until they find something they want, leaving many sellers in the dust behind them.
An alternative suggestion is to eliminate the possibility of a cooling-off period to begin with and instead have a mandatory five-day "pre-offer period" where no offers are allowed to go through, giving everyone equal grounds to research the property. At that point, if an offer is made and accepted, it is a done deal. The buyers had time to do their homework, and the seller was not left with a false sense of security waiting for a cooling-off period to end.
Squamish Remains Hot
The data has shown that people are moving to Squamish, and the city is working hard to build more housing to help offset the demand. Although this will help, it is not a perfect solution. The trends suggest that housing prices are likely to continue to climb whether or not there are enough listings to go around. The time to buy a home in Squamish is now before it becomes unattainable.
There are so many positive benefits to relocating to Squamish, from its proximity to nature and cities like Vancouver, its location on the Sea-to-Sky Highway, the beautiful ocean at your doorstep, and the many facilities perfect for growing families. Proposed legislation like a cooling-off period can add security for buyers and potential problems for sellers. Still, the reality is the same: Squamish has a high demand and low supply of housing. With an increase in the population of almost 22% since 2016, the city has seen a demand for more housing and more commercial buildings to accommodate the needs of these new residents. Squamish is on fire, and its desirability is spreading all across the country.