Look at this Incredible Okanagan Lakefront Property
Posted by Chris Fenton on Monday, February 14, 2022 at 10:00 AM
By Chris Fenton / February 14, 2022
Comment
Lake Country is one of the most beautiful parts of the province. Not only does this property offer a handful of acres of beautiful lakefront land—but it also comes with two small islands.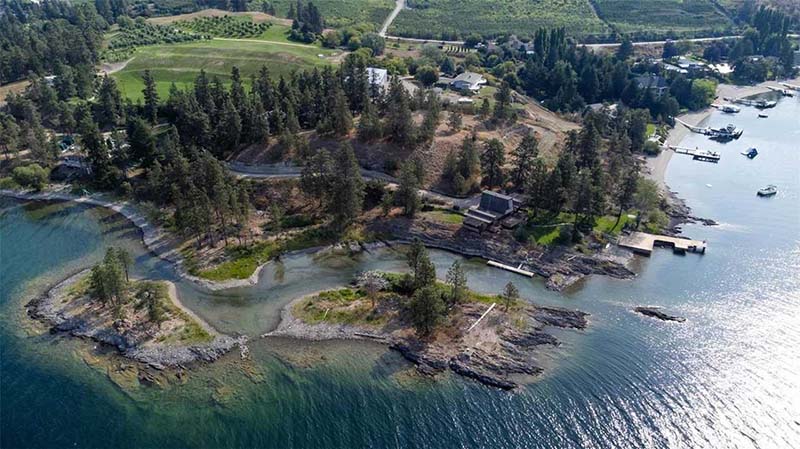 This unique waterfront property at 16070 Carrs Landing Road is located around forty minutes north of the city of Kelowna by car. As the name would suggest, the Lake Country area is filled with beautiful lakes, including Wood Lake and Kakamalka Lake nearby.
This Property's Backyard is Okanagan Lake
The largest and most well-known lake in Lake Country is Okanagan Lake, which is where you'll find this truly unique property. The sprawling 5.9-acre property faces west and south and offers over a thousand feet of lake frontage.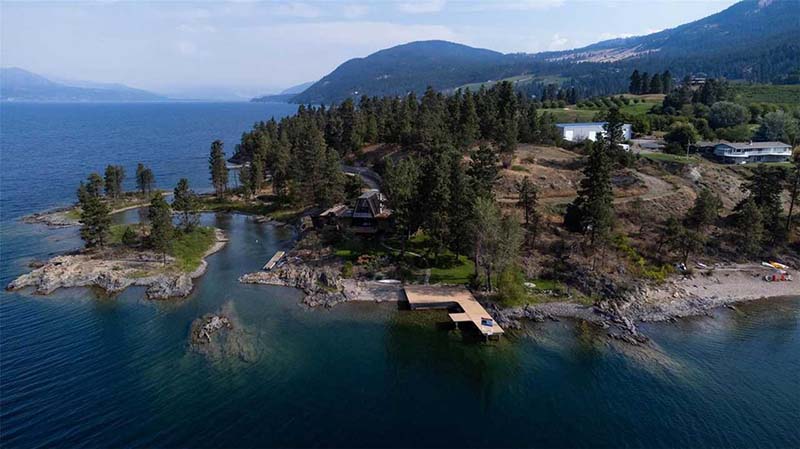 Given the expanse of rugged shoreline this property presents to real estate investors, the sky is the limit for future plans for this property. The property's main structure is a beautiful home with 1,600 sq. ft. of living area and an upstairs loft area.
This home was built in 1969 in the mid-century modern style. Its open-concept design and high ceilings give its living spaces a light, airy feeling. The many large west-facing windows are perfect for maximizing views over Okanagan Lake, particularly at sunset when the sky comes alight in a symphony of reds and oranges.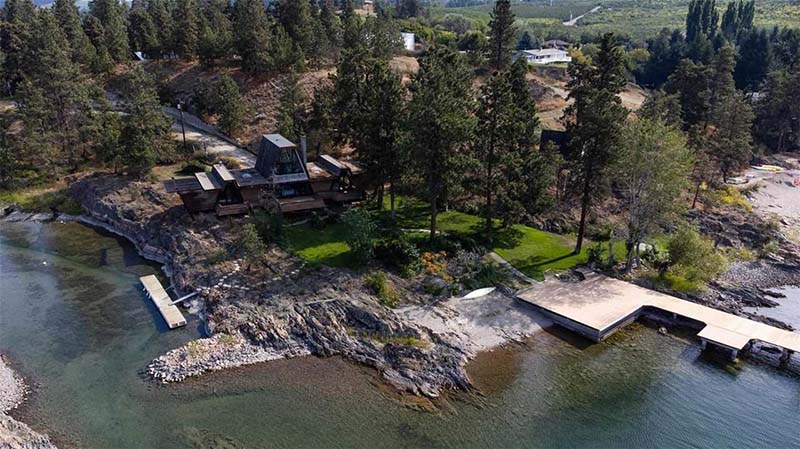 This property has two wharves that can serve as docking and launching points for small paddle boats and places to soak up the sun and partake in aquatic activities during the summer months.
Real estate investors looking for a retreat where they can escape their busy lives are likely to find solace along this stretch of Okanagan Lake. One of the most appealing aspects of this offering is that it is densely wooded, offering excellent seclusion and privacy. The property is well-landscaped and features plenty of outdoor garden areas.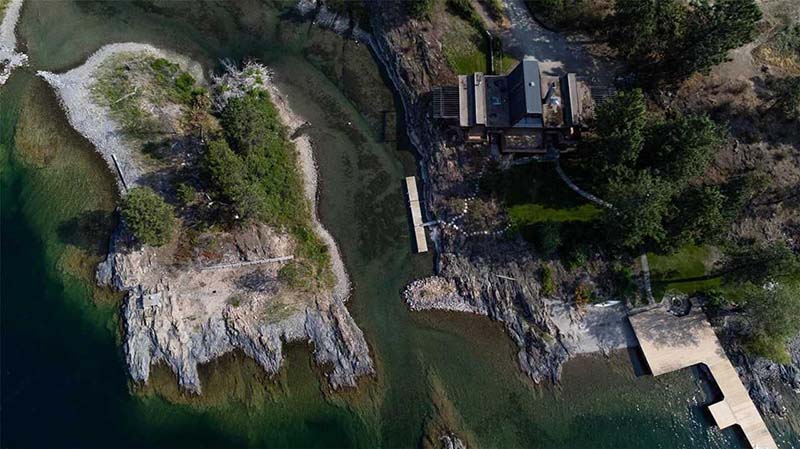 This House Features Additional Dwellings
Beyond the main house, several other impressive structures are on this property, giving it the potential to serve as a generational property to be enjoyed by many people if desired.
The property has a second home of 1,700 sq. ft. and features three bedrooms and three bathrooms, opening up a wealth of hosting opportunities. This home was built thirty years ago and functioned as an art studio for the previous owners.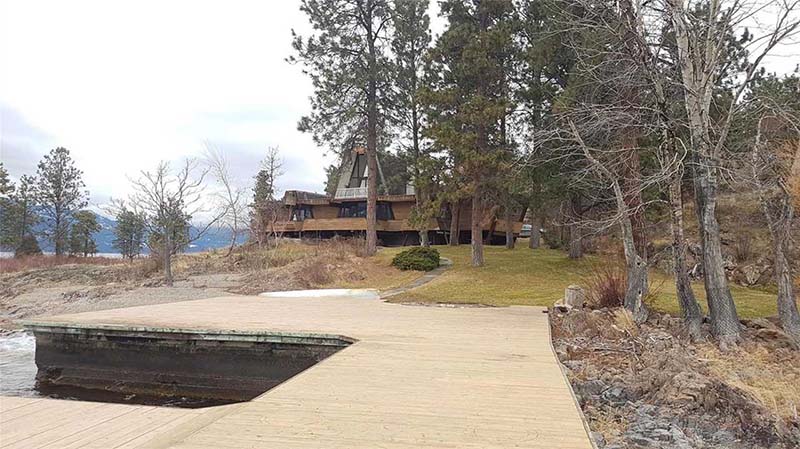 And that's not all. This property also includes a small 400 sq. ft. guest house with one bedroom, a charming living room, and a kitchen and loft area. Nearby is a giant workshop, nearly 2,000 sq. ft., and another smaller workshop.
Real estate investors with inclinations toward the arts will find an abundance of space to work, and plenty of projects could make use of the property's ample workshop spaces.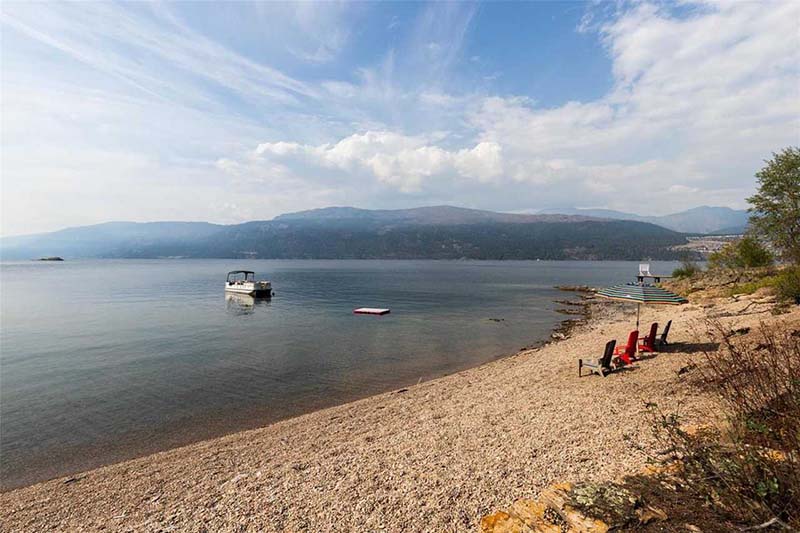 An appealing aspect of this property—listed by RE/MAX Kelowna—is the small pathways that wind through it, linking its structures together and providing unbelievable, private walking areas.
Relax on your Private Beach
Of course, the real star of the show is Okanagan Lake, which is the central recreational hub for the area, popular with the residents of Kelowna, Penticton, Vernon, and more. There are more than thirty beautiful beaches scattered across the lake. At the same time, this property offers its sandy private shores where the waters are calm and pristine.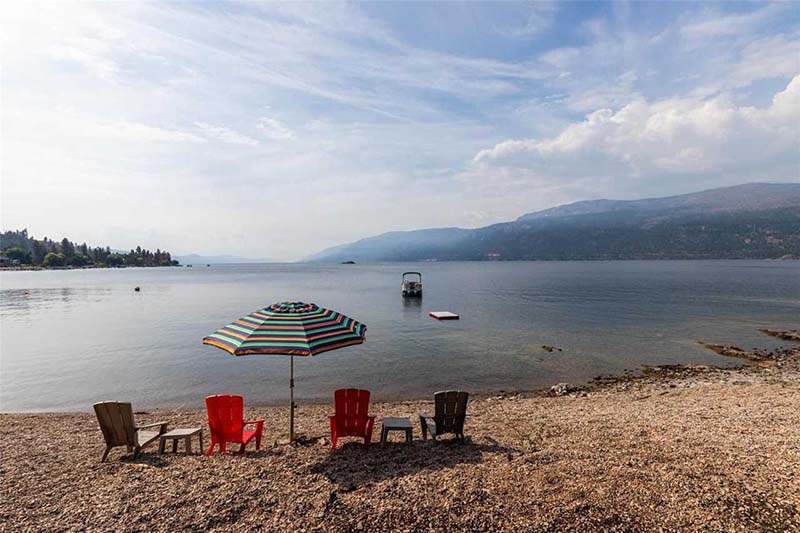 Okanagan Lake has clear, warm water that hovers around twenty degrees celsius in the warmer months. Watersports, including waterskiing, wakeboarding, and tubing, are popular on the lake. There's a popular paddle boat trail along the shore that passes near this property.
For those who love swimming and getting out on the water, the expanse of shoreline included with the property could make it one of the most enticing properties in the province. The inclusion of its two small islands could represent the ultimate access to adventure and relaxation.
Of course, fishing enthusiasts will also feel thrilled by this property's prime location, as Okanagan Lake is home to a healthy fish population, predominantly kokanee salmon and rainbow trout. If there is ever a verified spotting of the Ogopogo lake monster said to live in Okanagan Lake, the main home's large windows would be an ideal vantage point for the mythical monster.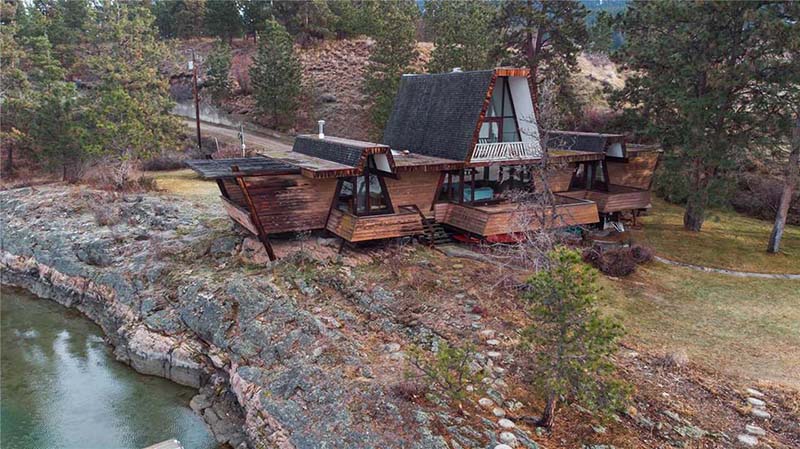 The listing agent for this property refers to it as perhaps the best piece of waterfront land on all of Okanagan Lake. Further back from the shore, space for further development is possible.
This property is located within the Carr's Landing neighbourhood of Lake Country. Carr's Landing is a popular vacation spot and offers a safe and laid-back environment. The other neighbourhoods in the area are Okanagan Centre, Oyama, and Winfield.
Because this property is a short drive from Kelowna, it could serve as a permanent residence for someone looking to work in the city but living amidst nature. There are three elementary schools and one high school in Lake Country, further adding to this property's status as an idyllic place for children to grow up.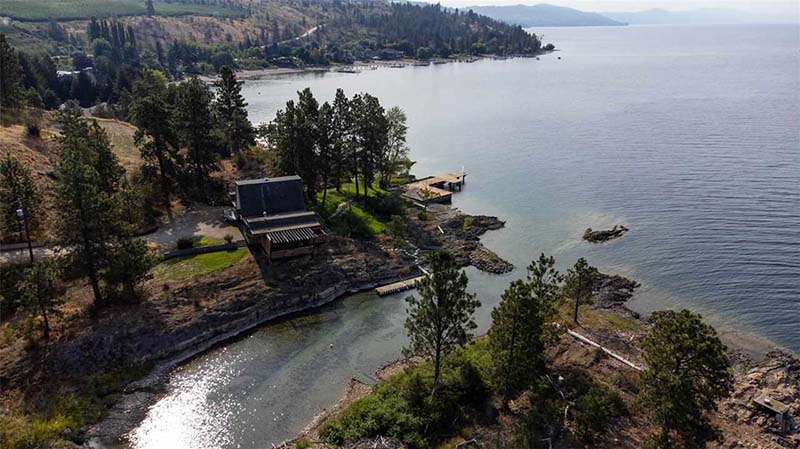 This beautiful property is located alongside Gable Beach Park, slightly to the north and Kopje Regional Park, slightly to the south. Behind it, to the east, is primarily farmland, where some of the area's acclaimed produce is grown. Surrounded by stunning lake and mountain views, this property represents the highest echelon of Okanagan living.
While some real estate investors will be enthralled with the stylish existing home, others may take the opportunities presented by this property and its picturesque islands and build their own dream home in Carr's Landing. This region gets some of the province's best weather, and the sky is the limit with this kind of location.
The complete listing is available here if you wish to check out more photos and details about this one-of-a-kind property.
Listing provided courtesy of RE/MAX Kelowna.
This REALTOR.ca listing content is owned and licensed by REALTOR® members of The Canadian Real Estate Association.