Live in One of the Fraser Valley's Most Unique Properties
Posted by Chris Fenton on Monday, January 31, 2022 at 10:00 AM
By Chris Fenton / January 31, 2022
Comment
If you're looking for a home that stands out, this former electric train power station along Old Yale Road was converted into one of Abbotsford's most extraordinary homes.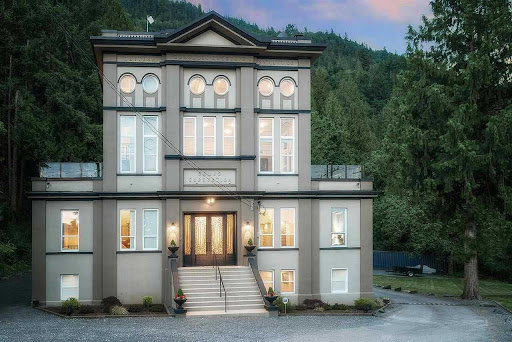 This eye-catching property has been making headlines in Abbotsford for years and has been called "the weirdest home in Abbotsford." Its unique design is matched by its truly impressive interior design.
This house's many features include massive floor-to-ceiling windows, beautiful exposed brick, and attractive round windows on the top floor.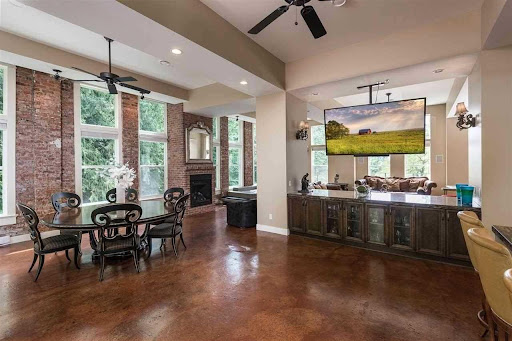 This home, listed by RE/MAX All Points Realty, offers an unbelievable amount of living space—upwards of 11,000 sq. ft.! For context, real estate experts generally consider anything over 8,000 sq. ft. a mansion.
This home is in a serene, rural area of Abbotsford, backing onto a thirty-acre greenbelt that gives residents easy access to forests and mountain views and a gurgling stream that runs near the property.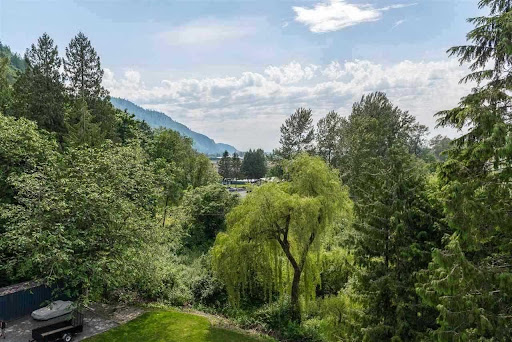 This Abbotsford home sits on over two acres of lushly forested land, with excellent landscaping that makes it an ideal place for families and those looking to host elegant gatherings outdoors. The home's status as a former electrical train station is made clear by the train tracks that run through the property—yet another unique feature.
The rear of the home has a spacious patio area that is given privacy by the lush foliage and a large wall. The house is also flanked by two giant outdoor patio areas, providing abundant opportunities to get some sun on hot summer days and enjoy relaxing outdoors on warm evenings.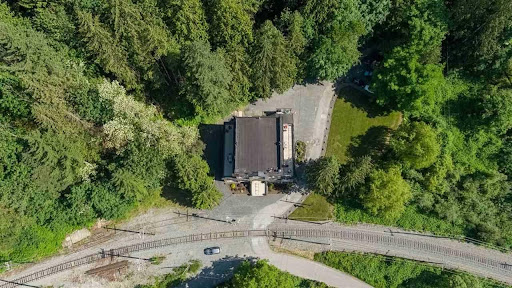 BC Hydro first constructed this building over a hundred years ago and was built using high-quality materials, including concrete, steel, and brick. These days, the property capitalizes on the modern feeling of its heavy-duty, industrial design materials, which have become a fashionable interior design style.
The home's brick walls, large windows, and massively high ceilings give it a clean, minimalist feeling, and the open concept floorplan lends the home its calm and airy atmosphere. Those with a passion for interior designing will find limitless opportunities because of how spacious, and customizable the interior of this property is.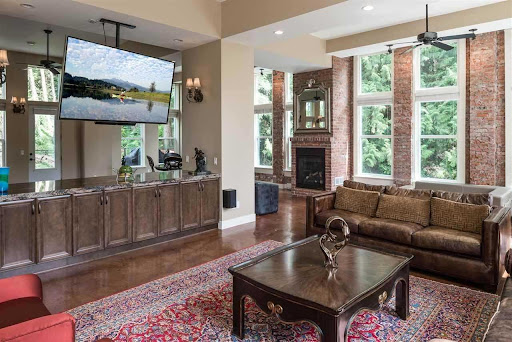 This unique home has a main living area with more than 6,000 sq. ft. of living space and an oversized garage. The main living area has a wide array of notable luxury details, including an elevator, a wine cellar, and a streaming room. The 1,600 sq. ft. theatre room offers unbelievable hosting opportunities or private events.
In addition to the massive main living area of this home, there are currently three rental suites that provide $14,000 per month in rental income to the present owner. The massive income potential of this home will likely attract real estate investors, in addition to the possibility of finding other uses for those spacious suites.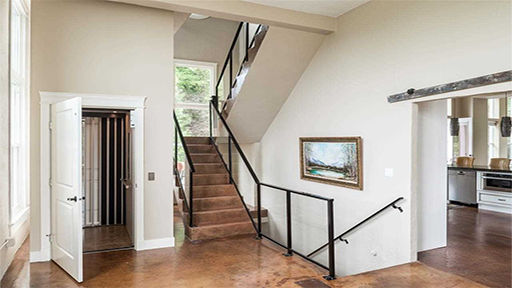 It can be hard to imagine that this home formerly served as a train station when you're looking at the elegant design of its interior. The kitchen has beautiful custom cabinetry and high-end stainless appliances.
Its ample thick marble countertops provide immaculate cooking areas, and the open concept kitchen design that looks out over the dining area will be attractive for those who enjoy hosting dinner parties.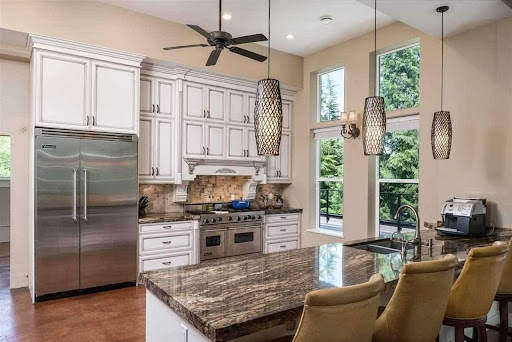 Because of the chic industrial features of this home's design and layout, it is a natural fit for rustic design features. For instance, in one of its many living areas, you'll find a charming wood stove in addition to a large, striking barn door on rollers.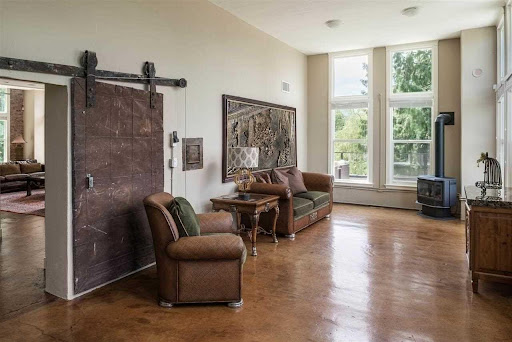 The layout of this home activates the imagination, as it provides more space than most people would know what to do with. Across its four stories, it has a whopping ten bedrooms, in addition to nine bathrooms. The bedrooms on the top floor are the most charming, as they offer exposed brick walls, the home's unique circular windows, in addition to regal design features like intricate wall sconces.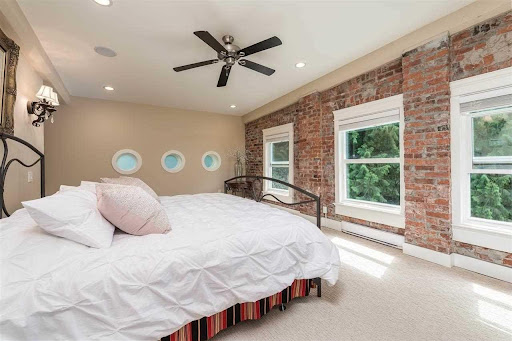 This idiosyncratic home's abundant space will make it a natural fit for real estate investors interested in throwing memorable parties or those intent on hosting several guests from out of town. However, its rural setting also makes it attractive to those looking for privacy and seclusion.
The home's rental suites have less luxurious interior design features than the main living area, with charming, rustic-style details including exposed beams, antique chandeliers, painted wood floors, and custom moulding. However, you'd choose to use these suites, the large windows and exposed brick walls ensure they'll offer pleasing surroundings to their inhabitants.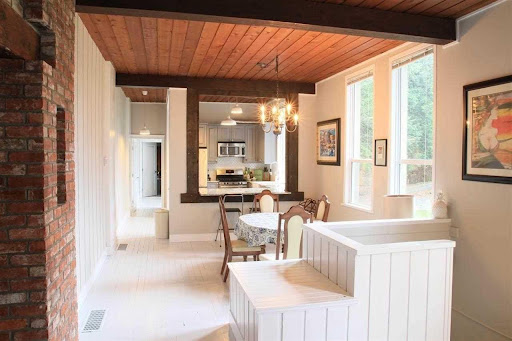 The property is located in a very peaceful area to the east of Abbotsford. It is situated near the United States border, only around a fifteen-minute drive from the Sumas and Abbotsford Border Crossing, providing effortless access to the USA.
Generally, this home is best for those who typically get around by car, as local public transit options are limited, and not much is within walking or biking distance.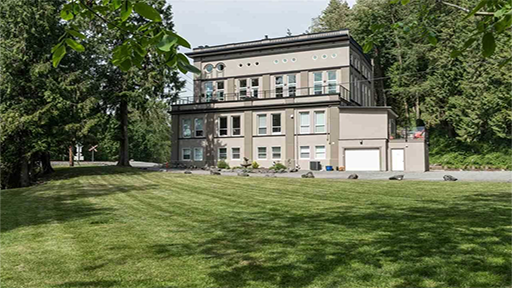 This unique property is close to the communities of Mission, Chilliwack and many parks and recreation areas to the east. One top-rated nearby attraction is Cultus Lake and the Cultus Lake Waterpark, which are around a twenty-minute drive from the property, a huge perk for those with young children in particular.
If you'd like to take a further look at the features that make this property one of the most distinctive homes in Abbotsford, you can check out the complete listing here.
Listing provided courtesy of RE/MAX All Points Realty.
This REALTOR.ca listing content is owned and licensed by REALTOR® members of The Canadian Real Estate Association.