Is Chilliwack a Good Place to Invest in Real Estate?
Posted by Chris Fenton on Monday, September 4, 2023 at 10:00 AM
By Chris Fenton / September 4, 2023
Comment
If you are wondering if Chilliwack is a good place to invest in real estate, it might be because you've already looked at other places like Vancouver and Whistler and are looking for a more affordable alternative.
While Chilliwack used to be known as a rural area, more and more people are expanding outward into the Fraser Valley from Vancouver in search of a better lifestyle and real estate prices. As a result, Chilliwack has seen immense growth over the last decade - and that isn't a bad thing at all. Let's take a closer look at what makes Chilliwack an ideal place to invest.
What is the Best Area in Chilliwack to Live?
Chilliwack is growing and has several great neighbourhoods to choose from. Whether you have a growing family or are settling down in your golden years, there's a community for you in Chilliwack.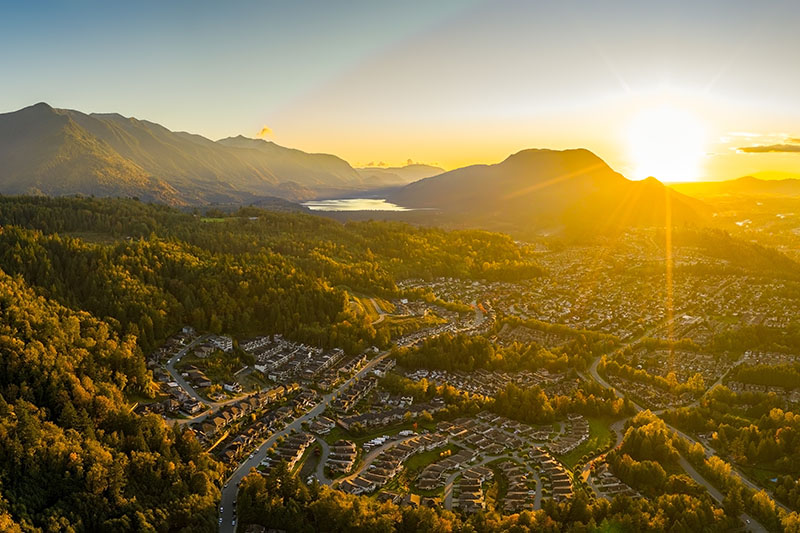 Waterfront properties and those who want to live near a lake will appreciate Cultus Lake. Families and outdoor enthusiasts enjoy the tranquil atmosphere and accessibility to outdoor recreation. While popular with tourists in the summer, many people enjoy living at the lake year-round.
Nature lovers, hobby farmers, and anyone else preferring a more rural area will appreciate both Rosedale and Yarrow. Often, large acreage properties are available in Rosedale, with or without a spacious home. Yarrow has a similar feel and is known for its well-maintained ranchers, large backyards, and a strong sense of community. Mainly single-family homes are found in this area.
Greendale is another fantastic choice for those looking for acreage. Many of these homes are older builds from the 1960s and are on large plots of land. You'll mainly find single-family, detached homes in Greendale, Rosedale, and Yarrow, so if you're looking for a condo, then you might have better luck in places like Vedder or Chilliwack Proper.
Retirees and families tend to gravitate towards Chilliwack Proper for its mix of single-family homes, townhouses, and condominiums. Several luxurious properties can be found here, too. There's a little bit of everything in this area, which makes it desirable for many potential buyers.
The general vibe for Chilliwack is laid-back, semi-rural, and open-minded to growth. For this reason, you will find plenty of older-style homes and hobby farms mixed with newer developments. However, due to its agricultural history, the real estate market does lean heavily on single-family home real estate listings. While you can find townhouses and condominiums here and there, the area is mainly biased toward older, larger homes.
What is the Average in Chilliwack?
The big question: How much does it cost to own a home in Chilliwack? We'll let the numbers speak for themselves and look at some real estate statistics from 2020-2022.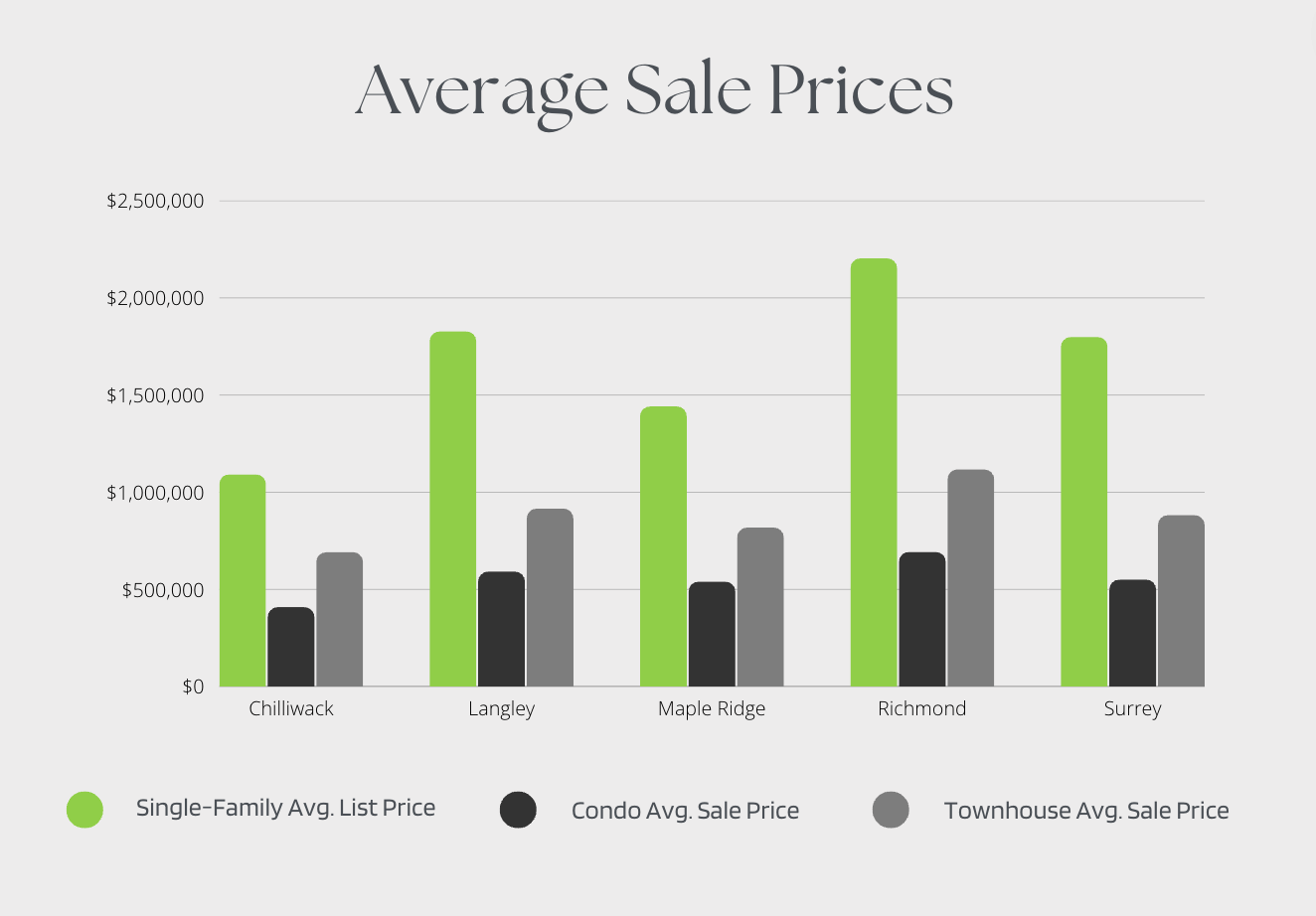 Hint: Chilliwack is way more affordable than Vancouver, Richmond, Surrey, and Langley!
Single Family Home Prices in Chilliwack
Families are likely most interested in the price of a detached, single-family home in Chilliwack. We have good news - the cost is significantly less than other communities on the Lower Mainland.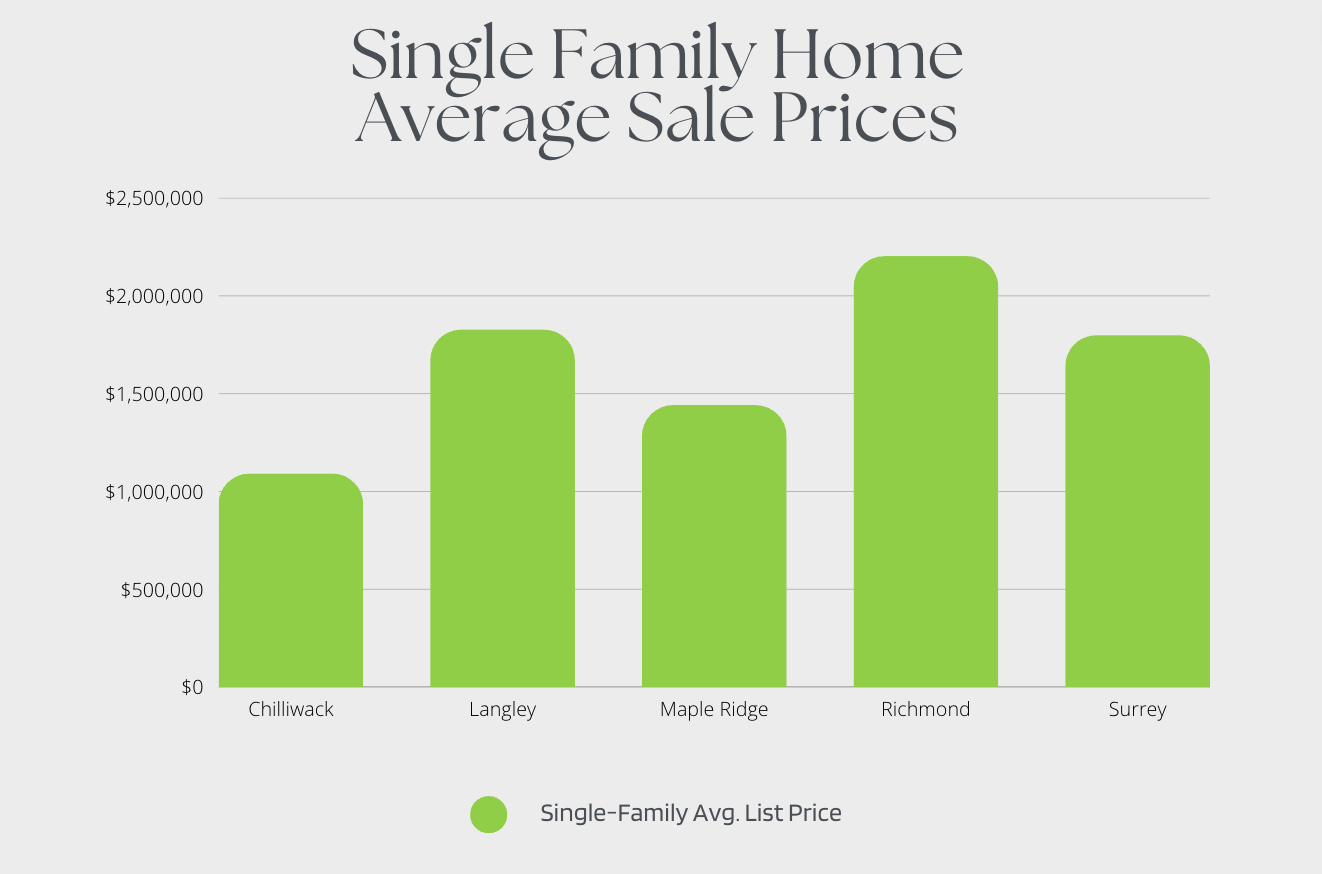 In 2022, the average price for a single-family home in Chilliwack was $1,089,600. While that may seem like a lot, it's significantly lower than the price of a similar home in Richmond at around $2,200,000. Prices are going up all over the province, but some are still priced in a lower range in these more rural areas.
In 2020, prices were even better in Chilliwack, with the average home costing around $706,482. What does this mean? People have taken notice of how much more affordable homes are in Chilliwack and are taking advantage of the opportunity to purchase one for themselves. As more people discover and buy homes in Chilliwack, we may see more of an increase in real estate prices down the road.
Townhouse Prices in Chilliwack
Townhouses are popular choices because they offer many of the same benefits as a single-family home and are usually a more affordable option. Many people prefer to use them as an investment option by renting them out for some semi-passive income.
When looking at townhouse prices in Langley, Maple Ridge, Richmond, and Surrey, Chilliwack still comes out as the most affordable place to purchase this type of real estate.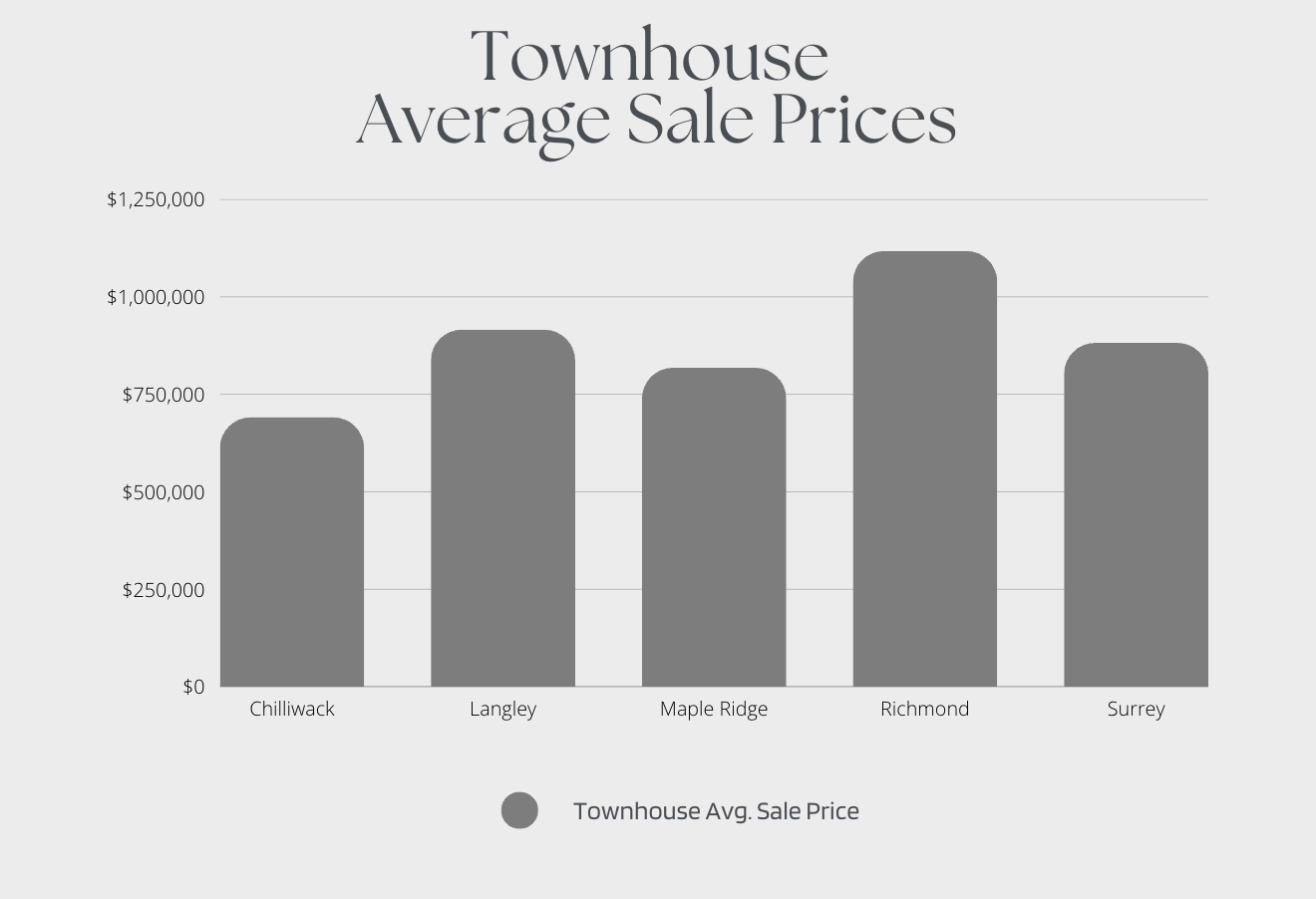 In 2022, the average price of a townhouse was around $690,000. This is an increase from $452,000 in 2020 but still significantly less than purchasing a single-family home. For some perspective, you'll need over a million dollars to buy a similar townhouse in Richmond versus Chilliwack. Other surrounding cities average around $750,000, which isn't too far off Chilliwack's 2022 average price.
Condo Prices in Chilliwack
What about condo prices? Like townhouses, Chilliwack is the best place to buy an affordable condo when comparing costs in Langley, Maple Ridge, Richmond, and Surrey. The average price for a townhouse in Chilliwack (in 2022) was around $408,000. The other places we mentioned were all averaging above $500,000.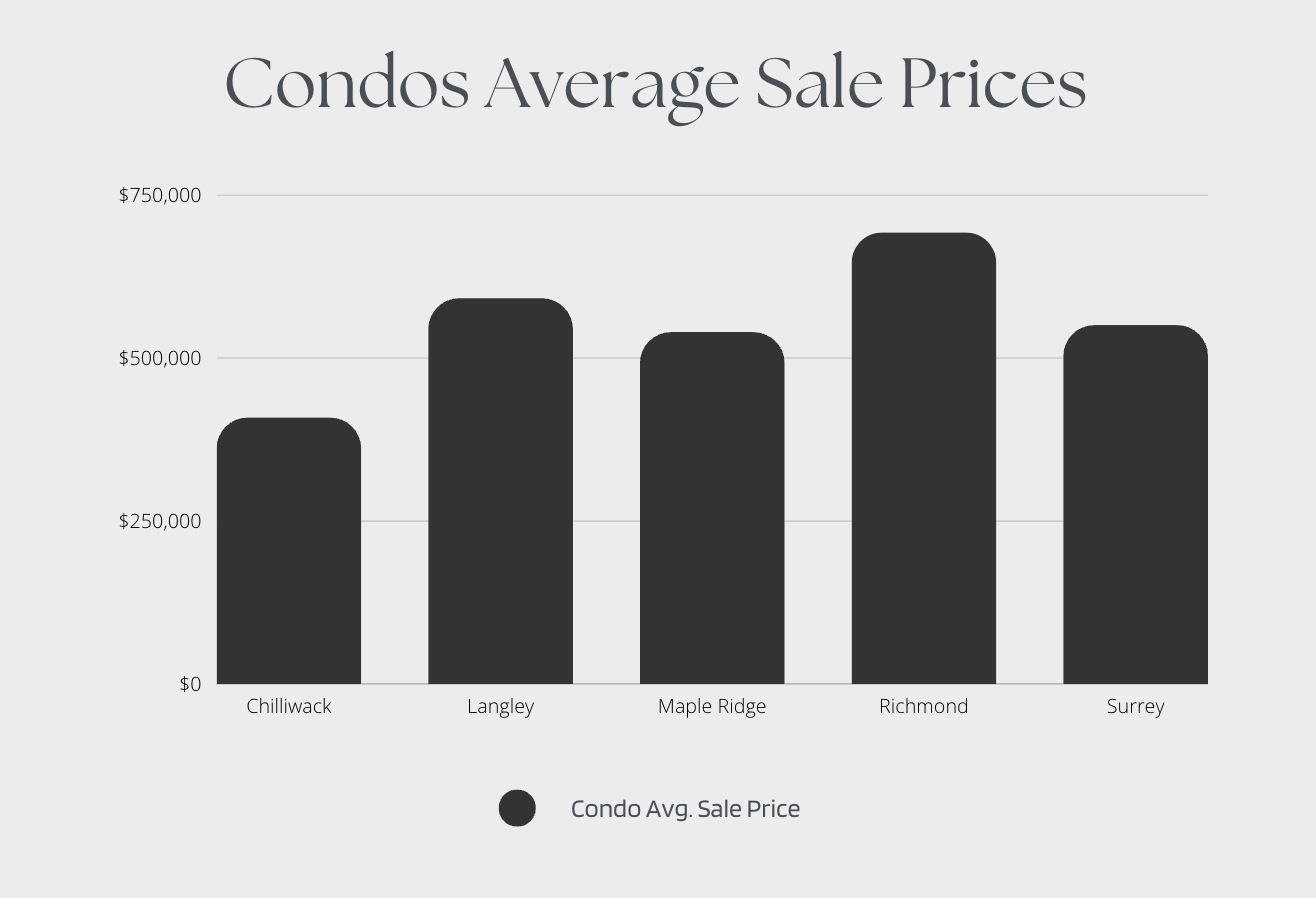 While coming in at around half the cost of a single-family home in Chilliwack, these condo prices also present a significant contrast when compared to a condo in Vancouver, which can be substantially more expensive. This makes it abundantly clear that Chilliwack stands out as an excellent choice for those seeking affordable real estate properties. If you're interested in exploring the advantages of condo ownership further, don't miss our blog post on "Why Buy a Condo vs a House: 7 Condo Ownership Perks." It delves into the perks of condo living and can provide you with valuable insights as you consider your real estate options.
Are House Prices Dropping in Chilliwack?
When we look at real estate trends in Chilliwack from 2020 to 2022, we see an increase in real estate prices across the board with fewer days on the market. This means properties are getting snatched up quickly at higher prices than in previous years. So, house prices have not been dropping in Chilliwack.
For example, in 2020, an average single-family home sold for around $700,000 after being on the market for 46 days. In 2022, the same type of home now has an increased value to $1,089,600 with about 22 days listed on the market. Homes are spending half the time being listed, but with a price tag of $300,000+ higher compared to only two years earlier.
This trend of being on the market for half as long and selling for 30% more is not unique to single-family homes - townhouses and condos have been going up, too. While townhouses and condos are generally seen as an affordable alternative, both have seen significant increases. Townhouse prices have increased by about $237,000, and condos have also increased by approximately $120,000 when comparing average prices in 2022 versus 2020.
So, while house prices are not dropping in Chilliwack, there is still time to make a move into the real estate market before prices align closer to those found in Vancouver.
Is Chilliwack Expensive to Live?
One of the best ways to determine if Chilliwack is an expensive place to live is to compare its cost of living to similar cities in the region.
Compared to Vancouver, Chilliwack is much more affordable. Groceries, rent, and restaurant prices are at least 16% more affordable in Chilliwack. But you probably already knew that, which led you to this article in the first place.
Abbotsford is relatively close to Chilliwack, and its cost of living is quite similar for restaurant prices. However, Chilliwack is still 10% cheaper for rent prices and groceries. Not to mention, Chilliwack is known for its local crops like corn, which can help reduce grocery bills in the summer.
Looking at other cities, we find a similar trend that places Chilliwack as the most affordable place to live. However, we do see some higher prices for rent in Chilliwack compared to Maple Ridge. On average, Langley, Surrey, and Richmond were more expensive to live in than Chilliwack when looking at rent, groceries, and restaurant prices.
Another way to determine if a city is affordable is to peek at its demographics. The average yearly median income in Chilliwack is around $67,000, with most of that money being made in construction and retail jobs. Each year, the average household income increases, indicating there is a strong economy and workforce. As we've seen, everyday prices tend to be more affordable in Chilliwack, so pairing that with a decent income that grows each year paints the picture that this location could be a great place to live.
What is Chilliwack Known For?
Chilliwack is known for its rich agricultural history, delicious locally-grown corn, and vibrant book community. Residents equally enjoy spending time in the great outdoors as they do inside reading a good book.
Chilliwack contains the second largest used bookstore in BC, called The Book Man, and locals eagerly look forward each summer to the annual corn harvest. Residents enjoy simple luxuries that last a lifetime, such as farm fresh produce, beautiful scenery, and taking the time to enjoy life's little pleasures.
Is Chilliwack Prone to Flooding?
Some areas of Chilliwack are prone to flooding and have experienced several significant floods over the years. The most vulnerable areas are the floodplains for both the Fraser and Vedder Rivers. The neighbourhoods of Yarrow and Greendale have some overlap with these problematic areas.
A large flood occurred in 2018 after heavy rainfall caused the Fraser River to overflow. Some residents had to be evacuated during that time. The city of Chilliwack has been diligent in taking preventative action towards flooding. Emergency response plans, new protective infrastructure, and resources like an emergency "grab & go" bag checklist have been made available to the public.
If you are looking to buy real estate in Chilliwack, it is a good idea to look into your home's location relative to the flood zones, elevation, and insurance policies that include flood damage.
Looking for more information about Chilliwack?
We've taken a look at real estate prices, housing types, and a quick look at the overall vibe for Chilliwack. For a more in-depth look from a community point of view, check out our other article, The Pros & Cons of Moving to a City Like Chilliwack.