Coffee Shops on Vancouver Island
Posted by Chris Fenton on Tuesday, June 22, 2021 at 10:21 AM
By Chris Fenton / June 22, 2021
Comment
Cobble Hill
Drumroaster Coffee
Drumroaster Coffee is a must stop shop. Their coffee is delicious, their staff are friendly, and their selection of fresh baked goods and sandwiches will make it difficult to choose just one (the giant chocolate chip cookie is a must try). The Café itself has a rich history behind it; the Olgend family have been involved in the coffee industry for nearly 70 years. You can read about it more on their website and shop their retail items or place a mobile order.
Drumroaster Coffee
1400 Cowichan Bay Rd, Cobble Hill
250.743.5200
Mon – Fri: 7am – 4pm
Sat – Sun: 8am – 4pm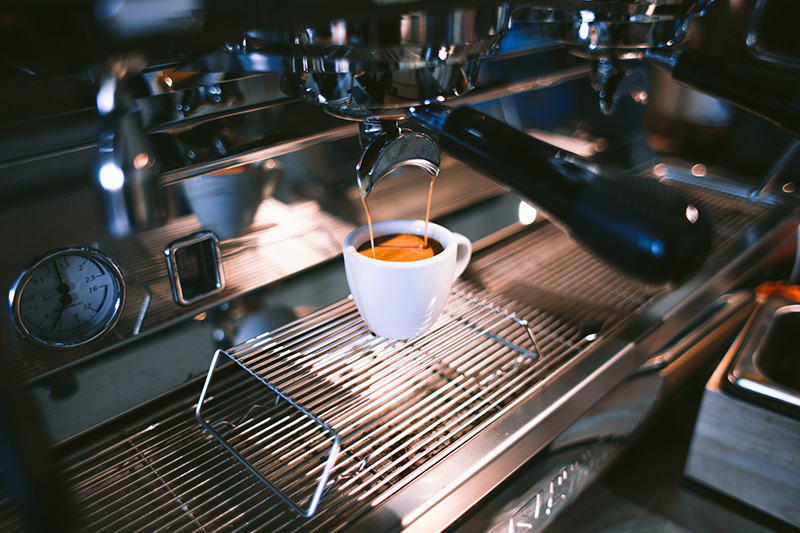 Olde School Coffee
This adorable coffee shop used to be a preschool and is in the heart of Cobble Hill. If you're on your way for a hike or just finishing one, shopping for real estate, or just going for a weekend drive, you can grab a snack and coffee in their adorable drive thru. Or if you have some studying to do or want to read a book, they have wifi while you enjoy your delicious coffee. Coffee is not all this shop has to offer! They have freshly baked goods, delicious breakfast and lunch wraps, soups and real fruit smoothies. You must check out the selection on their website.
Olde School Coffee
3515 Cobble Hill Rd, Cobble Hill
250.743.6908
Mon – Fri: 6am – 5pm
Sat: 7am – 5pm
Sun: 8am – 4pm
Shawnigan Coffee
Shawnigan Coffee is known for delicious coffee and homemade chocolate, now that's a good combo. Their staff is always friendly and welcoming. In their shop you will find local items for sale as well which is always fun to browse. If you need a little more than chocolate to fill you, this is the right place because there is an adjoining bakery with to die for strudels, cinnamon buns and danishes. This coffee shop is totally worth the detour and the chocolate, baked goods or local items make the perfect house warming gift.
Shawnigan Coffee
1761 Shawnigan Lake-Mill Bay Rd, Shawnigan Lake
250.733.2245
Mon – Fri: 7:30am – 3om
Sat: 8am – 3pm
Closed Sunday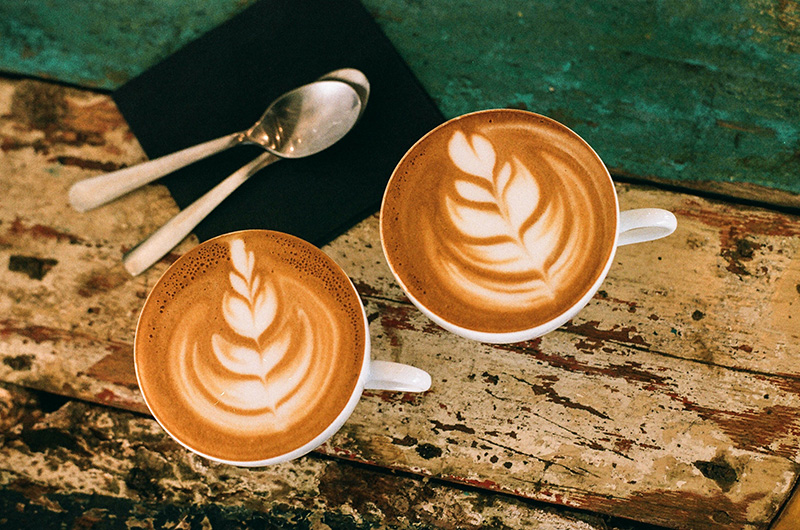 Mill Bay
Rusticana Coffee
Rusticana Coffee has a wide selection of vegan and gluten free options, alternative milks and unique teas. People rave about their breakfast sandwiches (which can be made with gluten free buns) and quesadillas. Here you will find indoor and outdoor seating on a cute deck. Check out their Google reviews which express some of customers favorite menu options.
Rusticana Coffee
803 Deloume Rd, Mill Bay
250.743.6940
Mon – Sat: 7am – 4pm
Bru-Go Coffee
You may recognize Bru-Go's as the adorable little shop in the middle of the Mill Bay Shopping Center parking lot! Well, they have moved a whopping 23 steps to a beautiful new space with plenty of seating for you to enjoy your coffee. They offer the classic coffee and espresso-based drinks as well as some unique drinks. Such as their Italian soda and lemonade, turmeric latte, and an assortment of specialty teas. Check out their Facebook page for more information.
Bru-Go's Coffee
2720 Mill Bay Rd #120, Mill Bay
250.929.2739
Mon – Sat: 8am – 5pm
Sun: 9am – 4pm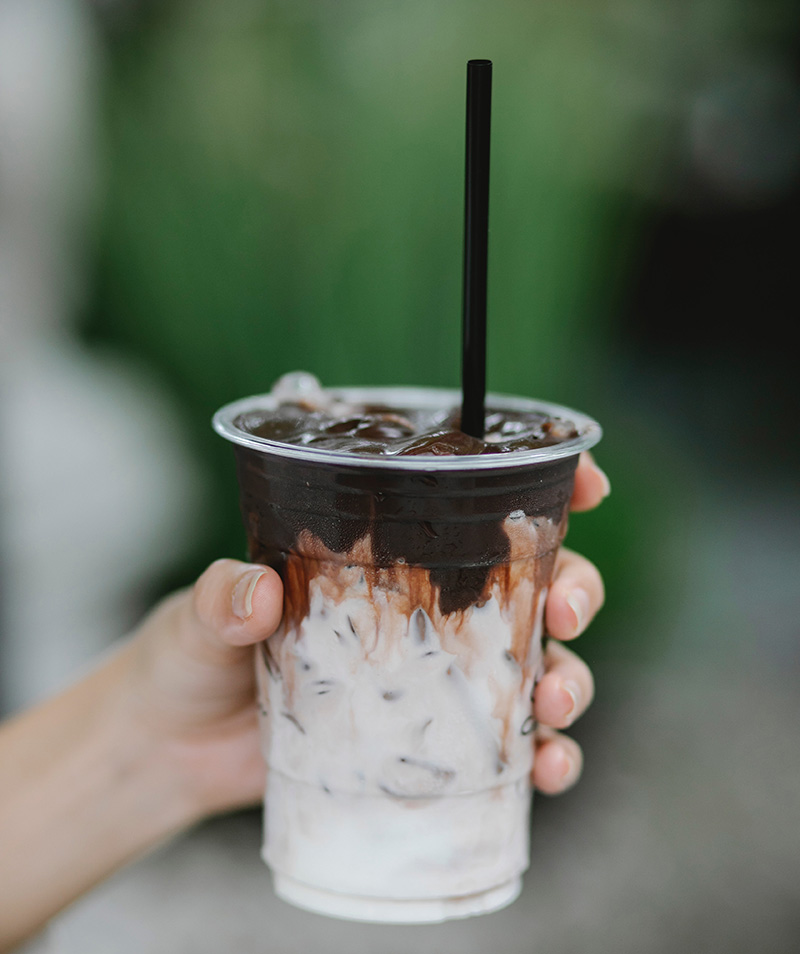 Sooke
The Stick in The Mud Coffee House
This unique coffee shop is a roastery, café and bakery located in the heart of Sooke. Items on their menu consist of espresso drinks, bagged and loose-leaf teas, drip coffee and other delicious drinks offered depending on the season. They have a variety of baked goods such as muffins, cookies and loafs, soups, sandwiches, breakfast sandwiches and popular focaccia all baked in their Treat Lab. The Stick in The Mud roasts their own coffee and can be bought so you can make a delicious cup in the comfort of your own home. Check out their website for more information.

The Stick in The Mud Coffee House
6715 Eustace Rd, Sooke
250.642.5635
Mon – Sat: 7:30am – 3:30pm
Closed Sunday
Road to Sooke Café
This café is located in the Prestige Hotel in Sooke and has not only coffee and baked goods but also full-on meals! Many happy customers recommend the breakfast and have commented on the skill of April who is the chef. The owners are always friendly and contribute to a pleasant experience. Check out their google reviews which have some mouth-watering photos.
Road to Sooke Café
6929 W Coast Rd, Sooke
250.642.0805
Wed – Sun: 7am – 3pm
Closed Mon & Tues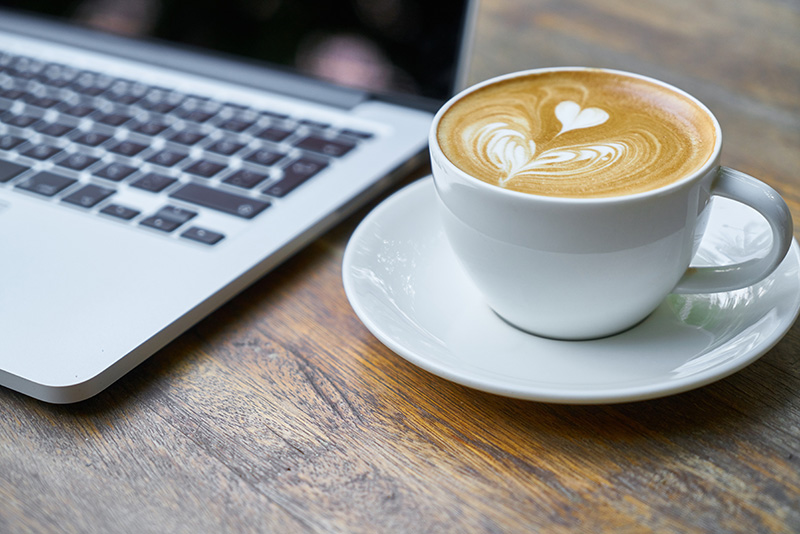 Shirley Delicious
This is a popular spot to visit if you're headed to Port Renfrew or Sooke. With 4.8 star rating and 1,114 Google reviews, this place clearly is doing something right. Shirley Delicious has a huge selection of drinks, baked goods, and food options, including gluten free and vegan options. Not to mention their adorable seating in the back on the deck. It will leave you feeling like you're in an enchanted forest. Their online reviews are a must read and truly emphasize their success.
Shirley Delicious
2794 Sheringham Point Rd, Shirley
778.528.2888
Open Mon – Sun: 8am – 3pm
The Nest Café
Located just off the popular Galloping Goose biking and walking trail in Victoria BC, is The Nest Café. This is a popular pit stop for cyclists, as it offers refreshing drinks and snacks. What makes The Nest Café unique is they have a bike maintenance station, with tools, pumps and more, so you can make sure your bike is prepared for the journey ahead. But it does not stop there, your furry friend is also welcome. With water bowls available and doggy clips so you can rest assured Fido will stay put while you order your drink and snack. Check out their well designed website which has more information.
The Nest Café
2311 Watkiss Way #102, Victoria
778.430.6378
Mon – Sun: 8:30 am – 4:30am
Campbell River
The Island Grind Coffee & Tea
This adorable coffee shop is a must stop whether you're from the area or driving through. The minor detour off the highway is well worth it. With delicious coffee supplied by Discovery Coffee, a partnership with Stonehouse teas that provides delicious, iced teas and fresh pasteries and backed goos supplied by Dave's Bakery. Furthermore, their indoor seating features beautiful handmade tables by a local artist. Check out their beautiful website to learn more.
The Island Grind
801 Hilchey Rd #104-105, Campbell River
778.418.4401
Mon - Fri: 7am – 5pm
Sat – Sun: 8am – 5pm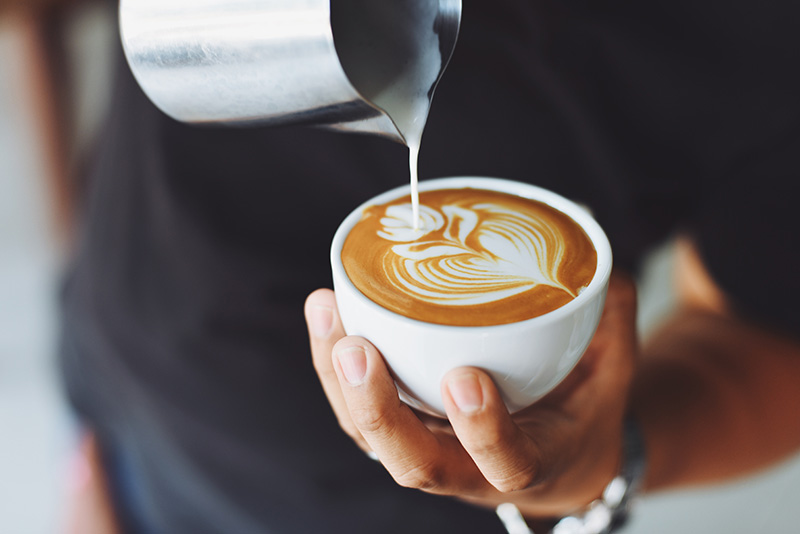 Courtenay/Comox
The Mill Coffee
This shop is located in downtown Comox and has delicious coffee, pastries and sandwiches. The staff are always friendly which creates an inviting atmosphere. There is indoor and outdoor seating available as well some of cute shops just down the way.
The Mill Coffee
1761 C Comox Ave, Comox
250.890.9015
Mon – Fri: 7am – 9pm
Sat – Sun: 8am – 6pm
Milano Coffee
Milano Coffee is rooted in Italian artisanship. Milano is a proud supporter of fair trade and certified organic coffee. Their coffee shop is unique in that they blend multiple coffees together to create the perfect balance in every press, pour and drip. You can purchase bags of Milano's beans online or in store. They even have a subscription for light, medium dark roasts and espresso. You can choose from bi-weekly or monthly subscriptions and your beans are mailed within 48 hours of being roasted! Check out their website which has a rich company history.
Milano Coffee
2525 Mission Rd #1130, Courtenay
250.871.6688
Sun - Fri: 7am – 5pm
Sat: 8am – 5pm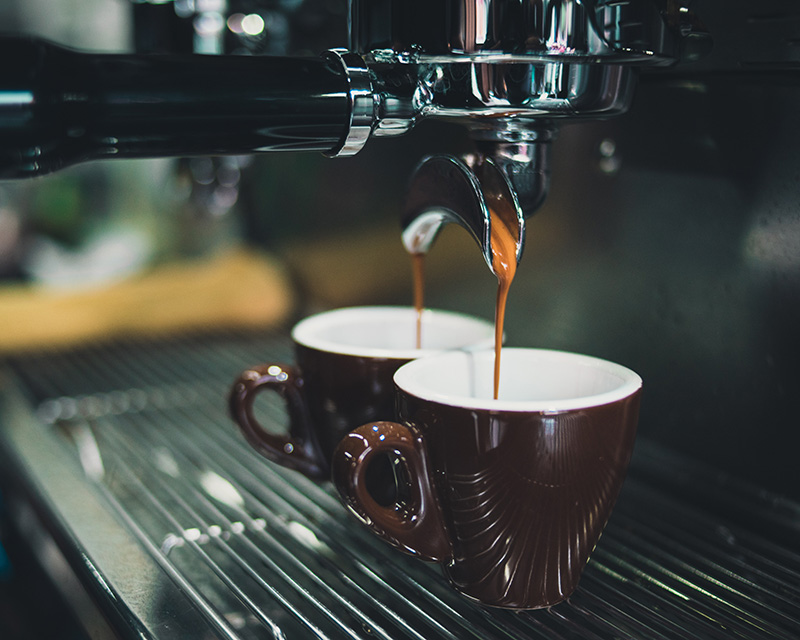 Qualicum Beach/Coombs
French Press Coffee Roasters
French Press Coffee Roasters is a gold medal winner in the largest coffee roasting competition in the world; Golden Bean North America. The bean that took gold is their Ethiopia Kilenso Moconissa. French Press roasts their own coffee, makes their hot chocolate with local milk and Belgian chocolate, offer a variety of teas suppled by Westholme Tea and make fresh baked goods daily. Check out their website that has an abundance of information and to place your online order!
French Press Coffee Roasters
692 Primrose St, Qualicum Beach
250.594.4477
Mon – Sat: 8am – 3pm
Closed Sundays
Creekmore's Coffee
This family run business produces small batch organic certified beans. Their website has all their roasts/blends available and describes their bodies. Creekmore also offers delicious baked goods and sandwiches. They are convenetiley located between Port Alberni, Qualicum Beach and Coombs, so next time you're driving by grab a coffee and snack to go. Check out their google reviews which have hundreds of impressed customers.
Creekmore's Coffee
2701 Alberni Hwy, Coombs
250.752.5343
Mon – Sat: 8am – 4pm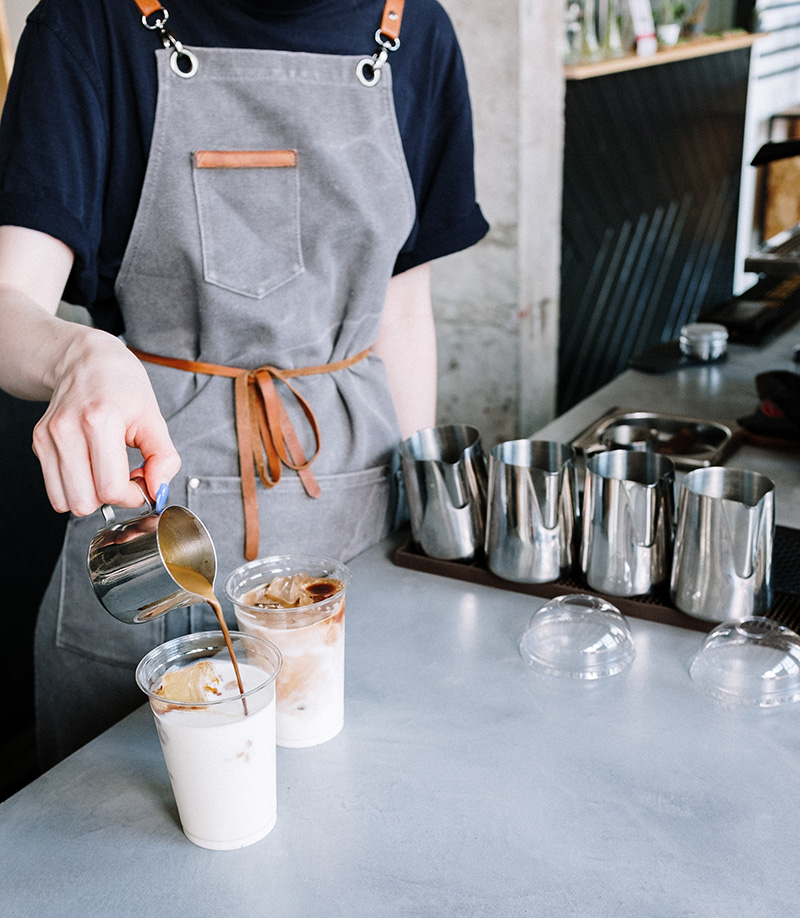 Port Alberni
Burde Beans Coffee
Burde Beans Coffee is tucked away in an Upper Central Alberni neighbourhood. They offer classic coffee and espresso-based drinks as well as fancy drinks such as their 'After Eight' which has espresso, peppermint tea, steamed milk and chocolate, or their 'Bullet Proof' containing espresso, grass-fed butter, coconut oil, hot water and heavy cream... talk about unique! If you're looking for a place to host your next event, or show off some new songs you've been working on, Burde Beans is the perfect place. Check out their website which has more related information.
Burde Beans Coffee
4102 Burde St, Port Alberni
250.723.8331
Sat – Thu: 10am – 5pm
Fri: 10am – 7pm
Nanaimo
Drip Coffee | Social
Drip Coffee | Social is located near the BC Ferries, Departure Bay Ferry Terminal and across the street from the beach. They serve Drumroaster Coffee which is roasted in Cobble Hill (some of my favorite coffee). The views are absolutely beautiful from their indoor and outdoor seating. Especially around sunset. Drip also has a variety of baked goods to choose from. Check out their website where you can place an online order for pick up!
Drip Coffee | Social
2835 Departure Bay Rd, Nanaimo
250.585.7747
Mon – Sun: 8am – 5pm
White Rabbit Coffee Co.
White Rabbit Coffee Co. is the perfect place to grab a coffee and snack on your way for an adventure, to get some studying done or read your favorite book. The owners have worked hard to create a relaxing and inviting ambiance. White rabbit supports local artists by having rotating displays of art, whether it be photography, graphic design, or paintings. So if you are interested in having your work displayed, send them an email to [email protected]. White Rabbit also hosts events, such as open mic night, art shows, book clubs, you name it. Plus they can accommodate any catering needs with a little heads up. Check out their website for more info!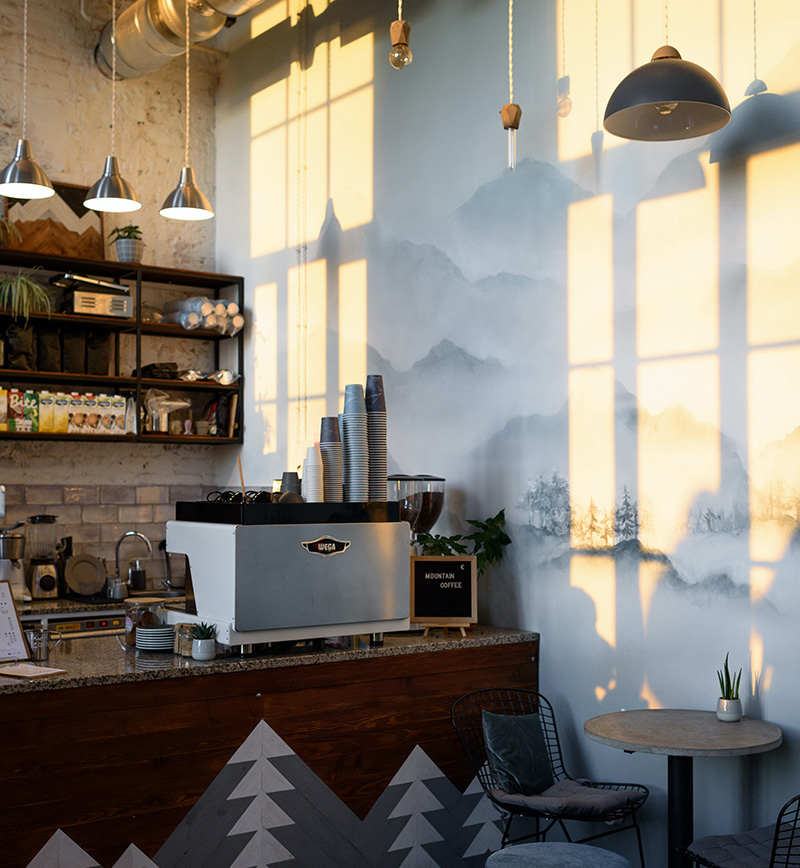 White Rabbit Coffee Co.
321 Selby St A, Nanaimo
Mon – Sat: 9am – 5pm
Closed Sundays
Ladysmith
Coffee Shack
Coffee Shack is a must stop if you are ever in the area. They offer espresso-based drinks, healthy and freshly made food as well as vegan options. The shop itself has a modern, west coast feel to it. Many customer reviews mention their delicous scones bake to perfection, gelato and even house made nut milk! They have plenty of outdoor seating to accommodate you during covid. If you are in the area or passing tthrough stop by and see why this is a popular local hang out.
Coffee Shack
10862 Chemainus Rd, Ladysmith
250.688.1777
Mon – Sun: 9am – 5pm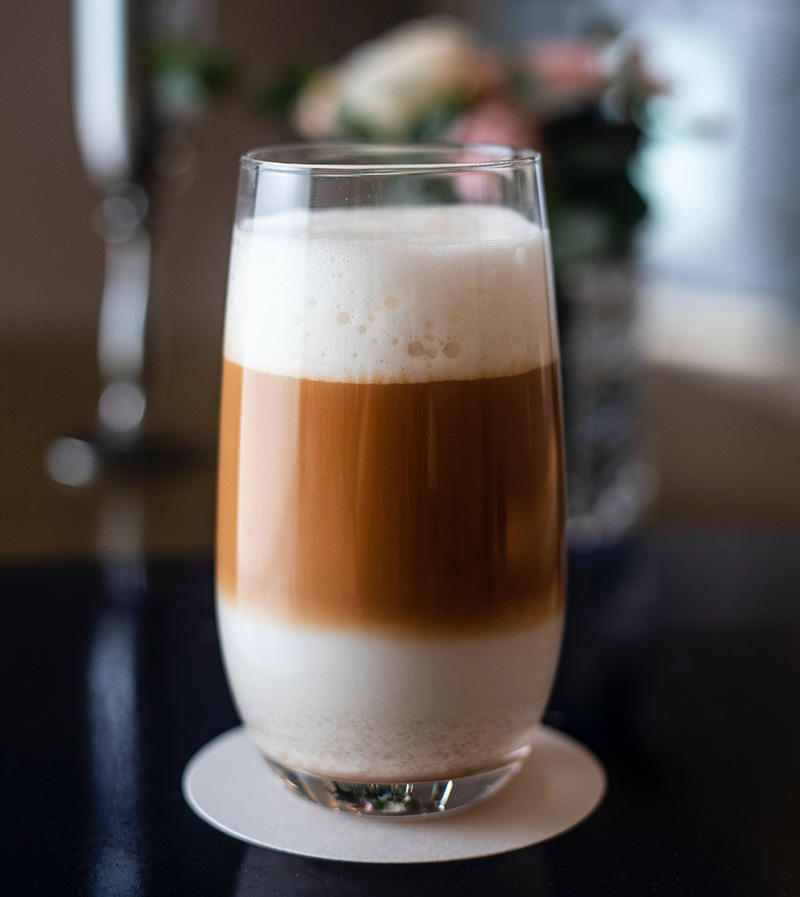 Duncan
Coffee on the Moon
Coffee on the Moon is a fan favorite in downtown Duncan. They have a wide selection of your favorite drinks, tasty snack and lunch options. Coffee on the Moon supports local artists by providing a place for artists to display their works. Check out their website for more info on how to get your work displayed. Bonus, Coffee on the Moon also has a location in the Duncan Aquatic Center!
Coffee on the Moon
501 Canada Ave, Duncan
250.715.1540
Mon – Fri: 7:30am – 4:30pm
Sat: 8am – 4:30pm
Sun: 9am – 3pm
Tin Cup Espresso Bar
Tin Cup Espresso Bar was first opened back in 2012 by Kuldip & Nadine Badyal. Their goal was to create an elegant yet rustic space for you to enjoy a cup of coffee, visit with friends or read your favorite book. According to their google reviews, they have achieved just that. The Tin Cup Espresso Bar offers your classic coffee and espresso drinks, as well as a fan favorite, their Chai Latte. Stop on by next time you find yourself in Duncan.
Tin Cup Espresso Bar
277 Canada Ave, Duncan
250.597.3738
Mon – Sun: 7am – 5pm