7 Reasons to Choose the Qualicum Beach Real Estate Market
Posted by Chris Fenton on Tuesday, February 22, 2022 at 11:00 AM
By Chris Fenton / February 22, 2022
Comment
Qualicum Beach is a tranquil little town located around halfway up Vancouver Island, on the Strait of Georgia. The core area of Qualicum Beach offers views over the beautiful Gulf Islands. Fantastic scenery, including old-growth forests and the Vancouver Island Mountain Ranges, provide truly inspiring surroundings to those who choose to call Qualicum Beach home.
The Qualicum Beach area is an attractive real estate market for several reasons. It provides resort-like beach access while remaining a liveable little town filled with recreational opportunities, health facilities, and shopping centres. It's far enough from large city centres to offer a quiet and laid-back environment—great both for retirees and for young families. It's also near enough to the cities of Nanaimo and Courtenay to make access to more extensive shopping and entertainment options within reach.
Like many parts of Vancouver Island, the real estate market in Qualicum Beach is competitive. In the area of Qualicum Beach near the beach itself, you'll find beautiful one and two-bedroom condo units perfect homes for those looking to downsize. These properties also offer real estate investors great potential as vacation rental properties. If you've wanted to invest in real estate but don't know where to being, check out our blog on Real Estate Investment for Beginners.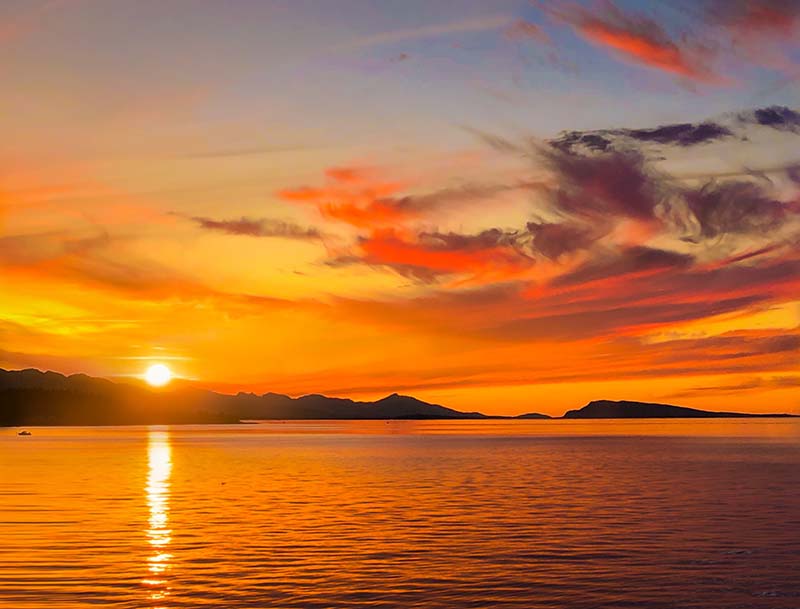 Qualicum Beach's more northern area has more rural properties on large lots of land, offering plenty of space for families and hobbyists. Significant new developments are underway, and more are in the planning stages, offering up options in terms of newly-built condos and family homes to home buyers.
Qualicum Beach has exciting real estate investment opportunities. Whether you're looking for a family home, a vacation property, an income-producing rental, a place to retire, or other investment options. Let's take a look at seven of the main reasons why Qualicum Beach is an excellent market for real estate investors.
Qualicum Beach is a Vacation Hot Spot
There's something to be said for living in a community that people visit on vacation from all over. The ability to live permanently amidst views that some people are only lucky enough to visit for brief durations is one of the joys of living along this stretch of Vancouver Island.
There are substantial benefits to living in a popular vacation destination town. Those looking to generate income with vacation rental properties or longer-term rental units are more likely to find strong demand for these property rentals. Particularly during the summer months, the ideal oceanfront location of many vacation properties in Qualicum Beach means they can generate far more revenue than properties in towns and cities that don't have the same level of ocean access.
Another benefit of Qualicum Beach as a location for a vacation rental property is that its tourism market isn't as seasonal as some other destinations. That's because the town's genuinely mild weather makes year-round vacations possible. Particularly for visitors interested in beachcombing, hiking, and golfing, these activities are possible throughout the year. Of course, summer is still by far the most popular season for tourism in Qualicum Beach, and the town's population temporarily doubles during those months.
Because of Qualicum Beach's idyllic oceanfront location and popularity, real estate can be considerably less affordable than other communities on Vancouver Island. However, the strong potential for vacation rentals within Qualicum Beach's homes increases their affordability, offering a more accessible entry point to this attractive Vancouver Island real estate market.
Qualicum Beach Offers a High Standard of Living
There's a reason why Qualicum Beach is a growing community, attracting not only retirees but also young people looking for a new place to call home—it offers a genuinely high standard of life. The combination of its near-perfect weather, the natural beauty surrounding it, and convenient amenities make it possible to live an enviable lifestyle without much effort in Qualicum Beach.
One aspect of Qualicum Beach that contributes to its high standard of living is the easy transportation for a beachfront town. The scenic highway that passes right through Qualicum Beach—the Old Island Highway—connects it easily to nearby island communities and the Lower Mainland by way of BC Ferries. It can be accessed by air through its tiny airport that has flights to and from Vancouver.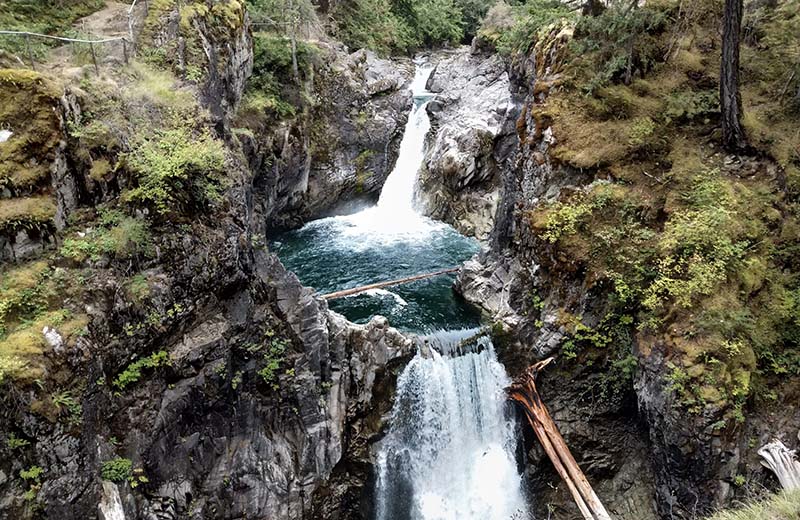 Residents of Qualicum Beach are known for being affluent, and the average household income in the town is well above the provincial average. People living in Qualicum Beach have no shortage of options for recreation options that contribute to a healthy lifestyle.
There's a culture in the town of enjoying fresh, local produce. At the weekly Farmers Market, locals have access to locally grown fruit and vegetables. One example of how Qualicum Beach encourages residents to live a healthy lifestyle is the Food Nutrition Coupon program, which gives families $15 per week to spend on fresh food at the market. The program also includes cooking classes and assisting residents in creating nutritious meals using local ingredients.
Qualicum Beach Gets Some of the Country's Best Weather
Vancouver Island as a whole is known for having some of the mildest weather conditions in the country, and Qualicum Beach, in particular, is known for being warm for most of the year. In few other Canadian communities, will you see people golfing in the middle of winter, but in Qualicum Beach, it's a common enough sight.
Summers in Qualicum Beach are dry and sunny but rarely uncomfortably hot, with average temperatures that tend to hover in the low twenties in the middle of the day and the low teens at night. The area is primarily shadowed from excessive rain by the Vancouver Island Ranges. Furthermore, no part of Canada averages extended periods between freezing temperatures, which is great for local farmers and agriculturalists.
Each year in Qualicum Beach, there are more than two thousand hours of sunshine on average. Temperatures are truly mild and comparable to a city like San Francisco. With an average temperature in the mid-teens, making sweater weather most common in the winter, residents rarely need to put on a big coat.
Qualicum Beach Has a Robust Economy
With an average age of over 65, Qualicum Beach has the oldest population of any community in Canada. It has a reputation for being a retirement community, with excellent amenities and services tailored towards those of advanced ages. For this reason, young professionals with specialized training aren't likely to find nearly as many job opportunities as in larger population centres like Nanaimo and Victoria.
However, though many people in Qualicum Beach are retired, the town has a solid local jobs market. In some ways, these facts are interrelated. After all, Qualicum Beach residents out of the workforce still require goods and services, creating a need for workers in the service and hospitality industries. In particular, those with training as nurses and care aids may find strong job prospects in Qualicum Beach.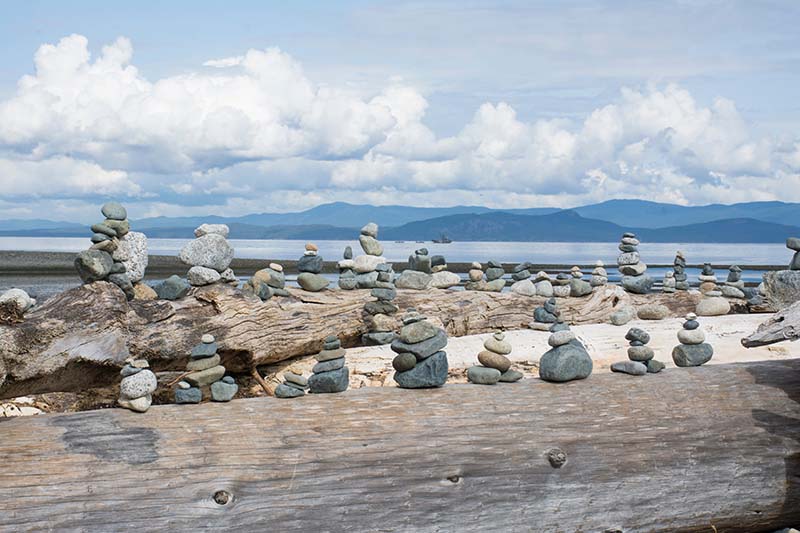 Additionally, considerable construction projects are being undertaken in the Qualicum Beach area. Those with carpentry training and other trades associated with construction will likely find solid employment opportunities in the Qualicum Beach area. Because of the town's robust tourism industry, hospitality jobs, including restaurants and hotels, are also available.
Qualicum Beach and Parkville are often mentioned alongside each other, and it's only around a ten-minute drive between the two communities. In Qualicum Beach, there are firm zoning and development rules to protect the town's status as a quiet and relaxing place to live. Still, there are even more employment opportunities in Parksville, and it's common for Qualicum Beach residents to work in this nearby city.
Qualicum Beach is a Paradise for Seniors
As a whole, British Columbia is a destination that many Canadians think of when it comes time to plan their retirement. Some studies have shown that around fifteen percent of working-age Canadians are reported to have their eye on moving to BC for retirement.
Because of how real estate investments have appreciated in many communities across Vancouver Island over the past years, many seniors find themselves in a strong position real estate investment-wise. While many senior real estate investors focus on the Victoria area, heading up the island offers larger properties in quieter neighbourhoods than a big city can provide.
As mentioned, Qualicum Beach has a population composed mainly of people who are past their working years and has developed a reputation for being one of the province's top retirement destinations. The Qualicum Beach and Area Newcomers' Club organizes and facilitates activities for recent transplants to the area looking to join the active community of retirees.
Qualicum Beach's older population can make it feel a bit too sleepy for some, who seek communities with more entertainment options that are open later and cater to youthful tastes. But those looking for peace and tranquillity will be impressed by how easy it is to relax and enjoy the sense of community in Qualicum Beach.
In Qualicum Beach, the most populous age range is between sixty-five and seventy, and well over half of the town's residents are over sixty-five years old. As Qualicum Beach's population continues to age, it is predicted that opportunities in the health and social service sectors will significantly grow. These sectors are expected to double in the next couple of decades.
As an attractive retirement destination, it's no surprise that Qualicum Beach is home to a wealth of options when it comes to retirement communities. Popular options include Berwick on the Lake Retirement Residence, The Gardens at Qualicum Beach, Village Green Estates, and Hawthorne Place. Each offers its own alluring mix of scenic views, convenient programs and services, and a sense of community.
Berwick Qualicum Beach was built a few years back and features a convenient location in the middle of town. Berwick is a known name on Vancouver Island, with five other retirement community locations across the island and one in the interior that provides places for seniors to gather, surrounded by friends and family.
Opportunities for Adventure surround Qualicum Beach
Between Qualicum Beach and Parksville, it's impossible to run out of opportunities to enjoy nature and explore Vancouver Island wilderness. For that reason, real estate investors looking for vacation properties may find truly enticing opportunities for properties that allow access to year-round outdoor fun.
Of course, Qualicum Beach itself—the stretch of coastline the town is named after—is the hub of outdoor recreation in the area. It has four kilometres of beautiful sandy shores and a winding paved walkway that's a popular spot for jogging, biking, dog walking, and more. Near this walkway, play areas for kids and picnic spots make it a perfect location for sunny summer days.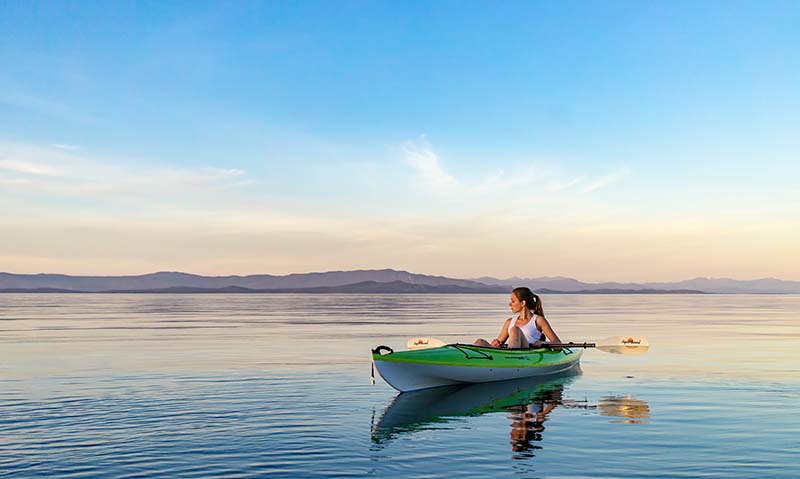 Qualicum Beach and other oceanfront spots are popular launching points for aquatic activities, including boating, kayaking, and fishing. It's common to see impressive marine life in this stretch of the Strait of Georgia, and whales are known to swim into these waters to snack on the ample Pacific herring. For this reason, whale-watching expeditions from Qualicum Beach are popular.
Some of Vancouver Island's top outdoor attractions—such as the Horne Lake Caves, Rathtrevor Beach, and Englishman River Falls Provincial Park—are within easy reach of Qualicum Beach. The area also boasts of an impressive network of hiking and biking trails. Qualicum Beach is well regarded for its golfing too. It offers golf enthusiasts the opportunity to tee off surrounded by ocean and mountain views. Check out our blog on Golf Courses on Vancouver Island.
One of the most ideal aspects of Qualicum Beach as a vacation property location is its appeal year-round, and some of its outdoor attractions are enhanced by winter weather. For instance, strolling amidst the centuries-old trees in the Qualicum Beach Heritage Forest is particularly special on misty winter days. Beachcombing on Qualicum Beach may be more beautiful than ever on those foggy winter mornings.
For this reason, real estate investors may find that Qualicum Beach stacks up well in comparison to vacation destinations that are more rigidly seasonal. Summertime is still the most popular time of year in Qualicum Beach, but owners of vacation rental properties may find impressive demand from vacationers during the spring, fall, and even winter months as well.
Qualicum Beach is Fairly Affordable
It's widely known that real estate markets across many communities on Vancouver Island have surged in demand and price over the past few years, and Qualicum Beach is no exception. While efforts are being made to increase the supply to meet the demand, the simple fact is that Qualicum Beach is a highly desirable market, attracting buyers from all over.
Still, living affordability in Qualicum Beach is below both provincial and federal averages. And while real estate costs may price out some first-time buyers looking to enter the Vancouver Island real estate market, townhouse and condo properties offer ocean and mountain views at reasonable price tags, which cannot be said of some other beachfront communities.
Compared to British Columbia's most unaffordable real estate markets—including the areas in and around Vancouver and Victoria—the price of real estate in Qualicum Beach is within reach. Qualicum Beach is well-connected to Vancouver by plane and ferry, making it a popular vacation rental spot for real estate investors from the Lower Mainland who are looking for their own slice of laid-back Vancouver Island living.
The increasing feasibility of telework has opened up the possibility of working from home while living in smaller towns and villages on Vancouver Island. Offering young professionals the ability to earn incomes on pace with living in major cities while allowing them the benefits of living in smaller towns surrounded by green space. Qualicum Beach is an excellent example of a community that could serve as a bedroom community for those who aren't reliant on its relatively humble local economy.