5 Reasons to Choose the Esquimalt Real Estate Market
Posted by Chris Fenton on Monday, January 2, 2023 at 10:00 AM
By Chris Fenton / January 2, 2023
Comment
Esquimalt is a municipality located right on the southernmost tip of Vancouver Island, just minutes from Victoria. Esquimalt's location right along the shoreline means it's home to a quaint, nautical atmosphere and some of the most stunning views you'll find in BC's Capital Region. Though it hasn't always been considered one of the region's most desirable municipalities, steady development and improvement in recent decades have made it an increasingly attractive site for real estate investment. Esquimalt is a walkable community with a small-town feeling and properties that come in a range of styles that could interest real estate investors with a wide range of budgets and goals.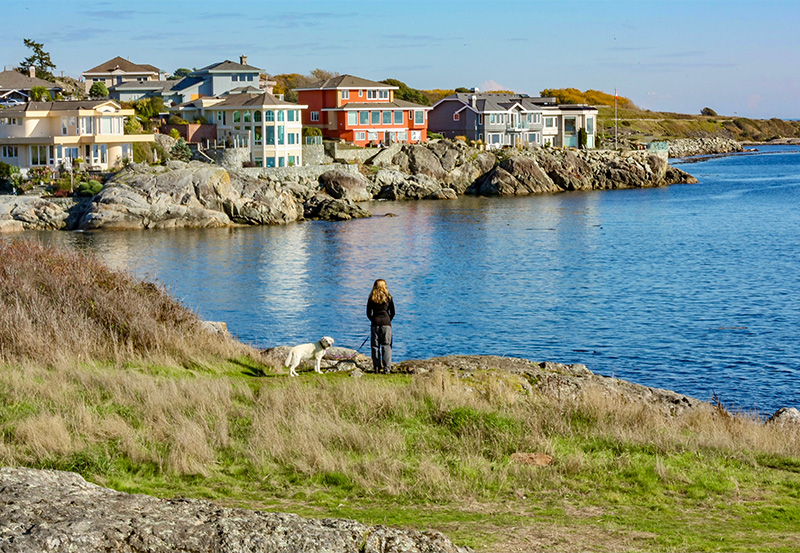 Esquimalt is undergoing development aimed toward sustainable growth and opportunities for residents and the preservation and development of appealing public spaces. Esquimalt is committed to providing residents with beautiful outdoor spaces and heritage conservation that preserves the area's unique shipbuilding past.
Esquimalt is a central and well-connected municipality that provides easy ways for residents to quickly access Victoria and other nearby communities. Like Victoria, it's known for having a more mild climate than nearly anywhere else in the country, making it a popular destination for retirees and real estate investors with deep pockets looking for a home or investment property amidst some of the most idyllic imaginable surroundings.
With a supply of promising real estate investment opportunities, whether it's impressive luxurious waterfront properties, charming older single-family homes, or affordable compact condo and townhouse developments, Esquimalt is becoming more intriguing for investors. Let's take a closer look at why Esquimalt is a strong choice for investors considering investing in real estate on Vancouver Island.
Top 5 Reasons Why Esquimalt BC is a Desirable Real Estate Market
Unbelievable Oceanfrom Location
One of the main draws that Esquimalt offers is a seaside setting that is particularly beautiful at sunrise and sunset. Those interested in boating and other nautical activities can make the most of being nestled right into a harbour area, and Esquimalt is also home to dining establishments like Spinnakers Gastro Brewpub, which is located right along the shoreline, offering excellent views while you grab a drink or a bite to eat.
Esquimalt is a peaceful and safe area of the Greater Victoria region. Its location makes it a desirable place to call home, whether you're a young professional, a retiree, or a growing family. The abundance of nearby recreational opportunities and healthcare facilities makes it an excellent option for those whose working days are behind them. Esquimalt's harbourfront location also makes it a strong choice for real estate investors looking for vacation properties, whether for themselves or as income-producing rentals.
Esquimalt's community character is described as "outdoor urbanite," which reflects the fact that it is located within proximity to concentrated urban areas but possesses a degree of green space and tranquillity that reflects the character of smaller island communities. Esquimalt is considered a reasonably walkable community and scores high on bike-ability. The paved Galloping Goose Trail provides an appealing pathway for bike commuters and recreational riders who can enjoy the sixty kilometres of well-maintained trailway. The Galloping Goose used to be a railway line and can be ridden from Esquimalt all the way to Sooke—a delightful two-hour ride.
Getting to Esquimalt from Victoria includes crossing the stylish new Johnson Street Bridge, constructed in 2018 and accommodating drivers, cyclists, and pedestrians. Beyond being the link between Esquimalt and communities on the other side of the Upper Harbour, the Johnson Street Bridge can be a great place to take in a beautiful harbour sunset. Meanwhile, the Gorge Bridge connects Esquimalt to nearby Saanich.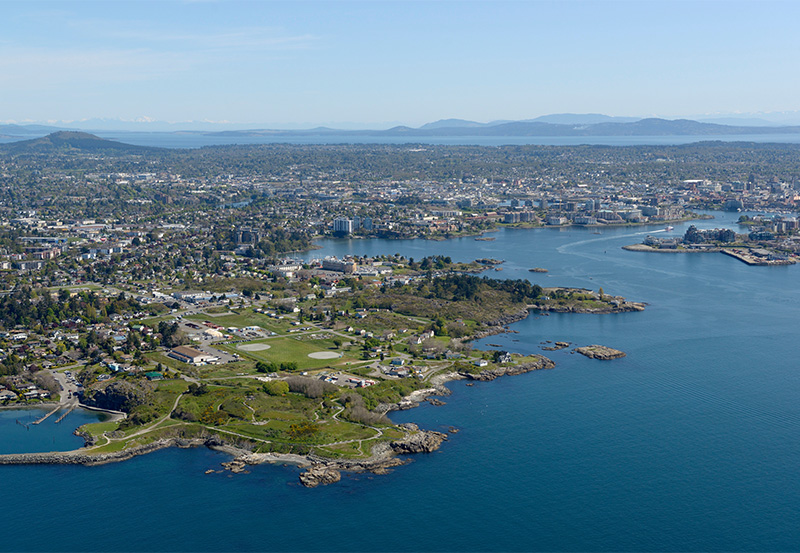 Esquimalt's unique community character is bolstered by the presence of CFB Esquimalt—the naval base for Canada's pacific fleet. CFB Esquimalt was established in 1860, along with the gold rush in the mid-1800s, it has been the main driver of population growth. CFB Esquimalt is the community's primary employer, as more than four thousand military personnel are employed at the base and nearly three thousand civilian workers.
Throughout Esquimalt's history, a lack of transportation infrastructure between the community and surrounding areas led to slower development than in other nearby cities, contributing to Esquimalt's relatively laid-back atmosphere. At the same time, Esquimalt's robust transportation options make commuting to Victoria and other nearby communities a breeze these days, offering residents the ability to live amidst a peaceful atmosphere while maintaining access to Vancouver Island's largest employment centre.
Relative Affordability
Across real estate markets in British Columbia, there has been a pullback in property values in 2022 following years of historic price increases that were partially driven by the unique circumstances of the COVID pandemic. While there has been a slowdown in the Victoria real estate market in 2022, the benchmark price for a single-family home still sits at $1 433 000, compared to $1 204 900 in July of 2021. These prices may be unfeasible for real estate investors with modest budgets and those looking to enter the Capital Region's real estate market, leading investors towards more compact property styles and communities well outside the most expensive central regions.
However, Esquimalt has historically been a relatively inexpensive alternative to Victoria, and its proximity to the provincial capital means Esquimalt residents sacrifice very little when it comes to being centrally located and enjoying convenient amenities. In the past, Esquimalt had a reputation for being less safe and less scenic than Victoria, but ongoing community improvement initiatives and the construction of appealing new housing developments have contributed to a situation where Esquimalt can offer improved value over surrounding communities.
In Esquimalt, the benchmark price of a detached single-family property sits at $975 600—well beneath the average price in the city of Victoria. One relatively affordable style of home that's common in Esquimalt is quaint single-family homes built in the 1940s and 1950s that have undergone significant upgrades to offer a mix of modern design and charming older design choices. These properties tend to have large yards that offer impressive privacy and garden areas, often on quiet streets with cul-de-sacs.
For those interested in newly-built properties in Esquimalt, there are brand new developments like The Vista—a retirement community that offers a resort-style standard of living near the marina, with units that offer beautiful ocean views. Westbay Quay is another recently-built development in Esquimalt that is composed of three separate buildings linked by scenic walkways and green spaces where an active and relaxing pace of life is within reach. Esquimalt is also known for its supply of well-preserved heritage homes and mid-century properties in unique styles.
Growing Business Opportunities
Given its location between two major harbours, Esquimalt is well-situated for continued urban development. In addition to the Canadian Forces Base, SEASPAN is another significant employer in the area, located in Esquimalt. Together, employment related to these harbours contributed nearly two billion dollars to the local GDP in 2019 and provided the region with some 15 000 jobs.
Esquimalt is home to jobs related to tourism, agriculture, and the ocean and marine fields, giving it a diverse local economy. The Esquimalt Graving Dock is the biggest non-military ship repair site on the continent's west coast. With a population of around 18 000 residents, Esquimalt is home to over six hundred businesses, which is a high ratio that indicates an entrepreneurial spirit and plenty of local opportunities. Esquimalt has progressive and growth-minded leadership that is motivated toward adding more opportunities and amenities to the community while respecting Esquimalt's sensitive ecosystem.
The Esquimalt First Nation is located on the north shore of the Esquimalt Harbour. This Nation—which belongs to the Coast Salish language group—is composed of descendants of the Lekwungen People who have inhabited the Esquimalt area for thousands of years. The Esquimalt Nation has developable land for housing and economic development and is focused on economic development that benefits its community.
Proximity to Victoria and Other Appealing Areas
Esquimalt is a distinct municipality with a city council, police force, and unique sense of community character. At the same time, it is bordered by Victoria West, View Royal, and the Gorge Tillicum Area. The combination of a relatively quiet community with the jobs, nightlife, and amenities of Downtown Victoria nearby is a perk of life in Esquimalt.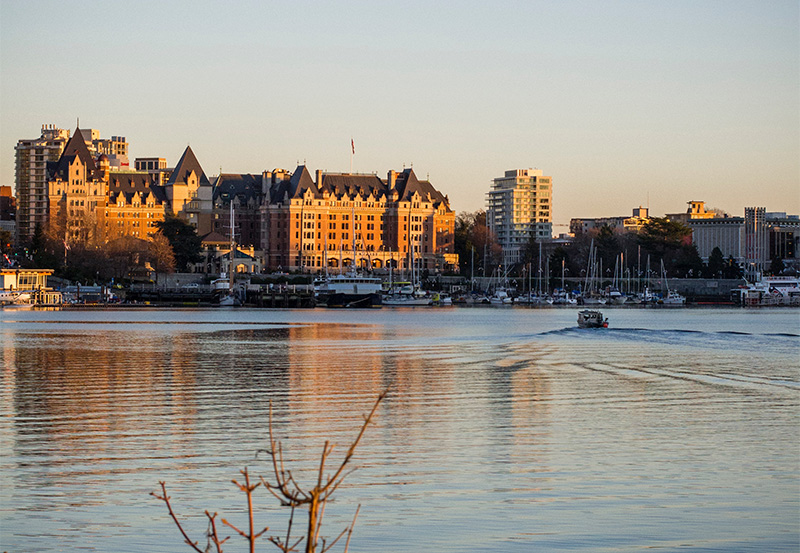 Though Victoria is undoubtedly the best-known city in the region, the area's largest municipality is Saanich, with around 120 000 residents. The drive from Esquimalt to Saanich is only around ten minutes by car, making use of the Gorge Bridge. A recent enhancement to the Gorge Bridge has made crossing the bridge by foot easier and safer for pedestrians. Esquimalt also recently launched a transportation plan that has been engaging with the public to find ways of making infrastructure safer and more beneficial to cyclists and walkers.
Excellent Public Parks
Esquimalt has abundant green space, making it an appealing area for those pursuing an active lifestyle. The mental health benefits of living near green spaces have been well documented. Whether you're looking for a new place to call home or considering sites for future real estate investment, Esquimalt has several public park areas that are both beautiful and beneficial. These parks also add to their desirability as a site for real estate investment.
For those with young families, Esquimalt Adventure Park is an outdoor public park home to playgrounds for children, a splash pad, outdoor exercise facilities, and picnic areas. Esquimalt Gorge Park is one of the larger parks in the area and features gentle hilly areas, beautiful old trees, perennial borders, a rose garden, and plenty of wildfowl and plants native to the region. Benches and picnic tables scattered around the park make it an excellent destination for some quiet relaxation amidst nature. The Gorge Waterway Nature House is also located at the park and is a great place for visitors and students to learn about the specific ecology of the Gorge Waterway.
Highrock Park is the highest elevation point in Esquimalt and offers stunning 360 views of the surrounding area—Downtown Victoria, the Olympic Mountains, the Sooke Hills, and more. It's a popular park for birdwatching, and there are several footpaths from surrounding neighbourhoods where the park can be accessed. Rockcrest Park is one of the smaller parks in Esquimalt and is home to beautiful wildflowers nestled between mature Douglas fir and Garry oak trees. This rocky, hilly park is bordered by residential properties and offers an appealing hilly area for a quick walk, particularly for those who own dogs.
Other popular parks in Esquimalt that appeal to walkers, bird watchers, dog walkers, and those who enjoy taking in the wide variety of natural flora include Saxe Point, Memorial Park, and Macaulay Point. Meanwhile, seaside parks along the Gorge Waterway, including the Arm Street Promenade and the West Bay Walkway, are among the best ways to take in Esquimalt's seaside areas.
While time spent amidst green space is widely considered good for the soul, scenic neighbourhoods that offer readily-available public park areas can also be an attractive selling point for real estate investments. Six neighbourhoods comprise the municipality of Esquimalt: Rockheights, Old Esquimalt, Saxe Point, Gorge Vale, Kinsmen Park, and the neighbourhood referred to simply as Esquimalt. In particular, Saxe Point and Rock Heights are considered the municipality's most attractive neighbourhoods for the balance they strike between excellent recreational facilities, parks and seaside areas, and beautiful properties. Rock Heights sits above the rest of the municipality on a rocky hill. This neighbourhood's single-family homes and multi-family properties tend to offer spectacular views—a perfect blend of natural beauty and urban convenience.