4 Tips Before Putting Your House on the Market
Posted by Chris Fenton on Thursday, June 2, 2022 at 2:00 PM
By Chris Fenton / June 2, 2022
Comment
Your home is a valuable real estate investment, and when it comes time to sell, you will want it to look its best. Before putting your house on the real estate market, you can do four key things to prepare your property and help it show well.
An attractive offer to purchase in the least amount of time possible is the hope for most sellers. To help obtain a good offer, aim for buyers to view your home as a solid real estate investment and a wonderful place to live.
View your home like a discerning and educated buyer would. Buyers want a property in good condition, a house they will be proud to live and entertain in, and a safe, comfortable place to come home to. You want the buyer to see themselves living there.
The following four proven tips will get your house ready to sell on the real estate market and help you secure an attractive and competitive purchase price.
1. Curb Appeal
The first impression a buyer sees when viewing your property is how it looks when they drive up. This impression can be positive or negative. When the outside of your house looks great, it helps buyers get excited to view your home and anticipate a quality real estate purchase.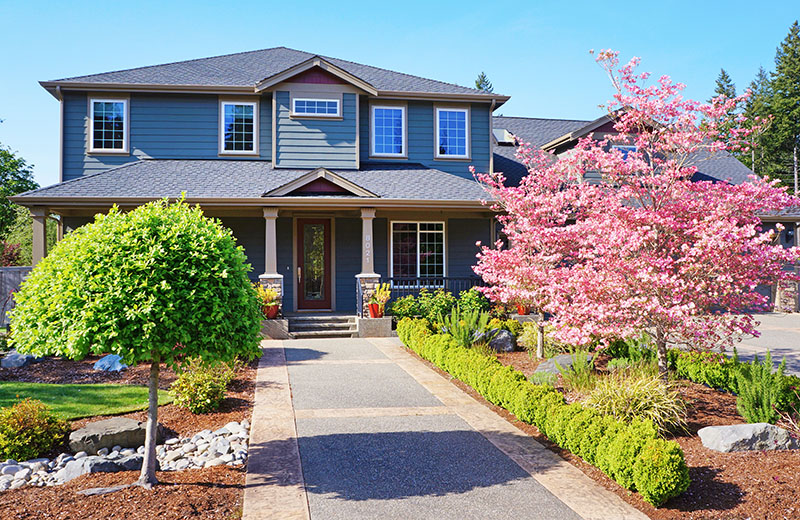 Buyers often drive by a property before booking a showing with their real estate agent. Curb appeal also extends to exterior photos of your property when marketing on the MLS real estate listing service.
When your property has excellent curb appeal and looks beautiful in pictures, it can boost the volume of showings and increase interest in your property.
What do potential buyers see when they drive up to your house? View your property from across the street and look for areas that need tidying, updating or changing.
There are several ways to increase the curb appeal of your house. The following are a few main points to consider when viewing your property with fresh eyes.
How to Increase Curb Appeal
A Beautiful Yard
Landscaping is one of the simplist and most effective ways to increase curb appeal. Hire a professional to do the job or spend a little time making your front lawn, garden beds, and pathways look nice and tidy. Time and money spent on landscaping are worth your while.
Place a few hanging baskets in the front of your home, plant colourful flowers, add bark mulch or other worthwhile landscaping options. Mow your lawn regularly while your property is on the market for those inevitable lookie-loos.
Beautiful winter landscaping is possible with hardy shrubs, seasonal plants, stonework or outdoor décor.
De-Clutter
Remove clutter or debris from the yard and front door area—Tuck recycling and garbage bins out of sight. Take yard waste to your local municipality or make a trip to the dump to eliminate outdoor build-up.
Power Wash
Rent, borrow or hire someone to power wash your driveway, front steps, patio, deck or other concrete or paved area. It is incredible what a good power wash can do to brighten the look of an outdoor space.
It may be possible to power wash your house if the exterior building materials can withstand the pressure. Hire a professional to power wash your home or wooden deck to avoid the paint from peeling or stripping off. Do your research if you wish to do this yourself.
Modernize and Freshen
Pay special attention to the front of your house. Remove old address numbers and replace them with new contemporary ones. Install a modern garage door or front door if it's within your budget. You can give your front door a fresh coat of paint for a budget-friendly option. Add stylish furniture and décor to your patio or deck.
2. Front Entrance
A second and very important impression a buyer receives is the first time walking into your home. Your front entrance may be small, yet it carries a big impact. The initial glance inside your house should feel good. This may be the first buyer's impression you can work with when selling a strata townhome or condominium.
Look at your entrance from a showing perspective. Have articles gathered over time? You may longer notice the pile of shoes, collection of old keys or stack of umbrellas; however, a buyer hoping to find a beautiful home likely will. Clear away clutter and remove anything unnecessary from your entryway.
Stage your front entrance with a new mat, plant, side table, lamp, artwork or other attraction. Make your entry as light and airy as possible to bring a sense of openness. Maybe a modern chandelier or light fixture could add a 'wow factor' to your entrance.
A welcoming and attractive front entrance is an excellent beginning to any showing.
3. Declutter
Open space encourages buyers to imagine living in your home with their belongings. They want to see plenty of room and know all their things will fit nicely.
Roomy countertops, open floor space and the impression of spacious storage are possible with a good decluttering and a few adjustments.
Tips to Declutter Your House
Reduce & Downsize
A lived-in home collects many things. If you have owned and lived in your property for several years, have a family or live a busy lifestyle, your possessions could be on the larger side. Moving into a new home is an excellent time to reduce and downsize.
Before you list your property to sell, clear extra belongings from every room, closet and storage area, and donate items to your local thrift store. Sell pieces that can bring in additional money. Box and store anything you wish to keep but can live without until settled into your new home.
Oversized furniture can make a room appear smaller than it is. Create a sense of more square footage by removing big pieces of furniture that take up floor or wall space. Secure a storage locker for furniture you wish to keep or ask a family member or friend to store them for you temporarily.
Moving furniture to a new configuration or set-up can open a room and provide additional floor space. Look in each room to see if an adjustment of furniture could expand the layout.
A home's garage shed, storage or spare room is typically where items land and ultimately stay for many months or several years. Storage areas often contain forgotten household items that can be sold or given away.
By tackling your shed, space can be created for things you wish to keep and showcase plenty of storage room.
Remove Knick-Knacks and Keep it Clear
Rooms with the most activity tend to collect the most clutter. Kitchen and bathroom countertops and other flat surfaces such as dressers, tables, and shelves are easy spots for things to be placed.
View your home from a buyer's perspective and look for small items that can make an area appear cluttered or busy. Removing a few knick-knacks, pictures, or books may open your shelving space. Filing paperwork, storing small appliances or tossing items in question can produce a clear counter, table or dresser.
Store small items in a box that you want to save and move them somewhere out of sight until your house has sold.
Once your property is listed for sale and you have showings, you will want to keep your home clutter-free. Keep an eye on your most lived-in rooms like the kitchen, bedrooms and bathrooms. Before leaving for the day, clear dishes or food from the kitchen counter, tuck away daily-use items in the bathroom and tidy up clothes or other belongings in the bedrooms.
4. Paint
A fresh coat of paint is one of the best and least expensive ways to upgrade the appearance of your home. Paint in light neutral tones will improve any room and make a home look 'new' again.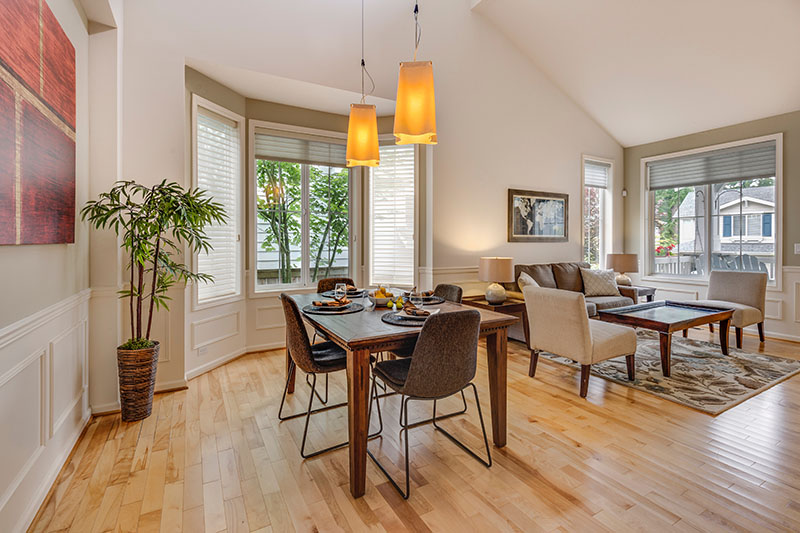 Walk through your home and check for areas that need touch-ups or rooms that could benefit from re-painting.
Choose light neutral colours that will brighten your home and create the appearance of bigger rooms. Bring paint swatches home to ensure the tone you like works with the colours and inflections in your flooring and countertops.
When finalizing your colour, remember the paint swatch is very small, and your wall is large. An entire wall painted will always appear darker than a sample swatch. When in doubt, err on the lighter side. Colours can be adjusted once mixed, so don't hesitate to go back to your local paint store to ask for a change if you don't like the way it looks once the paint has dried.
The kitchen and bathrooms can be the trickiest to paint; however, both rooms are well-known as the real estate gold standard to update and may be worth the effort if dated.
Freshly painted doors and trim will finish the 'new' look of your walls. Painting the ceiling can do wonders to brighten and open a room. Updating the old kitchen and bathroom cabinets can immediately upgrade the appearance of these rooms.
Selling Your Home
Preparing your home to sell can seem overwhelming, and there is often a long list of things to do. Use your time efficiently and make the most of your real estate investment by taking care of these four key things before you list your home to sell on the real estate market.
See the following article on Selling Your Home for more information that will help prepare you and your home before selling.