11 Easy Ways to Ensure Your Home Is Guest-Ready
Posted by Chris Fenton on Friday, January 28, 2022 at 10:00 AM
By Chris Fenton / January 28, 2022
Comment
Following these straightforward hosting tips can help ensure your guests have a relaxing, stress-free stay.
One of the most satisfying aspects of having a home you're proud of is sharing it with others. But if you don't feel adequately prepared for guests, hosting can seem stressful.
Whether you're looking to prepare for approaching holidays, visits from family or friends, or you're simply planning for how best to expect the unexpected, there are several simple steps you can take to make your home a welcoming and hospitable place for others.
Far from being a stressful chore, finding ways to make your guests feel welcome in your home can become a fun activity as you look for new ways to show off your attention to detail. Reflecting on times you've personally felt welcomed in other people's homes and striving to recreate those experiences is a great start.
No matter how big your house is or how it's laid out, you can provide a great experience for your guests without breaking the bank or exerting a considerable amount of effort. It's all about conscientiousness and attention to detail. Here are some of the best ways to make sure your house is ready for visitors.
Step Up Your Coffee Game
We've already taken a look at how the small detail of providing coffee and tea to your guests (and instructions about how to prepare them, if necessary) can make them feel welcome in your home and help get mornings off on the right foot.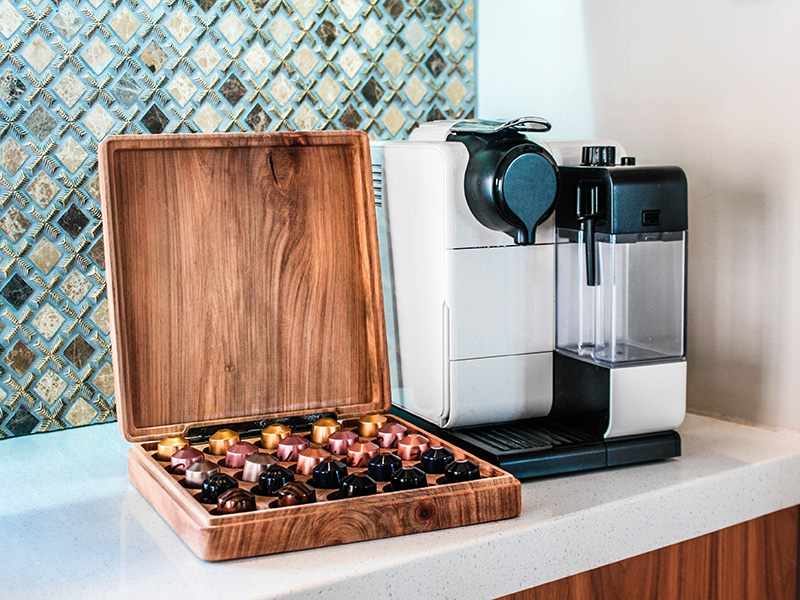 A way you can take your hospitality game to the next level is by investing in an espresso machine so that you can provide amazing cappuccinos, lattes, and more to your guests. The ability to offer impressive coffee to your guests is a great way to show them you care and to give yourself confidence in the hospitality you're providing.
If you'd like to provide maximum convenience rather than luxury, giving access to an automatic coffee brewing device like a Keurig is a great way to ensure guests can easily make themselves a coffee whenever they'd like.
Stock Your Fridge and Pantry With Common Essentials
A great way to create a welcoming atmosphere for your guests is having a well-stocked supply of snacks on hand that you can offer at the drop of a hat. Focus on allergy-friendly items—having a few gluten-free and vegan snacks available goes a long way in providing an inclusive experience.
You'll likely want to offer a few beverage options that your guests can help themselves to when you're not around, like filtered water, juice, and soda. For morning time, it's a nice touch to leave coffee and tea out in the open, in addition to your kettle and coffee maker. If the coffee maker is complicated, brief hand-written instructions can be a nice touch.
Other common items to ensure your home is stocked with may include bread or bagels for breakfast, popular condiments, milk, cream, sugar, and sugar-free sweetener for coffee.
Clean the Stovetop
This may seem like a fussy detail, but having a clean stovetop goes a long way towards having a tidy and guest-ready kitchen area. If your burners aren't clean, they could emit smoke when turned on, which is not ideal if your guests plan on cooking while you aren't around—especially if you have a sensitive smoke alarm.
If you haven't cleaned your burners in a while, take them off and give them a good scrub in the sink. To remove stubborn spills and burnt-on bits from your stovetop, spray some vinegar on your stovetop and sprinkle some baking soda before scrubbing for a spotless shine.
Make Space in the Bathroom
Whether or not your home has a separate ensuite bathroom that you can offer to guests, one way to make visitors feel welcome is to organize your bathroom so that the counter and cabinet areas have room for guests to store their toiletries and other bathroom items.
If you're running low on bathroom space, a great option may be to acquire a rolling bathroom cart to offer additional space for your guests so they can have their bathroom items easily on hand.
Take the Guest Bed for a Trial Run
One of the best ways to check whether your home is guest-ready is by treating yourself as a guest in your own home for a night. Whether you have a separate guest room, a sofa bed or an inflatable mattress, give it a spin.
If you aren't satisfied by the night's sleep, it may be time to upgrade the bed or bedding that you have available to guests. After all, if you can't get a comfortable sleep on your own guest bed, the odds are stacked against your guests, who have likely already been travelling and are staying away from home.
Set Up Welcoming Lighting
Inviting lighting goes a long way towards helping people relax and feel at ease. Particularly in areas such as the living room and the kitchen, you'll want to ensure the lighting is balanced and easy on the eyes.
One key to establishing a pleasing lighting setup is layering your lighting sources. By offering a mix of functional lighting, accent lighting, and ambient lighting, you'll cut down on harshness and reduce shadows, creating a lighting situation that also photographs well.
Another appealing aspect of layered lighting is that it's customizable, allowing for minor adjustments to a room's brightness rather than the drastic changes that occur when you have few light sources. In general, adjustable lighting is appealing for guests. If your home doesn't have light dimmers, they are easily installable and make a great DIY project for making your home a more welcoming space.
Get a Guest Set of Towels
Along the same lines as your guest bedding, you'll want to have a couple sets of guests towels available to offer to your guests. A fresh, neatly stacked set of towels in the area your guests are staying in is an essential aspect of hosting overnight visitors.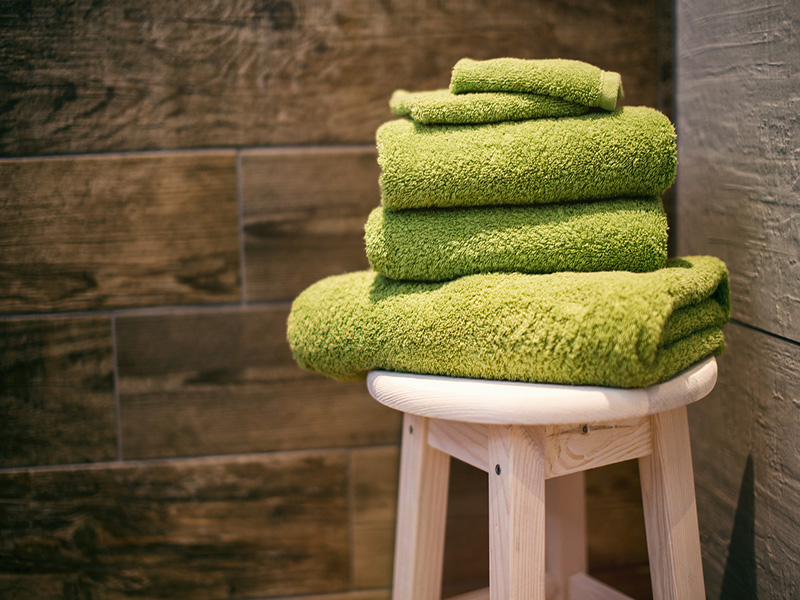 Make sure your guest towels are in a noticeably different style from your towels so that there isn't any mix-up, particularly if you and your guests will be sharing bathroom spaces. Beyond a bath towel, it's common to make hand towels and face cloths available to your guests as well.
You'll want to ensure you have enough sets of towels on hand so that you can offer one set of towels to each visitor. Another nice touch is to provide a small basket in your guests' bathroom area so that they can easily set them aside for a wash.
Offer Additional Blankets and Pillows
When it comes to bedding, it's always better to provide too much rather than too little. Your guests can decide how many blankets and pillows they wish to use, but—particularly if you live somewhere where it gets chilly at night—offering an oversized fluffy duvet, plenty of pillows and additional blanket options is a hospitable move.
If you're wondering what style and design to choose for your guest blankets, pillows, and bedding, it's always a safe bet to go with white. Not only does a white bedding setup look spotless and relaxing, it also evokes the sense of calmness that people often feel at hotels.
Whether your guest bed is a full-on bed, a folding bed, a bed in a box, a day bed, or another option, you can go a long way towards enhancing your guests' sleeping experience by setting them up with a generous arrangement of bedding.
Check the Bulbs
If your home has permanent guest areas—such as a guest room, guest house, or furnished basement—you may find that you aren't spending much time in these spaces between guests. Over time, you could overlook small details, such as that a light bulb has burned out or that appliances and devices aren't functioning as they should be.
Make a quick pass through your guest area, flicking any switches and powering up any electronics or appliances as you go to make sure everything is functioning correctly. If you find that your lightbulbs are burning out at an unusually rapid rate, it could indicate a problem with the bulbs you're choosing, issues with your circuit breaker, bad socket tabs, or voltage troubles.
In guest bathroom areas, you'll also want to quickly run the shower and taps to ensure there's a steady stream and no leaks. If the shower is running a little wonky, it's an excellent opportunity to upgrade your showerhead. Showerheads with rain or massage features can provide your guests with a hotel-quality experience without you having to spend much at all.
Give Detailed Instructions
The details of our own homes can become invisible to us over time. We get used to our living spaces and move through rooms automatically, locating things without thinking of where they are.
Everyone sets up their homes differently, and what may be intuitive to you may be mysterious to your guests. That's why before visitors arrive, it can be a great idea to consider which aspects they could use a little guidance about, particularly if you'll be spending time away from home while they are staying with you. While it may seem simpler to give instructions verbally, your guests may forget or misremember what you've told them, which could be stressful.
If your house has a security system, be sure to describe how to disarm and rearm it. Common features to include instructions about may consist of kitchen appliances, televisions, and entertainment systems. Put your home's WI-FI name and password in viewable areas—on the fridge or near where they'll be sleeping.
Leaving instructions doesn't have to be boring or feel bossy, either. You can create cute memos on cards that are both helpful and aesthetically pleasing to your visitors.
Provide Extra Toiletries
We've all been in the situation of arriving somewhere only to realize that we've forgotten some essential personal item. Your guests may have forgotten an item in the haste of packing. Maybe they neglected or misinterpreted airport security limits on liquids, or perhaps they've simply run out of a bathroom item they require.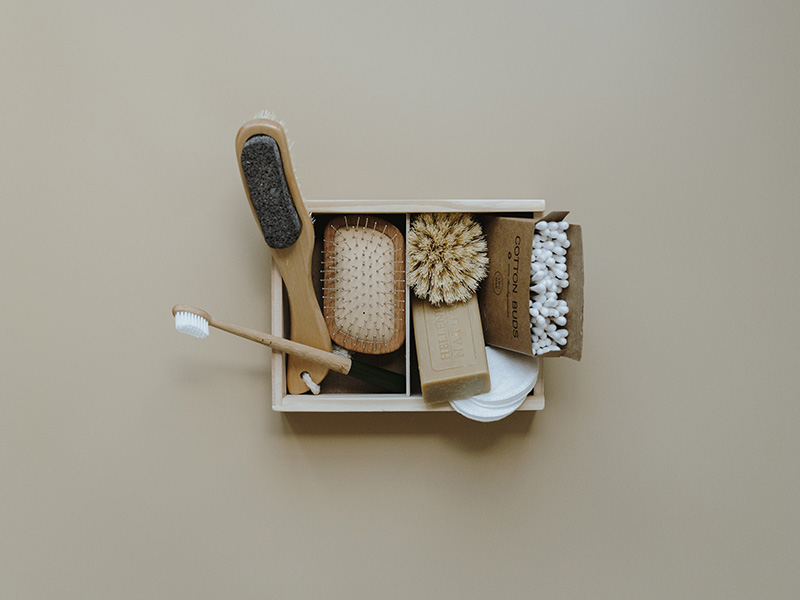 Whatever the case may be, providing backup toiletries for your guests is an impressive hosting gesture that your visitors are sure to notice and appreciate. Everyday bathroom items to offer extras for your guests include high-quality shampoo, conditioner, soap, and body wash. Other commonly-forgotten items that your guests may appreciate your back-ups include toothbrushes, floss, and toothpaste.
It's also a good idea to have a supply of Q-tips and cotton balls on hand, stored neatly in visible areas. Other convenient items to have on hand for your guests may include feminine products, razors, lotion, moisturizer, and hair supplies like a hairdryer, brushes, and a curling iron. A supply of common pain relievers and cold medication in the medicine cabinet can also be much appreciated if your guests feel under the weather.
Set Up A Lock Box
It's a thoughtful move to provide your guests with the ability to easily come and go on their terms. Many early risers or night owls appreciate the ability to avoid making requests at the risk of inconveniencing others.
That's why setting up a lockbox at your home's exterior can be a great hosting move. In a lockbox, you can safely store keys, in addition to anything else you need to securely provide your guest with access to when you aren't around.
Lockboxes tend to come in both combination lock and key varieties. Generally, a combination lock with an easily-remembered yet secure code is best since a key would just be another thing for your guests to have to remember to keep with them.