Easy Front Yard Landscaping Ideas to Boost Your Curb Appeal
Posted by Chris Fenton on Monday, May 16, 2022 at 10:00 AM
By Chris Fenton / May 16, 2022
Comment
Curb appeal refers to the aspects of your home viewable by those who see your home from the exterior. Whether prospective buyers or just people passing through the neighbourhood, real estate experts typically recommend maximizing your home's curb appeal. After all, a beautiful home is like an advertisement for itself, and you want to do everything possible to showcase your property in its best light.
Some aspects of curb appeal are relatively fixed, such as your home's architectural features, significant structures, and the surrounding natural landscape. However, there are plenty of improvements that you can make to your home's outward appearance, and many of these involve more minor landscaping details.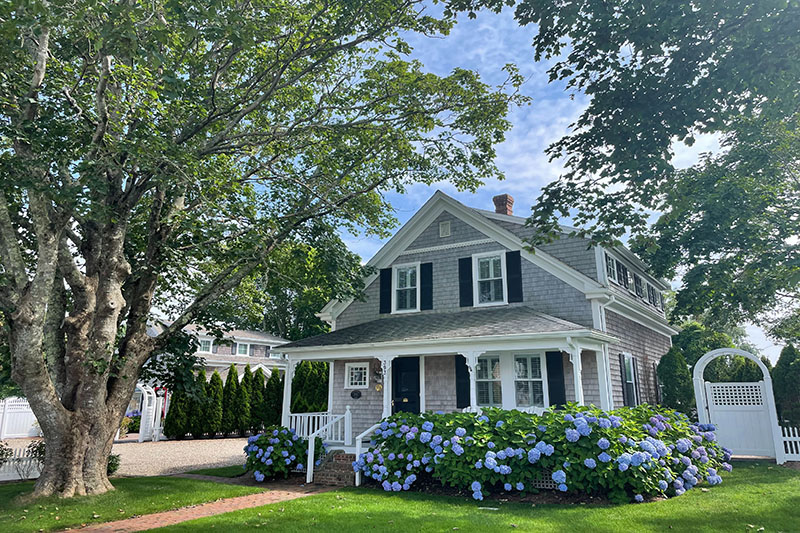 While curb appeal may make you think of making additions or changes, it can also be a matter of maintenance. Taking good care of your home's landscaping and ensuring maintenance is performed carefully with close attention to detail won't cost you much and goes a long way in giving your home an effortless, liveable look.
One recent study surveyed members of the National Association of Realtors revealed that over ninety percent of realtors recommend improving curb appeal to those looking to list their homes soon. An overwhelming percentage of realtors believe that curb appeal is important to prospective buyers.
The same study cited above points to many other benefits of improving your home's curb appeal. A considerable majority of homeowners surveyed say they felt a strong sense of satisfaction and accomplishment upon enhancing aspects of their home's outward appearance themselves. Most people surveyed also said they enjoyed their time at home more in light of the project's completion.
Landscaping improvements are considered one of the wisest areas to focus on when it comes to curb appeal, as the costs associated with improving your home's landscaping tend to be fully recovered because of the increase in a property's sale price. On average, improving your home's curb appeal through landscaping can improve your sale price by around 7% compared to homes without improved landscaping.
While hiring professional landscapers can give your home's exterior a genuinely eye-catching appearance, there are plenty of steps you can take yourself without employing extensive specialized tools or knowledge. The exterior of your home should indicate what's inside and provide an appealing passageway to the front entrance.
The best landscaping choices to boost your home's curb appeal will take into account the unique proportions and style of your home, the climate you live in, the amount of upkeep you're willing to perform, and more.
Here are some easy landscaping ideas that can be great ways to improve your home's curb appeal, making your home more attractive and boosting its value in the real estate market.
Start With a Deep Clean
If you're tackling improving your home's curb appeal yourself, it may seem like a daunting task. One of the best ways to get organized and develop a clearer sense of where you stand and what you should tackle first is by getting your yard into tip-top shape.
Mow, Rake, Weed, Prune
Particularly if you live in one of British Columbia's colder regions, in an area that gets significant snow cover during the winter months, you'll want to do a solid job of clearing the ground by raking up dead leaves and getting any debris from your yard into recyclable yard waste bags.
Even in mild regions like the Lower Mainland and Vancouver Island, the winter months tend to damage your lawn. You'll want to let your law breathe by aerating it to break up the soil that compacted over the winter and create air pockets. An aerator can be affordably rented from a hardware store when you require it to replenish your lawn by letting air and compost penetrate it.
Tackling weeds is an excellent way to ensure that your lawn and garden areas are healthy and have a tidy, presentable appearance. Use a weed trimmer to pull weeds right down to the roots and an edging tool to keep grass edges in a straight line within bounds of your walkways for a tidy appearance.
Break Out the Pressure Washer
Pressure washing your homes exterior is one of the most affordable and straight-forward ways to give it a tidier appearance and improve curb appeal.
Buying a pressure washer can be a good investment for large decks and homes with vinyl siding that will require frequent washing, as a mid-range pressure washer tends to pay for itself after a handful of uses. If you're looking for a one-time job, rentals or hiring professional help can be affordable ways to get the job done.
Pressure washing comes with the added benefit of being satisfying, revealing the clean, stain-free surfaces beneath grime and mildew. It removes undesirable accumulations on the surface without requiring any scrubbing, making it one of the most straight-forward ways to improve your curb appeal.
Consider Your Home's Style
The landscaping and other yard features of your home are a chance for you to make a good first impression on prospective buyers, giving them an indication of what is to come in the interior of your home.
For this reason, improving the landscaping for your property is not a one size fits all scenario. The optimal improvements for your property will depend on the type of buyer you're looking to attract, the kind of neighbourhood you live in, and, most importantly, your home's unique features.
Shoot for Consistency
If your home is older or has rustic features, DIY landscaping touches can create a charming effect that dramatically improves curb appeal. On the other hand, prospective buyers will likely expect to see professional landscaping touches if you have a high-end or newly-built property.
Another aspect of creating a sense of unity for your home's landscaping is to focus on local plants, shrubs, and flowers. Putting in local species tends to boost the value of a home and has the added benefit of making a great habitat for birds and other species, further contributing to your property's outdoor appeal.
Keep Plants Proportionate
The bigger your property is, the larger and more dramatic landscaping setups there will be that can have a beneficial impact on the aesthetics of your home's outdoor spaces. Small blooming flowers may be lost in the landscape in a large yard area, while the same flowers could have a striking effect in smaller spaces.
When planting flowers, consider the distance to size ratio of blooms from the curb. For instance, if you have a beautiful landscaping arrangement too far from where viewers are likely to encounter it, the effect will largely be lost.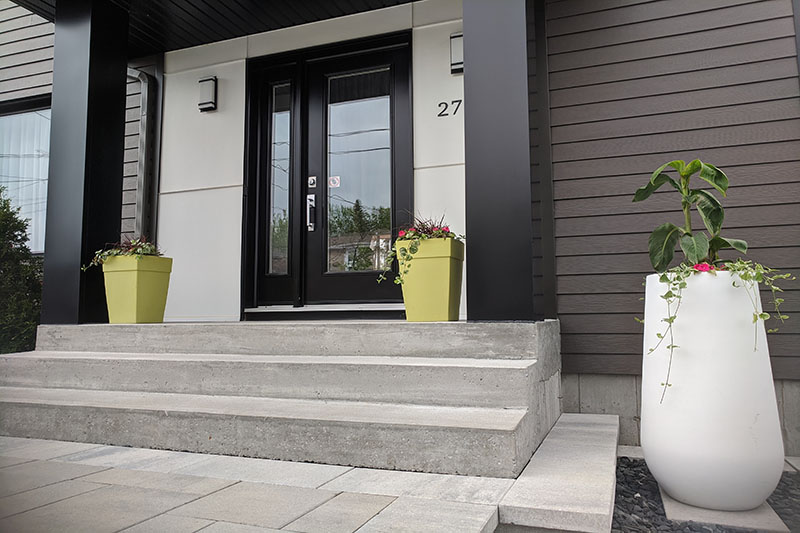 If you're making early preparations to improve curb appeal down the line, it's also important to keep in mind the size your plants will grow to. If you squeeze plants in without accounting for growth, you may find a crowded yard that appears unruly and difficult to maintain.
One of the easiest ways to step up your property's plant game without making too big of a commitment or installing extensive fixtures is by adding some planters, particularly to flank the door areas, line pathways, and adorn outdoor seating areas. Besides being affordable, planters benefit from being portable, meaning you can mix things up between different showings.
Gravitate Towards Low Maintenance Options
Optimizing your property's landscaping to improve curb appeal is all about finding cost-effective solutions that draw interest towards your property and benefit your home's sale price while not requiring extensive installation or upkeep.
Something else to consider is that your prospective buyers are also likely looking for landscaping that looks great but won't be an expensive or time-consuming task to maintain. Landscaping details that are relatively simple to maintain in the long run are ideal.
Add Fresh Mulch
An easy way to refresh your home's exterior and improve your curb appeal is through the simple step of laying some fresh mulch. Studies show that the simple addition of fresh mulch pays for itself more than twice over, making it a no-brainer as a low-effort landscaping job.
Mulch offers benefits to your yard that stretch beyond appearances too. Mulch protects the soil beneath it from temperature changes. It also helps to retain water, keeping roots healthier and preventing dirt from compacting. Choose a colour of mulch that visually complements the materials and colours found elsewhere in your yard.
Consider Going Grass Free
A beautifully green lawn is an integral part of many people's ideas of their dream homes, and ensuring that your lawn looks healthy is an effective way to boost curb appeal. However, an increasingly popular option involves removing grass altogether for a unique, low-maintenance landscaping style.
A large, green lawn became a status symbol in North America over previous centuries, as it was a sign of wealth not to need to use one's land to grow crops. These days, prospective homebuyers are more likely to be environmentally conscious and concerned about the amount of water a green lawn needs and the fertilizers used.
There are considerable benefits to going grass-free with your landscaping. Your prospective buyers will likely appreciate that they'll be able to cut down on water use and avoid purchasing and maintaining noisy mowers. They may appreciate the benefits for local birds and wildlife and the time savings of not having to mow, weed, and edge a lawn.
Popular choices for grass-free landscaping styles include local wildflower yards, which often have pleasant aromas and will bloom at varying times of the year for beautiful splashes of colours. Paving stones are another option for tidy appearances that require almost no maintenance besides occasional weed clearing. Other great options include raised flower beds, ground cover, and even permaculture gardens.
Embrace Colour
As is the case with staging the interior of your home, it's hard to overstate the importance of colour. Colour is one of the most attention-grabbing aspects of a property, and studies show that it has a strong link to memory performance. That means if your property has a striking colour scheme, it's more likely to stick in the mind of prospective buyers.
When planning your property's landscaping to boost curb appeal, it can be good to familiarize yourself with some colour theory to assist your home's chances of giving prospective buyers the impression you're looking for.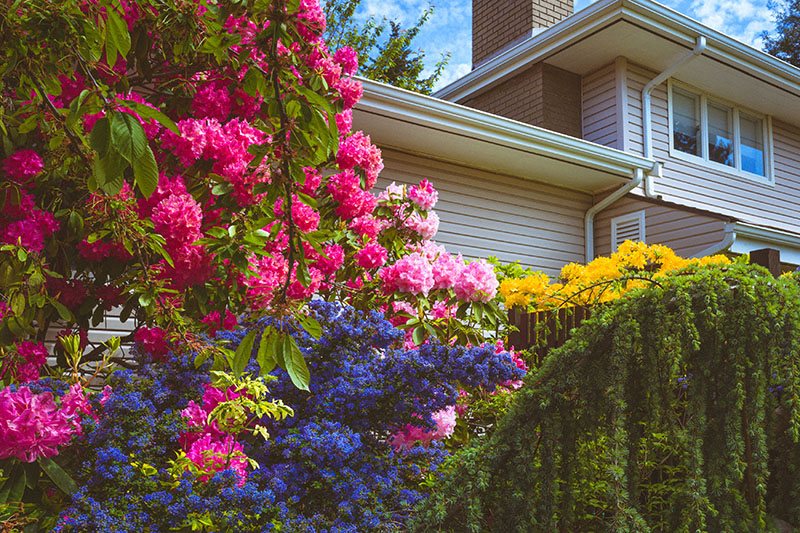 Colours like green and blue are cool colours that draw associations with relaxation and calm feelings. On the other hand, yellow, orange, and red are warm colours linked to feelings of excitement and attention. Using tints and shades of similar colours creates a sense of complexity and sophistication.
A monochromatic colour scheme uses a single colour in various shades and tints—think of a soothing garden area where the plants and shrubs are varying degrees of green. An analogous colour scheme is one in which colours near each other on the colour wheel are used—such as red and orange—which tends to have a harmonious effect.
More dramatic colour options for the landscaping of your property include using complementary colours—opposite from each other on the colour wheel, such as orange and blue—which make each other appear brighter, causing a vivid effect. Other popular choices include pastel colour schemes and primary colour schemes.
A practical idea when planning the colours for your landscaping is to have the exterior colours of your home interact with the interior colours in a complementary way. This is one of the areas of your home's landscaping where you can be most creative, as colours appear differently based on the combination of surrounding landscapes, home features, lighting, and more.
Optimize Passageways
One of the most effective moves to improve your home's curb appeal is to create a well-defined pathway from the curb to your front door. You'll want to ensure that your home's entryway is inviting and that getting there is an enjoyable little journey with beautiful landscaping.
A clear path should be made of durable materials, with visual cues, including lighting and paths. A straight, concrete path is an accessible and understated choice, while a contoured walkway of brick or stone can give your property rustic charm. A professional brick pathway can be an elegant touch for those with larger budgets.
If you're looking to improve your property's pathways without undergoing major hardscaping work, breaking out the pressure washer on your current path goes a long way. You can also use a coloured concrete resurfacer on the existing pathway to give it a new life. Using stone and brick borders or improving the edging along your pathways are other ways to enhance their appearance.
Put in New Lighting
While this is not necessarily a landscaping suggestion, adding adequate lighting to the exterior of your home is a way of showcasing your landscaping at its best. Effective lighting as a feature of your landscaping is a way to make guests feel more welcomed and increase safety and accessibility at your property.
While curb appeal is all about making your home look more appealing to prospective buyers, there's one group that outdoor lighting will make your property less attractive to—potential burglars. Quality lighting is seen as a security benefit, as burglars tend to stay away from well-lit areas. Considering that security is a primary concern of many prospective buyers, improving the lighting is a simple step you can make to make your property more secure.
Generally, you'll want to opt for low-wattage LED lighting to ensure the lighting you choose lasts a long time and doesn't end up using unnecessary energy. Installing extensive landscape lighting may include adding transformers and new wiring and may be best handled by professionals if you don't have electrical knowledge.
At the same time, battery-powered outdoor lighting options are a straight-forward way that anyone can showcase their yard and landscaping for prospective buyers.