Homes for Sale in Richmond, BC
Welcome to Richmond! Below you will find the newest homes for sale and real estate in Richmond, BC. If you would like more information on any of these Richmond real estate listings, simply click on the property, register for a free account, and you'll have access to the full details. From there, you can click Schedule a Tour to request more information from our Loyal Homes Client Care Coordinators or schedule a viewing. Our Client Care Coordinators will be happy to provide you with property disclosure statements, past sales history, comparable properties which have recently sold nearby, and more, so please don't hesitate to ask for help!
For your convenience, we have included Richmond community information at the bottom of the page, including directions for getting here and information about weather, culture, healthcare, recreation, schools, and the real estate market.
Newest Richmond Real Estate Listings
Richmond Real Estate Listings
November 27, 2021
$1,238,000
Med. List Price
Richmond Real Estate Listings by Price
About Richmond, BC
Richmond is a mid-sized coastal city conveniently bordering Vancouver, Burnaby, New Westminster, and Delta. Located mainly on Lulu Island—the biggest island in the Fraser River's estuary—Richmond residents enjoy the beautiful juxtaposition of mountain and sea that characterizes many Lower Mainland communities.
Sea Island is a smaller island that is also part of Richmond. Few people live on Sea Island, but it's notably home to Vancouver International Airport, in addition to protected natural areas. Given the easy access to the airport and public transportation options in Richmond, it's an excellent place to be for travellers and commuters alike.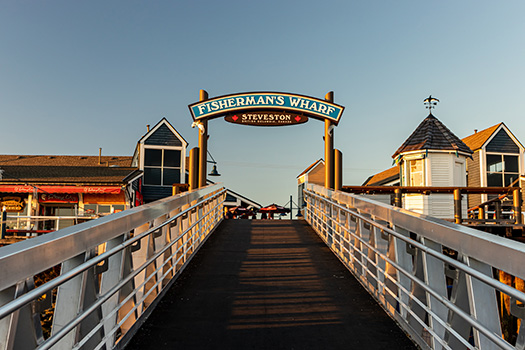 Richmond is known for having the highest percentage of immigrants of any community in Canada. More than half of Richmond residents are Chinese, and no city in North America has a higher rate of people from Asia. There are large South Asian, Japanese, and Filipino communities as well. Because of this excellent cultural diversity, Richmond is home to a wealth of artistic, cultural, and culinary attractions from all over the world.
Getting to Richmond
Richmond's transportation infrastructure is excellent, and several options exist in terms of getting to Richmond. Highway 99 connects Richmond to the United States border, which is only around forty minutes by car, and highway 91 provides a link between Richmond to the nearby cities of New Westminster and Delta.
The two islands that a series of three bridges connect makeup Richmond. Richmond is also connected to Vancouver, the University of British Columbia, Surrey, Burnaby, Delta, and more by the Vancouver area's public transit system, which TransLink runs. The fastest way to Vancouver is typically the Canada Line SkyTrain route, which takes Richmond residents to downtown Vancouver in half an hour. Almost all of Richmond's busses pass through the Richmond-Brighouse Station.
Most of British Columbia's air travel passes through Vancouver International Airport, the second busiest airport in the country. Several small floatplane companies serve Vancouver Island and smaller Gulf Islands from YVR.
Richmond Weather
Richmond was built on a river delta that protrudes only a metre from sea level in most places, and it has a damp, oceanic climate. A system of dykes protects the islands of Richmond from flooding when it gets pouring.
Because Richmond isn't as close to the mountains as Vancouver is, it's considerably less rainy than Vancouver. It's often cloudy in Richmond, and summers are mild and pleasant, with highs that rarely exceed the low twenties. In winter months, temperatures hover in the low single digits, and it rarely snows.
Richmond Culture
Richmond has a truly diverse population. For those looking for art and culture that spans the globe, the options in Richmond are endless. One top cultural attraction is the Richmond Night Market which runs on weekends during the summer months. The Richmond Night Market has become famous worldwide as a place where people from different walks of life come together to share and appreciate food and entertainment.
Richmond is also home to several cultural festivals, including the Steveston Salmon Festival, which features a large parade and delicious barbecued salmon. The Richmond Maritime Festival is a celebration of the marine heritage of the area.
The Richmond Arts Coalition hosts plenty of indoor and outdoor art exhibits throughout the year, supporting emerging and established local artists and showcasing their work for the public.
Richmond Health Care
Residents of Richmond are served by Vancouver Coastal Health, the health authority that also serves Vancouver and other coastal areas of British Columbia. Because of excellent health care services in Richmond and factors including the mild climate, Richmond is known as the city with the longest life expectancy in the country, more than four years longer than the national average.
Richmond's health services are centered around Richmond Hospital, first built in the '60s but has undergone frequent updates to ensure its amenities are top-notch. Richmond Hospital has 200 acute care beds.
In addition to serving Richmond residents, the hospital serves people from Delta and travellers from Vancouver International Airport and BC Ferries. A teaching hospital, Richmond Hospital, is linked to the University of British Columbia.
Richmond Education
There are plenty of options when it comes to education in Richmond. The city is home to 38 elementary schools (Montessori, six early French immersion, two late French immersion), and ten secondary schools.
There are four post-secondary institutions with campuses in Richmond. These include Kwantlen Polytechnic University, Trinity Western University, Sprott Shaw College, and the aerospace campus of the British Columbia Institute of Technology.
Things to Do in Richmond
As mentioned, the Richmond Night Market is one of the top local attractions whether you live in Richmond or are just dropping by. Entrance fees are cheap, and the culinary options on offer are mind-blowingly varied.
To engage with Richmond's fascinating nautical heritage, head to Steveston Heritage Fishing Village to take in the views of the boats bobbing at anchor and the planes taking off from the airport in the distance. If you're feeling hungry, this is the spot for excellent fish and chips.
Richmond is home to one of the most prominent Buddhist temples in North America, featuring North America's biggest Buddha. At the International Buddhist Society, the gardens are serene and well-maintained, and entry is by donation.
Richmond Real Estate Market
Richmond has a unique supply of real estate on offer compared to surrounding cities in the Lower Mainland, partially because it's located on a river delta. For this reason, few houses have basements, and, up until the '80s, not many buildings were taller than three stories.
Because of Richmond's stellar location and amenities, real estate prices can be high, though they don't reach the heights of nearby Vancouver. In Richmond, there is an extensive selection of condos available, whether you're looking for luxury units with panoramic views or more affordable, cozy options.
Richmond's Broadmoor and Shellmont neighbourhoods offer desirable single-family detached homes in quiet residential areas, set amidst green spaces and walkways. If it's convenience you're after, it's worth checking out Richmond City Centre, which offers luxury penthouse units in addition to relatively affordable condos that are newly built.
The most charming area of Richmond may be Steveston, a seaside port that hosts Steveston Community Park, a giant green space that's perfect for families and exercise enthusiasts. The neighbourhoods on the northwest corner of Richmond—Thompson, Blundell, and Seafair—offers high-end homes, many of which have excellent views.
Richmond Realtors
Are you thinking of buying or selling a home in Richmond? If you're looking to buy a home, contact our Loyal Homes real estate agents, who can answer all your Richmond community, neighbourhood, and real estate questions.
If you're thinking of selling your Richmond, BC home, our associated Listing Realtors can provide information on recently sold comparable properties, up-to-date real estate market information, and professional tips to help you prepare and sell your house for top dollar.