Homes for Sale in Pemberton, BC
Welcome to Pemberton! Below you will find the newest homes for sale and real estate in Pemberton, BC. If you would like more information on any of these Pemberton real estate listings, simply click on the property, register for a free account, and you'll have access to the full details. From there, you can click Schedule a Tour to request more information from our Loyal Homes Client Care Coordinators or schedule a viewing. Our Client Care Coordinators will be happy to provide you with property disclosure statements, past sales history, comparable properties which have recently sold nearby, and more, so please don't hesitate to ask for help!
For your convenience, we have included Pemberton community information at the bottom of the page, including directions for getting here and information about weather, culture, healthcare, recreation, schools, and the real estate market.
Newest Pemberton Real Estate Listings
Pemberton Real Estate Listings
November 27, 2021
$1,051.61
Avg. $ / Sq.Ft.
$1,720,000
Med. List Price
About Pemberton, BC
Twenty minutes north of the famous town Village of Whistler sits Pemberton, BC, at the foot of Mount Currie. Pemberton was established in 1956 and is now the hub of the Pemberton Valley area and home to over 2,500 residents. The Pemberton Valley area is comprised of the Village of Pemberton, Lil'wat Nation (Mount Currie), D'Arcy/N'Quatqua, Birken, and the Squamish Lillooet Regional District.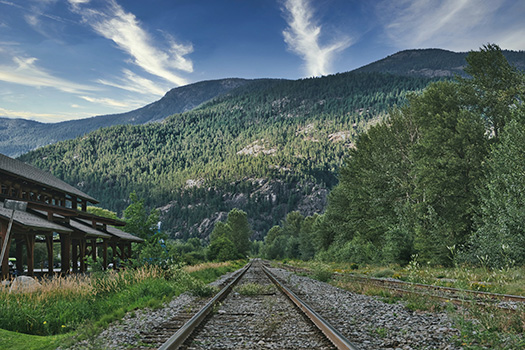 Getting to Pemberton
Located 160 km north of Vancouver, BC, the charming Village is easy to reach both by road and air. If you choose to drive, expect just over 2 hours along the gorgeous Sea-to-Sky Hwy, with never-ending views, the drive will fly by. Pemberton Regional Airport provides access for small airplanes and helicopter traffic. However, driving to Vancouver International Airport is the best option if you want to fly to other provincial, domestic or international destinations.
Pemberton Weather
The Pemberton Valley has a distinctive weather system. Pemberton is located in an ecologically complex zone called the Coast-Interior Transition zone. Typically 3 to 10 degrees warmer than Whistler, Pemberton can reach highs of 32°C and lows of 20°C in July, and conditions are generally dry and warm. During January, highs of 0°C and lows of -11°C are expected, resulting in chilly days. High summer temperatures and noticeable water deficits during growing seasons are relatively standard for the Pemberton Valley Area.
Pemberton Culture
The Pibelmun – Wadandi tribe of Noongar Australian Aborigines originally occupied the region. Many important Aboriginal sites have been located and protected, including lizard traps, fish traps, and campfire remains. The first record of European settlement was in 1861, followed by the establishment of the timber industry in 1913. Pemberton, BC, has a rich history, and the residents protect it.
Today, Pemberton has an active art scene paired with tasty food, fine wine, and lovely trails. The artistic group ranges from Pemberton, Northcliffe, and Manjimup, accommodating several groups who organize exhibitions, workshops and who are constantly working hard to maintain a creative culture that will benefit the entire Pemberton community. The Pemberton Arts Group (PAG) completed a project with the community's help in which an 80-metre balustrade along Pemberton Main Street was painted using the theme of the original forest landscape of the district.
Alongside artists, the Pemberton Photography Club hosts reoccurring workshops to serve the community in their photography interests.
Pemberton Education
Falling under the Sea to Sky District 48, the Pemberton area has three options to send your children to for elementary school: Blackwater Creek Elementary, located at 9667 Portage Road (located in Devine, BC), Signal Hill Elementary, located at 1410 Portage Road, and Q'aLaTKu7em Community School, which is also located at 1410 Portage Road and serves as an alternative learning plan. Pemberton Secondary school is found at 1400 Oak Street and serves just over 300 students. The small class sizes make for a personal experience for your learning teenagers.
Pemberton Health Care
Pemberton is under the Vancouver Coastal Health district authority and provides emergency, diagnostic imaging, laboratory, and physiotherapy services. Part of Sea-to-Sky Community Health, Pemberton health care offers a home and a public health dietitian. Pemberton Health Centre is located at 1403 Portage Road.
Pemberton has two dental clinics, including Pemberton Valley Dental located at 7415 Prospect Street and Big Sky Dental located at 106-1436 Pemberton Portage Road.
Things to Do in Pemberton
Pemberton residents have done an exceptional job keeping the community vibrant and offering endless seasonal and year-round activities. The Pemberton Mill Hall, located at 15 Brockman Street, holds various events ranging from old-time dances to exhibitions and antique fairs. The filming of the movie "Jasper Jones" took place at this hall. As mentioned earlier, Pemberton's Main street is an iconic balustrade stretching 80 meters across the town. You can visit this creation during the day or the night as the light and weather may change your view orientation.
You may have heard of "Understory, Art in Nature, " a nationally recognized 1.2 km trail through magnificent native forest. There are sculptures, stories, poetry, and music that assist in the exploration of our relationship with nature and art. Several galleries, craft centres, and studios reside in the Pemberton area, all of which feature local artwork for residents and visitors to enjoy. Aside from furniture and timber craft products, the galleries showcase fine art, decorative art, and mixed media works from paintings to jewellery and ceramics.
If you love the outdoors, Pemberton will serve you well as it offers year-round outdoor recreation. Athletes will travel to the town from early spring to late fall to indulge in all that Pemberton has to offer, including hiking, biking, camping, golfing, horseback riding, rafting, jet boating, swimming, and fishing. The town also provides many options for winter sports, such as cross-country and downhill skiing and snowmobiling or tobogganing with the family at Christmas.
Pemberton houses two local craft breweries and a distillery: The Pemberton Brewing Co., The Beer Farmers, and The Pemberton Distillery. The Pemberton Distillery is home to the award-winning organic potato vodka!
Pemberton Real Estate Market
The Pemberton real estate scene is a unique and dynamic market as it is constantly changing. Pemberton is slowly becoming more than a hiking, camping, and artistically rich destination to visit. The city offers a wide range of housing at more affordable prices than you might find in neighboring cities such as Whistler or Vancouver. Whether looking to live or invest, Pemberton offers good-sized single-family homes on lots with flat terrain in and around the Village.
However, properties featuring well-designed architecture are abundant in Pemberton. With a taste of nature in your own home through pine ceilings and river rock fireplaces, views of the mountains everywhere you turn, your home will be a place of serenity.
Pemberton has several different neighborhoods to offer, including Pemberton Meadows, Ivey Lake Estates, The Village, and The Glen. Pemberton Meadows is located just northwest of the Village and is known for its farmland and 360 views of the mountains. Ivey Lake Estates is just a short drive from Downtown Pemberton and is a beautiful section made up of acreage estates.
The Village of Pemberton is your downtown location, and be right in the scene as you observe a beautiful backdrop of Mount Currie. Lastly, The Glen is Pemberton's most popular neighbourhood, connecting to Downtown through several trails and bridges. As the market and the Village keep growing, there is no time like the present to jump on an opportunity to live or invest in beautiful Pemberton, BC.
Pemberton Realtors
Are you thinking of buying or selling a home in Pemberton? If you're looking to buy a home, contact our Loyal Homes real estate agents, who can answer all your Pemberton community, neighbourhood, and real estate questions.
If you're thinking of selling your Pemberton, BC home, our associated Listing Realtors can provide information on recently sold comparable properties, up-to-date real estate market information, and professional tips to help you prepare and sell your house for top dollar.