Homes for Sale in Maple Ridge, BC
Welcome to Maple Ridge! Below you will find the newest homes for sale and real estate in Maple Ridge, BC. If you would like more information on any of these Maple Ridge real estate listings, simply click on the property, register for a free account, and you'll have access to the full details. From there, you can click Schedule a Tour to request more information from our Loyal Homes Client Care Coordinators or schedule a viewing. Our Client Care Coordinators will be happy to provide you with property disclosure statements, past sales history, comparable properties which have recently sold nearby, and more, so please don't hesitate to ask for help!
For your convenience, we have included Maple Ridge community information at the bottom of the page, including directions for getting here and information about weather, culture, healthcare, recreation, schools, and the real estate market.
Newest Maple Ridge Real Estate Listings
Maple Ridge Real Estate Listings
November 27, 2021
$1,199,000
Med. List Price
Maple Ridge Real Estate Listings by Price
About Maple Ridge, BC
With a population of about 68,950 in 2020, the City of Maple Ridge is a highly sought-after Greater Vancouver community for its incredible natural surroundings, extensive amenities, and overall quality of life.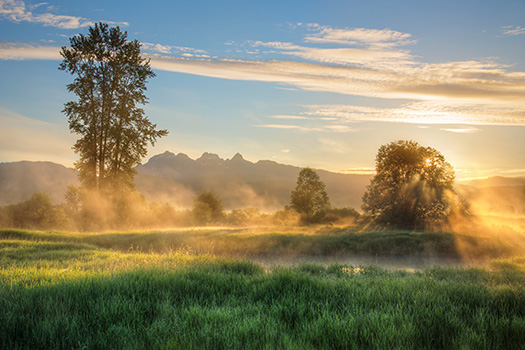 With better home prices than Vancouver and Surrey and transportation that makes commuting elsewhere possible, Maple Ridge is often an appealing choice for home buyers. On top of all that, the Fraser River and Golden Ears Mountains offer amazing views and many popular outdoor activities.
For amenities, Maple Ridge has a central hospital and a large variety of health care services, plus the Service Canada Centre and the WorkBC Employment Centre. It also has preserved heritage sites that are museums open to the public and at least five shopping centres, including Haney Place Mall and Maple Ridge Square.
Getting to Maple Ridge
From Vancouver, Maple Ridge is about a 1.5-hour drive. If you take the Golen Ears Bridge to Surrey, it's closer to 30 minutes, and Mission is also about a 30-minute drive away. Driving from Seattle, WA, to Maple Ridge is around a 3.5-hour trip.
An option from Downtown Vancouver, Port Moody, Coquitlam, Port Coquitlam, Pitt Meadows, or Mission, if you're traveling on a weekday, could be to take the West Coast Express commuter railway to the Port Haney stop in Maple Ridge and catch a transit bus from there to your destination.
Maple Ridge Weather
The climate in the Maple Ridge area is considered mild and rainy. Summers are historically comfortably warm and mostly peak at about a 25C temperature, although it's not uncommon for shorter periods of hotter weather around 30C in July and August.
Maple Ridge may get winter snow, especially between December and February. Yet, the winters have typically been mild, with the temperature drop often not much below freezing. The annual average temperature here is about 9C.
Maple Ridge Culture
A rich history is a part of Maple Ridge. Efforts to preserve historical sites resulted in residents and visitors alike getting a good glimpse into early life in this area. Thomas Haney House Museum on 224th Street is a family home built in 1883, shown with period furniture and clothing. Photographs and other collectibles are also on display.
By following this map... starting from the Port Haney Wharf, you can learn more about the history of Maple Ridge. Taking the Fraser River Heritage Walk that includes buildings such as the city's original and Old Haney post offices, plus artifacts like a 1944 Canadian Pacific Railway (CPR) caboose, can be a fun way to get exercise and learn about the city's past at the same time!
For performance art, live shows, films, and visual art exhibits, the ACT Centre on Haney Place offer some great entertainment. They also have classes for all ages and a local artisan gift shop. Both celebrations and remembrances relating to Maple Ridge are held at Memorial Peace Park. This wheelchair-accessible, open area downtown is also a great place to enjoy some green space or a picnic.
Maple Ridge Education
Maple Ridge and Pitt Meadows are part of School District 42, which serves around 15,000 students in the surrounding areas. There are multiple joint programs with colleges that offer students trade programs. There are 22 elementary schools and 6 secondary schools. Thomas Haney Secondary takes a different approach than fellow schools by offering flexible schedules to do all schooling from home. SD 42 also provides various alternative programs and continuing education resources.
Maple Ridge Health Care
The Ridge Meadows Hospital, managed by Fraser Health, is open 24/7 for emergency services and provides diagnostic, surgical, maternity, and outpatient care. Maple Ridge has a wide variety of health care facilities, including medical clinics, home care, assisted living, mental health support, dental centres, physiotherapists, and optometrists.
Things to Do in Maple Ridge
Not surprisingly, given the incredible natural beauty here, the greatest things to do in Maple Ridge involve recreation and the outdoors!
Golden Ears Provincial Park is the perfect example of "Beautiful British Columbia." From the magnificence of Alouette Lake to the majestic mountain backdrop to the variety of forested trails… this is a park experience not to be missed! Lake activities include canoeing, kayaking, waterskiing, and swimming. Hiking here ranges from easy to challenging trails. There are picnic and camping areas also.
Bordering Golden Ears Provincial Park, the University of British Columbia's Malcolm Knapp Research Forest on Silver Valley Road offers trails, views, and wildlife. There are trees here over 100 years old and some even 400 years old.
For those who enjoy fishing for tasty Rainbow Trout, you could try your luck at Whonnock Lake. This spot is also popular for swimming in the summertime as there's a small sandy beach here.
If you have a dog, Maple Ridge has an excellent off-leash dog park at the Albion Fairgrounds. When some human activities are on, though, this park may or may not be closed while the event is on, so check ahead. Live music and agricultural events are held at the fairgrounds, and the space also has sports fields.
Maple Ridge Real Estate Market
Homes for sale in Maple Ridge are mainly a mix of single-family houses, townhouses, and condos. Here are just some of the great neighbourhoods in the City of Maple Ridge:
Albion/Kanaka is a popular area for families, and the real estate market includes many 4–6 bedroom houses and three-bedroom townhomes. The Albion Fairgrounds and a dog park is located here, along with a mix of schools and amenities. Nature trails, parks, and Kanaka Creek add pleasant green space to this great neighbourhood!
Silver Valley is close to the Alouette River and has many excellent trails. Stylish 3-4 bedroom townhouses and 4–6 bedroom houses in a mix of architectural approaches are popular real estate finds here.
Port Hammond, more commonly called Hammond, is the location of the Maple Meadows Business Park and a favorite movie and TV filming location. It's close to Pitt Meadows and offers a mix of house and yard sizes.
Towne Centre living allows you to walk to many stores, businesses, and entertainment, plus many festivals and events are held here. A large portion of the real estate, almost half, is smaller condos, and the rest is a mix of smaller houses, so this may be an excellent area to find a starter home, downsized living space, or investment property.
Maple Ridge Realtors
Are you thinking of buying or selling a home in Maple Ridge? If you're looking to buy a home, contact our Loyal Homes real estate agents, who can answer all your Maple Ridge community, neighbourhood, and real estate questions.
If you're thinking of selling your Maple Ridge, BC home, our associated Listing Realtors can provide information on recently sold comparable properties, up-to-date real estate market information, and professional tips to help you prepare and sell your house for top dollar.