Homes for Sale in Delta, BC
Welcome to Delta! Below you will find the newest homes for sale and real estate in Delta, BC. If you would like more information on any of these Delta real estate listings, simply click on the property, register for a free account, and you'll have access to the full details. From there, you can click Schedule a Tour to request more information from our Loyal Homes Client Care Coordinators or schedule a viewing. Our Client Care Coordinators will be happy to provide you with property disclosure statements, past sales history, comparable properties which have recently sold nearby, and more, so please don't hesitate to ask for help!
For your convenience, we have included Delta community information at the bottom of the page, including directions for getting here and information about weather, culture, healthcare, recreation, schools, and the real estate market.
Newest Delta Real Estate Listings
Delta Real Estate Listings
November 27, 2021
$1,499,000
Med. List Price
About Delta, BC
Delta is a city in British Columbia's lower mainland and is part of Greater Vancouver, first inhabited by the Coast Salish First Nation. Delta was relatively isolated as a community until the George Massey Tunnel was completed between Ladner and Vancouver. In 1960, the Tsawassen Ferry Terminal expanded the area further, connecting it with Vancouver Island, the surrounding Gulf Islands, and Highway 99 was rerouted through Delta, causing a population increase of 400% between 1960 and 1980. Today the city has 111,280 residents, with a median age of 42.8 years old and a median income of $71,590.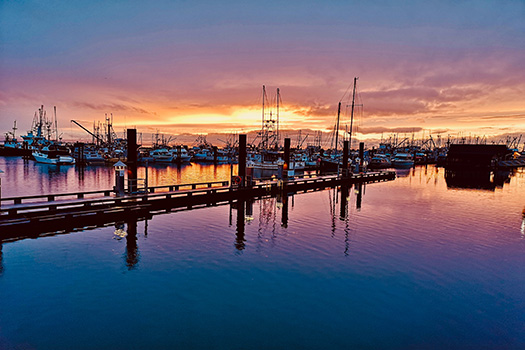 The region of Delta is primarily rural and encompasses Annacis Island, Deas Island, Westham Island, and the three distinct communities of North Delta, Ladner, and Tsawwassen. Due to its flat, fertile land, it is one of the most important agricultural areas in Greater Vancouver, with Agricultural Land Reserve regulations keeping it preserved for farming and other agricultural uses. The region is also home to Burns Bog, 40 km2 of natural wetlands.
The Delta public school system has all grades of English-speaking schools, and there is one French-speaking primary school in the region. Delta has its police department, and it is home to the Arncott Substation (ARN), which is the mainland power terminal for Vancouver Island. Delta is also home to the Boundary Bay airport, Canada's 7th busiest airport, mainly used by private aircraft, commercial charters, and flying lessons.
Getting to Delta
Delta is bordered by water on three sides, with Boundary Bay to the south, the Georgia Strait to the west and the Fraser River to the north, and the nearest cities are Surrey, Langley, and Burnaby, all of which is about half an hours drive away on Highway BC-99 S. River Road and Ladner Trunk Road are the two other main thoroughfares that connect residents of Delta to nearby communities.
Vancouver Airport (YVR) is where you fly in from town. Delta is 27 km south of the city of Vancouver, a 33-minute drive. You can also catch the Skytrain and transfer to the 319 bus or take a taxi. You can catch BC Ferries sailings from Vancouver Island or the Gulf Islands, arriving directly in Tsawwassen.
Delta Weather
Delta has almost 40% less precipitation than downtown Vancouver, and its Tsawwassen region is known as the sunniest place in Metro Vancouver. The average summer temperature is a high of 24 °C and a low of 12 °C. Therefore you can expect clear skies and dry weather.
In the winter, the average high temperature is 3°C, with an average low of -5°C, and the sky is generally overcast or mostly cloudy. Delta residents can expect quite a bit of rain during the winter, and therefore investing in some reliable rainwear is suggested. During the winter, Delta can get snow between November and February.
Delta Culture
Delta is comprised of three distinct communities. Ladner is a fishing village that expanded into a suburb and maintained its roots in fishing and farming. North Delta is a largely suburban area, home to over half of Delta's population, and Tsawassen maintains its small-town feel even though it is quickly expanding.
Sports are a massive part of the culture in Delta, with minor sports teams in soccer, football, hockey, baseball, softball, field lacrosse, and box lacrosse, and there is a ringette association with 13 teams.
The arts are equally important to residents of Delta, British Columbia, and you can find classes, performances, museum pieces, and wares at the South Delta Artists' Guild and Gallery, Sublime Art Supplies and Gallery, the Tsawassen Arts Centre, and the Watershed Artworks Society.
Delta Education
Delta is part of School District 37. There are 24 elementary schools and seven secondary schools. The Delta School District also has a continuing education program that provides a wide range of options, including; computer training, personal development, secondary school completion courses, and life skills programs to name a few. Delta also has a community college providing an array of programs.
Delta Health Care
Delta is served by the Fraser Health Authority, with the Delta Hospital in Ladner offering services including 24-hour emergency care, diagnostic imaging, laboratory services, and the performance of approximately 5,000-day surgeries a year. Next to the hospital is the Mountain View Manor residential care facility.
Fraser Health also funds public health services, home care, mental health, assisted living, and hospice care in the Delta community. Family doctors, dentists, and specialists are found in Delta, and you will find resources for nearly any specialized care in the Greater Vancouver Region.
Things to Do in Delta
When you are in Delta, you can visit the Big Splash Waterpark for waterslides, tube slides, swimming, and hot tubs, and check out the other fun attractions throughout the area, like go-karts, casinos, and golf courses. Go shopping at Tsawassen Mills outlet shopping centre, and enjoy attractions like the 7000 square foot Skate Park at West 49, Virtual Land, and Playscape Arcade.
You can hike and picnic through most of the region, with terrains like wetlands and bogs, sandy beaches, and urban forests to choose from. Horseback riding is also a popular pastime. Over 260 bird species have been seen in the Delta region, so nature lovers can go birding and maybe check a rare species off their "to-see" list.
When fruit and vegetables are in season, you can go to u-pick farms in Delta, where you choose your produce and harvest it yourself from the farm. This option can save you some money and allows you to select the freshest and most appealing produce. The region also has incredible wineries and breweries to visit.
Delta Real Estate Market
The city of Delta is made up of many distinct neighbourhoods and communities, which means that there's something to fulfill the needs of nearly any real estate investor. Generally, the prices of property in Delta are lower than in other cities in the area, including Vancouver and Burnaby, although Delta is also home to some of the Lower Mainland's most prestigious neighbourhoods. Delta has solid transportation options, which means it's a popular bedroom community for those who work in Vancouver.
The largest community within Delta is North Delta, home to more than half of the city's population. A significant landmark in North Delta is Burns Bog: the largest chunk of undeveloped urban land on the continent, contributing to the neighbourhood's impressive amount of green space. North Delta is primarily a suburban area and is home to many parks and recreational facilities. A typical property type in North Delta is large, single-family homes built in the 1970s on large lots compared to those available in other communities in the Lower Mainland. These older family homes are often extensively renovated, with some property owners even opting to build brand new homes on these large lots. North Delta has also seen increased highrises and master-planned developments, including the impressive Sunstone by Polygon subdivision.
Ladner is a wonderfully quaint neighbourhood of Delta—a former fishing community bordered by two bodies of water—the Georgia Strait and the Fraser River. Because it's one of the oldest communities in the area, you can find wonderfully unique options for real estate investment in Ladner, including heritage homes that date back almost a century. Ladner is a trendy community because it offers plenty of green space, large yards, and solid affordability. Recently, many new condos and apartment units have been built, attracting first-time real estate investors and young professionals.
Tsawwassen is a laid-back neighbourhood located on a peninsula in the southern part of Delta. Tsawwassen is home to many beach-side communities that offer a genuinely charming lifestyle. One of these communities is Boundary Bay, first developed in the 19th century as an oceanfront getaway for Vancouver's elite. Today some of these historic properties still stand, though stylish newly-built single-family homes join them. English Bluff is an elite neighbourhood in Tsawwassen, featuring large homes with impressive ocean views.
Delta Realtors
Are you thinking of buying or selling a home in Delta? If you're looking to buy a home, contact our Loyal Homes real estate agents, who can answer all your Delta community, neighbourhood, and real estate questions.
If you're thinking of selling your Delta, BC home, our associated Listing Realtors can provide information on recently sold comparable properties, up-to-date real estate market information, and professional tips to help you prepare and sell your house for top dollar.