Homes for Sale in Burnaby, BC
Welcome to Burnaby! Below you will find the newest homes for sale and real estate in Burnaby, BC. If you would like more information on any of these Burnaby real estate listings, simply click on the property, register for a free account, and you'll have access to the full details. From there, you can click Schedule a Tour to request more information from our Loyal Homes Client Care Coordinators or schedule a viewing. Our Client Care Coordinators will be happy to provide you with property disclosure statements, past sales history, comparable properties which have recently sold nearby, and more, so please don't hesitate to ask for help!
For your convenience, we have included Burnaby community information at the bottom of the page, including directions for getting here and information about weather, culture, healthcare, recreation, schools, and the real estate market.
Newest Burnaby Real Estate Listings
Burnaby Real Estate Listings
November 27, 2021
About Burnaby, BC
Burnaby is the third-largest city in British Columbia, with a population of around 230,000 residents. For its size, it's startlingly well-equipped, featuring two major post-secondary institutions, British Columbia's biggest mall, and two SkyTrain lines that provide convenient connections to Vancouver and the surrounding areas.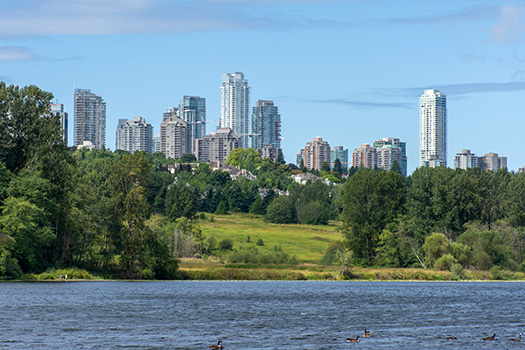 While Burnaby has bustling urban areas, it also provides beautiful natural sites, including Deer Lake Park, Burnaby Mountain, and Central Park. It is considered to be one of the greenest cities in North America. For those who like to hike, jog, and spend time in nature with their family, Burnaby is truly desirable.
Burnaby is home to a diverse population of people from all over the world, and you can find wonderful restaurants and shops reflective of this diversity. It's cheaper to live in Burnaby than Vancouver on average, but the abundance of transportation options means you can enjoy both at once.
Burnaby is a leader in high-tech employment options and also offers excellent recreational amenities. That adds to the possibility of an impressive work-life balance that makes it an attractive option for professionals and young families.
Getting to Burnaby
Much of Burnaby's growth over previous decades can be attributed to its well-connected surrounding areas. The SkyTrain passes through Burnaby on two lines. The Expo Line—built during Expo 86, the World's Fair held in Vancouver in 1986—travels along the south of the city along Kingsway. The Millennium Line—built-in 2002—moves along the Lougheed Highway.
With around 80 kilometers of track, the Vancouver-area's SkyTrain station is Canada's most comprehensive rapid transit system and one of the world's longest driverless public transit systems. The SkyTrain lines that pass through Burnaby allow for easy access to Vancouver, Surrey, and New Westminster.
Beyond the SkyTrain, Burnaby is well-served by the Metro Vancouver bus system. Burnaby is also linked to neighbouring cities by major highways and streets, including Hastings Street, Barnet Highway, Lougheed Highway, Marine Drive, Canada Way, and Kingsway. Those travelling by air will likely use Vancouver International Airport, between a half-hour and an hour's drive, depending on traffic.
Burnaby Weather
Much of Burnaby is at a higher elevation than surrounding cities in the Lower Mainland, which means it often gets more snowfall and rain than Vancouver. Overall, temperatures in Burnaby are mild. Summers in Burnaby are usually warm and dry, while winters are cool with lots of rain.
Burnaby has an oceanic climate, which means temperatures are cool but rarely cold in winter, and summers are seldom hot. In oceanic climates, the average annual temperatures usually fall within a narrow range. Other places in the world with oceanic climates include many countries in Western Europe and countries like New Zealand.
Burnaby Culture
Burnaby is known as a particularly multicultural city, so it shouldn't be a surprise that it has a wealth of artistic and cultural attractions. The Burnaby Art Gallery is home to works by many established and respected artists, both local and international. The Shadbolt Centre for the Arts—located in beautiful Deer Lake Park—has a range of arts programs to offer visitors of all ages.
If you're interested in digging into the history of Burnaby, you can check out the Burnaby Village Museum, which allows visitors to take a trip into the past to experience simple farmhouse life from a hundred years ago.
Burnaby Public Library attracts thousands of visitors each day to its four locations across the city. A popular destination for attending music, dance, and theatre performances is the Michael J. Fox theatre, named after the Back to the Future star who grew up in Burnaby. Other famous people from Burnaby include the singer Michael Bublé and the hockey player Joe Sakic.
Burnaby Education
Burnaby is part of the School District 41 which is the fourth largest in all of BC. There are 41 elementary schools and 8 secondary schools. Additionally there are alternative programs as well as multiple other educational resource programs within the district. Approximately 25,000 students attend these institutions and provide jobs for roughly 4,000 individuals. Burnaby is home to the Burnaby Community & Continuing Education program which provides opportunities for thousands of adults.
Burnaby is also home to Simon Fraser University's main campus which sits on top of Burnaby Mountain overlooking the surrounding regions.
Burnaby Health Care
Health care services in Burnaby are provided by Fraser Health, one of the five healthcare regions in British Columbia, providing health services to nearly two million people.
Burnaby Hospital is a large community hospital with 259 acute care beds and provides a wide range of specialized services to patients. Beyond hospital services, Burnaby Home Health Office provides other health services, including nursing support, day programs, case management, and more.
Things to Do in Burnaby
One of the most popular activities for residents of Burnaby to take part in is to head up Burnaby Mountain, where stunning views of Burrard Inlet and the Vancouver skyline can be seen. The Burnaby Mountain Conservation Area is home to Simon Fraser University and features an impressive array of hiking trails, home to wildlife and picturesque trees.
When it comes to shopping and entertainment, it's certainly hard to beat Metrotown Mall. BC's biggest mall has more than three hundred quality stores, putting plenty of retail options within easy reach. Easy accessible by SkyTrain, Metrotown is easy to get to and can be a great way to spend some rainy afternoon hours.
Deer Lake Park is another one of the most popular spots for some relaxation and recreation in Burnaby. Home to the Burnaby Art Gallery, Burnaby Village, and the Shadbolt Centre, Deer Lake Park is a hub of exciting things to do. When the weather is nice, you'll want to enjoy the walking trail that winds around the lake, particularly in early spring when the flowers are blooming, as well as in late fall when the leaves dramatically change colours.
Burnaby Real Estate Market
Burnaby is a large urban area of residents with many incomes, and the real estate options are similarly diverse. Burnaby is a desirable real estate market due to its proximity to downtown Vancouver and plenty of other cities in the Lower Mainland.
Burnaby's Brentwood Park is a changing neighbourhood, previously home to relatively affordable detached homes and condos. It has recently transformed into a central urban area with brand new all-residential towers that offer luxury one, two, and three-bedroom options. Brentwood Park offers excellent views of the North Shore Mountains and Burnaby Mountain and plenty of green space.
The Burnaby Lake area is a relatively quiet residential area, featuring primarily single-family homes and a small percentage of condos and apartments. Around Burnaby Lake, a high more than eighty percent of residents are homeowners.
North Burnaby is one of the top neighbourhoods in the Lower Mainland area. It's a quiet residential area with eclectic stores and services, excellent walkability, and beautiful views. It offers exciting real estate options, including contemporary-style houses, charming post-war bungalows, and craftsman-style homes.
Burnaby Realtors
Are you thinking of buying or selling a home in Burnaby? If you're looking to buy a home, contact our Loyal Homes real estate agents, who can answer all your Burnaby community, neighbourhood, and real estate questions.
If you're thinking of selling your Burnaby, BC home, our associated Listing Realtors can provide information on recently sold comparable properties, up-to-date real estate market information, and professional tips to help you prepare and sell your house for top dollar.