Homes for Sale in Bowen Island, BC
Welcome to Bowen Island! Below you will find the newest homes for sale and real estate in Bowen Island, BC. If you would like more information on any of these Bowen Island real estate listings, simply click on the property, register for a free account, and you'll have access to the full details. From there, you can click Schedule a Tour to request more information from our Loyal Homes Client Care Coordinators or schedule a viewing. Our Client Care Coordinators will be happy to provide you with property disclosure statements, past sales history, comparable properties which have recently sold nearby, and more, so please don't hesitate to ask for help!
For your convenience, we have included Bowen Island community information at the bottom of the page, including directions for getting here and information about weather, culture, healthcare, recreation, schools, and the real estate market.
Newest Bowen Island Real Estate Listings
Bowen Island Real Estate Listings
November 27, 2021
$2,645,000
Med. List Price
About Bowen Island, BC
Just a short ferry ride from Vancouver, you will find beautiful, rugged Bowen Island, also known as the emerald island. Bowen Island has been a relaxing escape for many people wanting to get away from the hustle and bustle of city life. Bowen Island is nestled in the protected waters of the Howe Sound, making it an ideal destination for boaters, diving, and all things water. Bowen Island itself is spread across 12,500 acres, over one-third of which is crown land and 37 kilometers of coastline with various beaches. Inland, you can find an abundance of hiking trails and wildlife. While Bowen Island is a destination island for many, roughly 3,500 people are fortunate enough to call Bowen Island home year-round.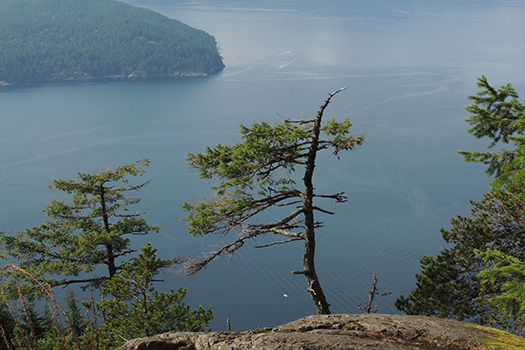 Getting to Bowen Island
Whether you are going to the island for a weekend, or are looking to invest in real estate, getting to Bowen Island is an adventure in itself. With a short 20-minute boat ride from Vancouver's Departure Bay Ferry Terminal. You can drive on or walk on and leave your car at the Horseshoe Bay Ferry Terminal. Don't have a car? No worries, you can take the bus to the ferry from downtown Vancouver and walk on. The ferry ride boasts picturesque views of the surrounding mountains and wildlife and stunning homes pearched on the shores of Bowen Island.
Bowen Island Weather
Due to Bowen island being more exposed to weather, summers are short, warm, and partly cloudy. In comparison, winters are long, cold, and wet. November is known to be the wettest month of the year, with an average of 272mm of precipitation over 31 days. Even at Bowen Island's lowest, it often does not drop below 0°C. If you prefer warm weather, the best time to visit Bowen is between July – August which when the island experiences on average highs of 22°C with lows of 17°.
Bowen Island Culture
Bowen Island has been home to the Coast Salish people known as the Squamish. Their territory ranges from Robertson creek to Point Grey. The Squamish refer to Bowen Island as "Xwlíl'xhwm," which is interpreted as "Fast Drumming Ground." Many believe this name is derived from the sound of the ocean as it passes by the island. On Bowen Island (Xwlíl'xhwm), the Squamish had established a small village known as Qole'laqom where they survived off the land through hunting and fishing and used it as a rest stop during voyages along the coasts. There is no trace of Qole'laqom, but certain artifacts such as arrowheads, clam middens, and a fire pit have been uncovered. Fast-forward to the early to mid-1900s, companies began developing resorts, cottages, and trails to accommodate the enormous boom in tourism. Bowen Island became known as "The Happy Isle." In the 1980s, people began moving to Bowen Island as permanent residences due to more affordable real estate compared to Vancouver. Today, Bowen Island is a popular destination for musicians, artists, performers, and writers. There is an abundance of culturally related activities to partake in on this beautiful Emerald Island.
Bowen Island Education
Despite being on an Island, Bowen Island has education facilities available and alternative options. You can be sure to find a program that best suits your child and your needs.
Early Childhood Education
Bowen Children's Center provides preschool programs as well as daycare.
Bowen Island Montessori School provides preschool and kindergarten programs.
Private Schools
Island Pacific School is a private school focused on educating grades 6-9.
Public Schools
Bowen Island Community School provides kindergarten to grade 7 programs.
When your child is ready for high school, they attend either Rockridge Secondary School, West Vancouver Secondary School, or Sentinel Secondary School. Students get to ride the ferry for free, and transportation is provided on the island and mainland.
Island Discovery Learning School provides alternative schooling options publicly funded in classroom learning and assistance with home-based education.
Bowen Island Healthcare
Bowen Island Health Center Foundation is devoted to providing access to essential healthcare services for Island residences without leaving the island. Services offered include Dental, clinic, chiropractic, massage, dietician, kinesiology, physiotherapy services, and counseling and psychological services. Vancouver General Hospital is 40 minutes from the Horseshoe Bay ferry terminal if you need more specific care.
Things to Do on Bowen Island
Bowen Island has endless activities to choose from. Firstly, Bowen Island has been called the 5th most artistic community in all of Canada. You can visit the art galleries, heritage sites, and museums. Davies Heritage Orchard is home to some of the first cottages built on the island to encourage tourism. Only eight cottages remain, but you can take a tour of the grounds and learn about the history that lives there. Bowen Island is also home to Bowen Island Golf Club, which made Canada's top 25 best 9-hole courses. If water sports are more your cup of tea, there are fishing charters, kayaking tours, and beaches to truly take in the islands' natural beauty. On land, there are endless cycling and hiking trails that will not disappoint. Hike Mt. Gardner, the island's highest peak, and be rewarded with stunning panoramic views. Whether you are visiting or looking to move to Bowen Island, it is truly a beautiful gem.
Bowen Island Real Estate Market
Bowen Island is a truly magical place to live. Whether you are looking to purchase a home to live in year-round or you are searching for the perfect summer vacation home, Bowen island has it all. Stunning million-dollar estates can be found all across the island. Due to the water surrounding all sides, many homes on Bowen Island offer breathtaking views of the ocean, Vancouver, and surrounding mountains across the way. Any home style can be found on Bowe island, from heritage homes to modern designs and west coast-inspired living, to Cape Cod style homes. Bowen Island truly has it all.
Some of the neighbourhoods/areas to live on Bowel Island are; Snug Cove, Cowan Point & Seymour Landing, Tunstall Bay, Fairweather, Queen Charlotte Heights, and Cates Hill, to name a few. Many of these homes are on drilled wells and septic fields.
Bowen Islands Realtors
Are you thinking of buying or selling a home on Bowen Island? If you're looking to buy a home, contact our Loyal Homes real estate agents, who can answer all your Bowen Island community, neighbourhood, and real estate questions.
If you're thinking of selling your Bowen Island, BC home, our associated Listing Realtors can provide information on recently sold comparable properties, up-to-date real estate market information, and professional tips to help you prepare and sell your house for top dollar.