Homes for Sale in Abbotsford, BC
Welcome to Abbotsford! Below you will find the newest homes for sale and real estate in Abbotsford, BC. If you would like more information on any of these Abbotsford real estate listings, simply click on the property, register for a free account, and you'll have access to the full details. From there, you can click Schedule a Tour to request more information from our Loyal Homes Client Care Coordinators or schedule a viewing. Our Client Care Coordinators will be happy to provide you with property disclosure statements, past sales history, comparable properties which have recently sold nearby, and more, so please don't hesitate to ask for help!
For your convenience, we have included Abbotsford community information at the bottom of the page, including directions for getting here and information about weather, culture, healthcare, recreation, schools, and the real estate market.
Newest Abbotsford Real Estate Listings
Abbotsford Real Estate Listings
November 27, 2021
Abbotsford Real Estate Listings by Price
About Abbotsford, BC
The City of Abbotsford has it all!
From family-friendly farm attractions to the Sevenoaks Shopping Centre mall and everything, you need in between. Abbotsford has accessible health care, arts and culture, scenic mountain beauty, and great neighbourhoods with home prices substantially less than Vancouver and other areas such as Surrey.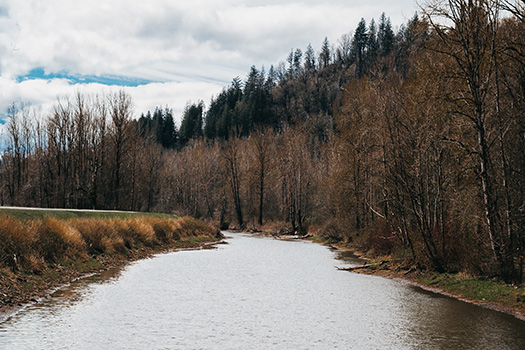 Situated between the Coast and Cascade mountains with a population of about 141,397 in 2021, Abbotsford, or "Abby," is the Fraser Valley's largest city, and it even has an international airport.
Getting to Abbotsford, BC
With transfers at Vancouver or Toronto airports, you can fly "Abbotsford to Anywhere," as the Abbotsford International Airport's slogan declares. Those traveling to Abby from Canadian cities such as Calgary, Edmonton, Toronto, Hamilton, and Winnipeg can take direct domestic flights.
Traveling by car is accessible from local cities since Abbotsford is on the Trans Canada Highway. Mission is under a 15-minute drive, and driving from Aldergrove, Langley to Abby takes around 20 minutes. Depending on what part of the city you're leaving from, Vancouver may take 1 to 1.5 hours of driving time, and Bellingham, Washington, is probably closer to an hour's drive away.
Abbotsford Weather
Warm summers and cold winters are historically the norms for Abbotsford weather. The temperature drops in winter aren't usually less than -7°C. Typically, summer highs are around 26°C but can reach 31°C, especially in July and August. Abby, on average, gets more rain year-round than Vancouver.
Abbotsford Culture
Abbotsford's rich cultural community includes Matsqui and Sumas Indigenous peoples, a European cultural influence, and a large population of people of South Asian ethnicity. North America's oldest Sikh temple is located here, and there are also many churches as Abbotsford is considered one of Canada's "bible belt" communities.
Indigenous artifacts and art pieces, and other types of paintings, sculptures, and more can be found on display at the Reach Gallery Museum. You can contact the museum for information on docent-led tours and other events held during the year.
Abbotsford Education
The Abbotsford District is home to 46 schools! Thirty of those are elementary schools, eight middle schools, one middle-secondary school, and seven high schools. This school district provides education for over 19,200 students.
Located at Abbotsford Senior Secondary School, the community library, part of the Fraser Valley Regional Library, has a great selection of books and a decorated children's section perfect for inspiring reading among young ones.
Abbotsford Health Care
The Abbotsford Regional Hospital and Cancer Centre on Marshall Road is a vital community health resource here. The Canadian Cancer Agency manages the cancer centre, and Fraser Health operates the hospital. Emergency services are available 24/7, and the facilities offer a wide range of surgical and other procedures to area patients.
Abbotsford also has a full spectrum of health care services, including at least four medical clinics and four dental centres and assisted-living homes, a mix of medical specialists, home care, and several social services organizations.
Things to Do Abbotsford
Surrounded by mountains with lots of farmland and picturesque outdoor spaces, outside is a great place to be all year round in Abby!
Reaching Abbotsford's highest summit at Sumas Peak is the goal of many mountain-climbing enthusiasts. But for those who would rather stay on a network of beautiful park trails, there's plenty to be explored at Sumas Mountain Regional Park. You can start from the upper parking lot and hike, bike, or run on trails until you find Lost Lake… also called Chadsey Lake. The view of the water and trees here is awe-inspiring and well worth the trip!
The Abbotsford Airshow at the Abbotsford International Airport is an iconic attraction and is the largest show in Western Canada. With the Canadian Forces Snowbirds, the United States Navy Super Hornets being only a few of many features. Each year you can look forward to a different lineup of these acrobatic airplanes.
For farm-fresh, 'u-pick' produce, and a whole lot of family fun, there's Maan Farms. Depending on whether it's spring, summer, or fall, Mann's offers Barnyard Adventures, a petting zoo, a sunflower garden, and of course… seasonal fruit or vegetables to pick and take home. Another Abbotsford farm favourite is Taves Family Farms. They have both seasonal 'u-pick' vegetables and fruits, most notably pumpkins and apples, as well as a country store and year-round family events.
Situated in central Abby on Emerson Street, Mill Lake is a popular city park that offers summertime swimming in the outdoor pool. A splash park and playground, as well as picnic tables, are also here. Walking on the path that goes around the small lake is a popular activity here. At an average pace, the complete loop takes about 45-minutes to walk.
Abbotsford Real Estate Market
With so much going for it, Abbotsford is a great place to purchase a home. Here are just some of the best neighbourhoods in Abbotsford, BC.
Eagle Mountain in East Abbotsford is a master-planned luxury home community featuring residences with fantastic Fraser Valley Views. Lower Ten Oaks neighbourhoods include some newer condos, townhomes, and houses. This area is known for solid, high-quality living.
McMillan is not only one of the top-rated residential neighbourhoods in Abbotsford but also British Columbia. It's a large district with all three levels of schools. Old Clayburn is a highly ranked premier neighbourhood in Abby that embraces gated community living. Upper Ten Oaks is a sought-after, vibrant area with a mix of homes for sale, including condos and houses.
Abbotsford Realtors
Are you thinking of buying or selling a home in Abbotsford? If you're looking to buy a home, contact our Loyal Homes real estate agents, who can answer all your Abbotsford community, neighbourhood, and real estate questions.
If you're thinking of selling your Abbotsford, BC home, our associated Listing Realtors can provide information on recently sold comparable properties, up-to-date real estate market information, and professional tips to help you prepare and sell your house for top dollar.