Vedder Houses for Sale
Search all Vedder houses for sale and real estate listings below. Vedder is a desirable neighbourhood in Chilliwack, BC, that borders the urban neighbourhood of Sardis. Vedder offers residents the best of both worlds with nearby hiking, camping and other activities, making it a great neighbourhood for those who love the outdoors and the convenience of nearby shopping and amenities.
Real estate comes in the form of detached homes from older to newer executive homes, townhouses including The Woods at Garrison Crossing, Greystone at Webster Crossing and Base 10, manufactured homes, and condos such as the Radius and Englewood Courtyard. To request up-to-date information about properties for sale in Vedder, or to arrange a private showing, contact your Chilliwack real estate experts today!
Newest Vedder Real Estate Listings
Vedder MLS Real Estate Listings
June 8, 2023
Vedder MLS Real Estate Listings by Price
Real Estate in Vedder
There is a fair amount of variety in Vedder homes and much to be discussed regarding future plans for the area. Historically, Vedder has been developed in the typical Chilliwack suburban style. Large lots are designed for single-family homes with either big garages or large driveways to accommodate the vehicles needed to commute to work. Even this far east, residents face housing price pressure, and Chilliwack's Housing Needs Report published in 2020 showcases that many households cannot afford a single detached dwelling. As such, a new community plan has been developed to guide a more affordable, accessible and dense Vedder. As one of the most popular communities in Chilliwack, Vedder represents an interesting opportunity to create a walkable community that provides accessibility to residents' daily commercial and lifestyle needs.
Due to their increased affordability, the plan repeatedly calls for more multi-unit housing forms, particularly townhouses and apartments. The Vedder of the future will be different from the past, and the plan seeks to densify along the retail corridor of Vedder Road. Most of Chilliwack's neighbourhoods require you to drive to get even basic groceries or a coffee. The vision for this area is to differentiate it by creating opportunities for more residents to walk to access amenities and daily necessities. Today though, Vedder remains semi-rural and is even home to a mobile home park. This is different from an RV park - these are much more permanent and, although movable, have the appearance of a typical, albeit small house. Vedder's new community will be served by expanded public transit options and new pedestrian infrastructure to create universal accessibility.
Much of Vedder's past development creates a stereotypical suburban environment - rows of similar homes are separated by yards and picket fences. However, there are areas where the houses are more customized. If you are seeking a traditional family home, Vedder is an excellent neighbourhood. If you are looking for a more dense environment, Vedder will be a place to consider in the coming years as more new housing is constructed. The Vedder Road corridor offers a range of development types and will continue to do so as the corridor expands and shifts towards a more vibrant, pedestrian-oriented community.
About Vedder
Located in the southern portion of the City of Chilliwack is Vedder, a neighbourhood with booming demand and plenty of interest from the general public and the government. The South Vedder Neighbourhood is east of Vedder Road and lies below the neighbourhood of Promontory, sharing boundaries with the Tzeachten First Nation reserve and using Vedder Road as its western boundary. It can also be considered the southern portion of Sardis.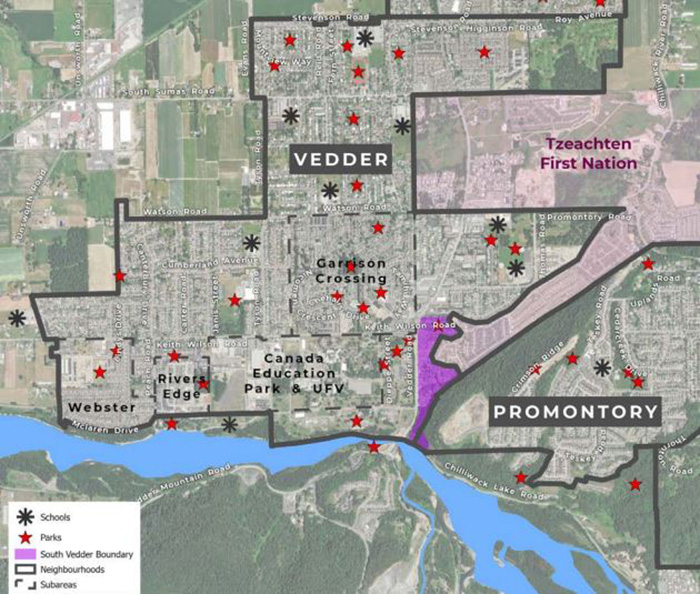 Photo Retreived from: South Vedder Neighbourhood Plan Page 10.
Vedder has recently exploded in popularity, making up nearly two-thirds of Sardis' total population. In response to this demand, the City of Chilliwack prepared and released the South Vedder Neighbourhood Plan, which forms part of the 2040 Official Community Plan (OCP). The Plan reflects a variety of community perspectives and needs that were identified throughout the engagement period. It establishes a future land use vision and guiding principles to support the City's long-range growth management strategy. The South Vedder Neighbourhood Plan provides clear policy direction for achieving greater affordability, sustainability, and liveability and proactively builds on the area's potential.
Vedder is an area set to see a dramatic expansion in terms of population and development. The Neighbourhood Plan directly states that there has been "high redevelopment pressure" to accommodate this influx of excited new residents.
Above, we mentioned some of the proposed infrastructure changes to create a new urban environment. There have been many already completed improvements, including lane widening, bike lanes, sidewalk improvements, and the relocation of overhead Hydro poles. Residential density continues to increase along Vedder Road, and the foundation of an entire community is now beginning to be established.
Things to do in Vedder
Vedder is an exciting neighbourhood that offers a growing number of amenities. Check out our summary below of some notable attractions that residents and visitors can take advantage of throughout the year.
Study at the University of the Fraser Valley
Although not your typical recreational activity, it's worth noting that this neighbourhood is very close to the University of the Fraser Valley (UFV). UFV is a public, accredited university that educates about 15,000 students yearly. It is just east of Vancouver and offers campuses also in Abbotsford, Mission, Hope and Chandigarh, India! This is a career-oriented institution, with small classes allowing students to learn in a practical setting. 21 bachelor's degrees with various majors and minors are accompanied by a dozen trade and technology programs to offer valuable education. If you are a young student or a family with a member who wishes to attend the university, renting or owning a home in Vedder would offer excellent proximity to allow a full focus on education.
Visit the Chilliwack / Vedder River
The Chilliwack / Vedder River has a long history as a recreational destination. Back in 1954, the rowing competitions of the British Empire and Commonwealth Games were held on the Vedder canal. Today, water sports remain popular as it is the only Canadian river with passable class III and higher whitewater-rated areas, making it a popular destination for modern sport kayakers and river rafters throughout the year.
In the warmer months, it's typical to find locals unwinding on the river banks, swimming, camping and sunbathing downstream from the Vedder Bridge at the Crossing. The Fraser Valley Regional District operates the Vedder River campground, which is available from spring to fall. As the season transitions from the summer warmth, this becomes a popular area due to the fall runs of chinook, coho, chum, pink and sockeye salmon. This river is renowned for its steelhead fishing in the winter and spring!
Explore the Many Walking and Biking Trails
Snaking throughout the neighbourhood and in the semi-rural surroundings are various enjoyable walking and biking trails. These include the Vedder Rotary Loop Trail (both north and south), Bridlewood Trail, Promontory, Salmon Ridge Trail, and various additional cycling routes.
The Official Community Plan acknowledges the popularity of these recreational trails and notes that any future development must "reflect the accessibility and contextual needs of current and future community members." Continued maintenance and expansion of these trails are assured. The City and the residents are on the same page regarding the importance of these trails, which foster a connection between the people and the pristine natural environment integrated throughout the neighbourhood.
If you're excited about moving to the growing neighbourhood of Vedder before it takes off or want to understand how you can take advantage of already being an owner in this area, our Client Care Coordinators are here to help. Our team of real estate experts is always available to answer questions about the market, whether you are considering moving to the area or selling your Vedder home. For those requiring a deeper level of expertise, we can connect you with local experts who share our values and will provide excellent customer service no matter your requirement.
Chilliwack Real Estate Listings by Neighbourhood