Homes for Sale in Ucluelet, BC
Welcome to Ucluelet! Below you will find the newest homes for sale and real estate in Ucluelet, BC. If you would like more information on any of these Ucluelet real estate listings, simply click on the property, register for a free account, and you'll have access to the full details. From there, you can click Schedule a Tour to request more information from our Loyal Homes Client Care Coordinators or schedule a viewing. Our Client Care Coordinators will be happy to provide you with property disclosure statements, past sales history, comparable properties which have recently sold nearby, and more, so please don't hesitate to ask for help!
For your convenience, we have included Ucluelet community information at the bottom of the page, including directions for getting here and information about weather, culture, healthcare, recreation, schools, and the real estate market.
Newest Ucluelet Real Estate Listings
Ucluelet
November 27, 2021
About Ucluelet, BC
In the Nuu-cha-nulth (Nootka) First Nations language Ucluelet means "people of the safe harbour," that description says it all. The rugged West Coast community of Ucluelet is built on a peninsula. On one edge of the peninsula, you have the jagged coastline where you can see for miles out to the open Pacific Ocean, and on the other side, you have a sheltered harbour.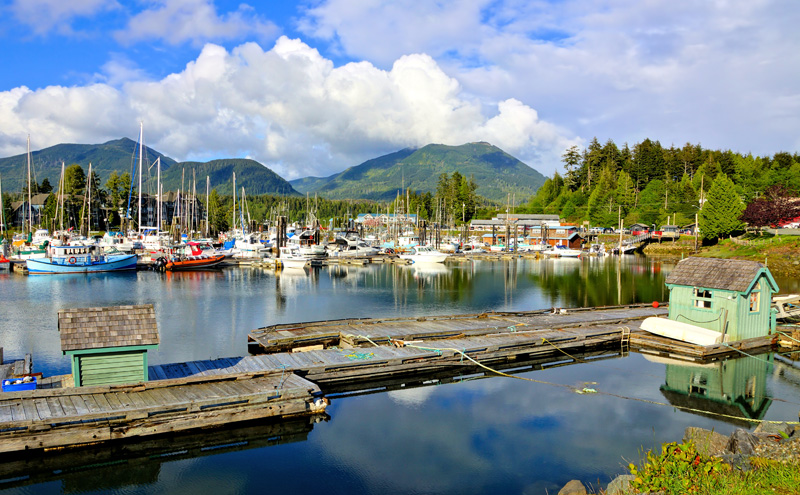 Ucluelet's first trading post was established in 1870 by Captain Francis, but there has been evidence found of First Nations peoples living along the outer edge of the West Coast of Vancouver Island for at least 4,300 years. About 1,625 people currently call Ucluelet home, and with the extraordinary views and laid-back, family-orientated community, you won't be able to pass up a chance to call Ucluelet home either! Although the uninitiated may feel like they're far away from the amenities and conveniences the larger cities offer, Ucluelet is only 2.5 hours away from Nanaimo, where ferries to the mainland are located, and 1.5 hours away from Port Alberni, which has many resources and larger shopping centers available. Ucluelet is an amazing place to call home!
Getting to Ucluelet
Located on a Peninsula, Ucluelet is a small picturesque community nestled into the wildly rugged West Coast of Vancouver Island. The landscape of Ucluelet is breathtaking, and this community is surrounded by numerous wild beaches, lush forests, and hiking trails and will genuinely speak to any nature lover. Ucluelet is a short 30-minute drive from the Pacific Rim National Park, where you will find the world-famous Long Beach and many other spectacular beaches and attractions.
Ucluelet Weather
Ucluelet boasts an exceptionally unique climate. Since it is located in the heart of the largest intact temperate rainforest in the world, Ucluelet's temperature varies only slightly throughout the year. This allows Ucluelet residents and visitors to enjoy a plethora of outdoor activities year-round. Frequent rainfall comes along with the immeasurable beauty of this rainforest, and rain gear and gumboots can be seen adorning residents along with a smile as they are fortunate enough to experience all the nature Ucluelet has to offer.
Ucluelet Culture
The culture of Ucluelet can be best described as that of a neighbourhood. The remote location, combined with the strong presence of wildlife, lends itself to a neighbourhood mentality. Every resident shares their expertise when needed, and a helping hand is never far away. Upon visiting Ucluelet, tourists are often surprised to find myriad activities to participate in both day and night. Within the town, a bowling alley with arcade games, a yoga studio, a gym, a pool, fitness classes, a community centre, live music, and a skateboarding bowl, as well as a BMX park, can be found. Bald eagles, wolves, bears, deer, and even whales can often be seen from town, and there are frequent workshops available for the community to learn more about these magnificent creatures with whom they share this fantastic landscape.
Ucluelet Education
In Ucluelet, education is offered through School District 70 (SD70 Alberni). Ucluelet Elementary School offers Kindergarten through grade 7. Grades 8 through 12 attend Ucluelet Secondary School. North Island College has an office in Ucluelet where they can help you explore how to achieve your post-secondary education goals.
Ucluelet Elementary 250-726-7793
Ucluelet Secondary 250-726-7796
North Island College Ucluelet 250-726-2697
Ucluelet Health Care
The Ucluelet Medical Centre hosts many talented and experienced medical professionals to assist with most medical issues in the center of town. For emergencies needing the facilities of a hospital, the Tofino hospital is a short 30-minute drive or ambulance ride away. There is a B.C. The ambulance station on the entrance to the town is ready at all hours, with paramedic staff just a call away. One of the larger hospitals on Vancouver Island can be found an hour and a half away in Port Alberni. Holistic services are available daily through integrated clinics that offer massage, acupuncture, physiotherapy, chiropractic, and naturopathic services.
Ucluelet Health Care Contact Info
Ucluelet Medical Center 250-726-4443
Tofino General Hospital 250-725-4010
West Coast General Hospital 250-731-1370
Things to Do in Ucluelet
Ucluelet attracts hikers, campers, surfers, kayakers, fishers, wildlife enthusiasts, runners, skateboarders, and BMX riders with its infrastructure designed to offer endless opportunities to enjoy many outdoor sports. Ucluelet hosts the Edge to Edge Marathon every year, and runners come from all over B.C. and other provinces to run along the edge of the rugged west coast ocean. Whale and bear watching tours explore the coastline offering once-in-a-lifetime encounters daily. Every spring, Whalefest allows tourists and locals the opportunity to witness countless whales breach and play above the water from a boat as well as from the shore. Several entertainment events happen, such as music festivals (Otalith) and the local annual celebration known as Ukee Days, in which logger sports competitions and live music bring visitors from all over Vancouver Island and beyond.
Ucluelet Realtors
Are you thinking of buying or selling a home in Ucluelet? If you're looking to buy a home, contact our Loyal Homes real estate agents, who can answer all your Ucluelet community, neighbourhood, and real estate questions.
If you're thinking of selling your Ucluelet, BC home, our associated Listing Realtors can provide information on recently sold comparable properties, up-to-date real estate market information, and professional tips to help you prepare and sell your house for top dollar.