Homes for Sale in Tofino, BC
Welcome to Tofino! Below you will find the newest homes for sale and real estate in Tofino, BC. If you would like more information on any of these Tofino real estate listings, simply click on the property, register for a free account, and you'll have access to the full details. From there, you can click Schedule a Tour to request more information from our Loyal Homes Client Care Coordinators or schedule a viewing. Our Client Care Coordinators will be happy to provide you with property disclosure statements, past sales history, comparable properties which have recently sold nearby, and more, so please don't hesitate to ask for help!
For your convenience, we have included Tofino community information at the bottom of the page, including directions for getting here and information about weather, culture, healthcare, recreation, schools, and the real estate market.
Newest Tofino Real Estate Listings
$1,009.40
Avg. $ / Sq.Ft.
About Tofino, BC
Tofino is undoubtedly one of the most highly recommended destinations on Vancouver Island, if not in all of Canada. In Tofino, the trip is as important as the destination. On your way into Tofino, you will find yourself driving through Pacific Rim National Park, where world-famous Long Beach is located.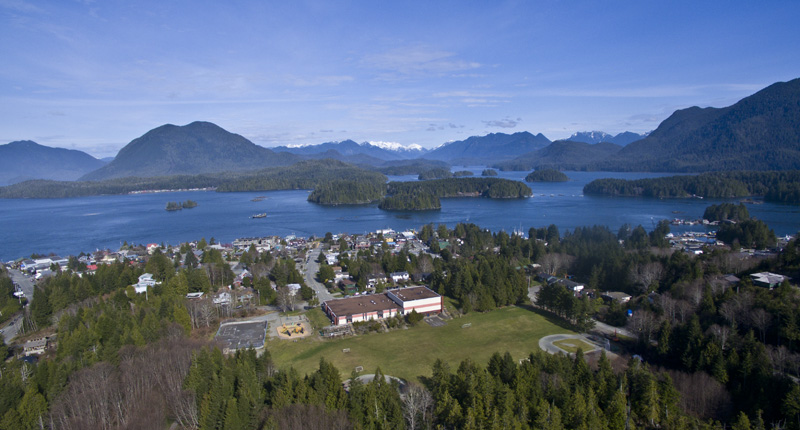 Tofino is widely known as one of the most prominent surfing destinations in North America and a paradise for landscape and wildlife photographers. Many professionals from various industries choose to call Tofino home for its endless opportunities to enjoy events, fine dining, entertainment, and learn about the rich local art and First Nations culture.
A close-knit community of fewer than 2,000 residents, Tofino offers a bohemian yet trendy vibe and nightlife that attract people from many walks of life. The rustic shops smell of ocean air, and eagles and whales can often be seen while enjoying a delicious meal on an ocean-side patio in this breathtaking town.
The vast and overwhelming beauty of Tofino's sandy beaches can be enjoyed within a short drive or bike ride. As loved as it is renowned, Long Beach shares this coastline with numerous other remarkable attractions that tourists and locals attend year-round. If you have been dreaming of a dialed-down lifestyle away from the hustle and bustle yet crave the modern culture of a trendy city, Tofino might just be the community for you.
Getting to Tofino
Tofino is located on the west coast of Vancouver Island at the top of the Estowista Peninsula. It is an approximate 90-minute drive from Port Alberni, and this popular destination has an airport and is only a few hours away from Nanaimo airport and ferry terminal. While tourists from all over the world seek out Tofino, locals cherish the luxuries, spas, and local art exhibits as much as the raw landscape surrounding this charming town.
Tofino Weather
Tofino has a steady climate throughout the year. There is a slight variation between seasons, with a relaxing, mild day and cool evening being typical. The dry season typically lasts for about four months (June to September). Rainfall is one of the many charms of this town, one which locals are prepared for with their trendy rainwear and cozy coffee houses. Surfing, kayaking, hiking, camping, whale watching, and fishing can be enjoyed year-round, and there are countless indoor exhibits and events to entertain as well.
Tofino Culture
Tofino's culture can be described as West Coast Chic with rustic surf shops, trendy restaurants, and high-end resorts. There is a considerable influence from the local Nuu-Cha-Nulth First Nations culture through artwork displayed throughout the town and educational events and workshops. The diverse culture of Tofino is engaging. There is always an exciting activity in which to participate, whether it be playing trivia games while sipping coffee in a cafe, kayaking alongside magnificent whales, or attending a music or film festival.
Tofino Education
There is no doubt that Tofino is an amazing place to grow up. Living so close to the spectacular nature of the west coast of Vancouver Island is a dream come true for most kids. But of course, kids need a formal education too! Tofino youth enjoy a dynamic education at Wickaninnish Community School until grade 8, at which time they will commute the 40-minute drive to nearby Ucluelet Secondary School.
Wickaninnish Community School (K-7) 250-725-3254
Ucluelet Secondary School (8-12) 250-726-7796
Tofino Health Care
One of the great things about living in Tofino is that it has excellent medical services for a community of its size. The Tofino General Hospital services Tofino as the general practitioners at the Tonquin Medical Clinic. Other alternative health services are available in the area, such as massage, acupuncture, chiropractic, physiotherapy, and naturopathy.
Tofino Health Care Contact Info:
Tonquin Medical Clinic 250-725-3282
Tofino General Hospital 250-725-4010
Things to Do in Tofino
Tofino is a spectacular place to call home if you are an outdoor enthusiast! On route to Tofino, Pacific Rim National Park offers endless hiking trails and numerous beaches, ideal for surfing. Kayakers, stand-up paddleboarders, and bike riders can often be seen admiring the wildlife-filled landscape as they cruise through the ocean or along wide bike paths which stretch from the town to famous beaches. Tofino also hosts a long list of festivals such as wine and food, music, film, and professional surf competitions.
Village Green Park in the heart of Tofino offers tennis courts, basketball courts, a skate park, a children's playground, and a large gazebo. Tofino residents can often be found riding in the mountain bike park, surfing on one of the famous beaches, or doing some yoga in nature. There is always the opportunity to enjoy your favorite activity or to try a new one!
Tofino Realtors
Are you thinking of buying or selling a home in Tofino? If you're looking to buy a home, contact our Loyal Homes real estate agents, who can answer all your Tofino community, neighbourhood, and real estate questions.
If you're thinking of selling your Tofino, BC home, our associated Listing Realtors can provide information on recently sold comparable properties, up-to-date real estate market information, and professional tips to help you prepare and sell your house for top dollar.