Homes for Sale in Sooke, BC
Welcome to Sooke! Below you will find the newest homes for sale and real estate in Sooke, BC. If you would like more information on any of these Sooke real estate listings, simply click on the property, register for a free account, and you'll have access to the full details. From there, you can click Schedule a Tour to request more information from our Loyal Homes Client Care Coordinators or schedule a viewing. Our Client Care Coordinators will be happy to provide you with property disclosure statements, past sales history, comparable properties which have recently sold nearby, and more, so please don't hesitate to ask for help!
For your convenience, we have included Sooke community information at the bottom of the page, including directions for getting here and information about weather, culture, healthcare, recreation, schools, and the real estate market.
Newest Sooke Real Estate Listings
Sooke Real Estate Listings
November 27, 2021
About Sooke, BC
Sooke is home to rugged coastlines, an abundance of trees, and untouched wilderness. Located 40 minutes west of British Columbia's capital city Victoria, Sooke is an enchanted place of its own. With an abundance of cafes, stores, trails, and marine activities to explore, Sooke is a desired destination. It is also the beginning of the world-renowned West Coast Trail. There is breathtaking scenery at every corner of Sooke. Take a drive along the coastline, the Renfrew loop, past little cafes, B&B's, and through windy, tree-canopied roads.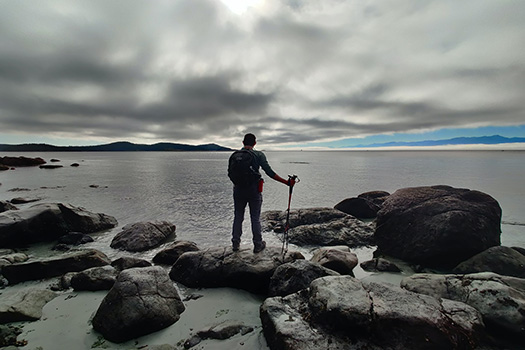 Getting to Sooke
Sooke is reasonably accessible, being only 45 km west of Victoria, BC. This means residents of Sooke have access to the BC Ferries, Victoria International Airport, and even a ferry to the USA. South Vancouver Island has a reliable bus network with access from Sooke to Downtown Victoria, the BC Ferries, and the airport, making it convenient for anyone who does not have a vehicle or prefers to use alternative transportation. You can even bike from Victoria to Sooke on the Galloping Goose, which is over 100 km of biking trails that work their way through all the communities along the way.
Sooke Weather
Due to Sooke's exposure to the coast, summers are cool, dry, and short, while winters are long, quite cold, and rainy. Temperatures rarely reach above 24°C and rarely drop below -2°C. Winter experiences more rainfall than summer, and the average annual rainfall is 1390 mm. Although winters are wetter and cooler, Sooke winters are mild compared to other regions across Vancouver Island. As long as you have a warm jacket, you can genuinely enjoy Sooke outdoors any time of the year!
Sooke Education
Sooke is part of the School District 62, including Port Renfrew, Colwood, Esquimalt, Saanich, View Royal, and Langford. Sooke itself has a preschool, four elementary schools, a middle school, and a high school. There are additional middle and high schools in Colwood and Langford, a short drive from Sooke.
Pre School:
Sooke Montessori School
2020 Kaltasin Rd
250 642 1020
Elementary Schools:
John Muir Elementary
7179 W Coast Rd
250 642 5427
Sooke Elementary
6560 Sooke Rd
250 642 5431
Ecole Poirier Elementary
6526 Throup Rd
250 642 0500
Saseenos Elementary
6066 Sooke Rd
250 642 5261
Middle Schools:
Journey Middle School
6522 Throup Rd
250 642 5881
High Schools:
Edward Milne Community School
6218 Sooke Rd
250 642 5211
Sooke Culture
The T'sou-ke peoples have called the land of Sooke home for a long time. Other first nations' tribes in different regions were jealous of the T'sou-ke peoples, as they had the ideal location of both land and sea. The name T'sou-ke is believed to derive from the stickleback fish that is native to the Sooke rivers.
Europeans followed and began acquiring land when the Hudson's Bay fur trading post was established in Victoria. In 1849 Captain Walter Colquhoun Gran was the first independent immigrant to buy land at Sooke Harbour. Grant did many things that impacted the region but most memorable is the yellow broom seeds he planted, which can now be found all the way from California to Alaska. Grant returned to Britain in the mid-1950s and left his capital to the Muir family, who came to Vancouver Island from Scotland.
Fast forward to the early 1900s, when logging began to catch the interest of businessmen. Teams of horses used to haul Douglas-fir, Sitka spruce, Hemlock, and Cedar around before technological advances were introduced.
Sooke Health Care
Sooke is part of the Island Health network and does have a few medical services directly in town, including a medical clinic, chiropractor, dentist, optometrist, and counselling service. However, for more emergent care or other health services, it is best to go to Victoria, where two general hospitals and publicly funded health care providers provide a full range of health care services.
Royal Jubilee Hospital
1952 Bay St, Victoria
250 370 8000
Victoria General Hospital
1 Hospital Way
250 727 4212
Things to Do in Sooke
Sooke has an abundance of recreational opportunities; it is hard to choose only a few. Sooke has relatively protected waters which makes it a great place to paddleboard or kayak. There are a plethora of beaches near Sooke that can be enjoyed along with waterfalls. The Juan de Fuca Trail is a stunning trail that can be enjoyed hiking or driving from beach to beach. This makes the perfect day trip or weekend getaway. The natural beauty of the southwest coast is evident regardless of sunshine or rain.
Grab your bike and explore the extensive network of trails that are prevalent around Sooke. The Galloping Goose Trail allows you to bike from the Swartz Bay Ferry Terminal in Sidney to Victoria and neighbouring communities to Sooke. This makes a great family activity where you can reward yourself with some beautiful views and delicious snacks along the way.
Sooke is near 5 surrounding Regional and Provincial Parks. Sooke Potholes Reginal Park, East Sooke Regional Park, French Beach Provincial Park, Roche Cove Regional Park, and Matheson Lake Regional Park. Each Park offers many outdoor activities, from waterfall chasing to hikes, beachcombing, wildlife watching, and so much more.
Sooke Real Estate Market
Sooke is an attractive market for real estate investments because of its natural beauty and its convenient proximity to Victoria—only around 40 km away. Sooke is a popular community for vacation properties because of its access to surfing, whale watching, and nearby wilderness parks.
In Sooke, there's something to fulfill the needs of any real estate investor. There are plenty of waterfront condos that are excellent options for retirees or those looking to downsize. Rustic cottages put stunning ocean views within reach for real estate investors who might be priced out of similar properties in downtown Victoria or Vancouver. Those looking for new luxury properties will find magnificent sprawling homes that take every advantage of the surrounding nautical splendor.
Sooke Village Core is considered to be the downtown area of Sooke. It's a small, walkable neighbourhood with affordable mid-century family homes, townhouses, duplexes, and a condo complex. Properties on the hill towards the harbour south of Sooke Road offer excellent views of the Juan de Fuca Strait.
Saseenos is nearer to Downtown Victoria than Sooke Village Core, making it an attractive neighbourhood for those commuting to Victoria. Saseenos is also located right on the Galloping Goose Trail, allowing easy bike access to surrounding areas. In sunny Saseenos, there are options for affordable family homes on unusually large lots, providing rare access to ocean and mountain views without a prohibitive price tag. You'll also find elite waterfront estates.
The Sooke River neighbourhood presents unique property types to real estate investors. There are extensive properties along one of Vancouver Island's biggest rivers, as well as quaint riverfront cottages that can offer a serene atmosphere whether you're in the market for a full-time home, a rental property, or a vacation property. For investors on limited budgets, Sooke River also has mobile home properties that are scenic and affordable. The Sooke River neighbourhood is also home to Sooke Potholes Park—one of Vancouver Island's most popular outdoor destinations.
In the Sooke River area, you'll also find Sunriver Estates—a planned community built-in 2004. This subdivision has craftsman homes that come in a range of different styles, and the lots are of a good size—many of them backing onto parkland and forests. In the Sunriver Estates community, property investors can buy an existing home or have a new home built to their specifications.
Sooke Realtors
Are you thinking of buying or selling a home in Sooke? If you're looking to buy a home, contact our Loyal Homes real estate agents, who can answer all your Sooke community, neighbourhood, and real estate questions.
If you're thinking of selling your Sooke, BC home, our associated Listing Realtors can provide information on recently sold comparable properties, up-to-date real estate market information, and professional tips to help you prepare and sell your house for top dollar.