Homes for Sale in Sidney, BC
Welcome to Sidney! Below you will find the newest homes for sale and real estate in Sidney, BC. If you would like more information on any of these Sidney real estate listings, simply click on the property, register for a free account, and you'll have access to the full details. From there, you can click Schedule a Tour to request more information from our Loyal Homes Client Care Coordinators or schedule a viewing. Our Client Care Coordinators will be happy to provide you with property disclosure statements, past sales history, comparable properties which have recently sold nearby, and more, so please don't hesitate to ask for help!
For your convenience, we have included Sidney community information at the bottom of the page, including directions for getting here and information about weather, culture, healthcare, recreation, schools, and the real estate market.
Newest Sidney Real Estate Listings
Sidney Real Estate Listings
November 27, 2021
About Sidney, BC
Sidney is a not-so-hidden treasure located on the Saanich Peninsula just north of Victoria, BC, which the Salish Sea surrounds. With beautiful views of Mount Baker and generous beach shores, Sidney is the perfect seaside community. Sidney is all about convenience. From beach access to the closeness of downtown Victoria to significant transportation channels such as Victoria International Airport and the BC Ferries, Sidney allows you never to feel stuck in one place.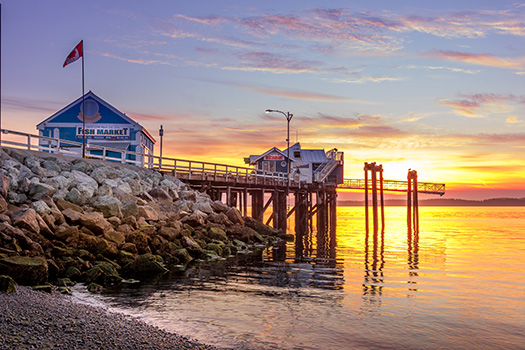 Getting to Sidney
Sidney is a short five-minute drive to Swartz Bay ferry terminal, which provides access to Vancouver and surrounding gulf islands. Victoria International Airport is also only five minutes from Sidney, which makes catching your flight a breeze. Don't have a car? No worries, there is an extensive bus system from the ferries down to Victoria. With Victoria merely thirty minutes south, you are never too far from what the big city has to offer.
Sidney Weather
Due to Sidney's proximity to the ocean, its average temperatures vary substantially. Furthermore, humidity is higher, which results in temperatures feeling colder. During mid-June to Aug, Sidney can get quite warm with average temperatures of 24°C, and during nighttime, temperatures often do not drop below 12°C. Sidney does get snow which is mainly in December. Although Sidney is on a peninsula, they do not experience heavy winds. Instead, a slight breeze is often present, which is perfect for those hot summer days.
Sidney Culture
Before European settlement, the W̱SÁNEĆ people have called the Saanich Peninsula home for thousands of years. They used it as a base for travelling to and from surrounding gulf islands. Back in the days of prohibition, Sidney was home to underground rum operations. Due to Sidney's proximity to the United States, pirates used to move alcohol across the border. To commemorate that era, there is a statue of pirate Jake James located in Beacon Park. Sidney has a museum that takes you on a trip through history.
Sidney Education
Deep Cove Elementary
250 656 7254
Sidney Elementary
250 656 3958
Kelset Elementary
250 655 4648
North Saanich Middle School
250 656 1129
Parkland Secondary
250 655 2700
Sidney Health Care
Sidney is a part of Island Health Network. The Island Health Network aims to "create and support healthier, stronger communities and a better quality of life for all those we touch." Although Sidney is small in size, they have many medical centers and care clinics available to you. Shoreline Medical is a walk-in clinic that collaborates with others in the healthcare field to provide the best service for you. Sidney also has home healthcare services and senior living care facilities. Victoria General Hospital and Royal Jubilee Hospital are 30 minutes south of Sidney.
Royal Jubilee Hospital
1952 Bay Street
250 370 8000
Victoria General Hospital
1 Hospital Way
250 727 4212
Things to Do in Sidney
The renowned Butchart Gardens is only 19 minutes southwest of Sidney and makes for a beautiful day trip for the whole family. You can honestly spend hours walking around and looking at all the different arrangements and displays at the Gardens. Whale watching is successful due to the calm waters surrounding the peninsula. Water activities such as swimming and kayaking are typical pass times for residents of Sidney. Sidney has a few popular beaches, including Glass Beach, Divers Point, and Kayak Beach. Sidney has the most bookstores in all of Canada, and you could spend a whole day in itself exploring them. Beacon Park is another must-visit, the park is right on the shorefront and has picnic tables, a walkway, art, and you can even access the Sidney Pier.
Sidney Real Estate Market
The areas within Sidney, BC are categorized as Sidney North-East, North-West, South-East, and South-West. In the neighbourhood of Sidney North-East, you will find the majority of residential real estate in apartment and townhome complexes. Some of the popular condo apartment buildings include; Lady James, Resthaven By The Sea, The Beechwood Village (55+), and Harbour Vista, to name a few. Most of these buildings offer 1-2 bedrooms with 1-2 baths. If you are searching for a townhouse to buy, check out a unit in the Twin Oak Village (45+), Cottonwood Close, or Melville Parkside. All of which are conveniently located to amenities and the marina!
In the Sidney North-West area, you will find single-family detached homes along with condominiums and townhouse complexes. Detached homes tend to be built between the 1970s to 1980s and offer attached or detached garages/carports. Homes in this neighbourhood are incredibly close to the Victoria International airport, convenient for anyone who travels frequently.
In the Sidney South-East area, numerous new developments are popping up. Cameo is a stunning modern condominium building being built by 2022. There are various floor plans to choose from, which range from studio apartments to 3 bedroom suites. This building is even going to have a movie theatre downstairs! The Peak on Third is another new real estate development offering homeowners 1, 2, or 3 bedroom suites completed by 2022! Detached family homes, townhomes, and even duplexes can be found in this neighbourhood. Therefore, southeast Sidney has options for you, whether you are looking for a studio apartment with marina views or a fully fenced home with plenty of room for the kids and pups to play.
Sidney South-West borders North Saanich and is home to single-family homes and mobile home parks. Summergate Village is a 55+ mobile home complex with single and double-wide mobile homes for sale.
Sidney Realtors
Are you thinking of buying or selling a home in Sidney? If you're looking to buy a home, contact our Loyal Homes real estate agents, who can answer all your Sidney community, neighbourhood, and real estate questions.
If you're thinking of selling your Sidney, BC home, our associated Listing Realtors can provide information on recently sold comparable properties, up-to-date real estate market information, and professional tips to help you prepare and sell your house for top dollar.