Homes for Sale in Port Hardy, BC
Welcome to Port Hardy! Below you will find the newest homes for sale and real estate in Port Hardy, BC. If you would like more information on any of these Port Hardy real estate listings, simply click on the property, register for a free account, and you'll have access to the full details. From there, you can click Schedule a Tour to request more information from our Loyal Homes Client Care Coordinators or schedule a viewing. Our Client Care Coordinators will be happy to provide you with property disclosure statements, past sales history, comparable properties which have recently sold nearby, and more, so please don't hesitate to ask for help!
For your convenience, we have included Port Hardy community information at the bottom of the page, including directions for getting here and information about weather, culture, healthcare, recreation, schools, and the real estate market.
Newest Port Hardy Real Estate Listings
Port Hardy Real Estate Listings
November 27, 2021
About Port Hardy, BC
Located on the shores of Queen Charlotte Strait, Port Hardy is the largest northern community on Vancouver Island. A gateway to the untouched natural wilderness of BC, Port Hardy gives residents access to invigorating outdoor adventures, unprecedented wildlife encounters, and the unique culture of the first people of the area, the Kwagu'ł, Gwa'Sala-'Nakwaxda'xw, and Quatsino First Nations.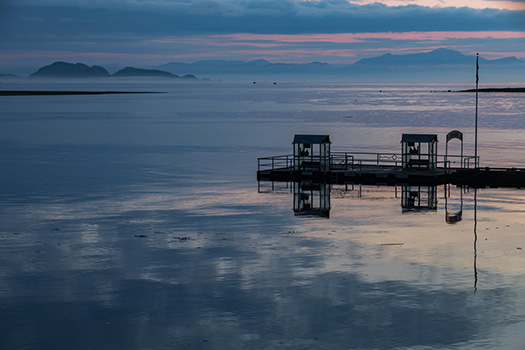 Getting to Port Hardy
On the northeast coast of Vancouver Island, Port Hardy is easily accessed via Highway 19 (232 km north of Campbell River, 390 km north of Nanaimo, and 500 km north of Victoria). Pacific Coastal Airlines offers daily flights (approximate duration: 1 hour) between Port Hardy Airport (YZT) and Vancouver Airport's South Terminal (YVR).
The 'Inside Passage' ferry sails between Port Hardy and Prince Rupert, BC, and the 15-hour voyage takes passengers through stunning glacial fjords. Tour packages include overnight cabin stays which are available on the BC Ferries' website.
Port Hardy Weather
Port Hardy's weather, influenced by the Pacific Ocean, results in cooler summers and more mild winters, an ideal climate for the lush rainforests of the west coast. The temperature in Port Hardy ranges from 2 °C to 18 °C (perfect hiking weather).
The average precipitation (primarily rainfall and snow) is approximately 2,305 mm per year. The driest month is July (56 mm), and the wettest month is November (267 mm).
Port Hardy Culture
Located on the traditional territory of the Kwagu'ł, Gwa'Sala-'Nakwaxda'xw, and Quatsino First Nations People, Port Hardy is deeply connected to the culture and traditions of the Indigenous People who first inhabited the area. Big houses, totem poles, and petroglyphs tell the history of the Indigenous people who lived off the land for millennia.
Port Hardy's first settlers came to the area because of the Hudson Bay Company trading post, established in the 1840s. Alec and Sarah Lyon were the first to settle Port Hardy (in 1912). They were later joined by other families who built a school, sawmill, hotel, and church. The town was officially incorporated in 1966. In 1971, a copper mine opened 15 km out of town and drove the population of Port Hardy to over 5,000 people. In 1995, the mine closed. Logging replaced mining as the primary industry of the area.
Today, the District of Port Hardy is committed to creating a sustainable community by developing the local economy. The primary industries are now forestry, tourism, commercial fishing, aquaculture, mining, wind and water power, and transportation.
Port Hardy Education
Port Hardy is part of School District 85 - Vancouver Island North and offers two elementary schools and one high school for local students.
Port Hardy Health Care
Under the jurisdiction of VIHA (Vancouver Island Health Authority), Port Hardy has a myriad of health services: a hospital (including ambulatory, x-ray, ultrasound, and laboratory services), long term care facilities, a public health office, a mental health center, general practitioners and dental clinics.
Port Hardy residents also have access to various therapeutic practitioners such as chiropractors, massage therapists, and physiotherapists. Multiple pharmacies, including Hardy Bay Drugstore, Rexall Drug Stores, and Peoples Drug Mart.
Things to Do in Port Hardy
Surrounded by the BC Coastal Mountain Range on the Mainland and the Insular Range on the island, Port Hardy's proximity to the mountains and Queen Charlotte Strait make it a hotspot for outdoor adventures and wildlife encounters. Port Hardy also has a vibrant downtown for residents to enjoy.
Some of the everyday activities Port Hardy residents partake in are sport fishing, scuba diving (artificial reefs from ancient ships and natural reefs), caving (novice and advanced spelunking), kayaking, surfing, and hiking; especially at Cape Scott and along the North Coast Trails.
Residents can also view wildlife in their natural habitat:
Grizzly bears can be viewed from the water with

Great Bear Lodge Tours

.

Orcas can be spotted swimming in Blackfish Sound.

Salmon can be observed spawning at the Quatse Salmon Stewardship Centre.
Port Hardy's vibrant downtown is comprised of shops and restaurants, such as Cove Apparel, Tina's Hobby Nook, Café Guido, Mikonos Café, Mo's Restaurant, and Sporty Bar and Grill. A stroll down Market Street will leave residents in awe of the talented local artists, including First Nations carvers whose arts are displayed at the Port Hardy Museum.
Port Hardy Real Estate Market
There is a mix of housing types available in Port Hardy. Mobile and manufactured homes, single-family detached homes, townhomes, and apartment buildings can be found in Port Hardy. There are even oceanfront luxury estates within Port Hardy that offer authentic secluded coast living.
The breakdown of dwelling type in Port Hardy is single-detached houses (59.9%). Semi-detached houses (3.8%), rowhouses (10.7%), apartments (18.1%), and moveable dwellings (6.9%) make up the other types of homes in the community.
Port Hardy Realtors
Are you thinking of buying or selling a home in Port Hardy? If you're looking to buy a home, contact our Loyal Homes real estate agents, who can answer all your Port Hardy community, neighbourhood, and real estate questions.
If you're thinking of selling your Port Hardy, BC home, our associated Listing Realtors can provide information on recently sold comparable properties, up-to-date real estate market information, and professional tips to help you prepare and sell your house for top dollar.