Homes for Sale in Parksville, BC
Welcome to Parksville! Below you will find the newest homes for sale and real estate in Parksville, BC. If you would like more information on any of these Parksville real estate listings, simply click on the property, register for a free account, and you'll have access to the full details. From there, you can click Schedule a Tour to request more information from our Loyal Homes Client Care Coordinators or schedule a viewing. Our Client Care Coordinators will be happy to provide you with property disclosure statements, past sales history, comparable properties which have recently sold nearby, and more, so please don't hesitate to ask for help!
For your convenience, we have included Parksville community information at the bottom of the page, including directions for getting here and information about weather, culture, healthcare, recreation, schools, and the real estate market.
Newest Parksville Real Estate Listings
Parksville
November 27, 2021
About Parksville, BC
The name Parksville fits. Parksville is without question one of the most beautiful communities in Canada, renowned for its expansive sandy beaches and, you guessed it, parks! Located on the sheltered Strait of Georgia, along the east coast of Vancouver Island, the City of Parksville is at the heart of a series of communities known as Oceanside.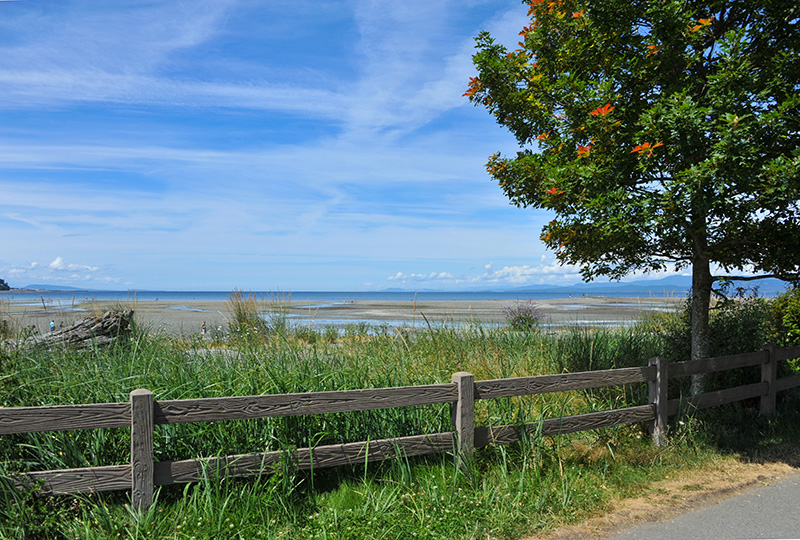 Parksville is a vibrant community of retirees and families who value the quality of life that can only be provided by living so close to nature. Officially the population of Parksville is approximately 12,500. Given that Oceanside is a beach resort community, this population increases in the warm summer months.
Parksville's famous beaches are found along Parkville Bay and Craig Bay. Its two most popular oceanfront parks are Parksville Community Park and the stunning Rathtrevor Provincial Park. Parksville is world-famous for one more thing – Parksville Beachfest, an annual World Championship Sand Sculpting qualifying event held between mid-July to mid-August.
Known for its natural beauty, fantastic weather, and stunning real estate, it's no wonder that Parksville is Canada's premier community for retirees.
Getting to Parksville
Parksville is centrally located on Vancouver Island and along the beachfront of the Georgia Straight. Only 37 kilometers south of Nanaimo makes Parksville a quick commute for many who work in the city. BC Ferries in Departure Bay also makes travel to and from the mainland quick and accessible. An easy one-hour drive North can have you playing at Mount Washington, Vancouver Island's only year-round mountain resort.
Four different Provincial Parks surround Parksville. British Columbia's busiest Provincial Park Rathtrevor Beach Provincial Park is in the heart of Parksville and is an excellent place to camp or spend the day sunbathing and picnicking on the beach. Other Provincial Parks include Englishman River Falls, which consists of a breathtaking gorge and the starting base of the Hammerfest mountain bike trail network.
With the iconic Mount Arrowsmith setting the distant backdrop for Parksville, the town is part of the Oceanside community. This vibrant community spans as far south of Nanoose Bay, west to Coombs and Hilliers, and north to Deep Bay. Parksville's harbour is home to the ferry that takes residents to the homesteading Northern Gulf Island of Lasqueti.
Parksville Weather
Parksville boasts a Mediterranean climate with dry, warm summers and mild, wet winters. This climate is perfect for enjoying the surrounding beaches year-round, from sunbathing and playing in the sand in the summer or bundling up for a blustery walk in the winter. Parksville is an inland coastal town on the east coast of Vancouver Island and lies along the Georgia Strait. The protected waters of the Georgia Strait make for mild sea temperatures rising to 20°C in the summer in the shallow areas along the beaches.
Parksville receives most of its precipitation in the winter months, with an annual rainfall of 1326 mm. As winter temperatures rarely drop below 0°C, there is little to no snow each year. Of course, the snow-capped mountains are never far away, and a short drive north to Mount Washington can find you in a winter wonderland. Comparatively, in the summer, Parksville enjoys very little rain and warm temperatures of 12°-24°C. This mild climate is fantastic to enjoy everything Parksville has to offer nearly year-round, such as the opportunities to golf, hike, sea kayak, cycle, and beach comb. But don't forget the long summer nights on the patio barbecuing and the extended gardening season.
Parksville Culture
Parksville is a small town with a big personality! A year-round population of 12,500 people consists of retirees enjoying the mild climate and families who value a high quality of life. An influx of summer tourism to the waterfront beach community increases the population each year, mainly due to the locals' friendly hospitality that keeps the summer tourists coming back year after year. A short commute to Nanaimo makes Parksville the perfect community for many who seek a tranquil beach life with all the comforts of a large city nearby.
The rural areas surrounding the heart of Parksville are home to many creative communities of farmers, artisans, and crafters. The artisan Coombs market is a year-round hit where you can find the famous Goats on the Roof and many shops full of local hand-crafted treasures.
The culture is defined by the annual Parksville Beachfest Event that has been occurring since 1982. For over 37 years, Parksville has welcomed visitors from around the world to come and compete or marvel at the World Championship of Sand Sculpting. This one-of-a-kind event is described as "sandtastic," one you don't want to miss!
Parksville Education
Parksville is part of the Qualicum School District 69. The school district has two traditional elementary schools and one high school offering French immersion. Along with these traditional schools, there is also the Collaborative Education Alternative Program offered in Qualicum Beach, which provides opportunities for blended learning. This school program combines distance learning with optional traditional school sessions. At the high school level, students may either enroll in electives or attend community-based learning sessions. Vancouver Island University also has a regional satellite campus in Parksville, which offers post-secondary education and upgrading.
Parksville Health Care
Parksville is part of the Island Health Network. The Island Health Network aims to "create and support healthier, stronger communities and a better quality of life for all those we touch." The Oceanside Health Center provides urgent care for 75% of patients who might typically visit an Emergency Department and not need to be admitted. The Oceanside Health Center also offers primary care, same-day appointments for urgent concerns, and many medical imaging services such as X-Ray, Ultrasound, Diagnostic Mammography, and Bone Densitometry.
Parksville hosts several options for senior home care options such as Comfort Keepers, Nurse Next Door, and Bonnies Best Senior Care. Parksville also offers many General Practitioners, Dentists, Optometrists, and Chiropractors. Nanaimo Regional General Hospital is located a short drive away and would be the closest full-service hospital for any severe matters.
Things to Do in Parksville
Parksville is a recreational paradise. The town's proximity to local and provincial parks and the mild climate allow many recreational activities to be enjoyed year-round. Dreams of Golfing 12 months out of the year become a reality in Parksville. Parksville is home to two golf courses; Eaglecrest Golf Club is an 18-hole championship course established in 1971 and one of the oldest courses in the area. Eaglecrest golf course is known to be the "island's best-kept secret" in the golf community.
Parksville is known as "Canada's Riviera," If you are looking for tranquil beach life, then Parksville should be at the top of your list. Parksville enjoys over 12 km of oceanfront and some of the best sandy beaches on Vancouver Island.
Local Sports facilities include the Oceanside Place Arena with two NHL regulation rinks, 1000 spectator seating capacity, and the Oceanside Pond leisure ice rink. The Ravensong Aquatic Center, which services the Oceanside community, hosts a 25 Meter Olympic short course pool, leisure pool with zero-depth entry, hot tub, sauna, Finnish steam room, and four family change rooms.
Parksville's location provides access for many other recreational activities, including the Hammerfest mountain bike trail network, fishing, sea kayaking, stand-up paddleboarding, sailing, kite surfing, road cycling, rock climbing, and spelunking at the famous Horne Lake Caves.
Parksville Real Estate Market
The beautiful oceanside city of Parksville has an abundance of real estate options. In the east area of Parksville, there are multiple resorts and amenities, you can purchase a cottage in the community of Oceanside Cottages, or if you are looking for industrial or commercial real estate, there is also some available in this area of Parksville.
Gorgeous estates can be found in the northwest area of Parksville, many of which have attached garages. Furthermore, this area is within blocks of the beach, and homes in this area are well cared for.
There are commercial businesses at the core in Central Parksville and a mix of new and old homes, apartments, and townhomes. Regardless of where you live in Parksville, you are only a few minutes from the beach, which makes buying a home in Parksville so desirable.
Parksville Realtors
Are you thinking of buying or selling a home in Parksville? If you're looking to buy a home, contact our Loyal Homes real estate agents, who can answer all your Parksville community, neighbourhood, and real estate questions.
If you're thinking of selling your Parksville, BC home, our associated Listing Realtors can provide information on recently sold comparable properties, up-to-date real estate market information, and professional tips to help you prepare and sell your house for top dollar.