Homes for Sale in Nanoose Bay, BC
Welcome to Nanoose Bay! Below you will find the newest homes for sale and real estate in Nanoose Bay, BC. If you would like more information on any of these Nanoose Bay real estate listings, simply click on the property, register for a free account, and you'll have access to the full details. From there, you can click Schedule a Tour to request more information from our Loyal Homes Client Care Coordinators or schedule a viewing. Our Client Care Coordinators will be happy to provide you with property disclosure statements, past sales history, comparable properties which have recently sold nearby, and more, so please don't hesitate to ask for help!
For your convenience, we have included Nanoose Bay community information at the bottom of the page, including directions for getting here and information about weather, culture, healthcare, recreation, schools, and the real estate market.
Newest Nanoose Bay Real Estate Listings
Nanoose Bay
November 27, 2021
$1,562,500
Med. List Price
About Nanoose Bay, BC
Welcome to Nanoose Bay, a vacation paradise for some and home to a few lucky members of this vibrant community. Nanoose Bay is a rural, quiet community just off Highway 19 and sandwiched between Nanaimo and Parksville. This seaside community offers breathtaking views of the Georgia Straight, plenty of green spaces, and a mixture of agricultural land.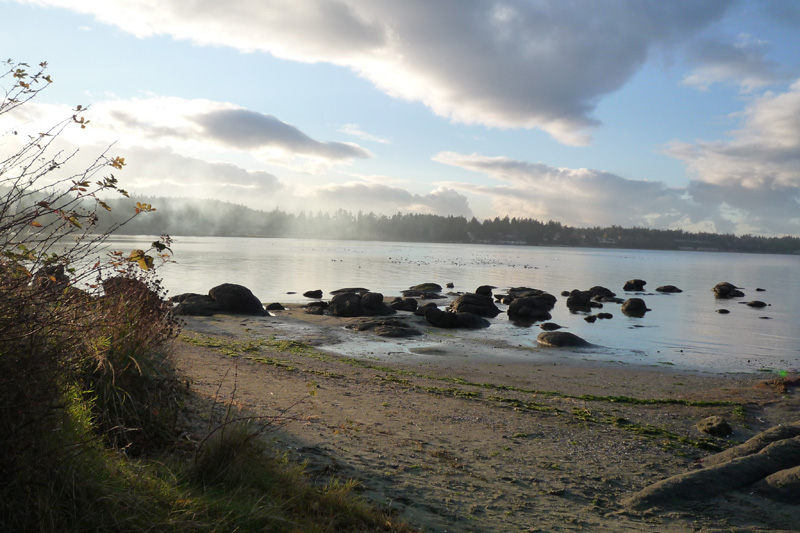 Nanoose is home to 5,900 people year-round but its population increases in the warm summer months with an influx of travellers from around the globe. The marinas of Nanoose are a popular destination for many tourists enjoying the coast by boat.
Nanoose is famous for the bounty provided by the ocean. Many clams grow in abundance in the calm waters and make for a fun year-round activity and a delicious meal. Nanoose is also home to the Canadian Forces Maritime Experimental Test Range. This joint Canadian and American facility uses a portion of the waters to test torpedoes and other maritime equipment. This facility has been in operation since 1965.
Breath-taking views, quiet rural properties, and new real estate developments near Enos Lake make Nanoose one of Vancouver Islands' most sought-after communities.
Getting to Nanoose Bay
Nanoose Bay sits along the east coast of Vancouver Island on the shores of the Georgia Straight. A quick detour of Highway 19 brings you into Nanoose Bay. From here, it's nothing but rolling hills, marshland, and a beautiful coastline. Although small, you can still find almost everything you need in Nanoose. However, Nanoose to Nanaimo is only a short commute away at under 20 minutes to the Vancouver Islands shopping destination. To the north, Parksville is right next door providing access to many other facilities and opportunities.
Nanoose is a mixture of 50% agricultural land with many small neighbourhoods interspersed throughout. Neighbourhoods like Red Gap, Garry Oaks, Fairwinds, Beach Comber/Dorcas Point, Madrona, and Craig Bay all with something fantastic to offer. Nanoose's newest real estate development, the Lakes District, is centered around Enos Lake and geographically right in the center of Nanoose. This real estate development began in 2011 and will have different phases depending on the market. This new development strives to protect the sensitive ecosystem by ensuring that 45% of the area remains green spaces, parks, and trails.
Nanoose Bay Weather
Nanoose is very fortunate to enjoy a Mediterranean Climate. As you would expect with a seaside community in the mildest climate of Canada, Nanoose gets to enjoy warm and dry summers, with cool and wet winters. In Nanoose, temperatures rarely drop below zero in the winter, ranging between 1°C and 8.7°C. In the summer, temperatures climb to the most enjoyable levels between 21°C and 24°C. This warm weather pairs well with the surrounding agricultural lands.
Nanoose Edibles Farm is a certified organic farm that relishes in Nanoose's long growing seasons with minimal frost—supplying veggies to the local restaurants, farm tours for families, and a subscription veggie box program throughout the summer!
For many, the first thought of weather and Vancouver Island is rain! Although Nanoose receives its fair share of rain in the winter months, it receives over 800 mm less than the Vancouver Islands average rainfall. This is partly due to the mountain effect caused by the iconic Mount Arrowsmith, which blocks the Aleutian low-pressure system that moves across the island from the west coast. On average, Nanoose Bay receives only 1016mm of rain.
Nanoose Bay's climate is perfect for its terrain, and it is easy to enjoy the beaches, parks, nature trails, and your backyard sanctuary year-round. Don't forget to invite the neighbours over for a backyard barbeque on the patio!
Nanoose Bay Culture
Nanoose is home to a tranquil community of artists, farmers, and outdoor enthusiasts. With a year-round population of 5900 made up of just under 50% retirees over 64 years old and predominately in the 15-63 age category. In the summer months, the population of Nanoose increases as boaters from around the world visit the many marinas.
Nanoose Bay is home to the first nations group, the Snaw-naw-as. The Nanoose Bay Penninsula is named after the first nation's word meaning "pushing Forward." The Snaw-naw-as play an active role in the history and heritage of the community.
The culture of Nanoose is highlighted in the Nanoose Bay Art In the Garden event. This annual event has live music, local food and features a variety of artists locally and from around Vancouver Island. All proceeds from the event go back into community services such as education, family, and senior services.
Nannose Bay Education
Nanoose Bay is a part of the School District 69 Qualicum school system. There is only one option for primary students' education in Nanoose Bay at Nanoose Elementary School. Upon graduating from elementary school, students will need to catch the school bus from Nanoose to go to school in Parksville at Ballenas Secondary School. French immersion students can go to Oceanside Elementary and École Ballenas Secondary, also located in Parksville.
Alternative to the public-school system Aspengrove School is an independent non-denominational, co-educational, and university preparatory school. Aspengrove is located in Nanaimo, BC, and is an International Baccalaureate school.
Nanoose Bay Health Care
Due to the small size and rural layout of Nanoose, there is a limited amount of health services offered here. However, there a still a few options to meet your everyday needs. Such as a holistic wellness center offering massage aromatherapy, yoga, pilates, Ayurveda, and meditation. As well as the Island Health Works, a private natural health clinic providing "whole body, integrative approach to natural health care" through microscopy, DNA testing, iridology, and zyto scan. People from Nanoose will need to travel the easy 15 minutes to neighbouring Parksville for most other health services. In Parksville, there are many options for General Practitioners, Dentists, Chiropractors, and Optometrists.
For medical emergencies, people from Nanoose have two options. The Oceanside Health Center in Parksville can handle 75% of patients who might typically visit an emergency department and offers other primary care services. Travelling south from Nanoose to Nanaimo, the Nanaimo Regional Hospital is the closest full-service hospital, only 25 minutes away.
Things to Do in Nanoose Bay
Nanoose is an outdoor recreationist's dream! Surrounded by the ocean, the possibilities are endless for outdoor pursuits. Sailing, kayaking, windsurfing, and ocean fishing are some of the favourite activities here. Others wanting to stay dry can hike one of the many nature trails. Two local favorites are the Northwest bay trails, where locals enjoy horseback rides, mtn biking, and hiking through the Garry Oak forests. Or hike up The Notch, which sits on top of the point overlooking Nanoose Bay and the Georgia Straight. Here you will see arbutus trees growing in abundance, and a good chance you will see wildlife such as Deer and Eagles. Enos Lake and Beaver ponds have a great network of trails with an ecosystem full of botanical water plants.
If you fancy the idea of golfing year-round, then Fairwinds Golf Club is the place to be. This 18-hole golf course and country club are one of the best mountain golf courses on Vancouver Island, and it is known as one of the finest golf facilities in western Canada. This course is undoubtedly one you do not want to miss. Nanoose is a recreation-orientated community where the landscape provokes an outdoor lifestyle!
Nanoose Bay Real Estate Market
Purchasing a property in Nanoose Bay is an absolute dream. Stunning estates can be found in Nanoose Bay, and properties in this area are often situated on larger land lots ranging from half an acre to four acres on average. You will find million-dollar homes with steep driveways leading up to estates featuring sweeping views, beautifully landscaped driveways, or private gated entrances, or you can also buy a unit in the waterfront community of Creekside Suites. No matter where you live in Nanoose, it is a beautiful place on Vancouver Island.
Nanoose Bay Realtors
Are you thinking of buying or selling a home in Nanoose? If you're looking to buy a home, contact our Loyal Homes real estate agents, who can answer all your Nanoose community, neighbourhood, and real estate questions.
If you're thinking of selling your Nanoose, BC home, our associated Listing Realtors can provide information on recently sold comparable properties, up-to-date real estate market information, and professional tips to help you prepare and sell your house for top dollar.