Homes for Sale in Metchosin, BC
Welcome to Metchosin! Below you will find the newest homes for sale and real estate in Metchosin, BC. If you would like more information on any of these Metchosin real estate listings, simply click on the property, register for a free account, and you'll have access to the full details. From there, you can click Schedule a Tour to request more information from our Loyal Homes Client Care Coordinators or schedule a viewing. Our Client Care Coordinators will be happy to provide you with property disclosure statements, past sales history, comparable properties which have recently sold nearby, and more, so please don't hesitate to ask for help!
For your convenience, we have included Metchosin community information at the bottom of the page, including directions for getting here and information about weather, culture, healthcare, recreation, schools, and the real estate market.
Newest Metchosin Real Estate Listings
Metchosin Real Estate Listings
November 27, 2021
$1,036.72
Avg. $ / Sq.Ft.
$3,449,500
Med. List Price
About Metchosin, BC
First inhabited by the Coast Salish people, Metchosin was incorporated in 1984. It began as farmland in the 1860s to help feed the growing population of gold miners and settlers in nearby Victoria. To this day, Metchosin has never lost its country charm. There are rural roads, farm stands, and from the main roads, you will see goats, horses, sheep, and plenty of other livestock. Metchosin is home to one of the largest commercial sheep flocks in British Columbia, on the Parry Bay Sheep Farm.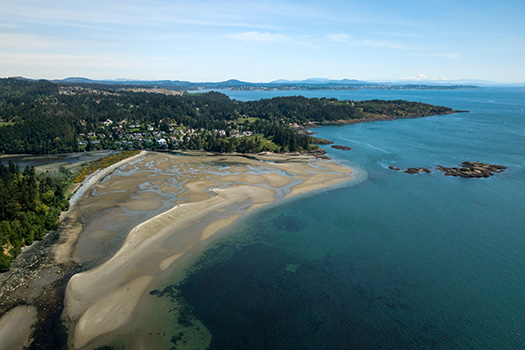 The population of Metchosin, BC, is small, with approximately 5,000 people. The community is part of School District 62, and there is a public elementary school, two private schools (Pearson College and West-Mont School), and the Metchosin Co-operative Preschool. The West Shore Centre for Learning and Training also offers college courses and distributed learning services.
You will find stores, artist studios, and a restaurant in the heart of the district. The area is surrounded by protected parks and marshlands, hiking trails, and beaches.
Getting to Metchosin
Arriving on Vancouver Island from the mainland requires a boat or plane, and there are options to choose from. Flights arrive at the Victoria International Airport (YYJ), and from there, you can rent a car or take a taxi to Metchosin.
Metchosin is a 41 km drive, taking about forty-five minutes, from the airport. There are shuttles from the airport that service downtown, with drop-off points in various places around Victoria. From there you may rent a car, take a taxi or bus to Metchosin. From downtown Victoria, Metchosin is thirty-six minutes away, a 22 km drive.
You can also drive onto a BC Ferries sailing, which arrives at the Swartz Bay Terminal, and takes just under an hour to go to Metchosin. For the budget-conscious or those with no car, you can walk on the ferry at Tsawwassen and use public transit to get to Metchosin. This involves a few bus transfers, but the trip can be nice and relaxing if you bring a book or listen to music or your favourite podcast while looking out the window at the beautiful surroundings.
There is the option for arriving in downtown Victoria in a seaplane or chartered Helijet from several destinations around BC, then renting a car or taking a taxi to Metchosin from there.
Metchosin Weather
Summers are warm and dry, and the winters are temperate with lots of rain. It will occasionally snow in Metchosin, and when it does, that often means a snow day for school goers. In August, the average high temperature is 21°C, and the average low is 12°C. In November, the average high is 10°C, and the low is 5°C. With such a temperate climate, the Metchosin area is a desirable place to live year-round.
Metchosin Culture
Metchosin is a small town that retains a rural feel, even with its proximity to the quickly growing Langford and Royal Bay areas. Because the community is small, the people know each other and are friendly and helpful. You will find plenty of artisans, painters, sculptors, and at the old Elementary School that is now the Metchosin Arts & Cultural Centre, home to the West Shore Arts Council, where you can visit working art studios by appointment.
Metchosin Education
The district of Metchosin falls into the Sooke School District 62, which serves surrounding areas. Metchosin offers a preschool, two elementary schools, two private schools, and West Shore Center for Learning and Training, which provides post-secondary education.
Metchosin Health Care
Metchosin has family doctors and walk-in clinics, dentists, mental health care, and more within the community and surrounding areas. There is Me Chosen Medical, the Metchosin Health Centre offering state-of-the-art care.
Metchosin is only a short 20-minute drive to Victoria General Hospital, which offers emergency services, cardiac care, heart health, eye health services, a Multiple Sclerosis clinic, prenatal classes and a maternity clinic, pacemaker clinics, a regional stroke program, medical imaging, and clinical neurophysiology. You and your family will find all the care you need while living in a home in the Metchosin community.
Things to Do in Metchosin
Any trip out to Metchosin is incomplete without visiting the My Chosen Café, a cute café that serves homestyle cooking with a small petting zoo on site. It has indoor and outdoor seating and a pizza restaurant outback.
Beaches and rocky shorelands that overlook the Juan de Fuca Strait are everywhere. You can visit Witty's Lagoon, a protected lagoon ecosystem with salt and fresh-water marshlands. Fifty-six hectares in size, it contains a variety of habitats for local flora and fauna. The Devonian Regional Park is a small wildlife sanctuary with access to Sherwood Pond. Hike the trail at Albert Head Lagoon Regional Park, or you can go fishing for rainbow trout at Matheson Lake Regional Park.
The Metchosin Sheep Dog Trials happen annually, and there are farmers' markets in the summer months. Metchosin Day is a free, family-friendly annual celebration and a "truly rural experience" with vendors, a pie-eating contest, children's events, entertainment, and a BBQ dinner. Halloween in Metchosin is a time to celebrate, with a "haunting hall", fireworks, a bonfire, and costume contest, all organized by the Metchosin Volunteer Firefighter's Society.
Residents of Metchosin are part of the West Shore Parks and Recreation Society, and therefore have full access to any West Shore facilities, including the Q Centre on Bear Mountain, public playgrounds and spray parks, the Juan de Fuca Recreational Centre, golf courses, and equestrian clubs.
Metchosin Real Estate Market
Metchosin, British Columbia, is one of the only small towns within commuting distance to Victoria with a genuinely rural feel. Your real estate agent can help you find the perfect piece of land to build your dream hobby farm or find a large family home with a yard, garage, and outbuildings, or they can find your next house with a suite that you can use as a mortgage helper, all within ten minutes of the centre of Metchosin.
The community has fewer people than the surrounding districts, with scenic neighbourhoods including Metchosin South, Rocky Point, William Head, Olympic View, Neild, Albert Head, Pedder Bay, and Kangaroo. The local government has limited urban-style development by imposing a minimum of one and two-acre lot size per property, keeping the town quiet and desirable to live in. Metchosin is an excellent place for anybody who enjoys country life but still wants full city amenities.
Metchosin Realtors
Are you thinking of buying or selling a home in Metchosin? If you're looking to buy a home, contact our Loyal Homes real estate agents, who can answer all your Metchosin community, neighbourhood, and real estate questions.
If you're thinking of selling your Metchosin, BC home, our associated Listing Realtors can provide information on recently sold comparable properties, up-to-date real estate market information, and professional tips to help you prepare and sell your house for top dollar.