Homes for Sale in Lantzville, BC
Welcome to Lantzville! Below you will find the newest homes for sale and real estate in Lantzville, BC. If you would like more information on any of these Lantzville real estate listings, simply click on the property, register for a free account, and you'll have access to the full details. From there, you can click Schedule a Tour to request more information from our Loyal Homes Client Care Coordinators or schedule a viewing. Our Client Care Coordinators will be happy to provide you with property disclosure statements, past sales history, comparable properties which have recently sold nearby, and more, so please don't hesitate to ask for help!
For your convenience, we have included Lantzville community information at the bottom of the page, including directions for getting here and information about weather, culture, healthcare, recreation, schools, and the real estate market.
Newest Lantzville Real Estate Listings
Lantzville
November 27, 2021
$1,547,500
Med. List Price
Welcome to Lantzville, BC
Lantzville is located on the east coast of Vancouver Island, just a short 20-minute drive to the heart of Nanaimo, which is Vancouver Islands' second-largest city. Lantzville offers local homeowners access to all amenities a large city offers, with the feel of a relaxed lifestyle and quiet neighborhoods. Lantzville is a close-knit community that provides lower land and building real estate costs than other Vancouver Island communities. Lantzville is the perfect place to raise a family, retire, or even open a business.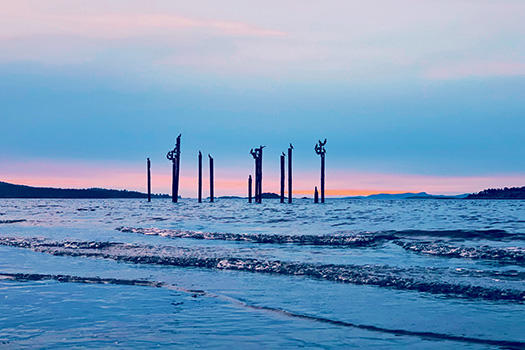 Getting to Lantzville
Due to Lantzville being near Nanaimo, it can enjoy many of the luxuries Nanaimo does. Lantzville to Victoria is only 127 km, and trips from Lantzville to Vancouver are accessible with two different BC Ferry routes. Like its neighbor Nanaimo, Lantzville is nestled between the Beaufort Mountain Range and the Strait of Georgia. With Lantzville being outside of the big city of Nanaimo, it provides a more relaxed lifestyle and natural feel.
Due to Lantzville's central location, you can be on the highway heading north or south to explore what Vancouver Island has to offer within a few minutes. Places like Mount Washington Alpine Resort are only a 1.5-hour drive away, Tofino and the West Coast are only 2.5 hours away, or within half an hour drive, you can enjoy several different Provincial Parks such as Rathtrevor Beach Provincial Park or Englishman River Falls Provincial Park.
If you prefer to travel by air rather than drive or take the ferry, you can! Nanaimo's Regional Airport is only a 25-minute drive and has direct flights to Vancouver, Calgary, Kelowna, and other major cities. You can also catch a floatplane to Downtown Vancouver from one of Nanaimo's harbours. Lantzville provides residence with a relaxed lifestyle while still providing easy access to transportation and amenities.
Lantzville Weather
Since Lantzville is 2m above sea level and is located between the Beaufort Mountain Range and the Strait of Georgia, it enjoys a Mediterranean-like climate. This means warm and dry summers with mild, cool, and rainy winters. Nanaimo receives an annual average rainfall of 919 mm, lower than the Vancouver Islands average by almost 900 mm. This is due to an effect caused by the Beaufort Mountain Range, where the Aleutian Low-Pressure weather system is blocked as it travels from the West Coast of Vancouver Island to the East Coast. Winter temperatures on average rarely drop below 0°C and tend to sit on average around 2.9°C.
In the summer, Lantzville sees an average temperature of 17°C between July and August. These long warm summers make for a fantastic growing and barbeque season! Create your backyard sanctuary and host your friends and family on the back patio, or have a picnic on the beach long into the warm summer nights.
Lantzville Culture
Lantzville used to be considered part of Nanoose and was a popular coal site that Mr. Grant owned. Eventually, an American company came in and bought Mr. Grant out in 1920. One of the directors of the American company was Mr. Fraser, Harry Lantz. From then on, the area became known as Lantzville. Believe it or not, Lantzville has a few homes that still stand today, that were the site of dozens of cabins that Chinese mine workers used to live in. Which is near Wiles Creek and is often referred to as "China Town neighborhood." While the reminiscence of the mining structures is no longer present, it contributed significantly to Lantzville's well-being, and the people of Lantzville are proud of its history.
Lantzville Education
Lantzville is part of the Nanaimo-Ladysmith School District 68 and has a preschool and elementary school. If you live in Lantzville, you can easily commute to multiple high schools in Nanaimo and Vancouver Island University, which is only a 15-minute drive.
Aspengrove Preschool
7660 Clark Dr, Lantzville
250 390 2201
Seaview Elementary School
7000 Lantzville School Rd, Lantzville
250 390 4022
Lantzville Healthcare
Lantzville does have a medical clinic directly in town. However, for more emergent care or other health services, it is best to go to Nanaimo. Like Lantzville, Nanaimo is a part of the Central Island Health Service area of the Vancouver Island Health Authority. The Vancouver Health Authority is a publicly funded health care provider that provides a full range of health care services. Nanaimo has three Health units within this network: Nanaimo Public Health Unit, Nanaimo Princess Royal Family Center Health Unit, and the Nanaimo Regional General Hospital.
Nanaimo also hosts a vast array of private non-emergency services such as General Practitioners, Dentists, Chiropractors, and Optometrists. As well there are lots of at-home senior care services and live-in senior homes to choose from. Lantzville is the ideal place to move if you do not want to live in the city but want to ease of mind knowing you're only a few minutes away from health services.
Lantzville Recreation
Due to Lantzville's proximity to Nanaimo, it can also enjoy all the luxuries Nanaimo residence do. Such as the numerous recreation facilities and programs, including two indoor aquatic centers, three different arenas, multiple sports fields, and a plethora of private gyms, yoga studios, and recreation clubs. The Aquatic Center is only 15 minutes from Lantzville and is home to one of the largest wave pools in western Canada and a 50 m Olympic competition length pool. The Ice Center is 20 minutes from Lantzville and has two ice rinks open to the public for skating and community events.
If you love golfing, Winchelsea View Golf Course is in your backyard, only a 5-minute drive from the heart of Lantzville. The course itself is an 18-hole course that accommodates all playing levels, not to mention the stunning views. You do not have to be a member to enjoy the course, which is perfect for anyone wanting to try something new.
Fishing! Lantzville is near eight fishing lakes that are stocked annually with fish! If ocean fishing is more your style, the Georgia Straight of the Pacific Ocean is steps from Lantzville. You can fish off the beaches or hop in a boat and enjoy the water for the day. Don't have a boat? No worries, there are plenty of sportfishing charters waiting to take you on a fishing adventure.
There is an abundance of hiking and biking trails around Lantzville that you can explore. Or, if you like to wander off for the day, grab a friend and go explore one of the many wonders Vancouver Island has to offer.
Lantzville Realtors
Are you thinking of buying or selling a home in Lantzville? If you're looking to buy a home, contact our Loyal Homes real estate agents, who can answer all your Lantzville community, neighbourhood, and real estate questions.
If you're thinking of selling your Lantzville, BC home, our associated Listing Realtors can provide information on recently sold comparable properties, up-to-date real estate market information, and professional tips to help you prepare and sell your house for top dollar.