Homes for Sale in Ladysmith, BC
Welcome to Ladysmith! Below you will find the newest homes for sale and real estate in Ladysmith, BC. If you would like more information on any of these Ladysmith real estate listings, simply click on the property, register for a free account, and you'll have access to the full details. From there, you can click Schedule a Tour to request more information from our Loyal Homes Client Care Coordinators or schedule a viewing. Our Client Care Coordinators will be happy to provide you with property disclosure statements, past sales history, comparable properties which have recently sold nearby, and more, so please don't hesitate to ask for help!
For your convenience, we have included Ladysmith community information at the bottom of the page, including directions for getting here and information about weather, culture, healthcare, recreation, schools, and the real estate market.
Newest Ladysmith Real Estate Listings
Ladysmith
November 27, 2021
Welcome to Ladysmith, BC
Stop along the Trans Canada Highway and discover the historic Ladysmith. Located along the 49th parallel, Ladysmith is one of the oldest settlements on Vancouver Island. Known initially as Oyster Harbour, Ladysmith was developed to house the many coal mine workers employed throughout the area, and Oyster Harbour was used as a primary shipping terminal for the coal. Coal mining ceased in the mid-1900s, which could have been Ladysmith's end; however, right when the coal industry was dying, the industrialization of the logging industry took off and is still a significant economic influence in Ladysmith.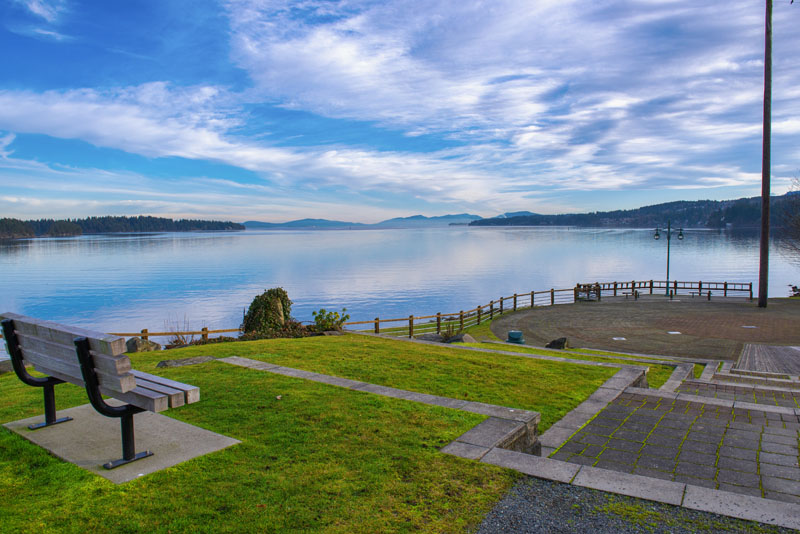 As you stroll through downtown Ladysmith, you will notice the history in the Edwardian Architecture maintained and restored in the storefronts. This rich history provides a unique shopping experience to follow a map to all the best shops and sites. In the summer, Transfer Beach, a local hit, is home to Vancouver Islands' largest Amphitheatre, where you can catch an evening concert as you enjoy a panoramic ocean view.
Ladysmith is also the birthplace of famous Canadian actress Pamela Anderson, who stared on Baywatch, a hit TV show in the mid-1990s. Ladysmith is also well known for a 100-year-old Rhododendron bush with tourists and horticulturists visiting for years. Ladysmith is one of the fastest-growing communities in British Columbia, and it is no wonder why. The proximity to Nanaimo and Victoria, fantastic community spirit, and natural beauty make Ladysmith the perfect place to raise a family or retire!
Getting to Ladysmith
Ladysmith is a beautiful coastal community built on a sloping hill from the seaside up, and no matter where you turn in, you can catch an ocean view. Located on the southern half of Vancouver Island, Ladysmith sits right along the Trans Canada Highway and is only a short commute away from Duncan or Nanaimo. Travelling from Ladysmith to Nanaimo is only 24 km and a 30-minute drive. Alternatively travelling south to British Columbia's Capital, Victoria from Ladysmith, is only 90 km and a 1.5-hour drive. Ladysmith boasts a beautiful oceanfront on the protected eastern ocean shores of Vancouver Island. Ladysmith is on the north end of the productive agriculture zone known as the Cowichan Valley. The Town of Ladysmith itself is relatively small with only 12 square kilometers, but this area is expected to grow along with population growth. Only 10 minutes by car, you will find the Nanaimo airport with services to Vancouver, Calgary, Fort St John, and Toronto in the summer.
It doesn't take long to find yourself somewhere in nature around Ladysmith. Try any of the many Forest Service Roads to explore the wilderness and find recreational camping sites. The Woodley Range Ecological Reserve, Ladysmith Bog Ecological Reserve, and Roberts Memorial Provincial Park are just across the bay from Ladysmith. Ladysmith has so much to offer and is located right along Highway 1.
Ladysmith Weather
Like most of the eastern shores of Vancouver Island, Ladysmith relishes in a Mediterranean climate with warm and dry summers and mild and wet winters. Summer Temperatures can range from 11°C to 24°C, while Winter temperatures can drop to -.5°C to 9°C. Ladysmith has an average annual rainfall of 1090 mm, 800 mm below the Vancouver Islands average. Similarly, the average yearly snowfall is also less than Vancouver Islands average by 15 cm and comes in at only 44 cm.
Ladysmith's climate is perfect for gardening and agriculture. The growing season is usually just shy of 7 months long, starting in mid-April and lasting until November. First blooms are generally around the beginning of May 5, and this is always a refreshing time of year as the first signs of summer begin to show up.
The ocean along Ladysmith's waterfront is protected from the Georgia Straight by several southern Gulf Islands, and in the summer, sea temperatures can rise to an average of 16°C. Down along Transfer Beach, the ocean temperature can increase even further to the mid 20°C on high tide after the tide floods over the hot sandy beach.
Ladysmith Culture
Ladysmith has recently become British Columbia's fastest-growing community. The current population is at 8,537, with significant growth in the last ten years of 7.4%. Population estimates state that Ladysmith will be over 100,000 by 2035 as more families and retirees discover everything Ladysmith has to offer.
The economy of Ladysmith has always had a heavy reliance on natural resources, one of the biggest being the forestry industry. Although a recent push to expand the service industry, marine-related manufacturing, green business, and tourism have become key economic drivers. Ladysmith residents have a robust local spirit and place value on reserving heritage which evokes a sense of pride. They are also well known for sustainable initiatives to better their community.
Ladysmith has become well known for its community spirit and volunteerism. The Ladysmith Resource Center has many community programs, including; senior support, food security programs, mental health support, and community safety.
Ladysmith's Festival of Lights is an annual event where over 200,000 sparkling lights illuminate downtown during the darkest days of winter. The brightness that this festival brings to downtown is precisely the feeling you get when you visit Ladysmith any time of the year. The community here is bright year-round and always makes you feel at home.
Ladysmith Education
Ladysmith, along with Nanaimo, make up School District 68. School District 68's values include; "accountability, collaboration, community, courage, diversity, equity, ethical standards inclusion, respect, and transparency. Servicing the community is three public schools. A primary school for grades K- 3, an intermediate school for grades 4-7, and a secondary school for grades 8-12. As well as the public-school options, Aspengrove Private School in Lantzville welcomes students from Ladysmith and focuses on offering the International Baccalaureate (IB) curriculum.
Ladysmith Health Care
Ladysmith's Community Health Center was designed to provide a range of health and community services in one central location. Formerly the Ladysmith hospital, this center is run by the Island Health Network and part of the Central Island Health Service. The services provided at Ladysmith Community Health Center include Urgent Care/Clinical Day Care, Therapeutics, Diabetes Education, Nutrition Counselling, Family Practice Clinic, Child and Youth Health Clinics, Midwife, Mental Health, and Addiction, Home Care Nursing, X-Ray, and Laboratory. Along with the Community Health Center, Ladysmith has several other private services. There are several senior and assisted living home, Dentists, Physiotherapists, Chiropractors, Optometrists. The closest full-service hospital is the Nanaimo General Hospital, located only 30 minutes away.
Ladysmith Recreation
Ladysmith has so much to offer in the form of recreation. There are excellent public facilities, and highlights include the Frank Jameson Community Center, where a four-lane- 25-meter pool is heated to 28°C! Kids will enjoy the pool climbing wall, slides, skywalker, rope swing, and basketball hoop while the adults can sit back and relax in the therapy pool, hot tub, and sauna. A 300 Square foot fitness center offers fitness and wellness programs and a gymnasium for pickleball, indoor soccer, and basketball. Complimenting the community center is an artificial turf field and the Fuller Lake hockey and skating arena.
Ladysmith is surrounded by lush green forest and a mixture of rocky and sandy beach coastline. The Holland Creek Trail is a popular hiking area that takes you from Transfer Beach up above the cliffs of Ladysmith. Along the trail, in the fall, you can see Salmon spawning in Holland Creek. Of course, one of the biggest local hits is Transfer Beach Park. Although it is to be enjoyed year-round, Transfer Beach comes alive in the summer as beachgoers enjoy the warm water, spray parks, and playgrounds for kids.
Many other year-round activities can be enjoyed in Ladysmith. There are three golf courses within a 20-minute drive of Ladysmith, and Mount Brenton Golf Course and Cottonwood Golf Course are both 18-hole courses, while the Ladysmith Golf Club is a par 3, 9-hole course. Other local favourites include kayaking, stand-up paddle boarding, cycling, and trail running.
Ladysmith Realtors
Are you thinking of buying or selling a home in Ladysmith? If you're looking to buy a home, contact our Loyal Homes real estate agents, who can answer all your Ladysmith community, neighbourhood, and real estate questions.
If you're thinking of selling your Ladysmith, BC home, our associated Listing Realtors can provide information on recently sold comparable properties, up-to-date real estate market information, and professional tips to help you prepare and sell your house for top dollar.