Esquimalt Houses for Sale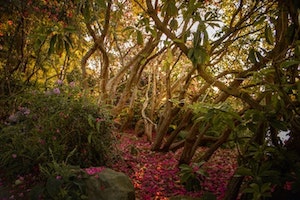 Search all Esquimalt Houses for Sale and real estate listings below. The vibrant community of Esquimalt is on the southern tip of Vancouver Island, just a short 4 km from the capital city, Victora. Esquimalt has a naval base used by the Royal Navy back as far back as 1837.
Around 17,000 people call Esquimalt home and enjoy the green spaces, beaches, oceanfront walkways and local amenities. Be sure to register for a free account so that you can receive email alerts whenever new Esquimalt properties come on the market.
Esquimalt MLS Real Estate Listings
December 7, 2023
Esquimalt MLS Real Estate Listings by Price
Esquimalt Real Estate Listings by Neighbourhood
Esquimalt Real Estate Listings by Type
Esquimalt Real Estate Market
Esquimalt, British Columbia, is a vibrant and growing community just minutes from downtown Victoria and is a desirable place to call home for many people. Some of the known neighbourhoods within Esquimalt include; Gorge Vale, Kinsmen Park, Old Esquimalt, Esquimalt, Rockheights, and Saxe Point.
Kinsmen Park is in the northern area of Esquimalt and accounts for almost any properties north of Craigflower Road. Charming character homes can be found in this area, with stunning Cherry Blossom trees lining the streets. Styles of houses include ranchers, multistorey, and even apartment buildings. Many of the homes in this neighbourhood have views are within walking distance of the Gorge Waters Inlet.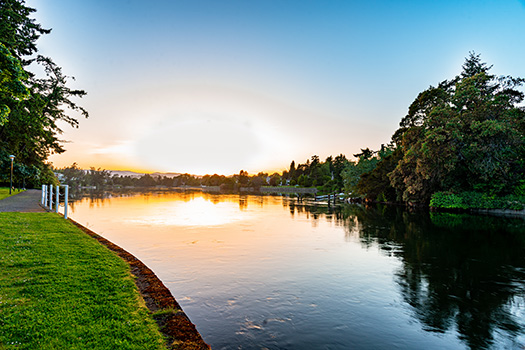 Gorge Vale is a beautiful neighbourhood with established well-cared for homes built between the late 1900s to mid 2000s. You can purchase a condominium in The Ironwood Complex or buy a townhome in the Parklane development. Many houses in this area back onto the Gorge Vale Golf Club.
In Esquimalt, there is a significant volume of commercial business. However, you will find apartment and condo buildings for purchase in this area. This is a convenient option for anyone who does not own a car or prefers to walk to amenities. Some of the complexes that have come on the market in recent years include Windsor Manor, Verde, Ovation, and Talisman, to name a few. Stay up-to-date with the latest real estate trends and single-family home statistics for Esquimalty by checking out our monthly real estate stats blog.
Rockheights is in the center of Esquimalt and has a mix of old and newer single-family detached houses. Many of these properties have separate suites or in-law suites, the perfect mortgage helper. Apartment buildings and duplexes can also be found in Rockheights.
The neighbourhood of Saxe Point is home to various styles of homes. From adorable ranchers to restored character homes and even new builds. Many of the streets in this neighbourhood are lined with sidewalks, and you are near Saxe Point Park, which has picnic benches with views of the Salish Sea.
There are homes for sale in Esquimalt with views of the ocean and the Olympic Mountains across the water. Furthermore, every neighborhood is close to parks, trails, playgrounds, or the waterfront. Whether it's a condo, townhouse, or single-family detached home you are looking for, Esquimalt has something for everybody.
About Esquimalt, BC
Esquimalt, British Columbia, is a township in the municipality of Greater Victoria and is part of the Capital Regional District (CRD). With a population of 17,655, this is a small township, with all the conveniences of a big city. It is bordered by the New Songhees reserve, the town of View Royal, and the Strait of Juan de Fuca. The region was named after the Lekwungen first nations' word "Ess-whoy-malth," meaning "Place of the Shoaling Waters."
The Pacific Fleet of the Royal Canadian Navy has been located in Esquimalt since 1910, and naval life and shipbuilding remain part of the Esquimalt identity to this day. There are approximately 4,000 military service personnel and 2,000 civilians working on the ships or at the base at one time. Therefore this Vancouver Island community has a considerable military presence. Explore the advantages and disadvantages of living in Esquimalt in our comprehensive pros and cons blog.
Getting to Esquimalt
Esquimalt is located on Vancouver Island and can be accessed from the mainland by boat or plane. There are ferries to and from the island several times a day, serviced by BC Ferries, and the YYJ Victoria International Airport will get you in or out in no time.
To get to Esquimalt from Vancouver, you can walk or drive onto a BC Ferries ferry at the Tsawassen terminal, arriving at Swartz Bay. It is then a 32.2 km drive, taking about 32 minutes to arrive in Esquimalt. If you do not bring a car with you, public transportation and shuttle buses will take you from the airport or the ferry to downtown Victoria, and from there, you can take a bus or taxi to Esquimalt. You can also hire a seaplane or Helijet from downtown Vancouver to downtown Victoria.
Esquimalt is a short 12 minute, 4.7 km drive from the downtown core of Victoria, BC. To get to the nearby city of Duncan, you can take the Trans-Canada BC-1 highway over the Malahat Drive for 60 km. Continue down the same highway, and you will arrive in the city of Nanaimo, 110 km away, which will take about an hour and a half.
Esquimalt Weather
The summers in Esquimalt are generally dry and warm, with an average high temperature of 19°C and a low of 12°C. The winters are rainy but temperate, with the average high in November of 9°C and a low of 5°C. Esquimalt receives an average rainfall of 1,066 mm, or 42 inches per year. Snow is rare on the Southern tip of Vancouver Island, but it does happen, and snow chains are required to drive over the Malahat Drive in the winter months.
Esquimalt Culture
Culture and heritage are significant parts of Esquimalt's identity, their Heritage Context Plan, and heritage building designations for historic buildings. This well-established municipality supports the arts by adopting a Public Art Policy, with year-round art exhibits and places for public art such as the Thunderbird Orca Spindle Whorl by Charles W. Elliott or the Emergence of the Lifebringers by Marianne Nicolson. Esquimalt also contributes to the CRD Arts Development Service to provide funding to arts organizations in the area.
This township is also host to a variety of annual events. The Esquimalt Buccaneer Days happen each May, with a midway carnival, a beer garden, a rugby tournament, skydivers, races, a parade, and much more. You can enjoy the Memorial Park Music Fest, Bard Across the Bridge, and the Esquimalt Arts Fest in the summer months. In September is the famous RibFest, a weekend of the best local ribs, with beer and cider from local craft brewers. In December, Esquimalt has the Celebration of Lights, a community event that every household is encouraged to participate in.
Esquimalt Education
There are three public schools and a French immersion school providing education for children and youth in Esquimalt. The Esquimalt school system is part of School District 61, including communities in and around the Greater Victoria area.
Esquimalt Health Care
Esquimalt BC has all the health care services you would expect in any town. There are walk-in clinics, family doctors, dentists, psychiatric care, and specialists. Victoria General Hospital is just a 12-minute drive away, and there is a hospital on the military base. You will also find clinics offering physiotherapy, registered massage therapy, athletic therapy, acupuncture, and kinesiology.
Things to Do in Esquimalt
Fishing is a popular pastime in Esquimalt, plus boating, canoeing, kayaking, or anything you can do on the water. There are playgrounds and splash parks for the kids in the summer, craft breweries, farmer's markets, and free live music for the adults. You can walk and cycle, enjoying the beautiful nature and parks. There are designated bike lanes along Craigflower Road, Admirals Road, and Esquimalt Road. Walking trails include the Galloping Goose, Lochside Regional Trail, E&N Rail Trail, and the West Bay Walkway.
In the winter months, you may want to turn to indoor activities. The Archie Browning Sports Centre has hockey schools, learn-to-skate programs, Junior B hockey games, and roller derby, broomball, and lacrosse. The Esquimalt Recreation centre is a multi-purpose facility with a weight room, an aquatics centre, a gymnasium, a teen centre, and multi-purpose rooms for events and activities.
The people who live on Vancouver Island are used to rain and don't let it put a damper on their plans, so a good rain jacket is one of the best investments you can make when moving to the Esquimalt area.
Esquimalt Realtors
Are you thinking of buying or selling a home in Esquimalt? If you're looking to buy a home, contact our Loyal Homes real estate agents, who can answer all your Esquimalt community, neighbourhood, and real estate questions.
If you're thinking of selling your Esquimalt, BC home, our associated Listing Realtors can provide information on recently sold comparable properties, up-to-date real estate market information, and professional tips to help you prepare and sell your house for top dollar.