Homes for Sale in Courtenay, BC
Welcome to Courtenay! Below you will find the newest homes for sale and real estate in Courtenay, BC. If you would like more information on any of these Courtenay real estate listings, simply click on the property, register for a free account, and you'll have access to the full details. From there, you can click Schedule a Tour to request more information from our Loyal Homes Client Care Coordinators or schedule a viewing. Our Client Care Coordinators will be happy to provide you with property disclosure statements, past sales history, comparable properties which have recently sold nearby, and more, so please don't hesitate to ask for help!
For your convenience, we have included Courtenay community information at the bottom of the page, including directions for getting here and information about weather, culture, healthcare, recreation, schools, and the real estate market.
Newest Courtenay Real Estate Listings
Courtenay Real Estate Listings
November 27, 2021
About Courtenay, BC
Welcome to beautiful Courtenay! Located in the heart of the Comox Valley, Courtenay is the largest of three main communities in this area. Courtenay is renowned by outdoor lovers for being so close to nature, and the active community thrives on its picturesque landscape and being a coastal mountain town.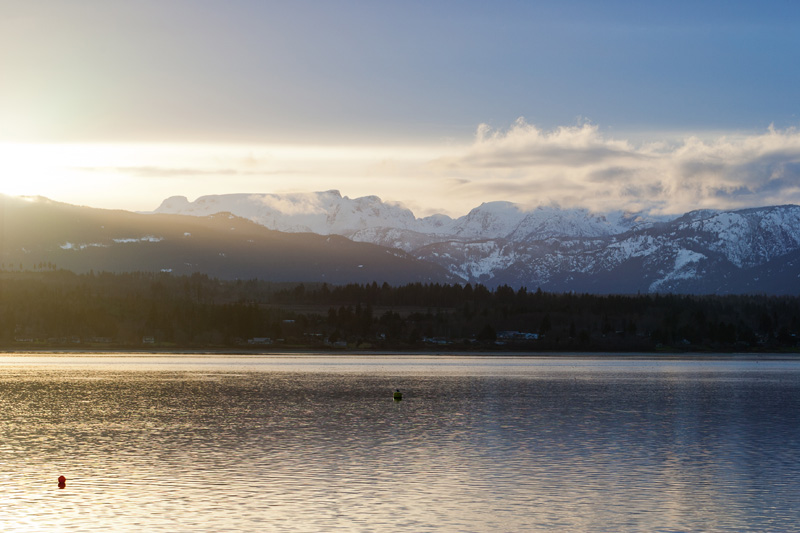 Retirees have flocked to Courtenay for its warm temperate climate. While, young families are continually motivated to put down roots in Courtenay because of its access to numerous schools, recreation programs, facilities, and an uncompromising way of life!
With so much to see and do in Courtenay, it is no wonder why the tourism industry has seen increased activity and investment in the last decade. With the airport in Comox, BC, Courtenay has become easily accessible to many.
Getting to Courtenay
Courtenay is located in the heart of the Comox Valley, situated along the mouth of the Puntledge River, which flows into the Courtenay Estuary and meets the Georgia Straight. Courtenay is sandwiched between the Beaufort Mountain Range and the coastline of the Georgia Straight. Courtenay's landmass covers 26.68 km2. It is one of the larger communities along the central east coast of Vancouver Island. It feels larger still as the city borders have expanded into the neighbouring Comox Valley communities of Comox, Cumberland Royston, and Merville. Courtenay to Nanaimo is only 110km along Highway 19 A. This makes Courtenay to Nanaimo and BC Ferries access to Vancouver very easy.
Courtenay is conveniently located on Vancouver Island along the east coast and in the center. Courtenay to Victoria, the most southern tip of Vancouver Island, is a 3-hour drive, and in the other direction Port Hardy, one of Vancouver Islands' most northern towns, is about a 3-hour drive.
Courtenay is the closest city to Mount Washington Alpine Resort. In 45 minutes, you can be at the base of Mount Washington strapping on your skis or board in the winter or hopping on your mountain bike in the summer months as Mount Washington is a year-round resort.
Courtenay Weather
Courtenay enjoys a fantastic Mediterranean Coastal Climate. This climate is perfect for enjoying all that the area has to offer year-round. Courtenay is cool and wet in the winters, with most precipitation falling as rain and very little snow. Courtenay receives on average 1375 mm of rain each year and only 55 cm of snow. Courtenay is well below Vancouver Islands' average annual rainfall at 1849mm but receives slightly more rain than some more southern Vancouver Island Communities. For the folks in Courtenay, winter is spent watching the storm squalls roll in across Goose Spit while Kite Surfers and Windsurfers take advantage of the breeze. Many head to Mount Washington Alpine Resort for skiing and snowboarding, while favorite activities such as cycling can be enjoyed on the clear, crisp winter days.
In the Summer months, Courtenay relishes in the warm, dry weather and long days. Temperatures in the summer range from 10-23°C on average but can occasionally sneak into the high 20's°C. The summers in Courtenay contribute to a long and abundant growing season which many folks take advantage of in their backyard gardens growing fresh veggies. This weather is perfect for those barbeques on the patio or a beach fire hot dog roast at the beach. Courtenay is so active in the summer, and cyclists are abundant on the roads and popular mountain bike trails. Kayaking through the Courtenay River Estuary from the Courtenay Airpark and swimming in one of the many swimming holes along the Puntledge River is also popular. Once you spend a summer in Courtenay, you will be hooked!
Courtenay Culture
Courtenay has a population of over 25,000 and counting and has become a popular destination because of its climate, recreation possibilities, and community values. The largest group of the population is aged 65 to 69. Meanwhile, 59% of the population is between the working-age of 15-64 years old. Courtenay was first home to the Kw'umuxws Coast Salish first nations. The resident in this area settled here because of the gentle climate, fertile soil, and abundance of sea life.
Courtenay is a hard-working outdoorsy community that loves an active lifestyle and does not compromise leisure time. This can be seen throughout the community in the local parks, recreation centers, and new tap houses and microbreweries that keep popping up. There are also many clubs and groups to get involved within Courtenay, so building your network of friends is not very difficult.
There is a vibrant artistic community in Courtenay. Courtenay Little Theater is a group of actors and actresses who have been putting on shows in the Sid Williams Theater for over 50 years. One of the most significant annual events is the Vancouver Islands Music Festival, which is the largest music festival on Vancouver Island. Courtenay is a busy town full of life! There is something for everyone in Courtenay and even a little bit more.
Courtenay Education
Courtenay is a part of the Comox Valley School District 71 and has over 1,600 employees who work hard to provide a comprehensive educational program to 8,600 students from kindergarten to grade 12. In Courtenay, there are seven Elementary Schools and two Secondary Schools.
North Island College has a campus in Courtenay and offers post-secondary education. They have a wide range of programs that provide high school upgrading, trades, fine arts, tourism, and health care, courses to name a few.
Courtenay Health Care
Courtenay is a part of the Island Health Authority, which services all of Vancouver Island, providing primary care to patients. Courtenay is very fortunate as it is home to the new North Island Hospital, which opened its doors on October 1, 2017. The North Island hospital was built to service the growing North Island Communities and is a state-of-the-art facility.
There is a large number of medical offices in Courtenay providing access to General Practitioners. There is also a good selection of Dentists, Optometrists, and Wellness Centers specializing in holistic care. For the seniors and living in Courtenay, there are several at-home care nurses and senior homes. You can be assured that all your health care needs can be met in Courtenay.
Things to Do in Courtenay
Courtenay is a recreation paradise! The options for recreation in Courtenay are endless, so take your pick and get going! In case you are struggling with where to begin, we have got some ideas for you. The Puntledge River flows through the middle of Courtenay and is a recreation hot spot year-round. In the fall, Anglers can be lining the shores fishing for Salmon. In the winter White Water Kayakers ride the high flows, and in the summer, everyone heads down to their favorite swimming hole for a refreshing afternoon of swimming. Courtenay lies on the shores of the Georgia Straight, an ocean playground. Boaters are abundant, sailing or motoring out to "The Hump," a popular fishing spot. Sea Kayakers launch from the Courtenay Airpark and explore the Courtenay Estuary. There are many different cycling groups for all abilities, with the Comox Valley Cycle Club being very active in the community. Cycling through the valleys winding country roads provides excellent exercise.
Courtenay is so close to nature, and the regional district has preserved green spaces throughout the community. Areas like Nymph Falls Nature Park is an off-leash dog park along the upper section of the Puntledge River and Simms Millennium Park, which is in the heart of downtown.
Courtenay is just large enough to have many fantastic recreation facilities and recreation programs. Programs range from yoga and workout classes to pottery and painting. Of course, there is something for all abilities and ages, everything from kids to the elderly. Some of the recreation facilities in Courtenay include the Comox Valley Aquatic Center, with a wave pool, waterslides, and a 25 m long pool. The Lewis Center, located right downtown, has a gym, gymnasium, multi-use rooms, outdoor summer swimming pool, water spray park, and sports fields. The Courtenay Recreation center hosts two ice rinks, an indoor swimming pool, a full-size track and field ground, and a new astroturf field.
Couretenay Real Estate Market
Courtenay has ten different neighbourhoods; Valley View Estates, Aberdeen Heights, South Lerwick, Courtenay East, Sandwick, Arden, Crown Isle, Mission Road, Old Orchard, and Downtown Courtenay.
Aberdeen Heights is located in eastern Courtenay, homes here are built in the 2000s. Houses in this area include rancher-style homes and multi-storey homes with single or double attached garages. Many properties in this area offer large driveways for multiple vehicles and even boat or RV parking to the side of the driveway.
South Lerwick and Aberdeen Heights neighborhood neighbour each other, with Lerwick Road running through the middle. In South Lerwick, you will find homes built throughout the 2000s with three or more bedrooms and multiple bathrooms. At the heart of South Lerwick, homeowners will discover Lerwick Nature Park, which has many trails to run or walk your furry friend. Southeast of the Lerwick Nature Park, you will find homes on larger lots, ranging from 0.25 acres or more..
You can find various types of homes and properties in the neighbourhood of Sandwick. From large acreages with a house on a private lot to old and new homes with views of the surrounding valley. There are even some duplexes in the Sandwick neighbourhood that are perfect for an income helper. In Sandwick, you are near the Comox Valley Exhibition Grounds, Mulligans Golf Course, and George P Vanier Secondary school.
Crown Isle is exceptionally close to any amenity you could need and offers an array of real estate. From large ranchers, gated townhome communities on the golf course such as Somerset Lane to executive estates providing double and triple car garages. Some areas within Crown Isle boast sweeping views of the Courtenay & Comox Valley.
Mission Road is a beautiful neighbourhood with well-cared-for single-family detached homes. This neighbourhood is close to the new North Island Hospital Comox Valley as well as North Island College. You will also find industrial and commercial real estate in the area of Mission Hill.
Downtown Courtenay is primarily commercial real estate; however, character homes can be found among the businesses and some smaller houses on the outskirts of the downtown core. Some of these Character homes have even been turned into small businesses such as chiropractors or accounting firms. Condominiums are also present in the downtown neighbourhood.
Courtenay Realtors
Are you thinking of buying or selling a home in Courtenay? If you're looking to buy a home, contact our Loyal Homes real estate agents, who can answer all your Courtenay community, neighbourhood, and real estate questions.
If you're thinking of selling your Courtenay, BC home, our associated Listing Realtors can provide information on recently sold comparable properties, up-to-date real estate market information, and professional tips to help you prepare and sell your house for top dollar.